How to Fix Broken Makeup
10 • 05 • 2013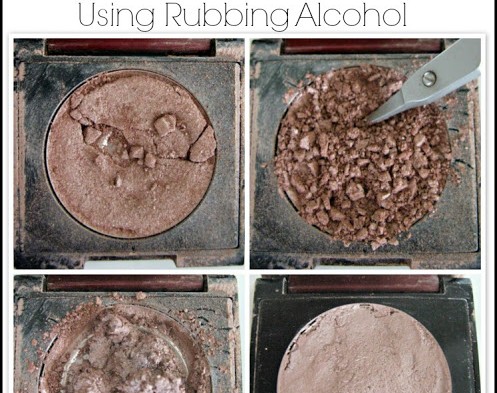 Don't you hate it when your powder blush or bronzer breaks and crumbles? It is such a mess, and a total waste of expensive makeup! My boys love to grab my makeup off my vanity and throw it on the ground as I chase them down, and then I'm dealing with hot pink crumbles ground into my carpet. Frustrating! No, tougher discipline is not the answer. Here's how to fix makeup with rubbing alcohol:
I decided to experiment with a DIY trick I found on Pinterest from Love And Bellinis— you just add a few drops of rubbing alcohol to the crumbled makeup, smooth it into a paste, and then once it dries, it is useable again.
I tried it on my broken Tarte Amazonian Clay 12-Hour Blush in Dollface. I didn't take a proper 'Before' picture, but here is the blush after I added a small capful of alcohol and smoothed it into a paste with my fingers:
The Pinterest Tutorial did not prepare me for what it would look like after the alcohol dried (a few hours later):
Yuck! Looks like tie-dyed bacon grease! With some trepidation, I used my blush brush to apply it, and surprisingly the consistency was the same, and the color turned out the same on my face.
This technique is supposed to work on any pressed powder product like eyeshadow, blush, bronzer, or face powder. I then tried it on my Holy Grail pressed powder that has been a constant in my purse since college: Clinique Perfectly Real Compact Makeup. One time I bent down to pick up my son with my purse on my shoulder, and the powder smashed to the ground. NOOOOOOO! So I tried the alcohol trick again to keep it from turning into a big powdery mess that I don't want to tote around in my bag. It worked! The powder doesn't look perfect, but it works just the same.
I hope this saves a few products from your trash bin!
xoxo,
@beautynowapp
You May Also Like