We Tried It: Hair Extensions!
10 • 04 • 2013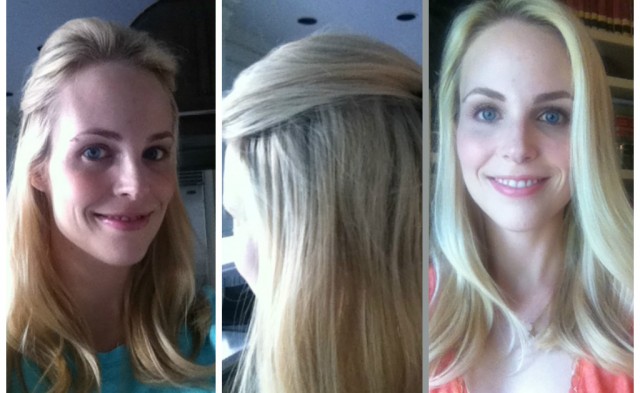 I stopped by Studio A Salon to get them signed up for BeautyNow, and I walked out with a glorious head of hair [extensions]! [UPDATE: I just talked to Studio A and David will take $20 off your service if you mention this blog! Color, haircut, extensions, whatever!]
As I waited for my meeting, I was SO jealous of the thick, bouncy hair that the girls in the chairs had. When I complimented one of the clients, she said she had Hot Heads Tape-In Hair Extensions! I was suddenly reminded of my burning desire to add volume (but not length) to my very fine, thin hair. Not that I had a lot of hair to begin with, but I have also had a lot of hair loss after having babies.
David Armendariz (co-owner/stylist of Studio A) added two "sandwiches" of hair to each side of my head. It is important that your hair is freshly washed and dried with NO product on it. Surprisingly, it only took about 15 minutes to put in four extensions.
After the extensions were in, David added some volumizing powder for fullness, but he was very careful not to get any product on the tape adhesive. He cut the extensions to match the length of my hair, curled and styled my hair/extensions normally, and voila! (Almost) Jessica Simpson hair:
I told some girlfriends that night about my fake hair, and they looked closely and felt around my scalp, and no one could feel the tape! Still completely undetectable in a low ponytail or chignon, see:
Here is what it looks like when my hair is straight and not professionally styled. Definitely better than normal:
So, does it feel weird to have fake hair?  When my hair is down, I don't feel the extensions in at all. However when I went to bed, and sort of flipped my hair upward on my pillow, it felt as if I had left a bobby pin in my hair. When I put my hair back down again it felt normal and I was able to sleep comfortably.
Pros:
–cheaper than I thought: David charges $45 per extension, which includes the hair and the application. The extensions last about 6 weeks, and then they are REUSABLE up to 3 times.  David will re-adhese (is that a word?) the extensions for $15 each. [UPDATE 2/24/14: I have been reusing and wearing the same 4 extensions for 7 months and counting].
–quick application
–the color matched my hair exactly and even though the texture is different than my fine hair, it blended in perfectly!
–does not damage hair like old-school glue-in extensions
–I can still get my hair highlighted normally– just tell the colorist to avoid the extensions
Cons:
–try to ignore the fact that a stranger's hair is touching your face
–you have to be careful about the products you use and how you treat your hair
–I'm really not sure how one would wash and style her hair if she had 20 of these extensions all over her head. With just four "sandwiches" in my hair, I have kind of learned where they are and adjusted my hair routine accordingly. But it is still more of a pain to wash my hair than without extensions.
–one spray tan away from looking too Real Housewife-y
Caring for your Hot Heads extensions:
–wait 48 hours before washing your hair
–use a sulfate-free shampoo
–do not put alcohol (i.e. hairspray, volumizing spray, dry shampoo) or oils (i.e. conditioner, frizz serums) anywhere near the adhesive strips
–be careful when you are brushing your hair, obviously.  Use a soft-bristle brush.
Here's a handy infographic created by Philip James Salon in Chicago that explains your hair extension options (click on the image to Pin it!)  Apparently my tape-in extensions are also called "Skin Weft."
xoxo,
Kathleen
47 Responses to "We Tried It: Hair Extensions!"
You May Also Like