Everything You Wanted to Know about Olaplex
08 • 19 • 2020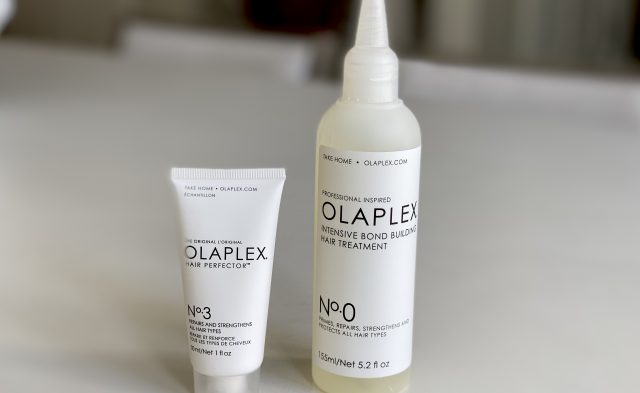 I gave a brief Olaplex No. 3 review a few months ago, but recently I've gone on an Olaplex deep dive. Now that I have perfected my Olaplex routine, I'm answering some frequently asked questions about this very effective at-home hair bond repair treatment. I also discuss Olaplex No. 0 Intensive Bond Repair Treatment, the newest addition to the Olaplex line up.
There's actually an event going on at Sephora right now online and in store from 8/14-8/23 for all Beauty Insiders (sign up for free here):
– Offer code: WELCOMEBACK
– $15 off $75 and $20 off $100
– Unlimited use in stores or one-time use online
Disclaimer
Sephora compensated me to write this post. I chose the products to feature, subject matter of the post and purchased the products with own money.
Olaplex No. 3
I posted about my first impressions of Olaplex at the beginning of quarantine, but wanted to circle back since there have been a lot of questions about how to maximize its results. I will say that I was floored by the immediate visible improvement: with just one use of Olaplex Hair Perfector No. 3, my hair is shiny and less damaged-looking. And every time I use it (once a week or so), I continue to be impressed.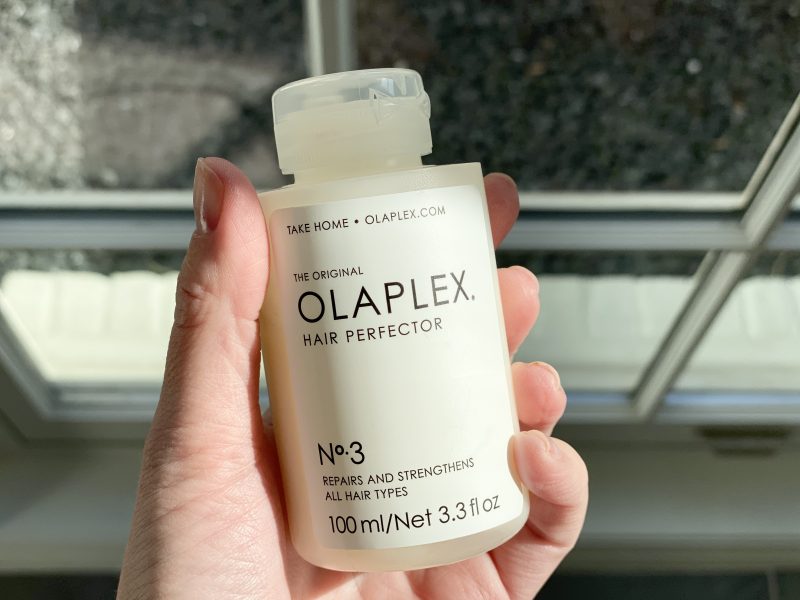 Following the instructions with Olaplex Hair Perfector No. 3 is key! When I first purchased Olaplex I used it like a conditioner in my shower, and I didn't notice much difference. But I read more reviews, and it turns out I was using it incorrectly. You need to wet your hair, and then towel dry it (I like to use a microfiber towel). Another alternative would be to use a spray bottle. Then work Olaplex through your hair, roots to ends (it will not weigh down fine hair).  I stand in the shower with the water off, and then use a hair clip to twist my hair up, and then I cover it with a shower cap. I read reviews that said Olaplex works better if you don't let your hair dry out, so a shower cap helps keep it from evaporating as quickly.
The Olaplex instructions say to leave it on for 10 minutes, or 20 minutes for severely damaged hair. However the reviews I read said to get best results, leave it on longer, like hours or even sleep in it overnight. For me, I left mine in for several hours after putting the kids down while we watched TV downstairs. Then I rinsed, shampooed and conditioned normally before I went to bed. It is important to note that you still need a conditioner because the Olaplex is a bond repairer to make your hair stronger, not a traditional conditioner.
Verdict: I really love the immediate results from Olaplex and it is definitely worth buying the jumbo value size bottle, but it looks sold out right now!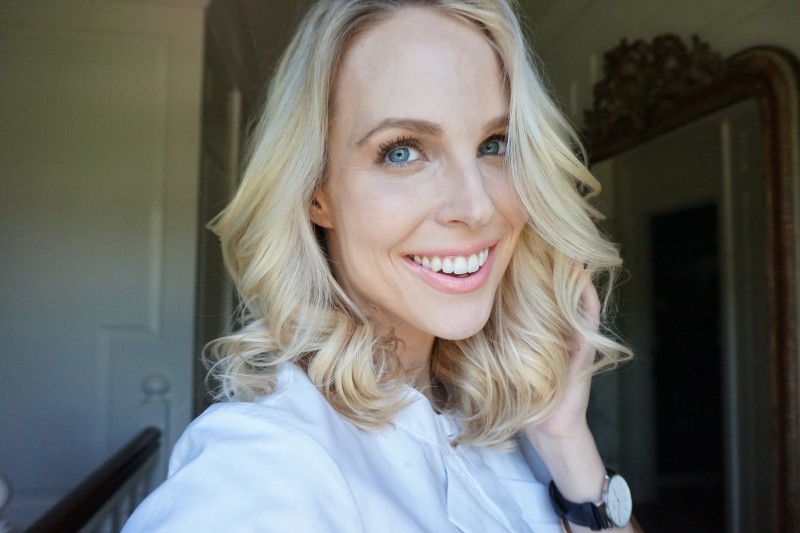 FAQ About Olaplex No. 3
Since I originally posted about Olaplex a few months ago I have been fielding a lot of reader questions! I reached out to Olaplex directly and they were very helpful. So I thought I would summarize some of the Q&A's here:
–The instructions say to leave Olaplex No. 3 on 20 minutes, but can you leave it on hours or even overnight?
Yes, that is entirely your choice but it reaches its maximum efficacy at 45 minutes.
–Is it possible to overuse Olaplex (use too frequently) or leave on too long (like overnight?) Could that possibly cause damage?
No. It is perfectly safe to leave on for several hours or overnight. There is nothing in Olaplex that could cause harm to the scalp or hair. It is non-toxic, free of sulphates, protein, phthalates, and parabens. It is also vegan and cruelty free.
–Do you have to shampoo your hair before Olaplex No. 3? Or just wet it?
It is not necessary for the hair to be shampooed, just wet (and Olaplex keeps working as long as your hair remains damp). If you have a lot of oil or product buildup in your hair you can do a quick shampoo prior to using, but otherwise just rinse so that your hair is wet.
–Can I use Olaplex No. 3 if I have not done the in-salon Olaplex treatment?
Yes! You can use No. 3 even if you have not tried the salon treatment yet. This is because the entire Olaplex line shares the same active ingredient to repair broken bonds in the hair. No. 3 Hair Perfector is formulated for at-home care and maintenance. When used alone without the in-salon treatment, Olaplex No. 3 acts as a mini treatment.
Olaplex No. 0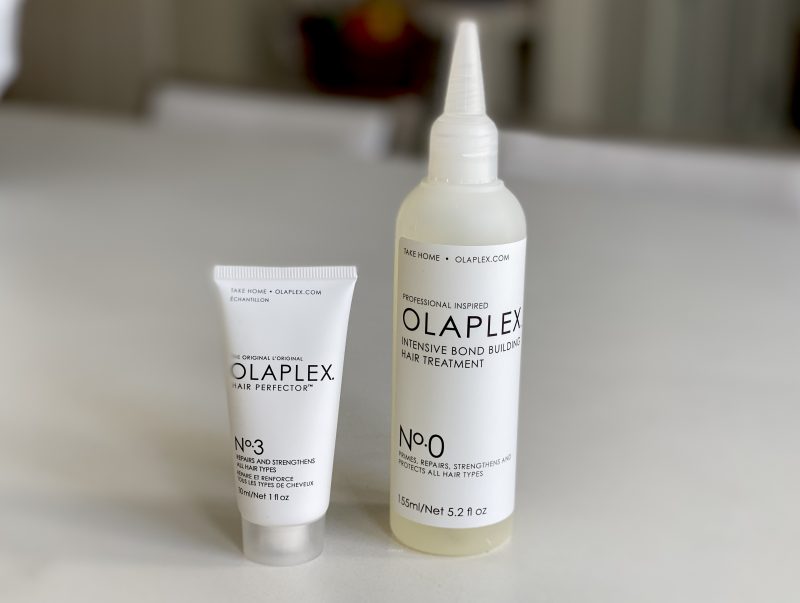 Because I got such great results from Olaplex No. 3, when I saw their new release, Olaplex No. 0 Intensive Bond Building Hair Treatment, I immediately bought it. Think of Olaplex No. 0 like a primer that you use before the No. 3 (instead of wetting your hair first). First you saturate dry hair with No.0 and leave it on for 10 minutes. Then, without rinsing out the No. 0, apply a generous amount of OLAPLEX No. 3 Hair Perfector on top of the No. 0 and leave it on another 10 minutes. According to Olaplex, the pairing of No. 0 and No. 3 is scientifically proven in a clinical laboratory to have 68% more repair and makes your hair 3X stronger with just one use.
From my experience, the No. 0 absolutely amplified the immediate effects of the No. 3. My hair was even shinier, softer, and frizz-free than when I used the No. 3 alone. It was kind of tricky to saturate dry hair from the squeeze bottle as per the No. 0 instructions. But on the other hand it did take care of the step where you have to dampen hair before applying the No. 3. You can try both the No. 0 and the No. 3 together in a launch kit.
Overall I definitely recommend adding the Olaplex No. 3 and/or the Olaplex No. 0 to your quarantine masking regimen!
xoxo,
@kathleenjenningsbeauty
You May Also Like