FREE Blowouts at Marbella Salon!
07 • 16 • 2014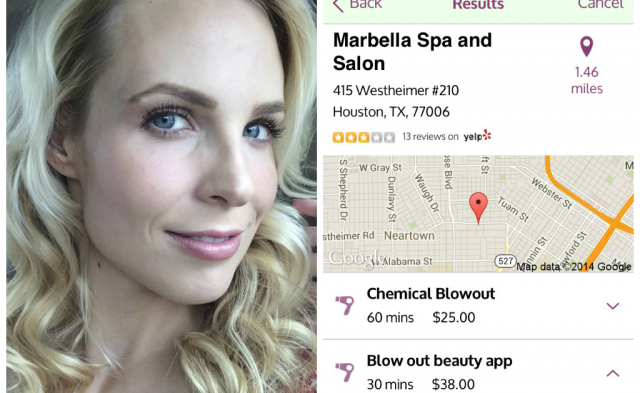 That's right, Houston folks: you get a completely FREE blowout at Marbella Spa & Salon (415 Westheimer, 77006; map) if you book it on the BeautyNow app anytime from Wednesday, July 17 through Saturday, July 26th! A HUGE thank you to our wonderful salon partner, Marbella Salon & Spa, for generously offering this promotion to encourage people to download and book on the BeautyNow app. Here's a pic of the fabulous, long-lasting blowout I got at Marbella last week:
Here's how to get your FREE blowout at Marbella Salon & Spa (on the Lower Westheimer curve near Montrose):
1) If you haven't already, click here to download the BeautyNow iPhone app:
 https://itunes.apple.com/us/app/beautynow!/id853749981?mt=8
2) You can't search by salon name (yet! That functionality will be available in an App Update coming soon!). So select Hair >> Blowout >> then type in Marbella's zip code, "77006" and your desired date/time for your blowout.
3) Next, the Results list should show Marbella Salon & Spa and which appointment times they have available for a blowout around the date/time you selected. Pick "Blowout Beauty App" and your desired time!
4) When you book your blowout, the app will say your blowout is the usual price ($38). But at the salon during checkout, just show the cashier/receptionist that you booked your appointment through the BeautyNow app (it can be found in "Past Appointments," from the home screen), and Marbella will comp your blowout! Just like that!
Don't try to game the system, wise guy: one blowout per customer, please. And for first-time customers to Marbella only.
Please email me at kathleen@kathleenjenningsbeauty.com if you have any questions about how to use the BeautyNow app to book your FREE blowout at Marbella!
Thank you, Eduardo, owner of fabulous Marbella Spa & Salon!
You May Also Like