We Tried It....the Hydrafacial
09 • 25 • 2014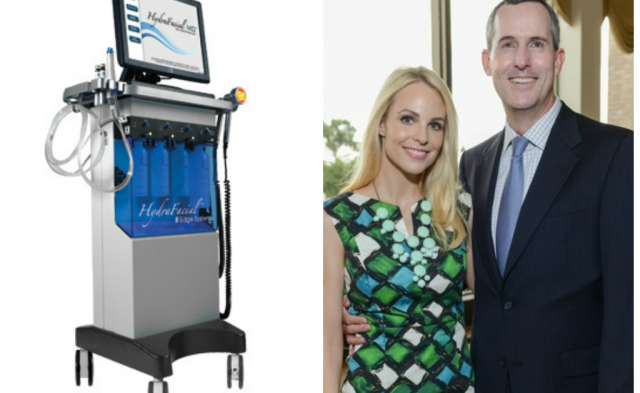 Every time I discover a new Holy Grail product (see SK-II masks), or try an innovative skin treatment, readers and friends inevitably come out of the woodwork with, "Oh, I've sworn by XYZ for years!" And I'm like, so WHY were you holding out on me??? The same thing happened after I got my first Hydrafacial at Adara Medical Spa in Houston. It worked wonders on my skin, so it should come as no surprise that lots of you glowy-skinned readers have already added the Hydrafacial into your monthly maintenance routines. Read on for my Hydrafacial review:
I had my Hydrafacial treatment at the brand spankin' new Adara Med Spa in the Museum District (right across the street from the Children's Museum). It is a beautiful, contemporary space that looks like the Apple Store, but with fancy Carrera marble countertops. Other highlights of Adara are the ample surface level parking (!) and an M.D. on-site at all times. Adara also carries Elta MD products, including Elta's UV Daily moisturizer with 9% Zinc Oxide that I recommended in my epic sunscreen post.
Now, on to the Hydrafacial review. A Hydrafacial is a non-invasive skin resurfacing and hydrating procedure that an aesthetician performs at a med spa. It is innovative in that the "vortex suction" tool works like microdermabrasion to exfoliate the skin and remove impurities, but without using crystals or abrasive chemicals to do so. It literally just uses suction like a vacuum to get rid of dead skin, clogged pores, and reveal more radiant new skin. A Hydrafacial can treat a number of skin concerns, like fine lines, acne, hyperpigmentation and sun damage.
First, my friendly and experienced aesthetician (and nurse), Randee, removed my makeup and gently cleansed my skin with soothing circular motions. Then she swiped an alcohol-smelling "pre-prep" toner to prepare my skin for the microdermabrasion step.
Next Randee applied the "vortex suction" tool to painlessly remove dead skin and clean out my pores. It was basically a mini-vacuum cleaner applied all over my face that felt very relaxing. After that step she showed me the dead skin, dirt and debris that had been sucked off my face and collected in the vacuum. Ewww! But also strangely satisfying. Sort of like peeling off a Biore strip and seeing all the blackheads that used to be clogging your pores.
Finally, the fun, science-y part: the "vortex fusion" tool infuses your skin with a mix of peptides, hyaluronic acid, and antioxidants to plump up and moisturize. (**Clarification: this is NOT a needle! Readers asked if they could avoid the needle part. No needle! Just a vacuum-thingy that puts serum deeper into your skin than when you apply with your hands.) Here's what a vortex tool looks like:

The result? Glowy, more plumped skin with no irritation or downtime. I also noticed the skin texture and tone looked a lot more even. The glowiness was evident right away, but the real difference was when I applied my makeup the next day. My complexion just looked more flawless, smooth, and poreless- it was an obvious difference to me. Here is a photo of me at the DBSA Houston luncheon days later- I felt like my makeup went on more smoothly and looked more radiant:
I would recommend getting a Hydrafacial the day before a big event, but of course it would be best if you could do it once a month. I need to book my next treatment!
You can book a Hydrafacial at Adara Medical Spa by calling (713) 766-3638, or…soon Adara will be available on the BeautyNow app!
xoxo,
@beautynowapp
You May Also Like