Deer Lake Lodge: Organic Spa Resort
10 • 18 • 2013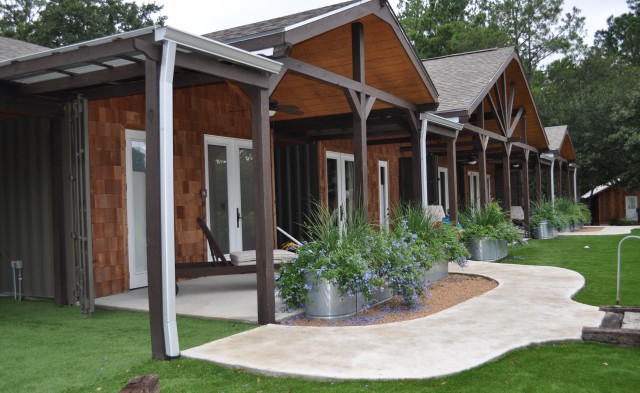 Move over Canyon Ranch and Cal-a-Vie– did y'all know that we have a luxurious, destination detox spa resort just outside of Houston?  I had no idea until I visited the AMAZING Deer Lake Lodge in Conroe.
Woody and secluded, Deer Lake Lodge feels like you are at a friend's luxurious ranch. It only took me 1hr 5 minutes door to door from my home in Central Houston.  Just ten minutes off of I-45, I felt a million miles away from the stresses of the big city the second I walked on the property.
Guests can choose to stay in individual cabins or suites.  Check out the fresh, rustic chic interiors (but not TOO rustic– all rooms have flat-screen TVs, organic cotton linens, and WIFI!)
Deer Lake Lodge would be the perfect place for a good-for-you girls' getaway; they focus on wellness, body detoxification and cleansing.  I was only there for the day, but the other friendly guests were all fasting and drinking a special Detox Drink and a nightly vegetable soup.
I have blogged before about how difficult it is to do a juice fast (read about it here) when you are confronted with all the temptations of the real world, so I think being at the Lodge in a peaceful, Zen-like atmosphere and surrounded by other people fasting would make it so much more tolerable.  Several of the guests I talked to had been fasting for six days!
The typical day at Deer Lake Lodge is filled with yoga, meditation and interesting classes on raw foods and organic DIY products.  First, I joined the morning Yoga class with the adorable Erin (think a hippie Zooey Deschanel!).
I've probably done two Yoga classes in my life, partly because I hate it when the instructor calls you out to correct your pose.  That makes me so self-conscious!  But Erin was really easy-going and the atmosphere was so quiet, serene and relaxed, that I thoroughly enjoyed myself.
Then Erin taught a fascinating class where we learned how to make our own organic beauty and cleaning products.  I've been using the hemp seed oil/ coconut oil on my cuticles.  It also healed the cracked, dry skin that I had from putting too much salicylic acid on a zit, without breaking me out.
Next, raw foods enthusiast April Ree whipped up some delicious raw recipes and juices for us to try, like the "Sweetness of Life" Raw Soup pictured below (made with carrot juice, kale, ginger, and avocado).  I'm guessing that the guests who had been fasting for six days enjoyed the samples even more than I did!
Finally, a beauty junkie's favorite part- the SPA!!!  I treated myself to the 50-minute Oxygen Facial…
Deer Lake Lodge claims that the facial exfoliated my skin and then "released pure Oxygen molecules into the epidermal layer to re-energize natural cellular functions and eliminate toxins."  All I know is that it felt like tingly Pop Rocks on my face, and then my skin was as glowy and smooth as a baby's.  Do not miss this treatment when you go to Deer Lake Lodge!
If any of y'all want to plan a weekend girls' trip, let me know!  I'd go back in a heartbeat!
xoxo,
Kathleen
You May Also Like