We Tried It...Sock Hair Curlers!
10 • 22 • 2013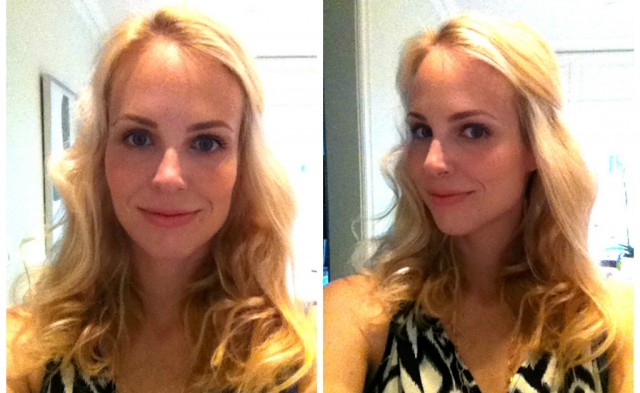 I fondly remember my Mom making me sleep in bright-colored, bendy foam curlers in the 1980s in an effort to give some body to my thin, fine, straight hair.  It kind of pulled and wasn't the most comfortable, but there was the exciting promise that I would awake with bouncy, Christie Brinkley curls.  Does this look familiar to anyone else?
Fast forward 20+ years, and I needed to meet a friend for breakfast after dropping both boys at their (different) schools.  There was no way I would have time to shower and dry my hair that morning, and I really couldn't push the dry shampoo another day.  Too tired to wash and dry the night before, I was inspired to try sleeping in sock curlers like this tutorial I found on You Tube.  I sum up the easy instructions below, or click on this link to watch the video of a very peppy high school (college?) girl showing you how-to:
http://www.youtube.com/watch?v=Ly1WAbHmIps
Your hair should be damp from the shower.  I did not put any product in my hair, but next time I think I will put some volumizing mousse or styling creme to give it some extra hold and calm frizzies.
Divide your hair into sections, and if you are really motivated, clip them up to separate them from the piece you are rolling.  I did not bother.  For my thin hair I used seven socks total on my head.  I found that cheap, thin "dress" socks that go to mid-calf work best.
Hold a sock about halfway down the piece of hair, right above the "heel" of the sock. Wrap the bottom half of the hair around the sock.  Then roll up the rest of the way until you reach your scalp.  Now tie the sock in a knot around the hair to hold it.  It took me 5-7 minutes to do my whole head.  Behold my handiwork, and try not to laugh:
Excited about the big reveal the next morning!  Unfortunately I looked like a poodle:
Wow, that looked really bad.  BUT!  I wet down the top a little bit with water, and then pinned one side behind my ear, and it looked way better!
Unprompted, my friend said, "Your hair looks amazing– do you really do your hair every morning?!?"  HA!
So overall I'd recommend the sock curlers, but be prepared to tweak it a little bit when you wake up in the morning.
xoxo,
Kathleen
You May Also Like