Get $200 of Free Products from QVC!
04 • 25 • 2019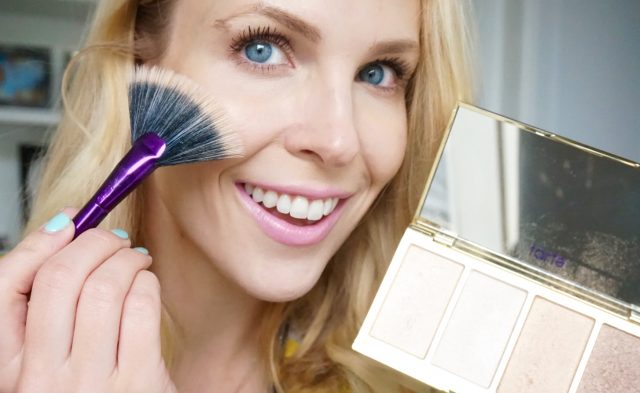 Holy swag!! QVC is giving away a MASSIVE gift bag of products worth around $200 to anyone who orders one of the items I picked below! (There's also more products to choose from that qualify for the gift bag, see below for deets). Seems like a massive boondoggle to me, but here are the products I picked (including one new product that has become a Holy Grail item for me!):
Disclaimer:
QVC compensated me to write this post. As is my standard policy, I only accept sponsored post opportunities from multi-brand retailers that allow me to select the products I feature and the subject matter of my blog post.
Tarte Rainforest of the Sea Lighting Palette
Let's start with the product I am most excited about: this Tarte Highlighter Palette. Now, I'm not one to get particularly excited about highlighters or palettes in general, but this one is really special. In fact it has replaced Becca Champagne Pop as my fave highlighter.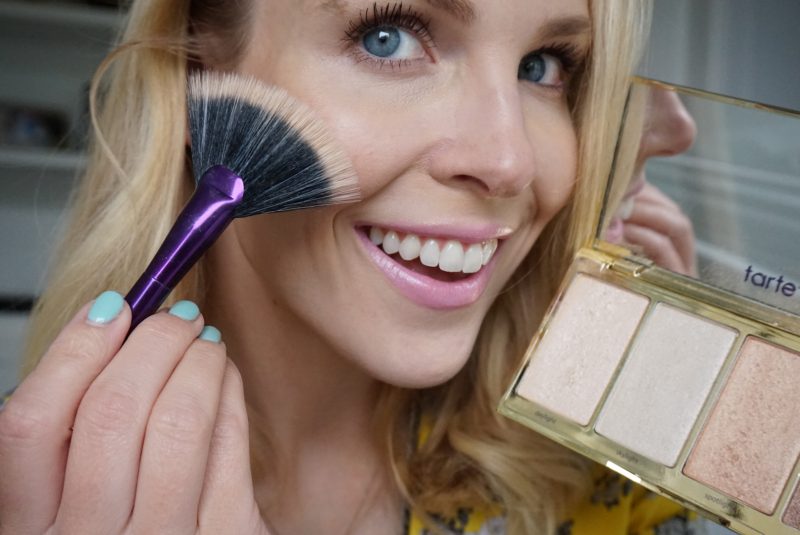 The Tarte Lighting Palette is a beautiful, mirrored compact that comes with four awesome highlighter shades. I've decided my favorite is the one on the left, "Daylight," but I have also been playing around with mixing them all together. Your favorite will probably depend on your skintone, but they are all so pigmented, making cheekbones look more glazed doughnut than glittery. Which is the look I'm going for when it comes to highlighters.
I don't think I have ever liked an included brush, but the Tarte fan brush that comes with the palette is absolutely perfect for applying highlighter! Sweep it high on your cheekbones, and going up in a "C" shape around the outside of your orbital bones. And a quick tip: be careful not to apply highlighter too close to your nose because the metallic flecks can exaggerate the appearance of pores. That goes for any highlighter.
Supersmile Sonic Pulse Toothbrush
I'm just going to come out and say it: if you aren't using an electric toothbrush you are gross. I know this because my Sonicare toothbrush recently crapped out on me, so I have been using a regular toothbrush for the past month. I can personally attest that my teeth did not feel as clean, nor did they look as white. Since that was my third Sonicare toothbrush to die (just stopped charging for no reason), I decided to branch out and try a Supersmile Advanced Sonic Pulse toothbrush. I definitely like the shape of the brush better, and I feel like it holds a charge longer than my Sonicare(s) did.
The Supersmile utilizes sonic vibration to clean teeth on its own, obviating the need for you to scrub back and forth which can be too harsh for gums. It also includes a built-in two minute timer so you can be sure you are brushing the dentist-recommended prescribed amount of time.
TanTowels
I figured the Beauty With Benefits campaign was the perfect time for me to not only try new products, but to stock up on staples I love and always have on hand. TanTowels Self-Tanning Towelettes are one of those staples- it is my favorite self-tanner for body. I discovered them years ago when a friend whipped them out on a girls' beach trip and I have been hooked ever since.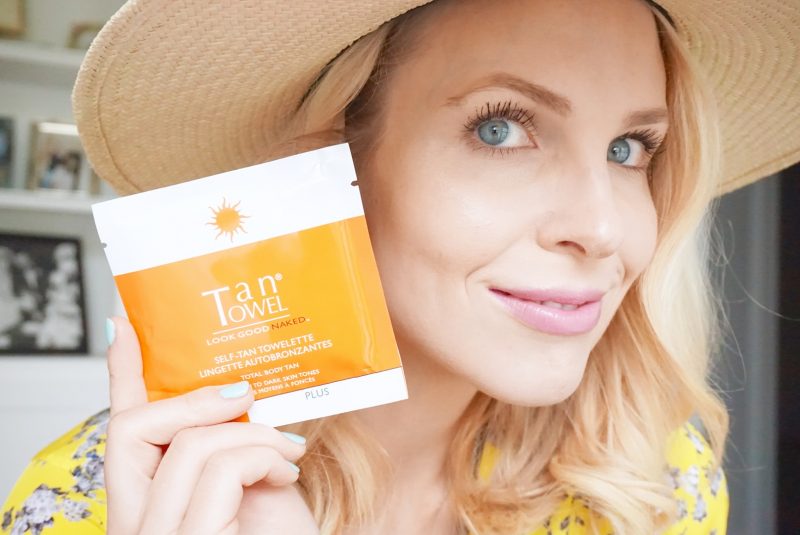 The individual Tantowel packages are ideal for travel, and contain the perfect amount of self-tanner to give your whole body a realistic glow. If you are on a long beach vacay (I'm jealous!), take one of these in your beauty travel bag so you can refresh your spray tan as it fades! I find that TanTowels smell the least of any self-tanner I have tried. I usually use the "Classic" shade, but honestly I don't think there is that much variation in color between the "Classic" and "Plus," so I use both interchangeably.
Givenchy Matte Lipstick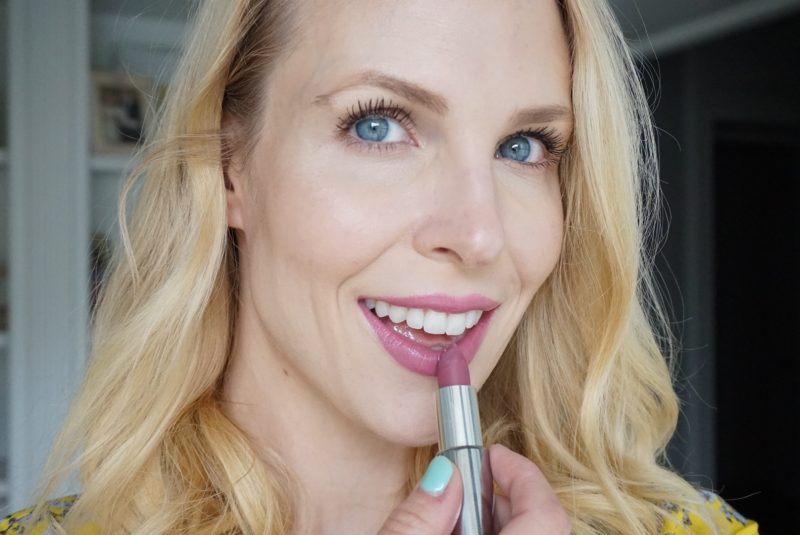 Who knew that QVC sells super high-end Givenchy cosmetics?! I picked the new Givenchy Le Rouge Mat Velvet Matte Lip Color in Neo Nude. The shade was a little dark for me (it is darker than pictured on the website), but I was super impressed with the formula. You can tell it is very high quality because of how evenly it faded over time- not patchy where it wears off quickly on the inside of your mouth and leaves a ring around your outer lips.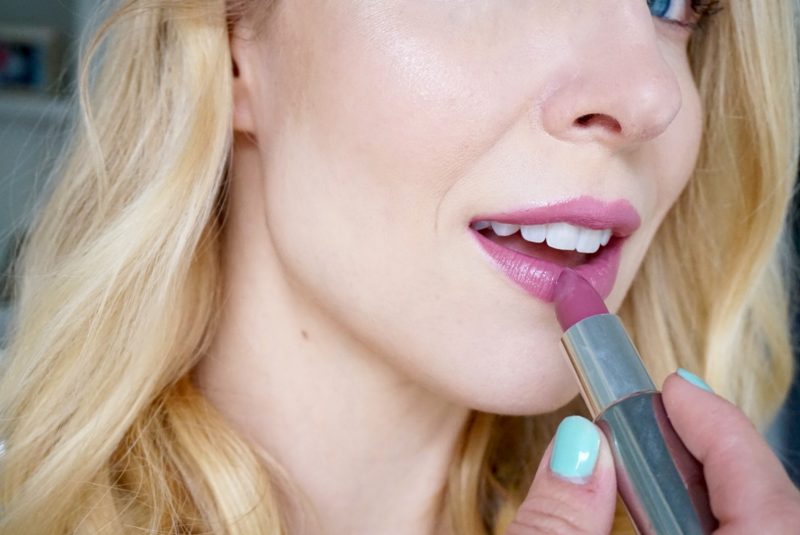 The finish of the Givenchy lipstick is not a totally "flat" matte, which I like because it gives the contours of my lips more dimension, creating the appearance of fuller lips. It was fairly moisturizing as far as matte lippies go. I would say it is similar to the Charlotte Tilbury Matte Lipsticks in terms of hydration and staying power.
Beauty Bio The Pout Volumizing Lip Serum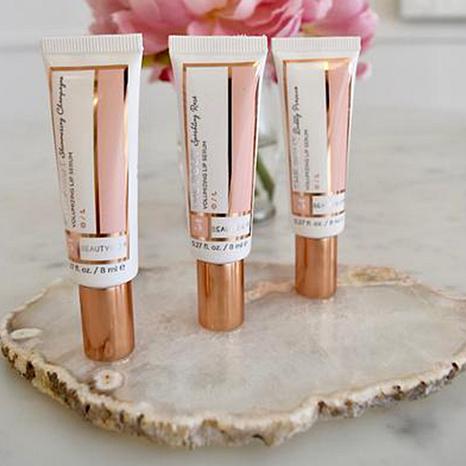 The Beautybio The Pout Vanilla Mint Volumizing Lip Serum is supposed to instantly create the appearance of fuller lips. I guess that claim is true, insofar as any glossy lip product makes your lips look fuller. It is one of those tingly lip glosses- not as tingly as the Too Faced one that makes your lips feel on fire, but not quite as mild as the Marc Jacobs gloss. A manageable amount of tingly, I would say. This lip serum is nice, but not something I would purchase again just because I have so many glosses like that.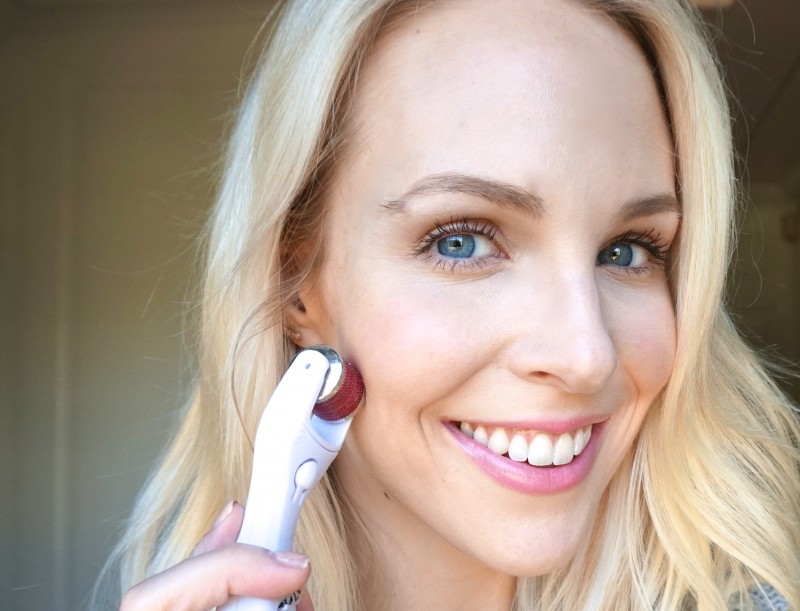 I do however highly recommend the Beauty Bio gloPRO Facial Tool! (Note: the gloPRO does not qualify you for the Beauty With Benefits gift bag, but it is a worthwhile investment nonetheless.) I try to use it 1-2 times a week to help boost collagen and plump fine lines. If you are interested in the gloPRO, definitely buy it from QVC.com because they include a body roller attachment for no additional cost!
Beauty With Benefits Campaign
As if the fact that every purchaser of these items gets $200 worth of free products weren't awesome enough, Beauty With Benefits is actually a very worthwhile cause. The free products have been gifted by brands to encourage your purchase, and QVC and HSN are giving 80% of your purchase price to a cancer charity, Cancer & Careers, which helps people living and working with cancer navigate their workplace.
xoxo,
You May Also Like