Everything You Ever Wanted to Know About Latisse*
10 • 22 • 2014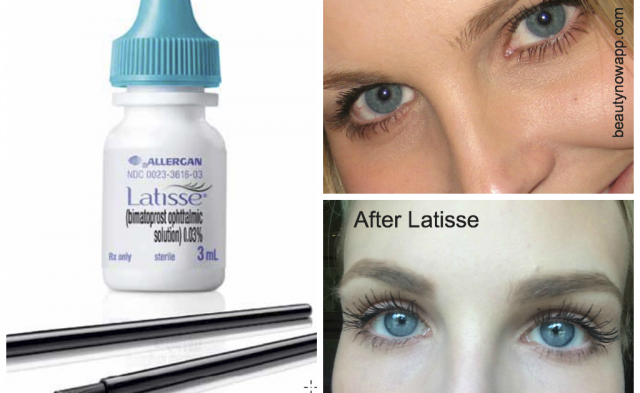 I get a lot of questions about my eyelashes (probably because of my OCD ultimate mascara comparison post), so I thought I would blog about what I do to enhance them. Latisse is a prescription liquid in an eye dropper bottle that you put on like eyeliner, and helps grow your natural lashes longer and thicker. You've probably already heard about Latisse, so I thought in this post I would give my Latisse review and answer Everything You Ever Wanted to Know About Latisse* (*but were too busy/lazy to Google yourself).
First of all, I have used Latisse on and off for years. I used it for about a year in 2010-2011, then stopped when I was pregnant, and now I have been using it consistently since late 2012. And although I'm *nearly* a doctor when armed with Google search, I got an actual, real life Ophthalmologist to weigh in on my burning questions about Latisse. My dear friend Dr. Kristin C. Bains is an M.D. specializing in Cornea, External Disease, Cataract and Refractive Surgery at Alabama Ophthalmology Associates. Houston folks will appreciate the fact that she did a cornea fellowship at Baylor Eye Center (one of the top programs in the country). Thank you, Dr. Kristin, for helping me answer the following reader questions about Latisse!
I have light eyes. Will Latisse irreversibly turn my eyes dark?
This is the most common concern I hear, although there have been zero reports of iris darkening with Latisse patients. Darkening of the colored part of your eye (a/k/a the iris) has only happened with glaucoma patients who put drops of the solution actually IN their eyeballs (as opposed to on eyelid skin, as with Latisse). Dr. Kristin elaborates: "The clinical studies performed in patients using Latisse (Bimatoprost 0.03%) reported no cases of increased iris pigmentation. However, this is a well known event in glaucoma patients using the same concentration and applying directly onto the surface of the eye."
Also I can personally report that I have light blue eyes, and I have had zero change in my eye color from my longtime use of Latisse.
Will Latisse make my eyelids darker? 
Potentially. I think my eyelids are slightly darker where I apply the Latisse, but this does not really bother me and actually gives my eyes a little more definition, like an eyeliner effect. But it is a very subtle, almost imperceptible change.
Dr. Kristin says: Bimatoprost  0.03% has been reported to cause hyperpigmentation of the eyelid margins and surrounding periorbital skin. The pigmentation can increase as long as bimatoprost is administered, but has been reported to be reversible upon discontinuation of bimatoprost in most patients.
I wear contacts– can I use Latisse?
Yes, I wear contacts and use Latisse. Latisse can be safely used in patients wearing contact lenses. However, Dr. Kristin cautions that Latisse should be applied at least 15 minutes before inserting contacts. This brings up a good point– you can apply Latisse in the morning if it is hard to remember to do before bed. I actually switched to putting mine on in the morning, and I think it keeps the solution from getting into my eye. Warning: you WILL have mild eye irritation (feels like an eyelash in your eye) if you accidentally get some Latisse in your eye.
I'm pregnant or trying to get pregnant– can I use Latisse?
Dr. Kristin says no way! "Latisse cannot be used in pregnancy. It is listed as Pregnancy Category C. In animal embryo/fetal studies, spontaneous abortion and other teratogenic effects were observed at high doses. There are no controlled studies of this medication in pregnant women and there never will be. Consequently, I would not recommend it be used while nursing. The risk of this medication used in this situation will essentially always outweigh the benefit.
If Latisse works on eyelashes and eyebrows, can I use it to make the hair on my head thicker?
This was actually my question to Dr. Kristin. Every time I use Latisse, I wipe the excess on the brush on my hairline, just for good measure. I don't have a receding hairline or anything, but my hair is naturally thin so I figured, hey why not? Dr. Kristin says: "Using Latisse outside of the eyelid margin can stimulate hair growth. However, the medication is not indicated for the treatment of alopecia." Just call me a Latisse pioneer.
How much does Latisse cost?
I just bought the 3 mL size at Randall's grocery store, and it was $112. They said without insurance it would have been $134. This size gives me a 5-6 month supply.
Other BeautyNow tips for using Latisse:
–put one drop in the cap, and then stick your disposable brush into the cap of liquid. If you put a drop directly onto the brush you can end up wasting some product because it might fall off.
–you can continue using Latisse while you are wearing eyelash extensions. This might seem wasteful, but it will keep your natural length so they don't seem stubby when you remove the extensions
–FYI, Latisse claims to make your lashes both longer AND darker. While I can definitely vouch for the added length, the tips of my lashes are still blonde as ever. Consider booking lash tinting on the BeautyNow app to darken your lashes.
Any other questions?
xoxo,
@beautynowapp
2 Responses to "Everything You Ever Wanted to Know About Latisse*"
You May Also Like