We tried it…SkinPen Microneedling!
02 • 18 • 2014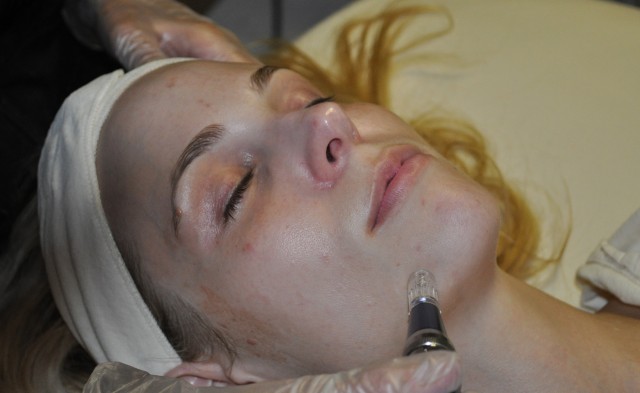 Yes, I willingly allowed someone to prod my face with microneedles and I highly recommend it! Luxurious Persona Medical Spa in Upper Kirby graciously offered me the opportunity to try their new Microinfusion Facial. Now I'm all for gratis beauty treatments, but when I heard the facial involves "microneedles," I was a LITTLE nervous. But I've gone to Persona for various treatments for years, so I trusted them completely. As it turns out, the procedure is relaxing, totally painless, and gives phenomenal results. Here's my Skin Pen review:
Persona's Microinfusion Facial involves three steps: a diamond dermabrasion treatment (like microdermabrasion), then the SkinPen (the microneedle part), and then an application of the super-fancy SkinMedica TNS Recovery Complex. Persona is the first and only spa to offer this unique three-step protocol.
UPDATE (4/7/2016): I also tried the SkinPen with PRP a/k/a The Vampire Facial! Click here to read that post. 
First, the dermabrasion treatment helps to exfoliate and gently remove dry patches and dead skin cells that are clogging your pores and keeping your skin from looking its most luminous. I felt a gentle suction and the sensation of a cat's sandpaper-y tongue (sorry if that's gross, but that is EXACTLY what it was like). Here's what the dermabrasion instrument looks like:
***PLEASE support my business and download BeautyNow: a FREE iPhone app that is the best way to book beauty appointments!!
Now for the main act: the SkinPen. The SkinPen is billed as a "medical-grade, state-of-the-art precision tool designed to address acne scars, symptoms of aging skin, and to increase the efficacy of topical skin-care products." The tip of the SkinPen contains 12 sterile, disposable micro-needles, and as the pen is gently glided across your skin, it creates "micro-channels." This controlled injury stimulates the production of collagen.
Did it hurt? Not at all! The SkinPen allows for individualized settings which control how deeply the needles penetrate. Deirdre, my facialist, did a sample area on my face to help me decide what level still felt comfortable. And she adjusted the settings when she worked on my delicate eye area.
Here are some photos of me during the procedure. Now, as you can see I was a little broken out prior to my treatment and had faded red marks mottling my skin. These pics are from the very beginning of the procedure, so the red marks cannot be attributed to the SkinPen!
Here are some photos from immediately after the procedure. Again, do not judge the red marks! They were there before the procedure. But I was definitely more glowy right away.
By the next day, all my breakouts had disappeared. And, miraculously, I did not get a single pimple for MONTHS after my facial. At any given time I usually have at least one pesky pimple hanging around! I also noticed an improvement in fine lines around my eyes, my parentheses lines around my mouth, and the brownish sun damage spots on my cheeks.
But the biggest difference was that my skin just looked and felt SMOOTHER, and my pores virtually disappeared. I took this [unretouched] photo about 2 weeks after my Microinfusion Facial, and I was FLOORED by the way my skin looked. Yes, I am wearing Chanel Vitalumiere Aqua foundation in this picture, but my skin does not usually look like this.
Persona recommends three treatments about 4-6 weeks apart, but you can definitely see results after just one treatment. Unfortunately my results seemed to fade after about four months. So now I'm addicted, and I'm trying to figure out how to save up for another treatment, which runs $495 if you do just the SkinPen, or $595 if you do the diamond dermabrasion plus the SkinPen. I thought it was such a boondoggle to get one free SkinPen treatment, but now I'm hooked for life. Well played, Persona, well played.
But don't take it from me! The most ringing endorsement for the SkinPen I've heard was at a Persona event. I was talking to a corporate rep from the Coolsculpting company (that non-surgical fat removing procedure), and her skin was beyond flawless. She was not there to plug the SkinPen, and did not even receive her treatment at Persona. As we were chatting, she said she has tried many more-invasive treatments (with downtime) like laser treatments (Fraxel), Ulthera, and super-strong peels to combat the signs of aging. And the "only thing she thinks made a difference" was the SkinPen treatment.
FYI, this rep said she was pretty red and almost bleeding right after her SkinPen treatment because she insisted her facialist turn up the SkinPen to the highest (deepest?) setting to get the max effectiveness. So if you are going to shell out $500, it might be worth it to brave a little discomfort for the maximum effect!
You can book my Skin Pen treatment at Persona here: (FYI Persona calls it the "Microinfusion Facial.")
UPDATE (4/7/2016): I also tried the SkinPen with PRP a/k/a The Vampire Facial! Click here to read that post. 
xoxo,
@beautynowapp
8 Responses to "We tried it…SkinPen Microneedling!"
You May Also Like