The Best Dry Shampoo Ever
06 • 02 • 2014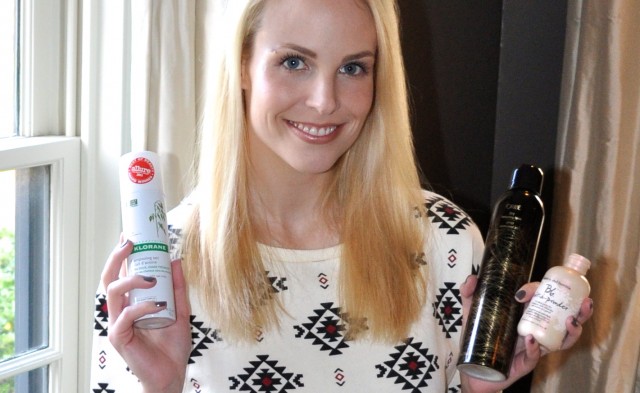 My quest to find you the best dry shampoo has been over six months in the making! I scoured beauty blogs and review forums, polled many friends, and purchased more cans of dry shampoo than I'd care to admit to my husband. In this comprehensive post I compare and rank a whopping 18 dry shampoos to find you the very best dry shampoo!
Originally my goal for this post (much like my Best Setting Powder and Best Under Eye Concealer posts) was to determine the one best dry shampoo on the market. But instead of finding the best, end-all-be-all product, I developed a daily regimen using several different dry shampoos depending on the dirtiness of my fine, thin hair.
To begin, let's rule out the WORST dry shampoos of the bunch. I wanted to find a bargain brand that I loved, but, alas, just like concealers, with dry shampoo you get what you pay for.
The only dry shampoo that was truly awful was the Tres Semme. It was so wet, and seemed to actually make my hair greasier. AVOID! The Suave is too wet also, but my biggest gripe about that one is I cannot stand the cloying Sweettart scent. The Dove, Psssst!, and Salon Graffix brands were ok, but were not as effective at absorbing oil as the more expensive brands.
Lush Cosmetics No Drought Dry Shampoo is a powder that got rave reviews online, but in my opinion did not measure up. The hole in the dispenser spits out WAAAY too much powder, and then it did not even soak up oil that well. Disappointing.
Lesser-known Batiste dry shampoo is definitely the best of the drugstore brands– it is fairly cheap (about $8), the spray is powdery instead of wet, and the mild, pleasant scent dissipates after a few seconds. With all the rave reviews online, I was hopeful that Batiste would be my winner. But, again, the Batiste does not soak up oil quite as well as my favorites below. Ulta carries travel-size Batiste dry shampoo, and I bought several mini-cans and do use them when I travel.
A recent discovery that I thought would be my discount dry shampoo winner was Loreal EverStyle Energizing Dry Shampoo. Fantastic scent, not too wet, adds the perfect amount of texture (somewhere in between Klorane and Oribe Dry Texturizing Spray), and seems to soak up oil on contact. The problem with this one is that several hours later my roots seemed greasy again. So unfortunately I think that the Loreal's oil-absorbing properties do not last as long as the winners detailed below.
Big Sexy Hair Volumizing Dry Shampoo: I asked the saleslady at Ulta what the best dry shampoo was (and they have a large selection!), and she pointed me to the Big Sexy Hair Volumizing Dry Shampoo. I liked the fine-ness of the spray mist, and it definitely added more volume and texture than your typical dry shampoo. The light scent disappears quickly. The bad part is it made my hair feel like straw, and the greasy part on my crown was still a little greasy.
Oscar Blandi Pronto Dry Shampoo: I'd heard about Oscar Blandi dry shampoo, so I was a little confused when I got to Ulta and there were three different types– Pronto Spray Dry Shampoo, Pronto Dry Shampoo (powder) and Invisible Dry Shampoo. I picked the Pronto Spray, and I don't think it soaks up oil very well. But the biggest problem is its overpowering, chemical lemon-y smell. Awful! Reading up on reviews, it seems that the Oscar Blandi POWDER dry shampoo is much better than both of the sprays.
Pureology Fresh Approach Dry Shampoo: A super-fine spray mist, a little wetter and less powdery. It has a semi-strong scent that reminds me of a unisex fragrance. My toddler son commented that I smelled good. The Pureology dry shampoo claims to degrease and leave a residue-free "satin finish." I would agree that this one leaves my hair a little less stiff and matte than some of its competitors, but it did not take out the grease very well.
I have to include one dry shampoo I did not actually test drive myself: Kerastase Powder Bluff Dry Shampoo. Three people told me they got sucked into this product at their hair salon and that it was terrible! Reviews online are mixed, but all seem to agree that it takes an exceptionally large amount of the product to make any difference. At $40 a can I think I will pass on the Kerastase!
Now, for the dry shampoo MVPs! My three favorites are Klorane Extra Gentle Dry Shampoo, Bumble & Bumble Pret a Powder, and Oribe Dry Texturizing Spray. Many days I combine two or more of these dry shampoos to customize a remedy depending on my hair greasiness and what hairstyle I am wearing. Allow me to explain my day-by-day process:
Day 1: Just washed my hair. Like with water and regular shampoo.
Day 2: If you force me to say which dry shampoo is my overall favorite, I have to say it is the Klorane Extra Gentle Dry Shampoo. I was actually using and loving Oribe Dry Texturizing Spray as a dry shampoo for over a year until a dear friend and self-proclaimed "dry shampoo expert" insisted that Klorane dry shampoo is better than the Oribe.  Her expert opinion is that the Oribe is better at giving volume and texture, but the Klorane undetectably soaks up oil and "just makes her hair feel clean." I have to agree. Here I am on Day 2 with no greasies in sight (and wearing Revlon ColorBurst Matte Balm in Audacious):
I spray the Klorane on my roots (don't forget the back crown area!), wait two minutes, and then brush through or even just tousle with my fingers.  When I use Klorane, on Day 2 I can still wear my hair straight and down, and the texture feels the same as the day I washed it.
Then if I want to add texture (but keep softness and movement), I spray some Bumble & Bumble Thickening Dryspun Finish on my dry hair. (As an aside, Dryspun Finish is so FREAKING amazing– it somehow makes each strand of your hair feel thicker, but without stiffness or feeling overly product-y. This product is a MUST for fine-haired gals!).
Unfortunately the Klorane is SO expensive! $18 for a can that lasts maybe a month. And when you spray it, you can see the precious powder flying off in all different directions, which is a big waste of product. A French import, Klorane is notoriously hard to procure, but Houstonites can find it at the fancy Walgreen's on Sage/Westheimer, and others can order from Amazon. Also make sure you get the aerosol can, not the non-aerosol version (sorry, ozone layer). Bottom line: if I had all the money in the world, I would order Klorane by the case from Amazon and spray with abandon.
Day 3: I can still wear my hair down on Day 3, but I usually add waves with a curling iron to make use of the texture I get from adding another layer of dry shampoo. First I use Klorane on the roots, and then I turn my head over and spray Oribe Dry Texturizing Spray. The Oribe soaks up additional oil, and also adds texture, body and hold for the curls. (FYI, I think the original Oribe Dry Texturizing Spray is superior to the newer Oribe THICK Dry Finishing Spray). Here I am braving Day 3 hair for a luncheon:
Another example of actual Day 3 hair:
If I still have a really oily area (say, the back crown or my temples), I target just those areas with a few taps of Bumble & Bumble Pret a Powder. I think the Pret a Powder is even better at soaking up oil than Klorane, but it adds too much texture and matte-ness to the hair to be used all over on Day 2 or 3. The Pret a Powder is still essential because you can "spot treat" a small greasy area by tapping in a little bit of this translucent powder, and then scrubbing it into your hair like regular shampoo. Totally takes the oil away, and the expensive spray powder does not go flying into the atmosphere instead of right where you need it.
Day 4: Yes, fine-haired ladies, you CAN make it to Day 4 without washing! I break out the big guns for a poufy ponytail on Day 4. I lift up sections of my hair and tap Bumble & Bumble Pret a Powder all over at the roots. Then scrub in like regular shampoo, wait about 2 minutes, and brush through a little.
The Pret a Powder soaks up all the oil, and lends "grippiness" to help hold your pony. Here is a Day 4 ponytail:
Day 5: Even the best dry shampoo can't clean up the oil spill at this point. But I have been known to throw on a baseball cap (they are trendy, see here) and power through Day 5 without washing! The ends of my hair still look passable!
Here's a handy infographic with my best dry shampoo picks!  Click on the image below to Pin it to your Pinterest account and remember my picks for later:
In conclusion, I think the Klorane dry shampoo is the overall best, and Batiste is the best budget-friendly option. My experience might differ from yours because of hair type (mine is fine, thin, and grease-prone). But I'm pretty confident about my conclusions, and if there is a drugstore brand you think works well, then I'd venture to ask, what would happen if you tried one of the REALLY good ones?  You may never have to wash your hair again!  HA HA HA
xoxo,
@beautynowapp
16 Responses to "The Best Dry Shampoo Ever"
You May Also Like