Product Find: Sephora Pearl Mask
10 • 28 • 2014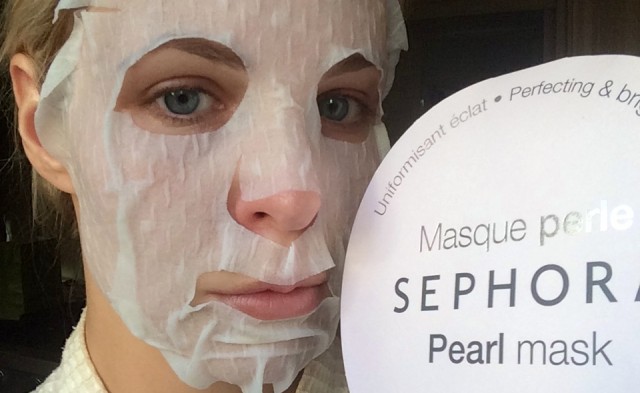 The "impulse buy" section at the Sephora check-out line strikes again! I picked up one of Sephora's new one-time use facial sheet masks to find out if they are just as good as the pricey SK-II masks I love and adore (full post here). Here is my Sephora Pearl Mask review and how I think it compares to the SK-II Facial Treatment Mask:
The Sephora Pearl Mask- Perfecting & Brightening is a sheet drenched in liquid that you put on for 20-30 minutes. The mask contains Natural White Pearl to even out skin tone, and Broccoli Extract (of all things!) that has "clarifying and harmonizing properties." I can see why Sephora did not name it the "Pearl and Broccoli" mask. Ha.
The mask was pretty wet, but not quite as drenched in liquid as the SK-II mask. The Sephora one was also a little large for my face, but that did not really cause a problem. After I took off the mask, I could definitely see a difference in the radiance of my skin, and my makeup looked very smooth. So I would say both masks imparted equal short-term luminosity, but I think the SK-II was better at depuffing under eye bags and facial puffiness in general. I also think the SK-II effects lasted a couple days, and the Sephora mask only made a difference for one day. I'm sure if you used both masks on a regular basis you would see a cumulative effect in brightening and moisture levels.
Since pearl is frequently added to cosmetics that are billed as "luminizing" or "highlighting," I was wondering if there is any science to back up the claim that the pearl can actually be corrective, as opposed to just creating a temporary luminous appearance. Surprisingly, there is science to back up Sephora's claims. I consulted with the fabulous Dr. Angela Sturm, Facial Plastic Surgeon, and she told me that pearl extract has been ingested and used topically as an anti-aging and antioxidant treatment for over 2000 years in China. "Scientifically, there is some evidence that pearl could help with skin texture, but the studies are not conclusive. There is one study that found that pearl extract improved the function of fibroblast cells, important cells for healing and improving skin quality. But the literature is lacking in studies on patients." So you're saying there's a chance!!!
Even though I was trying the Sephora mask as a cheaper dupe for the SK-II, the ingredient list is very different (aside from water). Here's the Sephora Pearl Mask ingredient list, which is surprisingly more chemical-y:
Water, Butylene Glycol, Glycerin, Peg-40 Hydrogenated Castor Oil, Phenoxyethanol, Aloe Barbadensis Leaf Juice, Triethanolamine, Oryza Sativa (Rice) Extract, Acrylates/C10-30 Alkyl Acrylate Crosspolymer, Tremella Fuciformis (Mushroom) Extract, Maltodextrin, Piroctone Olamine, Lilium Candidum Bulb Extract, Polyquaternium-51, Citric Acid, Brassica Oleracea Italica (Broccoli) Extract, Conchiolin Powder, Xanthan Gum, Fragrance, Potassium Sorbate, Sodium Benzoate.
SK-II Facial Treatment Mask ingredient list:
Aqua (Water/ Eau), Saccharomycopsis Ferment Filtrate [Pitera extract], Butylene Glycol, Xanthan Gum, Sodium Salicylate, Methylparaben, Disodium EDTA.
As you can see, the Sephora mask is not really a dupe for the SK-II mask because the ingredients are totally different. In fact no other mask can be exactly like the SK-II because they contain patented Pitera extract (derived from Japanese sake), so no other cosmetic company can use it. And I have to say, from personal experience, the SK-II products do REALLY make a difference in the luminosity of your skin, so I'm pretty much drinking the Pitera Kool-aid.
What about the price difference? The Sephora is really not that much cheaper. Hear me out here: each Sephora mask is $6. The SK-II is $95 for 6 masks ($16 per mask), or $135 for 10 masks ($14 per mask). BUT the SK-II has a lot of residual liquid in the package, and the mask is still wet after you've left it on for 25 minutes, so you can fold it up and reuse it (instructions here). I tried to do the same with the Sephora mask, but it was almost dry after the first use, and there was no extra liquid in the package for the mask to soak up for a second use. SO…since you can use the SK-II masks twice, it works out to be almost the same price as the Sephora.
Bottom line? The SK-II masks are the bomb and worth every penny. But if you are down to your last $6 and have an important holiday party, the Sephora Pearl Mask will do the trick too.
You can buy the Sephora mask here, and the SK-II mask here.
xoxo,
@beautynowapp
You May Also Like