Battle of the Pricey Masks
01 • 29 • 2020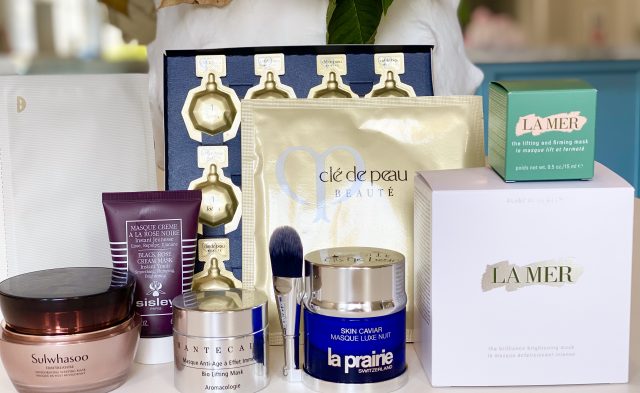 "Give me the most expensive mask you have!" I exclaimed, as I approached one shocked saleslady after another at Nordstrom. After polling you guys on Instagram about which pricey masks and brands you want to know more about, I set out to determine which are actually worth the significant outlay of cash. In today's post I will briefly describe my impressions of each mask, and at the end declare a winner in each category: Plumping, Radiance, and Brightening.
Disclaimer:
Nordstrom compensated me to write this post. As per my usual policy, I only accept sponsored posts from multi-brand retailers that allow me to select the products I feature and the subject matter of my post. I spent about $1700 of my own money on these masks to write this post, so….well played, Nordstrom.
Summary of Method:
My review does not involve an analysis of each mask's ingredients; rather these are my impressions of each mask's performance on my own face. To be clear, I am not a chemist or a doctor, and we are dealing with a sample size of one (sometimes two, those times I was able to slap a mask on my obliging husband). Your mileage may vary.
Cle de Peau Illuminating Concentrate Skincare Set
Let's start with what *might* be my favorite of the bunch: the Cle de Peau Illuminating Concentrate Skincare Set. It did brighten a bit, but the most dramatic change was how it transformed my complexion into a completely smooth, glassy surface. I have never seen a mask that had that kind of plumping and smoothing capability.
What's more amazing is that as I started to photograph the mask to write up this blog post, I realized I completely skipped Step 1 (Lotion) and Step 2 (Essence) of the Cle de Peau mask! I did not even see them in the box or realize it was a "set" when I bought it. Complete user error, and my results were STILL amazing. I can't even imagine how good my face will look if I actually do all the steps!
I went into this post knowing that I would compare any sheet mask to my Holy Grail sheet mask, the SK-II Facial Treatment Mask. I have to say that Cle de Peau gives the SK-II a run for its money! If pressed I would say that the SK-II gives slightly more radiance and is a little depuffing, but the Cle de Peau is better at creating an overall "glass skin" appearance. Seriously impressed with this mask, and Martha Stewart loves it too (according to a recent WSJ article I read).
Also, heads up: Nordstrom is doing a Cle de Peau Gift with Purchase worth $66 right now if you spend $300 on CDP.
Chantecaille Bio Lifting Mask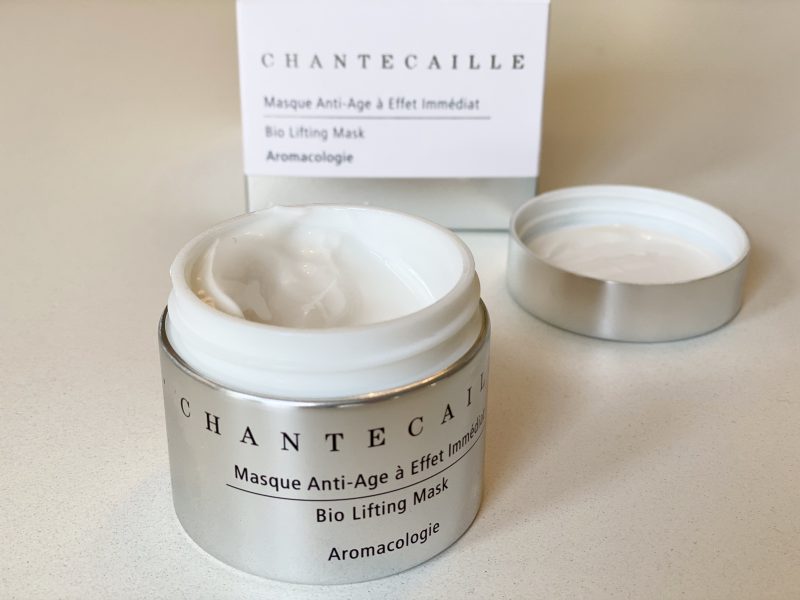 Lots of people DM'd me that I should try the Chantecaille Bio Lifting Mask, and it has very positive reviews on Nordstrom.com. It is a medium-rich cream with a pleasant, light fragrance, and I was advised to sleep in a thick layer. Upon waking my skin was noticeably brighter and even toned, and I think my lines were less pronounced. I'm not sure I noticed any lifting, but my face did look more "awake" than usual? So maybe that is the "lifting" they are talking about.
My husband also tried the Chantecaille Bio Lifting mask and it was his favorite of all the masks. I could see definite brightening and whitening in his face. At $160, it is a relative bargain compared to the La Prairie I discuss below. But it doesn't come with a cute little applicator brush, so there's that.
La Prairie Skin Caviar Luxe Sleep Mask
Ugh, I CRAVE the La Prairie Skin Caviar Luxe Sleep Mask now! The brush is so perfect, the scent and texture are so luxurious….it is truly wonderful. With the La Prairie mask, I experienced the trifecta of plumping, radiance and brightening (in descending order). Perhaps some subtle lifting, probably from the increased plumpness in my face? I chronicled my immediate impressions of the mask in my Instagram Stories, shown in the photos above. The proof is in the pudding!
The results of the La Prairie and the Chantecaille were similar for me, with the La Prairie being slightly more plumping, and the Chantecaille being slightly more brightening. The La Prairie was thicker and more hydrating, so if you have dry skin, I would lean toward that one. Also in terms of plumping, I think the La Prairie outperformed a previous fave sleep mask of mine, the Sisley Black Rose Mask.
La Prairie is also offering a Gift With Purchase with a $300 La Prairie purchase at Nordstrom.
Sulwahsoo Invigorating Sleeping Mask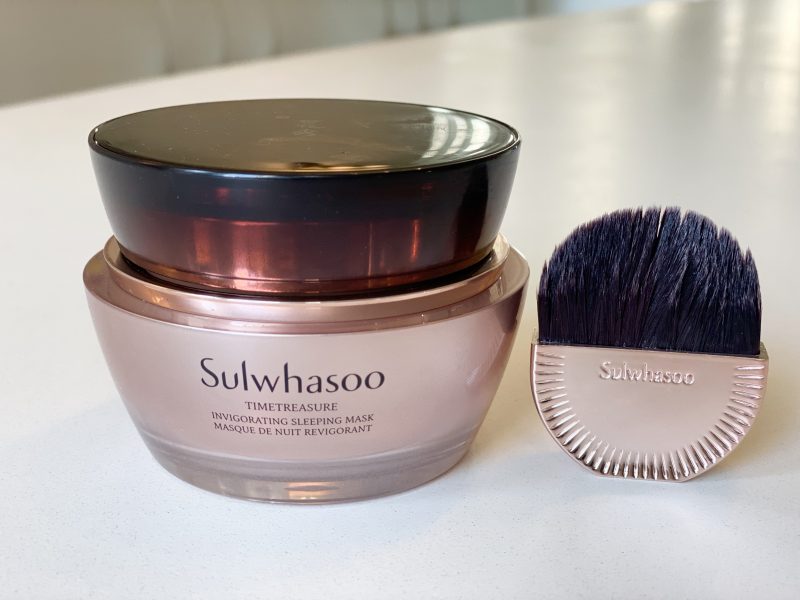 I discovered the Sulwahsoo Invigorating Sleeping Mask [I cannot find a link even though I ordered it from Nordstrom.com just last week?] after one of my all-time favorite skincare bloggers, Fiddy Shades of Snail, gave it an overwhelmingly positive review.  The Sulwahsoo feels more like the traditional Asian "sleeping packs" I've tried from brands like Dr. Jart and Mizon. Sleeping Packs are more gel-like and stay a bit sticky all night; they do not dry down and soak in like a night cream does. For that reason I do not find it as comfortable to wear as the La Prairie Luxe Sleeping Mask or the Chantecaille.
That said, the Sulwahsoo mask definitely delivered on its claims, especially with the plumping and smoothing. I did not notice as much immediate brightening in the morning as I did with the La Prairie. But it was more plumping than the other masks. When I put my makeup on later that day, my skin looked brighter, smoother and fantastic. I also felt like the effects were lasting- in the evening, when I removed all my makeup, my skin still looked better than normal- glowy, smooth, even toned. To me, the one drawback is that I don't enjoy the texture, but I will definitely keep and use this mask because it actually works.
As an aside, I found the Sulwahsoo to be the closest dupe I have found to the discontinued SK-II Overnight Miracle Mask (and a miracle it was!) The texture and effects are similar, with the Sulwahsoo being slightly more plumping, and the SK-II a bit more brightening.
La Mer Lifting and Firming Mask
The La Mer Lifting and Firming mask was pleasant to wear and made my skin super soft. However I did not notice any lifting, and in general I don't think it made as big of a visible difference as other masks. So for me, the La Mer Lift and Firm Mask was not worth it for the price. Thank goodness for Nordstrom's generous, Best-in-Class return policy so I will not be stuck with a product that does not work for me.
La Mer Brilliance Brightening Mask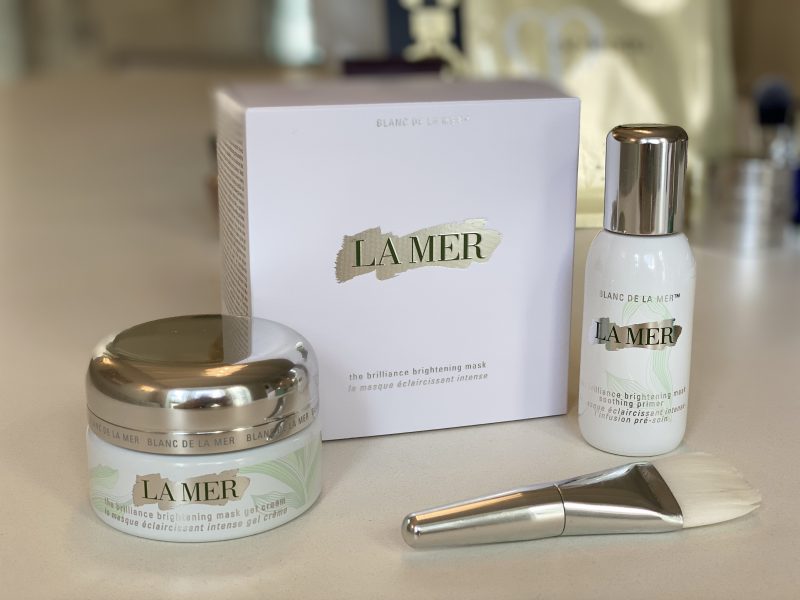 I originally went to the La Mer counter to pick up the Lift and Firm Mask, but a customer pulled me aside and said, no the Brilliance Brightening Mask is better. You rub in the serum and then brush on the cream and sleep in it. I love any mask that comes with a little brush. Interestingly the directions did not say to sleep in it, but the salespeople and customer advised me I would get the best result if I slept in it.
The mask felt and smelled amazing, and was moisturizing enough by itself that I did not need to add an additional nighttime moisturizer on top. I did notice some brightening, but not as much as with the Chantecaille or the La Prairie. Although my skin did not look that different when I awoke, my skin did look better than normal (smoother, more poreless) after I applied my makeup. For me, I did think the La Mer Brilliance Brightening Mask had more visible results than the La Mer Lift and Firm mask. I will probably return this also.
AMOREPACIFIC Youth Revolution Radiance Sheet Masque
I was super excited to try the AMOREPACIFIC Youth Revolution Radiance Sheet Masque because the brand's Time Response Cream is one of my favorite night creams I have ever tried. However the fit of the Amorepacific was very poor on me. I liked that the mask comes in two separate pieces so that it covers a bit of your neck too. However the eye holes and nose holes were way too big for my face, leaving critical areas like my under eyes and nasolabial folds untouched by the sheet mask goodness. This might work on someone with a different face shape, but I will personally be returning it.
Conclusions:
All of the masks I tried were high-performing masks. I have also noticed that since I have been using these masks regularly to research this post, my skin looks overall brighter, more poreless and radiant. Here are the winners in each category:
Plumping: Tie between Cle de Peau sheet mask and the Sulwahsoo Invigorating Sleep Mask. These are two different use cases: pick the Cle de Peau sheet mask if you want a boost before an event. Pick the Sulwahsoo if you want a mask to sleep in to save you time in the morning. The La Prairie Luxe Sleep Mask was a close second in plumping, and was way more pleasant to wear than the Sulwahsoo, so I am actually more likely to wear the La Prairie.
Brightening: I think my old favorite, the Valmont Prime Renewing Pack (no longer sold at Nordstrom), still wins as the most brightening. However I would now recommend the Chantecaille Bio Lifting Mask over the Valmont because it is more of a "Jack of All Trades." It gives your skin noticeable brightening, but also plumps lines more so than the Valmont.
Radiance: You are not going to beat a sheet mask when it comes to radiance. In this category I still pick my Holy Grail SK-II sheet mask, although the Cle de Peau sheet mask may be overall better (especially if I use it according to the directions). The Cle de Peau created more of a "glass skin" effect and was less messy than the SK-II. Very close call here.
Happy masking!
xoxo,
You May Also Like