French Pharmacy Favorites!
11 • 11 • 2015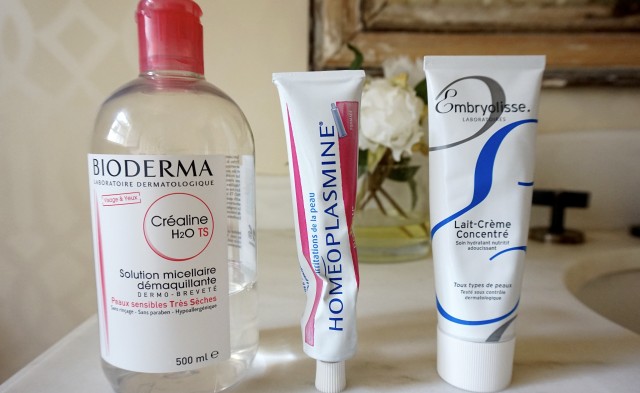 Gone are the days when you had to be a jet-setting model or editor to buy cult-favorite French pharmacy products. For years I have read interviews in Allure and Into The Gloss where "in the know" industry types tout the benefits of a French product that's cheap and readily available in French drugstores, but lacks U.S. suppliers. Luckily, now with the convenience of Amazon Prime and authorized online distributors, we too can have the chic skin of a French woman. I've been test-driving several of the cult faves over the past few months and discuss my three French pharmacy beauty favorites below: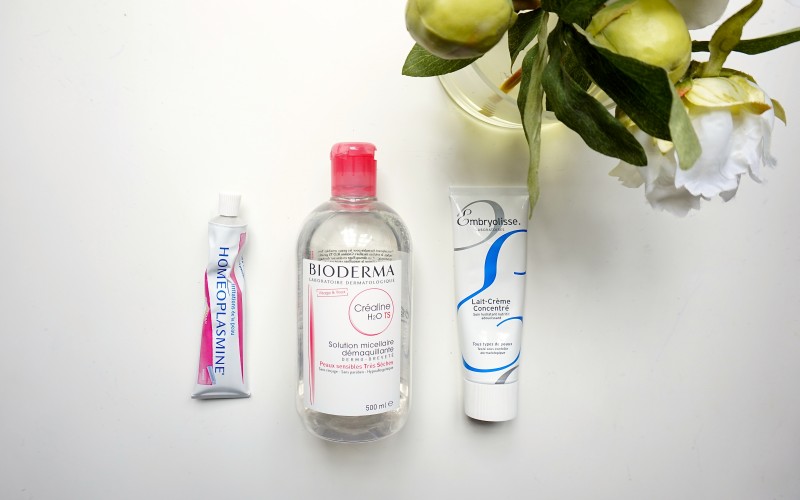 Bioderma Crealine H20:
Let's begin with my favorite of the bunch. Bioderma Crealine H20 is a micellar water, which is similar to a toner in that it is applied with a cotton pad and removes makeup, dirt, and oil. Extremely effective at removing makeup (more so than a makeup wipe, in my opinion), Bioderma is extremely gentle and does not dry out your skin. I promise! I usually avoid toners altogether, even alcohol-free, fancy ones like SK-II because they are too harsh and dry out my skin. However Bioderma Crealine is not a toner– it is a "pre-cleanse" to remove my makeup before I follow up with my longtime standard Neutrogena Foaming Face Cleanser. Since I started pre-cleansing with Bioderma about four months ago, I have had noticeably fewer breakouts. I used to believe my trusty Foaming Face Wash was sufficiently removing my makeup and cleansing my face, but since I added the Bioderma step, I rarely have a random pimple hanging around.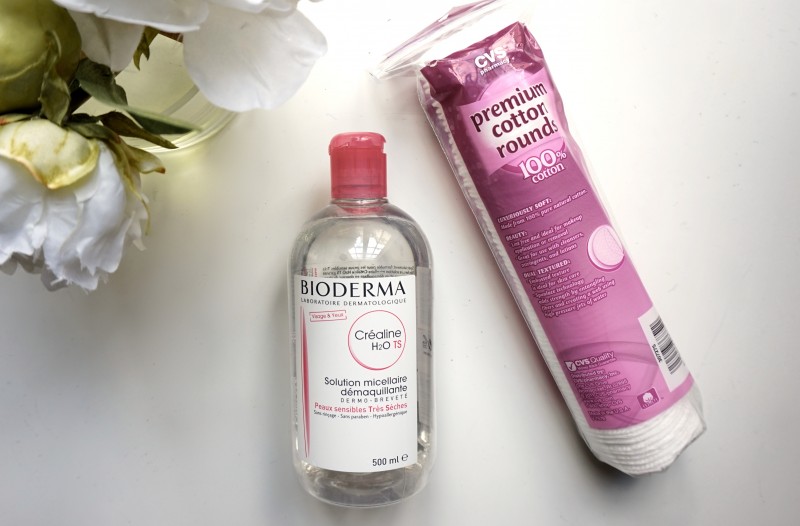 Interviews about the beauty routines of models/editors/hipsters almost always reveal that they use Bioderma Crealine to remove their makeup (interviews here and here, just as an example). Interestingly a lot of these women say they ONLY use Bioderma Crealine to cleanse and nothing else because they trust Bioderma over the [allegedly] harsh pH of tap water. I've been afraid to ditch my water and face cleanser entirely, so I have been using Bioderma as a first step.
Oh, and this is important: not all micellar waters are created equal. I bought the cheapo Simple brand micellar water at Target, and it does not work NEARLY as well as the Bioderma Crealine! Not even in the same ballpark. So I would recommend that you buy Bioderma Crealine on Amazon here.
Embryolisse Lait-Creme Concentre: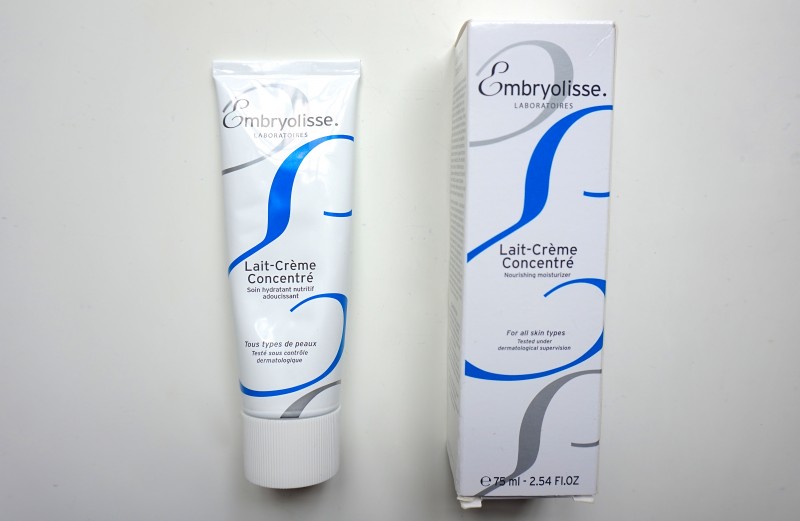 It is a toss up as to which product hipster models prefer more, the aforementioned Bioderma Crealine, or Embryolisse Lait-Creme Concentre. Whenever a blog reader asks me to recommend a night cream that won't break the bank, I always steer them toward French pharmacy gem Embryolisse.
I had read multiple model/makeup artist testimonials about Embryolisse (like this Into The Gloss roundup of the many famous, beautiful people who swear by Embryolisse), but I finally tried it myself when I received a small sample tube in one of those monthly beauty subscription boxes. I applied it every night on a winter ski trip and was pleasantly surprised that it was the first such vacation where I did not have red, chapped windburn face or dry, flaky skin. The hyaluronic acid in Embryolisse left my skin supple, plump and moisturized, without being greasy at all. I've heard that you can use it for a makeup remover or makeup primer, but I just use it as a nighttime moisturizer if I've run out of pricey La Prairie Ice Crystal Cream. I think Embryolisse is almost as good, and it can be delivered to your door in 2 days on Amazon Prime here.
Homeoplasmine: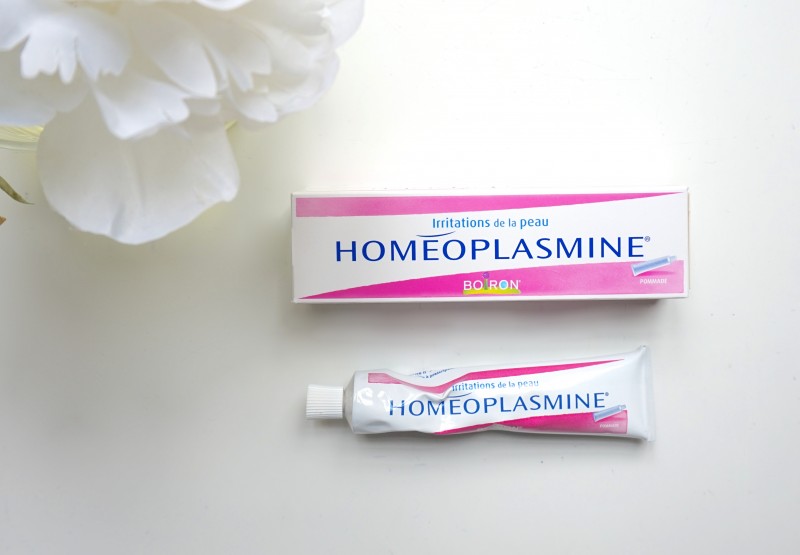 Homeoplasmine is a moisturizing ointment, similar to Aquaphor or Elizabeth Arden Eight Hour Cream, but less goopy and sticky. In fact, I think Homeoplasmine is more accurately described as a pomade because of its non-greasy, non-shiny texture. It is soothing and really helps with dry, flaky skin patches and skin irritations. If you follow me on Instagram (@beautynowapp) then you know how I got a Vampire Facial last week and was definitely suffering from flaky, dry skin after the procedure. On Day 3 I used my beloved discovery Cure Natural Aqua Gel to exfoliate (full review of Cure here— you have to get it), and then spot-applied Homeoplasmine to moisturize, and it cleared the dryness right up.
Homeoplasmine is also different than Aquaphor or plain Vaseline because it contains a homeopathic blend of Calendula, Phytolacca, Bryony and Benzoic Acid with antiseptic properties to help trigger the body's own healing processes. So apparently it works to heal blemishes, although I haven't tried it yet. The next time I get a zit I will experiment and update the post. Also lots of people use Homeoplasmine as lip balm and I do use it for that if it's handy, but I prefer my favorite Nuxe Reve de Miel lip balm (another French product!) because it is longer lasting.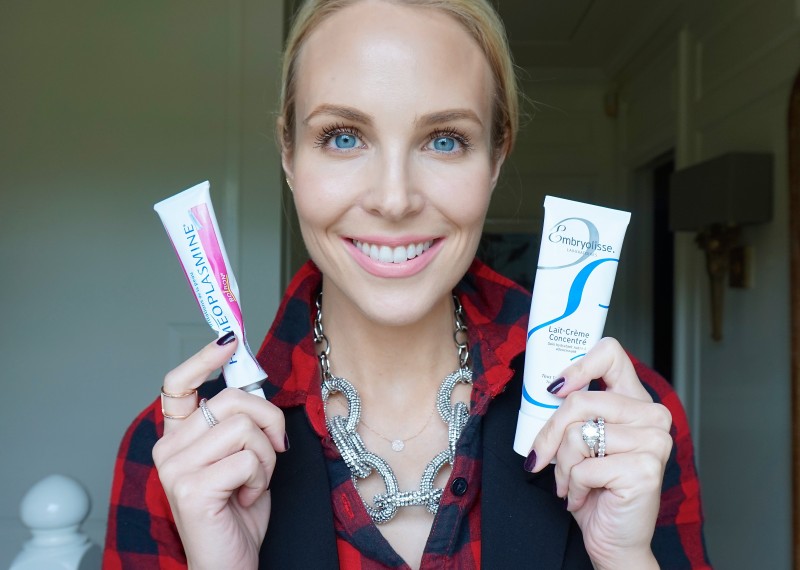 Other products I used in the photo above: It Cosmetics CC Cream in Fair, CoverGirl The Super Sizer mascara, It Cosmetics Build A Brow, Buxom Bold Gel Lip Color in Guilty Angel (LOOOOVE this lipstick!! Will definitely buy more shades).
Hope you enjoy my French drugstore finds!
xoxo,
@beautynowapp
You May Also Like