What I Think About Hanacure
10 • 08 • 2017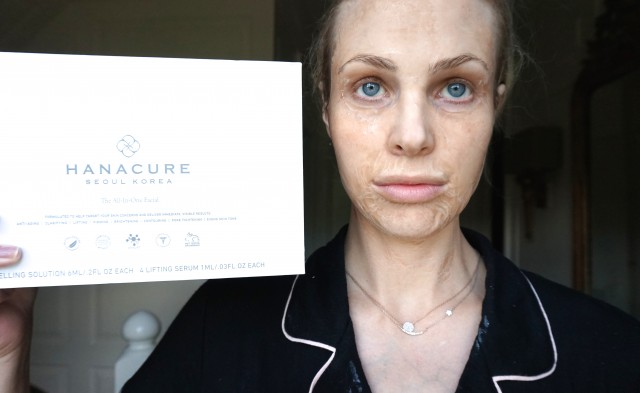 The internets are going crazy for the Hanacure mask, the Korean "All-In-One-Facial" that is said to take ten years off your face (after making you look like an old lady while you are wearing the mask). Beauty editors are raving about the "Hanacure Effect," and it keeps selling out on their website (the only place to purchase the mask). But are all these glowing reviews a PR scheme or evidence of the greatest mask ever? I plunked down my own $110 to purchase Hanacure, and this is my honest Hanacure review: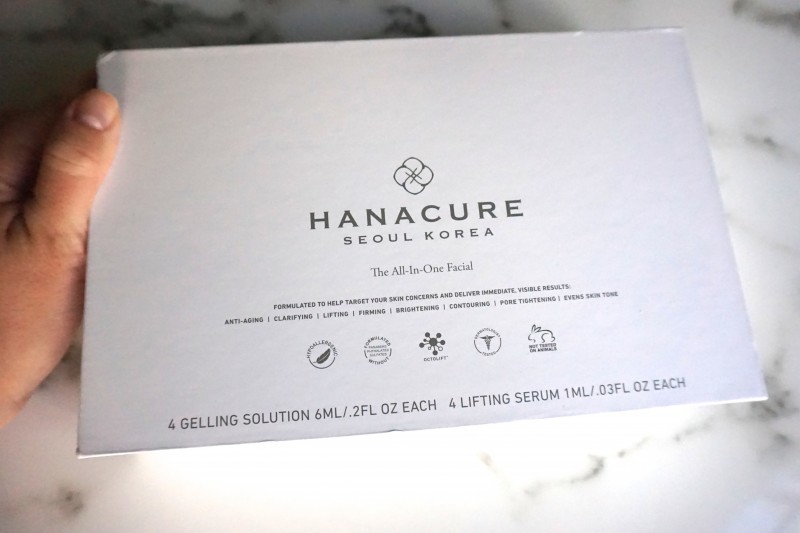 How I Discovered Hanacure:
So Drew Barrymore loves the Hanacure effect, and catapulted the company into skincare stardom with the following Instagram post: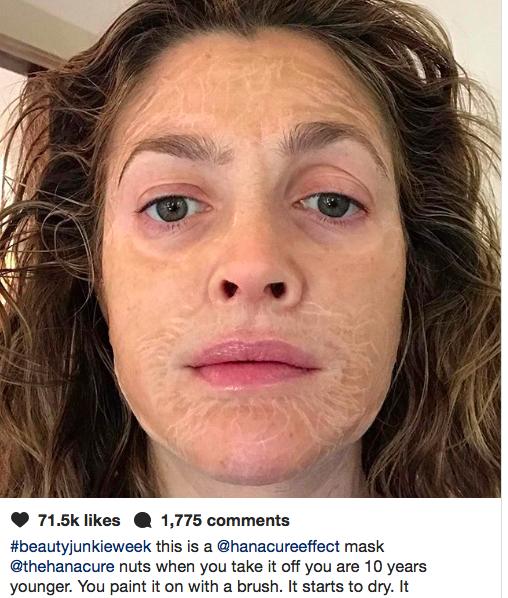 Drew looks suddenly old! Yet she swears this mask makes one look ten years younger! How could I not put this scary-looking mask on my face ASAP- my 25-year old self might just be waiting to be uncovered under those cracks. I was intrigued, but didn't pull the trigger on buying it until three readers reached out separately to tell me how awesome Hanacure is. Conveniently the $29 single-use masks were sold out on the website (well played, Hanacure!), so I spent my own $110 to buy the four pack. All in the name of research. I couldn't WAIT for it to arrive in the mail!
How it works: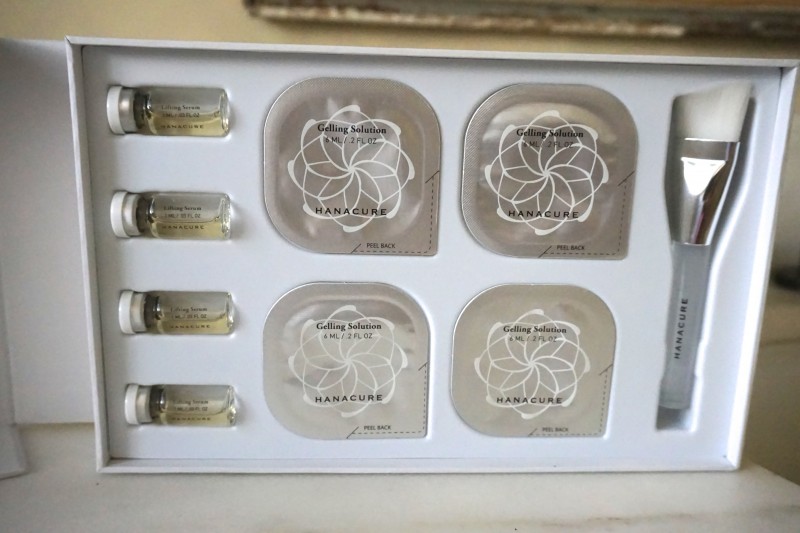 Hanacure claims the mask will "dramatically transform the appearance of your skin [and] fight the most common skin concerns with innovative age-defying technology." It targets pore size and hyperpigmentation, brightens skin tone, and lifts and contours your face, all at once. Usually I need a specific mask to address each one of those concerns separately. Active ingredients include botanicals such as lotus leaf extract, oriental raisin tree extract, green tea extract, honeysuckle flower extract, rosa canina fruit oil, peony root extract, sophora root extract; and peptides like nicotinoyl dipeptide-23, nicotinoyl dipeptide-22, acetyl hexapeptide-8, and copper tripeptide-1.
What It's Like: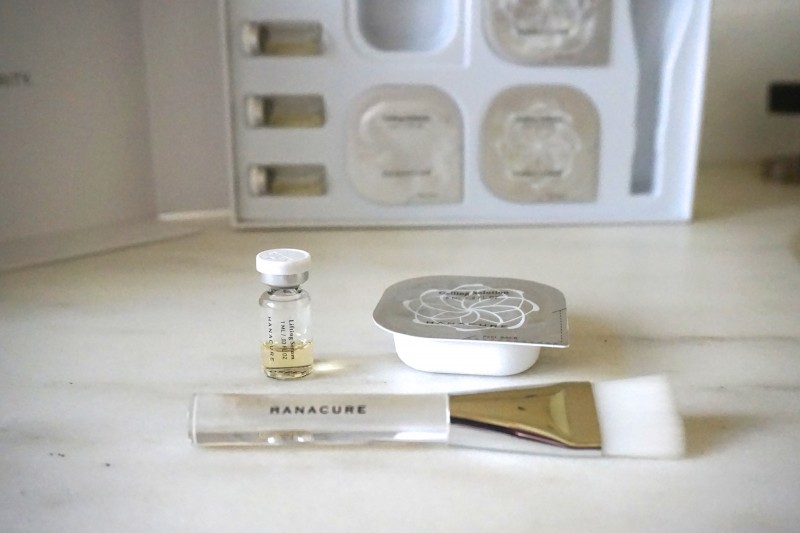 The Hanacure packaging is undeniably clean and gorgeous. As it should be when you are paying $30 PER USE (let's not lose sight of that fact). The package instructs you to pour one tiny glass 'lifting serum ampoule' into a 'gelling pack' and shake vigorously for 20 seconds to make a gel. Presumably because the ingredients are so precious (or perhaps reactive?) that it would surely spoil if the company mixed it ahead of time for me. It feels very fancy to pour the thing into the thing, but it also feels like a pain in the *ss at the end of a long day. Both the single-use and four-pack sets come with a very luxurious flattop brush with an acrylic handle that works well to spread the mask on your face and neck. I assume it will work nicely with my other masks as well. PS the instructions don't tell you this, but rinse out the brush with water immediately after applying so the product doesn't dry and harden on the brush like it's about to do on yo' face.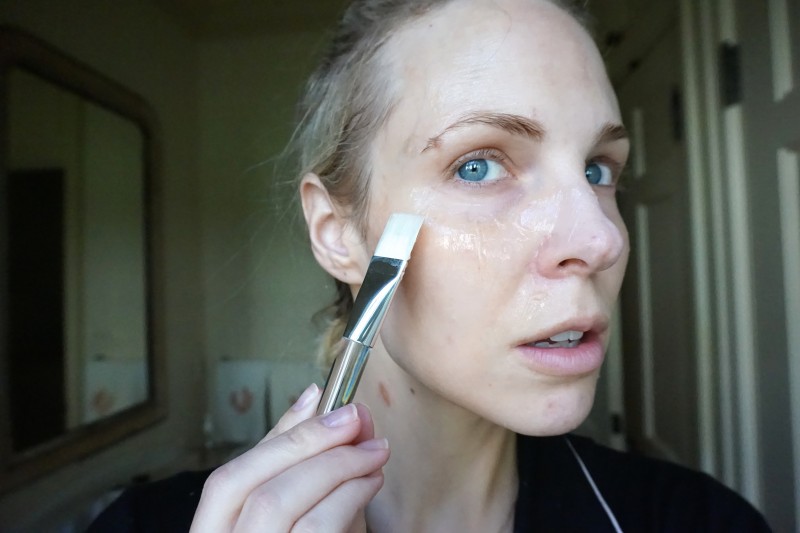 As the mask dries, you feel a very strong pulling sensation. Hanacure says you can put a blow dryer on cool or fan yourself to intensify the pulling effect. Your kids' flashcards will work well for this job.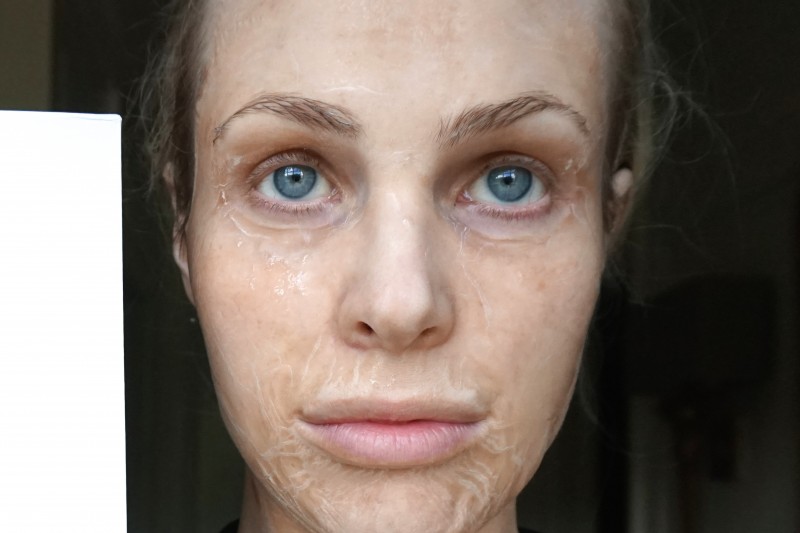 I have done the mask twice before, and I'm actually wearing the mask right now as I type this so I could refresh my impressions of what it feels like. This time I feel a little tingling and slight burning that I didn't remember from the previous two times I used the mask. And, weirdly, I feel the mask sort of pulsating on my skin. It is also pulling down my neck, and feels like it is attaching my face down to my neck. It is pulling down my lower eyelids, making it difficult to blink (isn't that a type of torture?), and kind of drying my eyes out as I try to type this and watch a movie. But my husband has picked something terrible again on Netflix so no loss there. By no means does this mask hurt, but it does not feel luxurious and refreshing, and I would never crave putting it on like I do with some masks.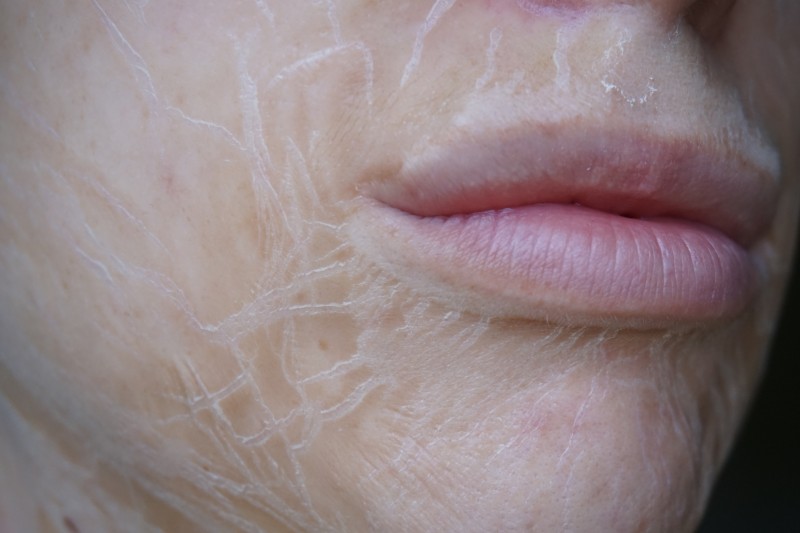 After 30 minutes you rinse off the mask with water and it comes off easily, no tugging or peeling necessary. Immediately after removing the mask I looked a little splotchy, but not severely red like some reviewers have experienced. My skin does feel very soft to the touch, but lots of masks do that. Given my splotchiness, I'm not sure if the Hanacure mask would be good for day of an event. The biggest difference I noticed in my 'After' was in reducing the appearance of pores, and my skin tone was somewhat brightened. I did feel like my skin was slightly dry the next day.
So Do I Like It?
The tight, dry feeling of the Hanacure mask would be well worth it if it made me look ten years younger (Drew, I'm holding you to that.) But I just don't see that big of a difference compared to other masks that will accomplish the same goals for way less money. Am I the only person on the internets who does not think the Hanacure mask works miracles? I believe any mask is better than none at all, so perhaps nubies who rarely mask put Hanacure on and assume the results are the best any mask can do?
My personal opinion is that Hanacure is a jack of all trades, master of none. It claims to lift, yet I see no visible lifting, and have had much better results in terms of lifting from my NuFace micro current device (or the NuFace Mini) I use daily. It does not brighten as well as an at-home glycolic peel, like Glytone. It plumps lines, but no better than Peter Thomas Roth Rose Stem Cell Mask (I use it every morning) or a good sheet mask, like the awesome cheapo Korean one I swear by. It did reduce the appearance of pores a bit, but not as much as the GlamGlow YouthMud. And while we are talking about it– $30 for one use?? That is extremely expensive, y'all. I would much rather spring for the SK-II sheet mask that is $12.50 per use- I see much more visible results from that one in terms of brightening, smoothing, lifting and adding radiance. And it is luxurious and relaxing to apply, as opposed to some scary saran wrap gimmick. Just because the Hanacure gel dries and tightens ON your skin does not mean it is actually tightening your skin.
Hanacure: buzzy? Yes. But wildly effective? Not for me, at least not at that price point.
PS the pajama set I wear in this post is AWESOME and $20 from Target! It is a total dupe for the Eberjey 'Gisele' shorty PJs I have. They look and feel exactly the same! But I wear size Small in the Target ones, and a Medium in the Eberjey ones.
xoxo,
@kathleenjenningsbeauty
You May Also Like