My January Everyday Makeup Routine
01 • 03 • 2014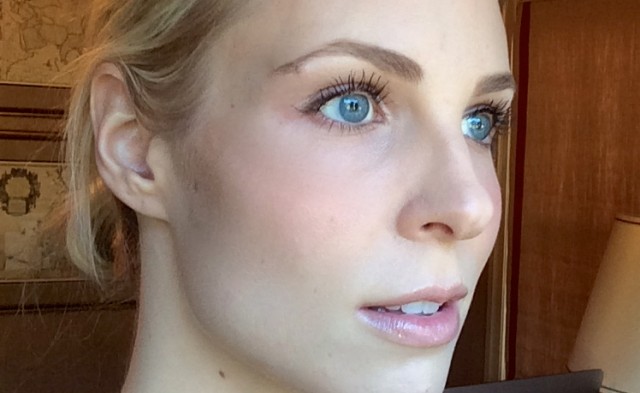 Maybe I'm not over the holidays yet, but lately I've been incorporating a little *SPARKLE* into my everyday makeup routine!  I've come up with an easy way to get an ethereal, ice princess look that makes you look awake and refreshed. Here is a rundown of the products I am using to create my everyday makeup look in 2014!
FOUNDATION: Chanel Vitalumiere Aqua Ulta-Light Skin Perfecting Makeup in Beige 10.
UNDER EYE CONCEALER: New concealer routine! First I tap on It Cosmetics Bye Bye Under Eye Concealer with my ring finger.  This stuff is SUPER opaque and concentrated, so only squeeze out the tiniest pin prick of product. So tiny. Seriously, I cannot emphasize enough how a little goes a long way. If you use too much, it will look cakey, and I promise that just the thinnest layer of the Bye Bye Under Eye will cover your circles! See how much I take out in the photo below. More than enough for both under eyes.
I use the Light shade, although the website says that 70% of skin tones should use the Neutral Medium color. After I set the Bye Bye Under Eye with powder, if I still see some dark circles or need additional highlighting, then I will tap on a tiny bit of Nars Radiant Creamy Concealer in Vanilla under my eye, sort of right above the apples of my cheeks, like this:
POWDER: Stila Set & Illuminate Baked Powder Trio, always and forever. It is totally the best setting powder.
BLUSH: I've been experimenting with a new blush that was recommended repeatedly by YouTube beauty blogger Pretty Shiny Sparkly (love her!)– Too Faced Sweethearts Perfect Flush Blush in Candy Glow.  Swirl all three shimmery pink colors together and apply to the apples of your cheeks.  This blush is a little pinker than the Kat Von D Everlasting Blush in Bellissima that I was using over the summer.
BRONZER: Laura Mercier Bronzing Pressed Powder in Golden Bronze.
HIGHLIGHTER: Benefit Watt's Up!, a champagne cream-to-powder highlighter stick. I've shared this photo before, but this is where you should be putting your highlighter:
Don't get the highlighter too close to your eyes– it will smear your eye makeup and crease in the fine lines around your eyes.
MASCARA: I have a love/hate relationship with the new mascara I've been using, Loreal Telescopic Shocking Extensions Mascara in Carbon Black. I love that the narrow, non-bristle mascara wand really gets down to the root of the lash to give me the longest, spindly lashes– more so than ANY other mascara I've tried. Here is a view of the mascara: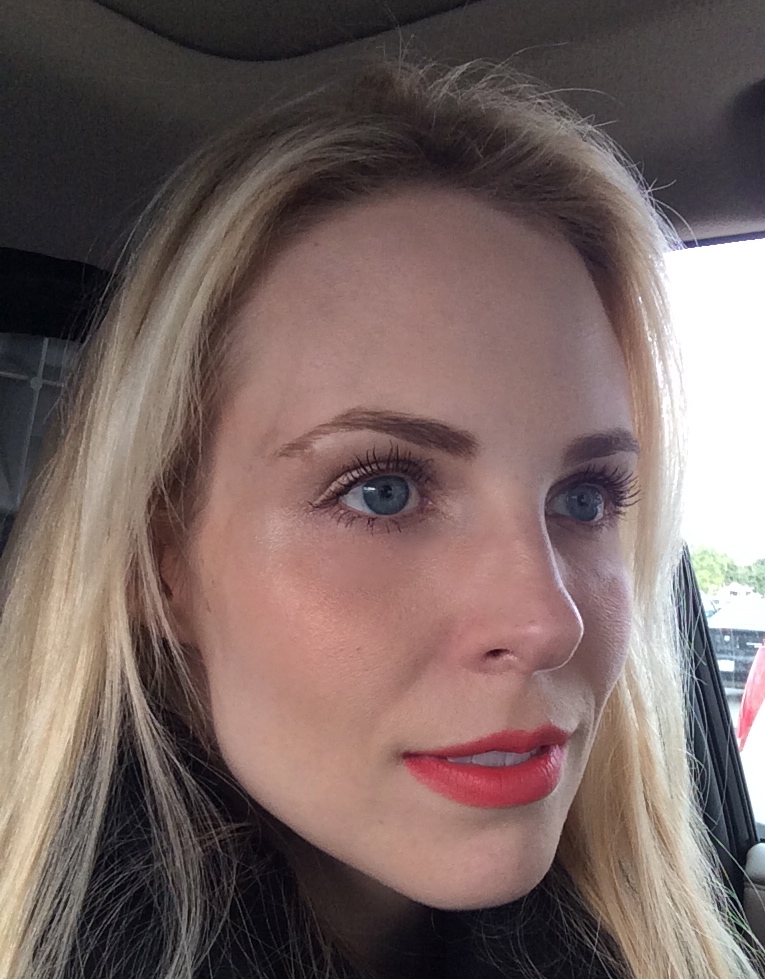 But I hate that this mascara takes a long time to put on. The product does not spread evenly over the lashes, as the wand deposits too much product in some places, almost like a clump (but the formula is wet and thin).  So I find myself having to separate my lashes afterward with a pin or tiny tweezers (no, I do not recommend that you try this at home). But if you have the time and skill to properly use this mascara, the final effect is really lovely!
EYELINER: none.
BROWS: Still using my Jentry Kelley Eyebrow Brush to apply Anastasia Brow Powder Duo in Blonde.
EYESHADOW: Here's where the ethereal snow bunny part comes in! I apply Maybelline Eye Studio Color Tattoo Metal cream shadow in Barely Branded all over my eyelid, all the way up to my brows.  This is a fabulous light champagne cream shadow that has just the right amount of shimmer and covers up any redness you might have on your lids.
Apply Barely Branded all over, and then curl your eyelashes and apply mascara immediately to help hold the curl in your lashes.  Then go back AGAIN and carefully pack on some more Barely Branded shadow right near the lash line.  It will make your lashes pop like you have liquid liner on!  Sorry for the extreme closeup, but this photo shows the eye shadow pretty well:
I have blogged about another great Color Tattoo shade, Bad to the Bronze, that is an amazing taupe color to disguise puffy eyes. I think you should get both colors since they are a steal at $6!
LIPSTICK: I have been alternating between two totally different lip looks. Look #1: Smashbox Limitless Long Wear Lip Gloss in 24/7– a glossy fuchsia that I discovered by staring at my dental hygienist for an hour during my cleaning. Super glossy, non-sticky, and a fun color that is a little different from the peachy nude colors I wear all the time. Here I am in the 24/7 lipgloss:
Look #2: I'm also loving Rimmel Moisture Renew Lipstick in Summer Angel. Summer Angel is a semi-sheer tawny bronze color with just the right amount of sheen. This is the greatest, most moisturizing lipstick and I want to go back and get more shades! And only $7 at the drugstore!
Finally, click on the handy infographic below to Pin the image to your Pinterest account and remember my January makeup picks for later:
You May Also Like