At-Home Hair Help + Sephora Spring Savings Event!
04 • 17 • 2020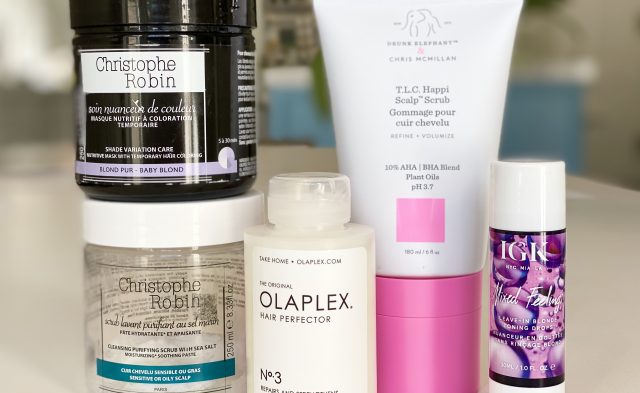 Sorry, but there's no perfect box of hair dye that is going to make us look like we just stepped out of the salon. However I have found several products that definitely help ease the gap between appointments. Today I'm discussing products that tone and brighten your hair color and help disguise grays. Plus a few hair masks, treatments and tips that will make good use of this quarantine downtime!
Disclaimer:
Sephora compensated me to write this post. As per my usual policy, I only accept sponsored posts from multi-brand retailers that allow me to pick the products I feature and the subject matter of my post.
Details:
Some of these hair products are on the pricey side, but I have good news: it is time for the Sephora Spring Savings Event, open to all tiers of Sephora's Beauty Insider program (Rouge, VIB and Insiders) in the US and Canada, online only. Here are the details:
Rouge Members (spend $1000+/year): event runs 4/17 – 5/1, 20% off with code SPRINGSAVE. Early access for Rouge starts 4/17
VIB Members (spend at least $350/year): event runs 4/21 – 4/29, 15% off with code SPRINGSAVE
A few products are excluded from the Sephora Spring Savings Event, more details about limitations here.
For more information on how to sign up for Sephora's Beauty Insider program, go here. Go ahead and sign up for the program so you can get discounts and awesome points rewards!
Best Buys
Speaking generally, Sephora events are the time to stock up on certain hair brands that are usually carried at salons and not discounted. For example, Sephora carries a large selection of Kerastase (I use their anti-brass purple mask as my normal conditioner). Another line I stock up on during the event is Bumble and Bumble. Bumble has the best styling products in my opinion, especially the Dryspun Texture Spray– a must for fine hair that I always stock up on during Sephora events.
Hair Masks
Real talk: I wear a face mask almost every single day, but I hardly ever do a hair mask. I could probably count on two hands how many I have done in my life. They are too time-consuming, too messy, and frankly I just don't care about my hair as much as my face. But now that I have more time at home, I have been spending more time on hair masking, and it already shows! I am floored by the visible improvement: with just one use of Olaplex Hair Perfector No. 3, my hair is shiny and less damaged-looking.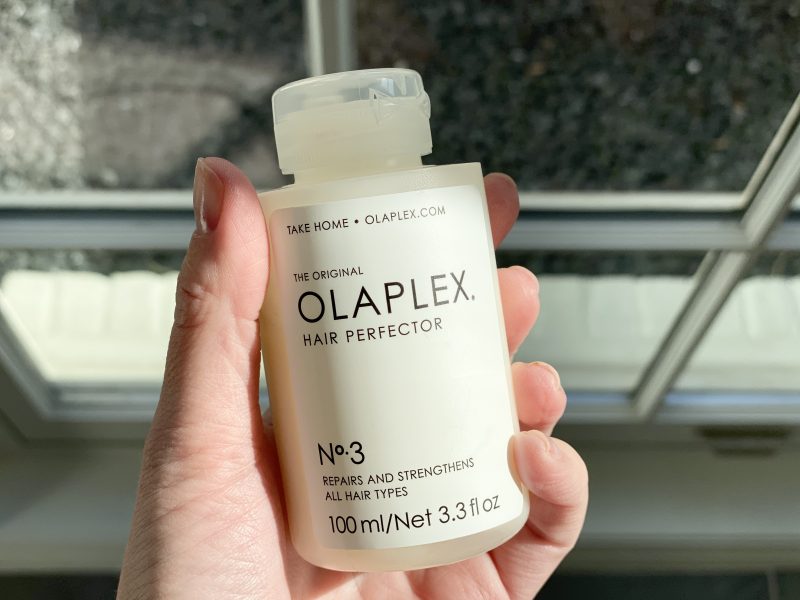 I think one reason I haven't been as into hair masking is because I had tried some drugstore ones that didn't make that much of a difference. And then awhile ago I bought the Olaplex Hair Perfector No. 3 that everyone raves about. I used it like a conditioner in my shower, and again, I didn't notice much difference. But I read more reviews, and it turns out I was using it incorrectly. You need to shampoo your hair, and then towel dry it (I like to use a microfiber towel). Then work Olaplex through your hair, roots to ends (it will not weigh down fine hair).  I stand in the shower with the water off, and then use a hair clip to twist my hair up, and then I cover it with a shower cap. I read reviews that said Olaplex works better if you don't let your hair dry out, so a shower cap helps keep it from evaporating as quickly.
The Olaplex instructions say to leave it on for 10 minutes, or 20 minutes for severely damaged hair. However the reviews I read said to get best results, leave it on longer, like hours or even sleep in it overnight. For me, I left mine in for several hours after putting the kids down while we watched TV downstairs. Then I rinsed, shampooed and conditioned normally before I went to bed. It is important to note that you still need a conditioner because the Olaplex is a bond repairer to make your hair stronger, not a traditional conditioner.
Verdict: I really love the immediate results from Olaplex and I will be buying the jumbo value size bottle during the Spring Savings Event.
Lay Off the Dry Shampoo
Judging by the Tik Tok videos, you would think dry shampoo is the official mascot of quarantine. But I'm proposing that if you aren't going to see anyone anyway, maybe take a break from using dry shampoo on an everyday basis. First of all, calm down: there are no clinical studies or reports stating that dry shampoo causes baldness by blocking pores or clogging hair follicles. However dry shampoos, at their very core function, are oil-absorbing, often containing talc and other ingredients that can cause dryness. And dry shampoos don't usually contain conditioners. So if you have fine, fragile hair like I do, frequent dry shampoo use can lead to dryness and breakage over time. And why undo all the improvement from that time-consuming hair mask you just did?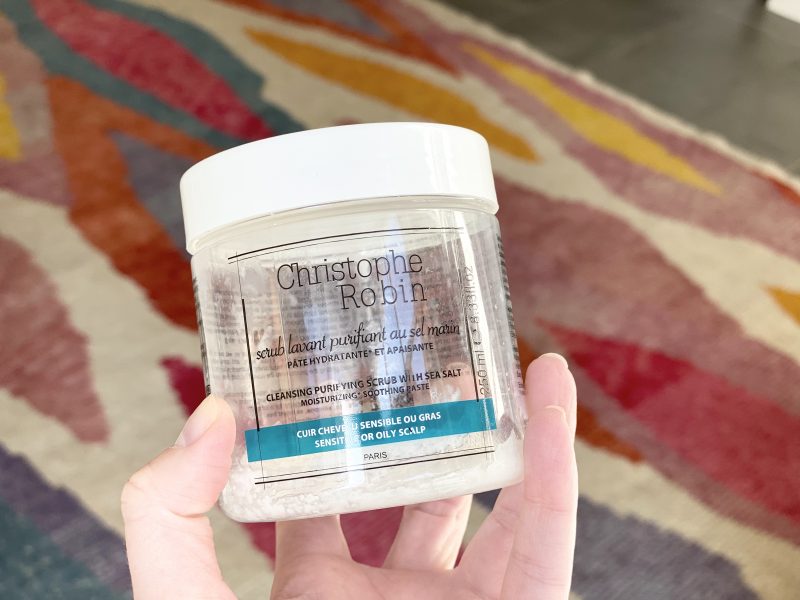 Another way to refresh and reboot your hair during this downtime? Substitute your regular shampoo with a scalp scrub once a week. I have been using Christophe Robin Purifying Scalp Scrub with Sea Salt for years now. I was influenced when blogger Emily Weiss said it was her Holy Grail favorite shampoo (back when Into the Gloss was a beauty blog and not just a platform to sell Glossier).
The texture of the Christophe Robin is just as you would imagine it– a tub filled with a thick sea salt paste (almost like a body scrub, but with coarser grains), and you scrub it on your scalp and roots to remove any dry shampoo residue or product residue. It gets very sudsy and leaves your hair feeling squeaky clean!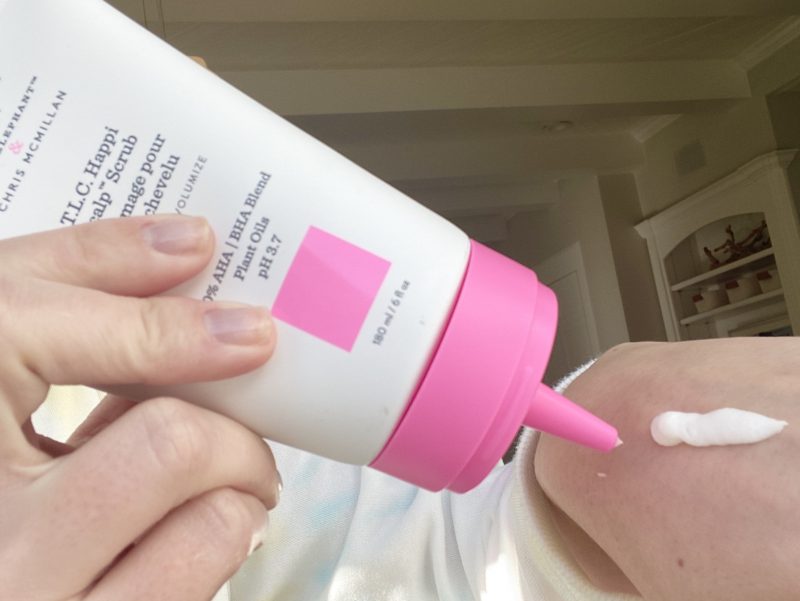 A new product from Drunk Elephant (in a collaboration with Jennifer Aniston's hairstylist, Chris McMillan), T.L.C. Happi Scalp Scrub, works similarly to remove product buildup. But you apply on dry hair before shampooing, massage into your scalp, and leave on for 10 minutes. Then shampoo and condition normally.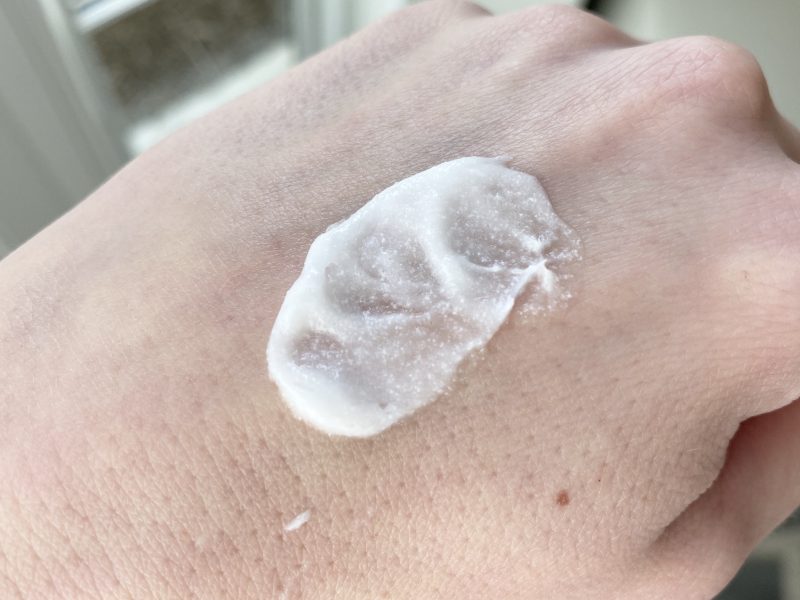 The Drunk Elephant feels a little more gentle than the Christophe Robin because it is a finer grit instead of coarse salt grains for physical exfoliation of your scalp. But the Drunk Elephant also adds a chemical exfoliation with an AHA/BHA blend of acids to dissolve dead skin cells. Regardless of which brand you pick, I think a once a week scalp scrub is a great addition to your quarantine beauty routine that doesn't require much extra time.
Color Help
If you scrolled down to this section because you have an inch of root regrowth, welcome. We are all desperate to visit our colorists, and I have to say I think brunettes are in a better position here. Since I am blonde, none of the root cover-up or box dye options are light enough to blend in my roots. If you are brunette, the dp HUE Root Touch-Up kit has been recommended by several friends and has great reviews. There is also a Bumble and Bumble Root Color Stick that several brunette friends have recommended as a quick crayon to cover up roots.
To my fellow blondes: I don't know how long this thing is going to last, but let's step away from the bleach. There's just too much room for error: get the processing time slightly off, and you are stuck with orange (too short) or purple hair (too long). So to get me through this time, I have been relying on toning hair masks. They visibly lighten and brighten my hair (and seem to re-activate the highlights a bit), plus they add shine so that my hair looks fresher and less brassy.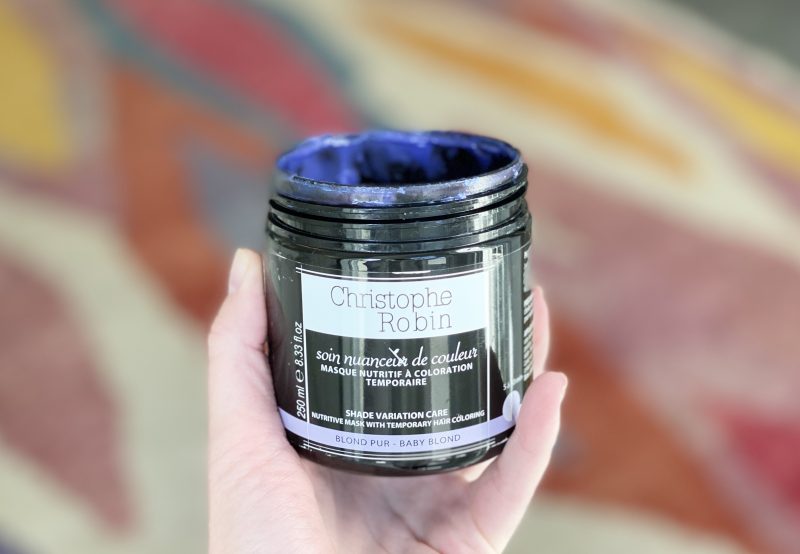 My favorite toning mask that I have been using for years in between highlight appointments is Christophe Robin Baby Blonde Shade Variation mask. It really takes down any brassiness, adds a ton of shine, and makes your hair feel so soft (without weighing it down). I dread using it because it is purple and messy, but every time I do, I think, wow I should do this more often! I use the same method as my Olaplex: I apply to shampooed, towel-dried hair standing in the shower with the water off. And then cover with a shower cap because it is messy.
IMPORTANT: do not leave the Christophe Robin blonde mask on as long as the Olaplex! Your first time I would leave it on no longer than 10 minutes and then gauge your results. I do not recommend leaving on longer than 30 minutes because it is a very active toner that actually works as advertised! It would leave your hair with a purple tint if you were to leave it on too long.
Christophe Robin also makes several Brunette Shade Variation Masks as well. They come in Ash Brown, Warm Chestnut, and Chic Copper. Obviously this blondie has never tried them, but they have great reviews as well!
One last product is a brand new one for me: IGK Mixed Feelings Leave-In Blonde Drops. Several people on Instagram recommended it to me after I was lamenting that my anti-hair thinning shampoo was causing brassiness.  IGK Mixed Feelings are concentrated drops of purple pigment that you can mix into your shampoo or any hair product. I planned to add it to my shampoo, but then I read several reviews that said it is too diluted if you mix it in with shampoo. And the directions themselves say you should mix it in with any creamy leave-in product.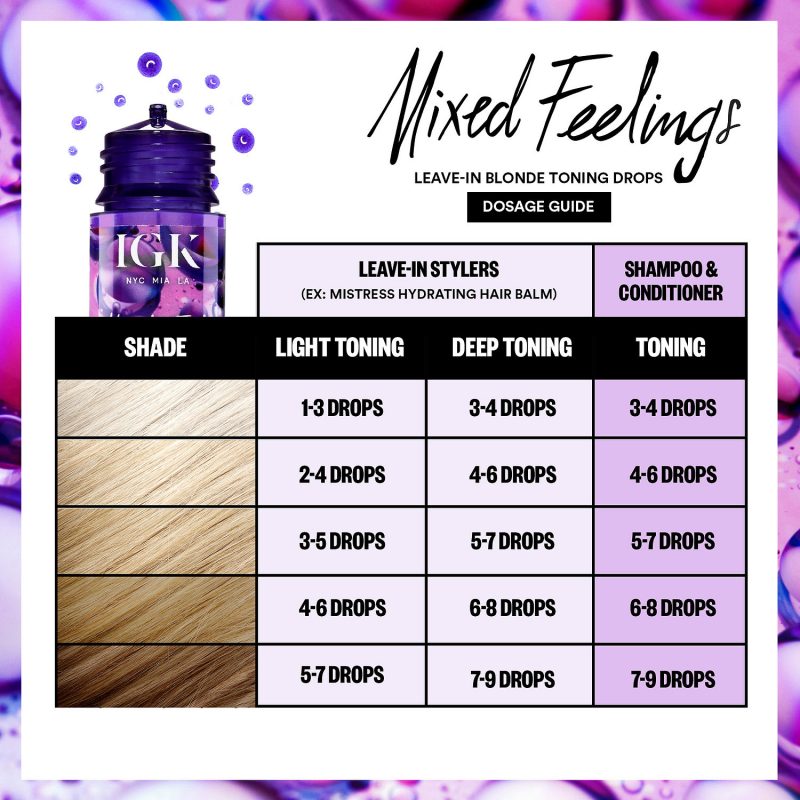 I don't really use any creamy leave-in products all over my hair because it would weigh it down, so I mixed in three drops of the IGK with my usual volumizing mousse before I blow-dried. I could see a visible reduction in brassiness in one use! And I felt like it really lightened up my highlights. So I think the Christophe Robin is more of a mask that tones and adds moisture/shine, and the IGK Mixed Feelings is more about adjusting the color only.
So to recap, my plan is to alternate the Christophe Robin Baby Blonde Mask or the Olaplex once a week, preferably after using a scalp scrub. On times I shampoo but don't use a hair mask after, I will use the IGK Mixed Feelings with my mousse. And I assume that at some point I will get rid of all the brassiness, so then I will just stick with the Olaplex once a week.
For my blog post from last year that is more generally about products I stock up on during Sephora events, click here.
Stay home and mask,
You May Also Like