My Morning Skincare Routine
01 • 27 • 2018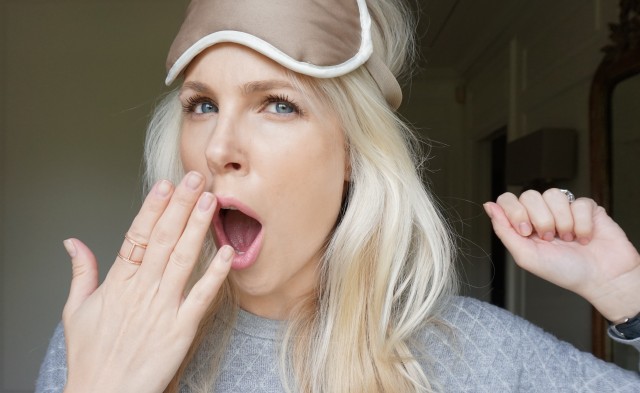 I haven't done a rundown of my everyday morning skincare routine in awhile! Here is a play-of-play of all the things I do to my face in the morning- it is a lot! Read all about my everyday morning skincare routine:
6:40 a.m.: alarm goes off. I forego cleanser in the morning, and just splash my face with cold water. Not that you should stop using cleanser in the morning if that is working for you– it's just what I've always done and I think too much cleansing disrupts the skin's natural moisture barrier. Then I try to rouse my kids and head downstairs to make breakfast and lunches.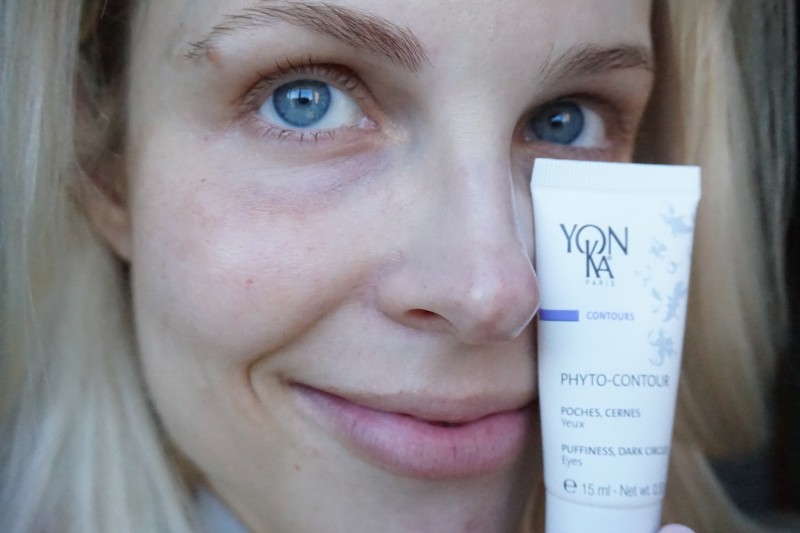 6:45 a.m.: I keep Yonka Phytocontour eye cream (also available at Dermstore) in the fridge and put it all over my eyes, top and bottom lids. At first the icy sensation is off-putting- like mentholatum on your lids! But quickly I became "addicted" to the sensation and now I don't feel awake until I put it on. This is the only eye cream I have tried that depuffs at all. It works well enough for a typical schoolday morning, but if you have a special event, use the Skyn Iceland Hydro Eye Gels to depuff because they work a little better than eye cream.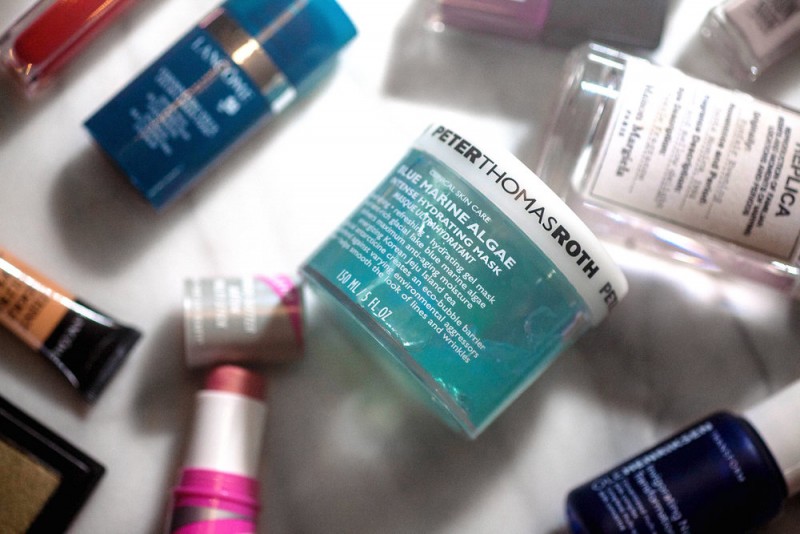 Then I smear on a gel Peter Thomas Roth mask that I also keep in the fridge. I was loving the Rose Stem Cell mask, but then when I ran out of it, they did not have that one available on Amazon (I always get my Peter Thomas Roth masks on Amazon because they are about $20 cheaper than Sephora/Ulta). So lately I have been using the Blue Marine Algae Intense Hydrating Mask. I can't decide which one I like better because they are nearly identical with pretty much identical results. I think the Blue Marine one is slightly more hydrating, and the Rose seems a little more like it's "active" in terms of anti-aging ingredients. If you put a gun to my head and made me choose which one is better, I guess I would say the Rose Stem Cell, but I like them both and am definitely going to finish the Blue Marine Algae one.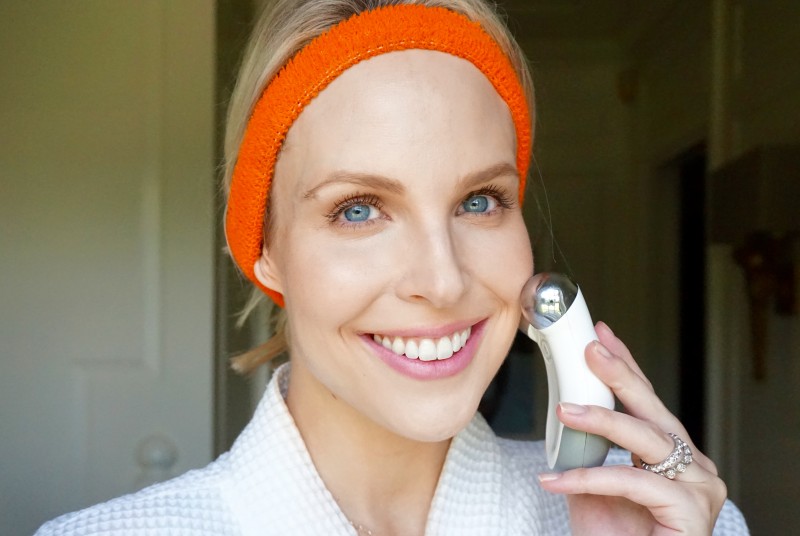 7:15 a.m.: After I have made breakfast and lunches, I head back upstairs to use my NuFace micro current device for facial sagging (full review here). Instead of buying the conductive gel that NuFace recommends, I make use of the Peter Thomas Roth mask already on my face. I splash some more water on my face to rewet the gel, and then do the NuFace for the five minute session. I do my NuFace nearly every single day, which is annoying, but it really works to lift my sagging jowls and lift the brows. Before you balk, understand that I no longer need to look into a mirror while I doing my NuFace, so I use that five minutes productively. Adept at doing things one-handed (I'm a mom, duh), I make beds, pick up toys, lay out clothes and bark orders, unhindered by my micro current device.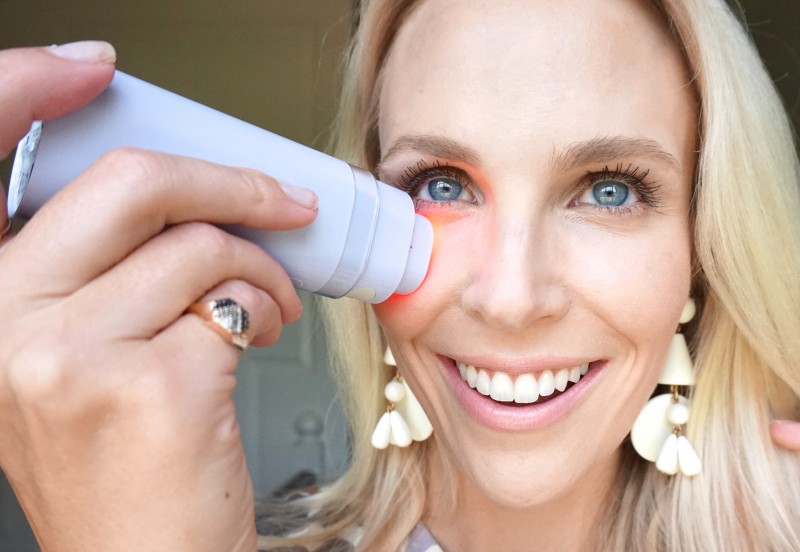 I splash water to wash the face mask off. Now if I have time (which I usually do not), I blot my face with a towel and leave my eye area damp, and do my me Bright Eye Illuminating Device. It is a radio frequency device that builds collagen and plumps the under eye hollows, and truly improves under eye circles, both immediately and over time. You can read my full post about the me Bright device here. As I said, I usually do not have time for the me Bright in the morning, so I save it for nighttime after the kids are down. So I move straight from my NuFace to applying my skincare products.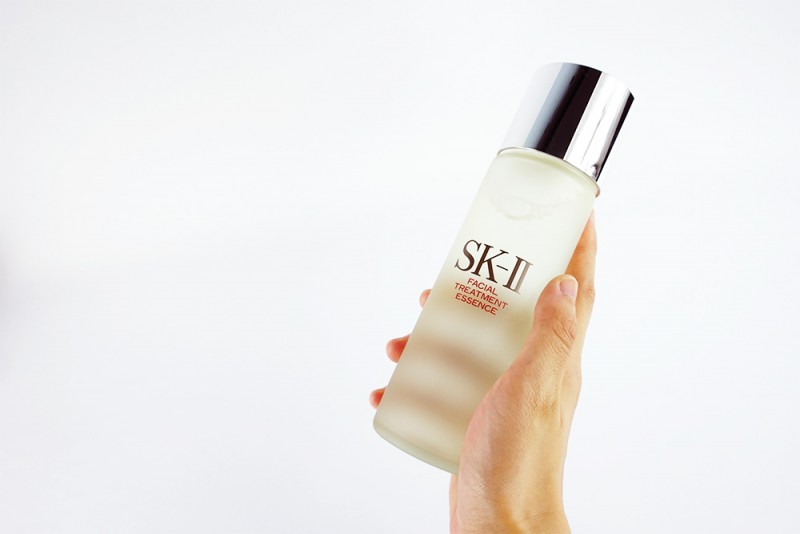 7:25 a.m.: On clean, bare skin, I first apply the SK-II Facial Treatment Essence, a watery substance that I pat on and it absorbs quickly. A staple in Asian skincare routines for eons, this essence is pricey but the bottle lasts a long time and really does create a more bright, crystal clear complexion.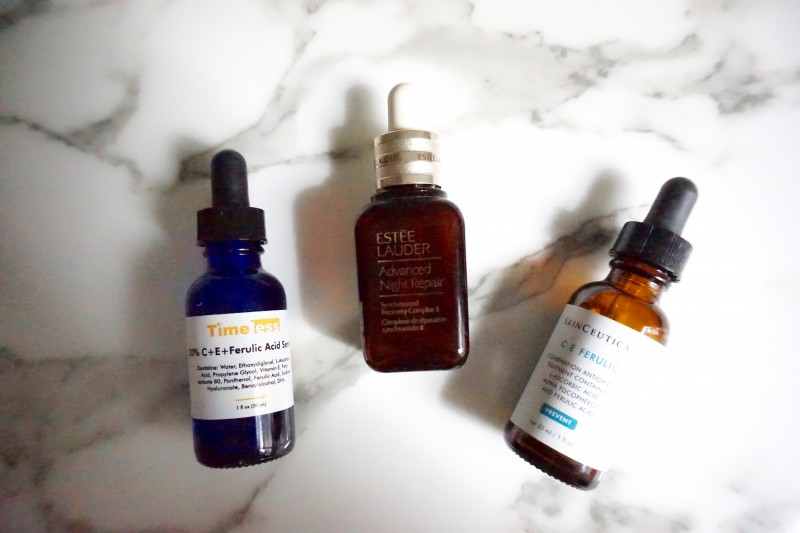 Next I apply a Vitamin C serum- a daily essential because it is an antioxidant to prevent environmental damage (from pollution, etc.) that ages skin, and also because it fades dark spots, keeps melasma at bay, and generally evens out your skin tone. If I go on a long trip and stop using my Vitamin C Serum for several days in a row, I notice my melasma getting worse. So I know it truly works! I have experimented with several different brands of Vitamin C serums, and my favorite is the Drunk Elephant C Firma serum (also available on Amazon, though some reviewers speculate the product is not as fresh). It is a very close dupe to Skinceuticals C E Ferulic, another favorite of mine, but at a fraction of the cost (though still pricey). As far as a budget Vitamin C serum, the Timeless C E Ferulic serum works fine. The internets have held it out as a dupe for the Skinceuticals, which it is NOT. The Skinceuticals and Drunk Elephant are very moisturizing, and the Timeless is more runny. But it definitely works better than nothing, so if you do not use a Vitamin C serum, I urge you to at least incorporate the budget Timeless one into your regimen.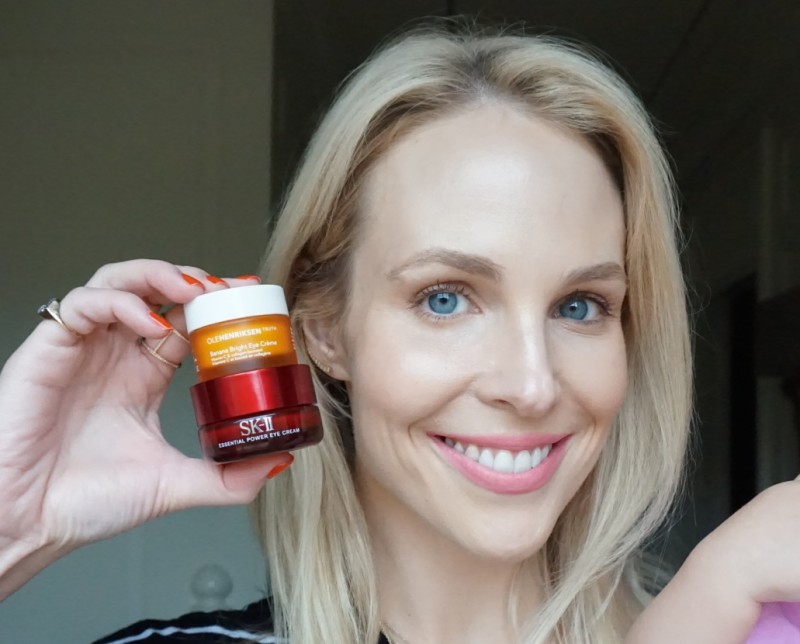 Next come the eyes. Lately I have been dabbing Biologique Recherche (BR) Oligo Proteines Marines Serum around my eyes. BR products are extremely effective (their Masque VIP O2 is one of my fave masks ever), but I can't decide if this serum is really doing anything or not. Then I top the serum with an eye cream- my favorite is the Tatcha Revitalizing Eye Cream which is I have repurchased twice. Right now I'm switching between two other eye creams, SK-II Essential Power Eye Cream [apparently discontinued, no loss there] and Ole Henriksen Banana Bright Eye Cream. A reader told me the Banana Bright eye cream was awesome and only $38- it goes on very nicely and I actually like it better than the SK-II, but neither are as moisturizing as my Tatcha fave eye cream. But if you tried the Tatcha and thought it was a little thick, then you might really like the Banana Bright, a very good mid-priced eye cream that is better than 95% of the other eye creams I've tried.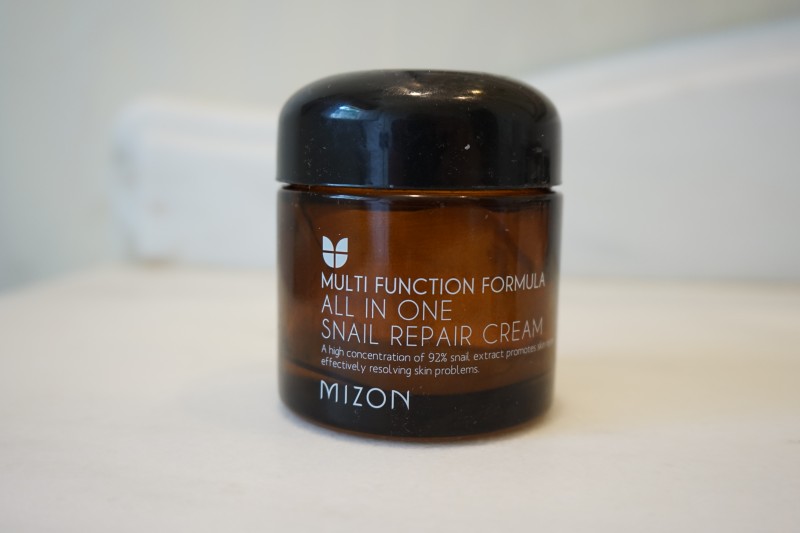 Then I apply Mizon All-in-One Snail Repair Cream (full post here), followed by Elta MD UV Clear SPF 46. If I am going to be playing tennis that day, I skip the Mizon and Elta, and just apply La Roche Posay Melt-In Sunscreen Milk, voted the #1 most effective sunscreen by Consumer Reports.
I quickly dab It Cosmetics Bye Bye Breakout (in shade Fair) on any zits or red marks left behind by zits. This miracle product is a recent discovery and I am completely obsessed. It covers redness so incredibly well and also treats the zit with zinc oxide and kaolin clay to dry it out.
7:30 a.m.: Out the door and ready to face the day, a mere 11 products later.
xoxo,
You May Also Like