The Best Spot Treatment for Zits
07 • 30 • 2020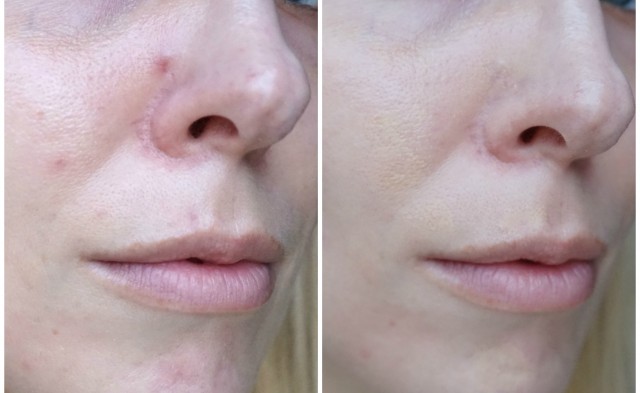 Another downside of COVID? Maskne (the acne you get from wearing protective masks!) I have gotten a lot of questions about the best spot treatment for zits lately, so today I am talking about my Holy Grail acne treatments that help treat, cover and prevent future breakouts.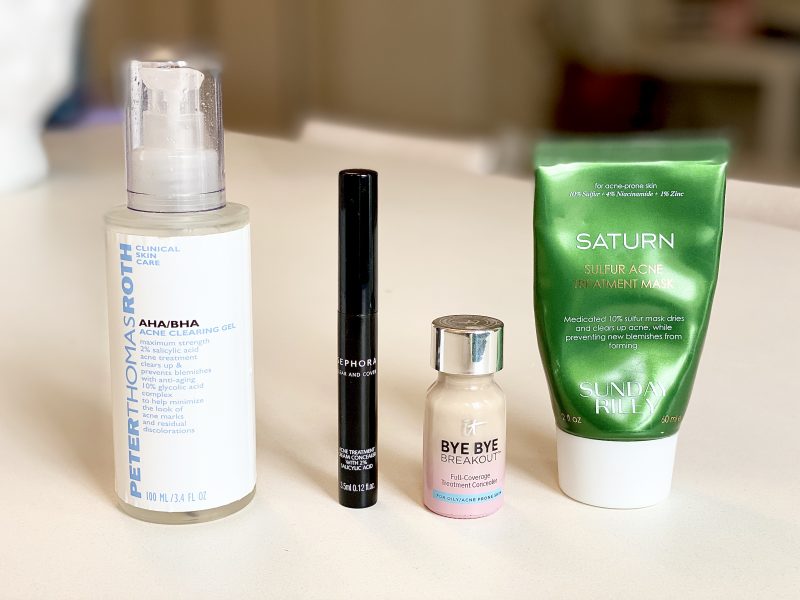 Disclaimer
Sephora compensated me to write this post. I selected the topic and products to feature and paid for them with my own money.
Also I want to be clear that I'm not a doctor and this blog post is no substitute for medical advice. If you are suffering from chronic acne, I urge you to consult your dermatologist. Definitely work with your doctor to figure out your own product regimen!
The Best Spot Treatment
The real hero of this blog post is the Peter Thomas Roth Acne Clearing Gel. This spot treatment + acne preventative is probably my best discovery of the past six months. The Acne Clearing Gel is an oil- and fragrance-free pore clearing gel with maximum-strength two percent salicylic acid (BHA) and a potent 10 percent glycolic acid complex (AHA). (Note: avoid Salicylic Acid if you are pregnant or breastfeeding).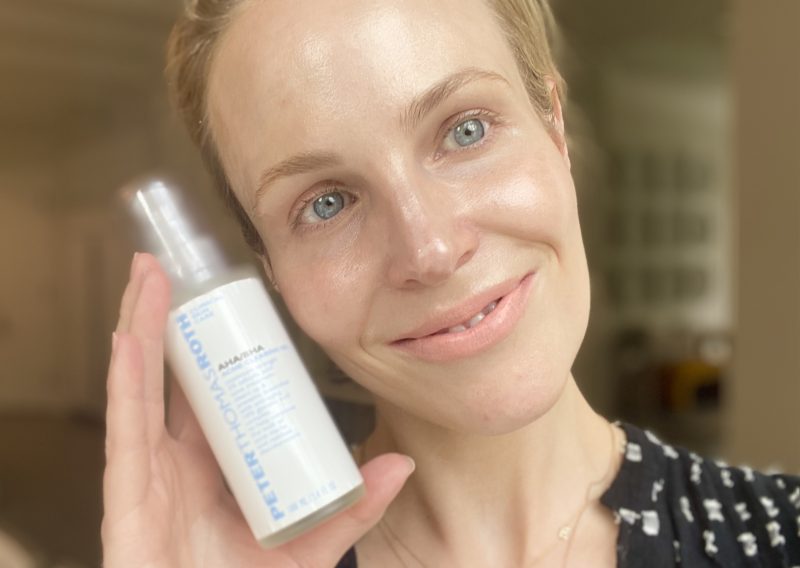 The Acne Clearing Gel is truly a jack of all trades. Of all the acne products I have ever tried, the Acne Clearing Gel works the absolute best to treat all types of zits- painful cysts, bumps/clogged pores, ones with a head (sorry). If I see some bumps under the skin, I dab on a tiny bit of the Acne Clearing Gel and they are vastly improved the next day (see photo below!) It works wonders on maskne (the small pimples I'm getting around my mouth and chin from wearing protective masks!) The most amazing part is that I can apply it multiple times a day and it does not dry out the surrounding skin.
Even if I do not have an active zit, I have been applying Acne Clearing Gel preventatively. I apply a tiny amount (it is hard to only do a tiny fraction of a pump!) to my chin, between my brows, and around my nose where I tend to get zits. I believe this has really cut down on the frequency of my breakouts! Plus the BHA/AHA complex helps fade the red marks left by old zits.
How does the Acne Clearing Gel fit into my regular skincare routine? I apply it morning and night on the affected area, usually before my moisturizer or SPF. If I have an active breakout then I will dab it on several times throughout the day.
The Peter Thomas Roth Acne Clearing Gel is as close to a miracle product as I have found for acne. If you buy one thing for your acne, I would wholeheartedly recommend this! It works better for me than zit stickers/acne patches (I get that question a lot).
Overnight Zit Mask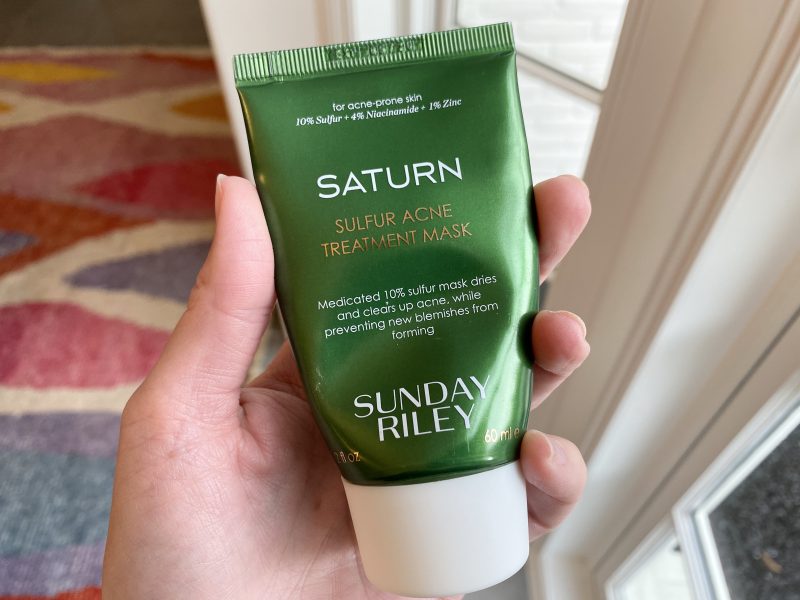 I also like to use the Acne Clearing Gel in tandem with the Sunday Riley Saturn Sulfur Acne Treatment Mask. It is packed with great acne-fighting ingredients like sulfur and niacinamide. If I have a zit that is coming to a head and needs to be dried out, then I apply a tiny amount of gel and let it dry and proceed with the rest of my skincare routine. Then before bed I smear a thin layer of the Saturn mask on the zit. For some reason it works better when I apply a thin layer as opposed to a big glob of the Saturn. The Acne Clearing Gel + the Saturn mask is a zit-killing combo!
Don't forget to sign up for Sephora's free Beauty Insider program to get discounts, birthday gifts, and point rewards! I have seen a deluxe sample of the Saturn as a point reward before!
Cover and Treat
A longtime Holy Grail acne product for me is the It Cosmetics Bye Bye Breakout, a full-coverage concealer that completely covers redness while treating the breakout. Ingredients include oil-absorbing zinc oxide, kaolin clay, witch hazel, tea tree, sulfur and a gentle AHA/BHA complex to clear up the zit quickly without over-drying your skin.
It Cosmetics says that Bye Bye Breakout is perfect for oily and acne-prone skin, but I think it works for all skin types (normal or even dry!) as long as you use it sparingly as a spot treatment on just the zit itself.
I had been searching for a great concealer for zits ever since they discontinued my Bobbi Brown one. Like my Bobbi Brown stick cover up, the It Cosmetics contains kaolin clay to dry out the zit. But I like the Bye Bye Breakout even better than my prior favorite. First, it has unbelievably full coverage- no redness shows through at all! The formula is very thin, so while it has amazing coverage, it blends in like a second skin and is nearly undetectable.
Also it is incredibly matte, which helps blur and minimize the appearance of the giant hill in your skin. Whenever you have radiant or glowy concealers, they make light reflect off it. Which is great for under eye circles, but for zits, it makes the height and profile of the actual bump stand out more. Because the Bye Bye Breakout is super matte, no light bounces off of it, so the "pimple hill" (I should coin that) is less apparent.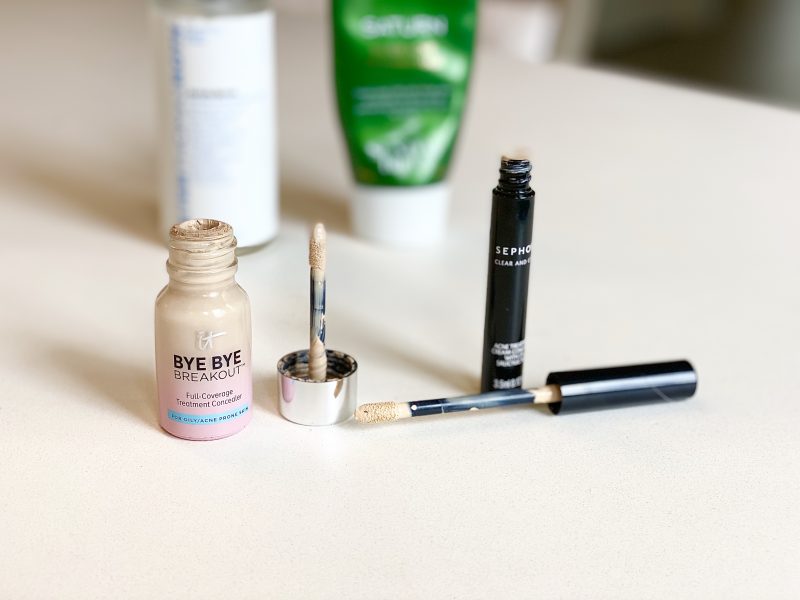 One downside of this fantastic product is Bye Bye Breakout's rather limited shade range (7 shades). I wear the lightest shade, Fair, and I would say it dries down on the darker side. Sephora recently released a similar product, Clear and Cover Acne Treatment Concealer. It also contains 2% salicylic acid to treat acne while covering. The Sephora concealer has a more inclusive 15 shades (I wear 2 Linen), and it seems to cover about as well as the Bye Bye Breakout. If you rarely break out, you might prefer the Sephora because it has a lower price point ($14 vs. the Bye Bye Breakout is $32). But if you work out the price per ounce, the Bye Bye Breakout is actually a better value.
Let me know if I need to add some hero acne products to my list!
xoxo,
You May Also Like