Makeup for Humid Weather
07 • 10 • 2020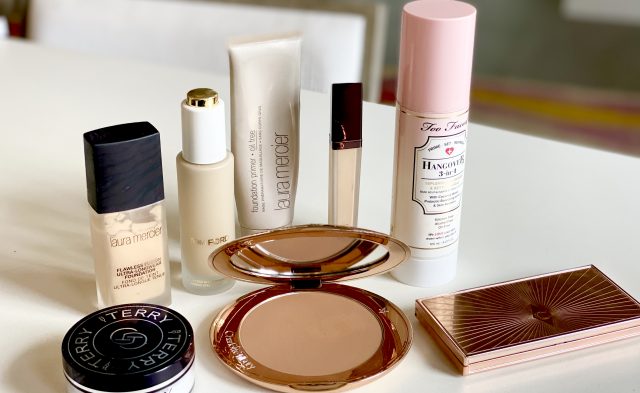 If you're like me, the only evening "plans" I've had for months involve sitting outside in a neighbor's yard. The problem is that whenever I wear makeup out in the heat and humidity, I inevitably get a zit. But one good thing to come out of quarantine is that through much trial and error, I developed a combo of products that offer lasting coverage and polish but do not break me out. Read on for my guide to makeup for humid weather:
Disclaimer
Nordstrom compensated me to write this blog post. I selected the products featured and the subject matter of this post.
Longwear Foundation
If there is one takeaway from this post, it is that the key to not breaking out is to find a foundation that does NOT need to be set with powder. I tried so many combinations and discovered that it was only when I set my makeup with powder that I actually got a breakout. (Of course your mileage may vary, I'm just one person!)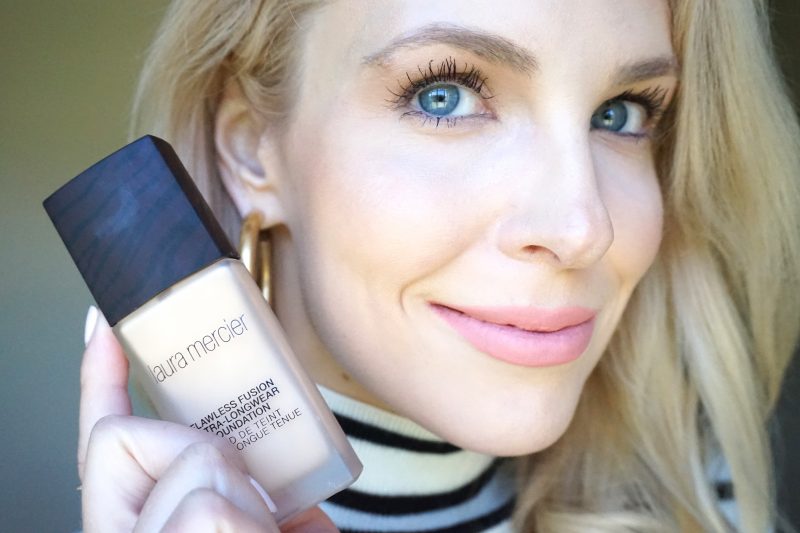 My favorite foundation for nighttime in the heat is Laura Mercier Flawless Fusion Ultra-Longwear Foundation. It is matte and full coverage but looks like skin, not mask-like. One would think full coverage foundation would not be appropriate for summer, but I find it is more low-maintenance because it covers dark circles and any imperfections in one fell swoop. I use a mix of shades Cashew and Vanille. Nordstrom has a great return policy so if you are unsure about your shade, you can order a few and return what doesn't work.
I discovered Flawless Fusion (full review here) a few years ago and immediately loved it, but then I started to think that up close it looked a little dry. [I was setting it with my go-to glowy setting powder, Hourglass Ambient Lighting in Ethereal Light.] But recently I got an idea to try it without powder since it is so mattifying, and it worked! The finish doesn't budge, even without setting powder. This is a great foundation for normal to oily skin, but I think would even work for dry skin in the summer heat without powder.
For full coverage with a glowier finish, I would recommend Charlotte Tilbury Airbrush Foundation. I know several makeup artists that swear by the Airbrush Foundation for brides on the big day! Similar to the Laura Mercier Flawless Fusion, I thought the Charlotte Tilbury Airbrush Foundation looked a little dry on me when I set with powder. But without powder it is fine and stays on extremely well. I do think the Laura Mercier does a better job at mattifying and minimizing the appearance of pores, though.
If you prefer a glowy, lighter-coverage foundation, I really like the Tom Ford Soleil Glow Foundation (the favorite of my buddy @veronabrit). My shade is 1.4 Bone. It smooths out your complexion and gives a beautiful glow but stays on pretty well without powder. The Tom Ford has SPF, but I should point out that it is not enough SPF to rely on for sun protection. The tinted moisturizers, foundations and sunscreens I use for daytime will be the subject of another post!
Use Powders Sparingly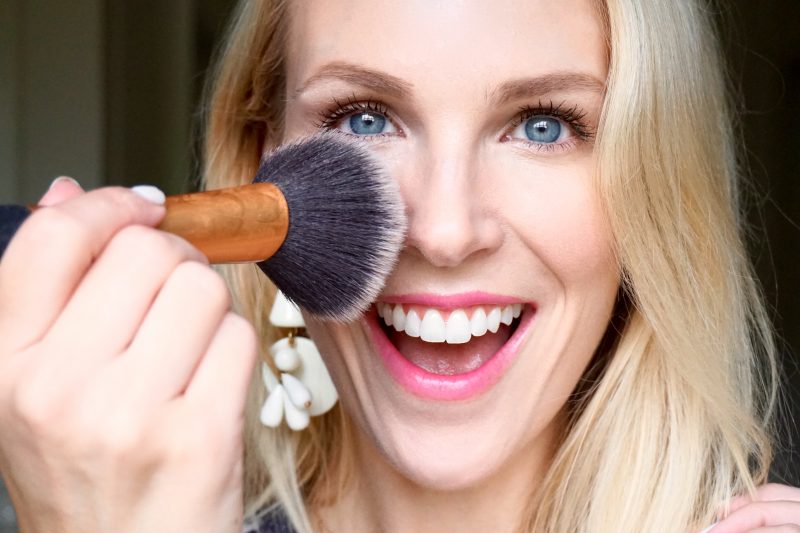 If I still see undereye circles peeking through after foundation, I dab on a bit of the Hourglass Vanish Airbrush Concealer (I have shades Creme and Cotton). Lately I have been reaching for the Hourglass over my Holy Grail Nars Radiant Creamy Concealer because the Hourglass has better lasting power.
If I see that my concealer is creasing, I will carefully pat on some setting powder only in my under eye area. Instead of the large fluffy powder brush I usually use to apply powder all over my face (as in the above photo), I use a smaller, flat powder brush so I have more control and precision.
Some people think the key to control concealer creasing is to use a special undereye setting powder, like the Laura Mercier Secret Brightening Powder. For me, I feel like regular setting powder works just about the same. One of my newest discoveries, the By Terry Hyaluronic Hydra-Powder, is my current go-to setting powder. I have never seen anything make skin look so poreless! And it never looks dry, so it is perfect to use under the eyes. Highly recommend this new (to me!) powder! For travel though, I use Charlotte Tilbury Airbrush Flawless Finish Powder because I find loose powders to be too much of a mess.
As far as blush and bronzer, I do prefer powder versions because cream ones tend to rub off the foundation I just applied (letting my melasma and other imperfections reappear). But as I discussed before, powders seem to be the main culprit in my humidity breakouts. So when I am going to be outside, I skip the blush and just use a little bronzer to warm up and add dimension to my face. It keeps the amount of powder to a minimum and hasn't seemed to cause a breakout.
I have been using Charlotte Tilbury Filmstar Bronze and Glow for awhile now, but I recently bought the new Charlotte Tilbury Airbrush Bronzer to compare (I have the Medium shade, and the Light shade in the Filmstar). The main difference is that the Airbrush Bronzer is matte while the Filmstar has shimmer/highlight in it.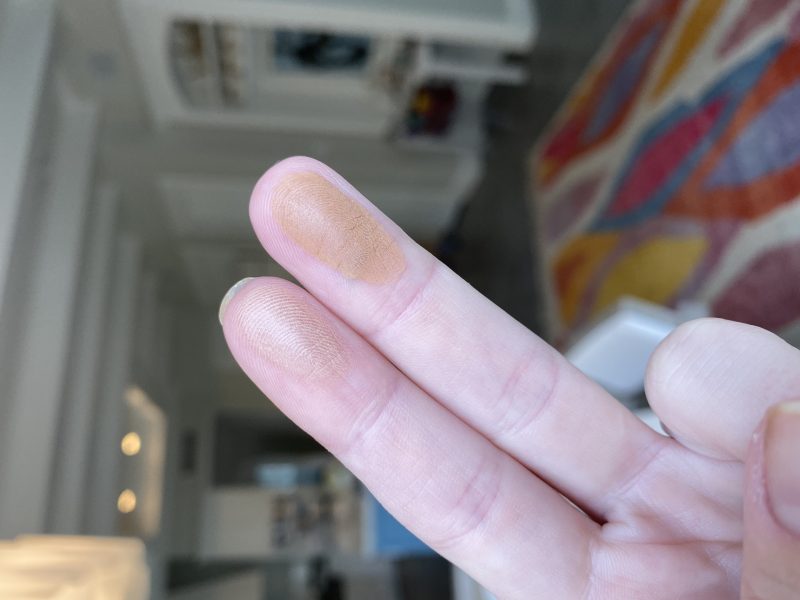 I like them both, but the Airbrush Bronzer has a lot more intense color payoff, while the Filmstar takes several layers to build up color. The Airbrush also seems to last a little longer, making it a better pick for humidity (although I love that the Filmstar is really bronzer and highlight in one, even if you don't use the highlighter pan on the right). If you have oily skin or large, visible pores, you will probably prefer the Airbrush Bronzer because shimmer can exaggerate the appearance of pores.
Prime and Set
If you are not using setting powder, there are a couple other things you can do to help your makeup last in the humidity. A primer can help make your foundation grip better, but many primers are notorious for breaking me out. My current go-to primer is the Too Faced Hangover Spray. It is too wet to use as a setting spray, but I LOVE it before makeup because it makes my skin look more poreless and extends the weartime of my makeup. Even on the sweatiest day, the Hangover Spray has never caused a breakout! If you prefer a cream, Laura Mercier Oil-Free Primer has been a longtime favorite of mine.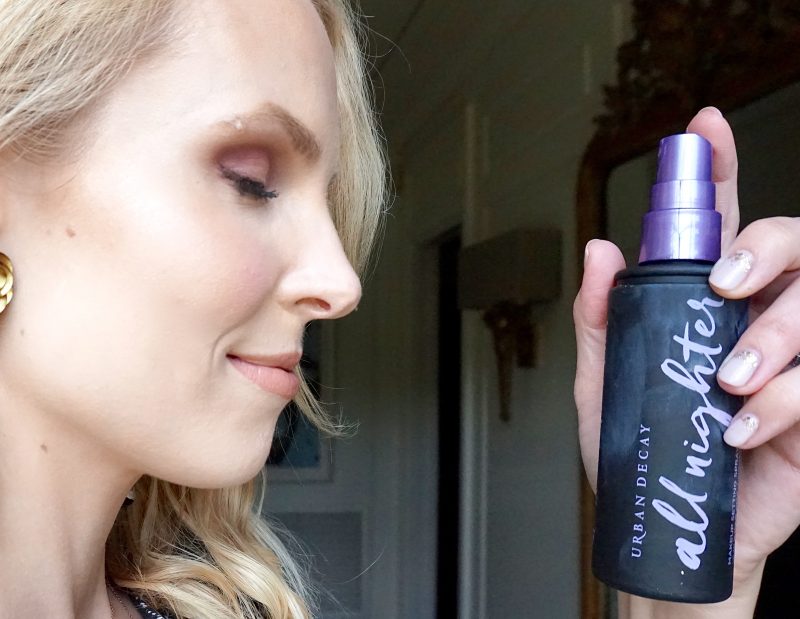 And don't forget the setting spray! My Holy Grail setting spray for years has been the Urban Decay All Nighter Setting Spray. It really does keep your makeup on longer, especially in humid conditions. I think you can pass on the primer step, but the setting spray is critical!
xoxo,
You May Also Like