The Most Compelling Before/After Ever
07 • 07 • 2014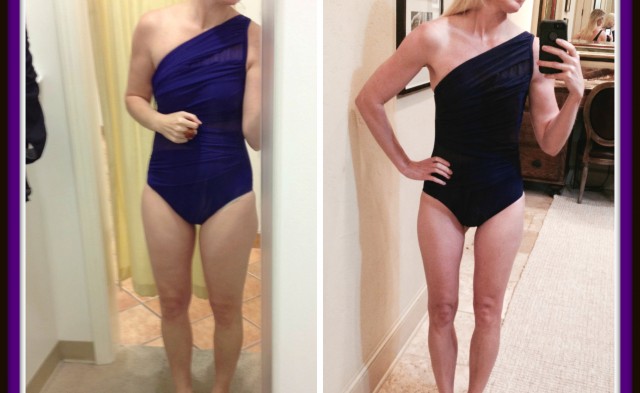 No, those are not my legs. Those gorgeous gams belong to one of my favorite bloggers, San Antonio-based Erin Busbee of Busbee Style, courtesy of her Tracy Anderson DVD. Since this is a beauty blog, I figured I should probably be posting something about exercise. But my current routine consists of lugging around unwieldy toddlers and constantly picking up Legos (Cross-training! Muscle confusion!). Then I was scrolling through my Facebook feed and came across the the Most. Compelling. Before/After. Ever.
You've probably heard of Tracy Anderson, Gwyneth's trainer, and her method for creating long, lean "dancer" muscles. But I've kind of been ignoring all the buzz because I figured Gwyneth-type results were unobtainable without hiring the actual Tracy as your personal trainer and subsisting on a delicious diet of raw kale dust.
But blogger Erin swears her impressive "Before/After" is due only to the 30-minute toning portion of Tracy Anderson's Metamorphosis DVD, without even doing the extra cardio or diet Miz Anderson recommends. That definitely got my attention! Head on over to Busbee Style to read Erin's real, honest account of the Tracy Anderson method.
I also totally respect the fact that Erin posted actual tummy fat photos (sitting down!) as she was describing her post-pregnancy Tracy Anderson routine. Thank you, Erin, for your journalistic integrity!
You can bet your bottom dollar that I immediately went online to buy Tracy Anderson Metamorphosis: Glutecentric. I haven't done a workout video since the Cindy Crawford workout VHS circa 1993, but I plan to do my Tracy Anderson 30 minutes a day. Starting, um, tomorrow. I will keep you posted on my results!
UPDATE: In case you're wondering, Erin's swimsuit is…wait for it…a Miraclesuit! She's wearing the Eggplant color available here.
xoxo,
@beautynowapp
You May Also Like