The Product I *Almost* Invented
03 • 06 • 2015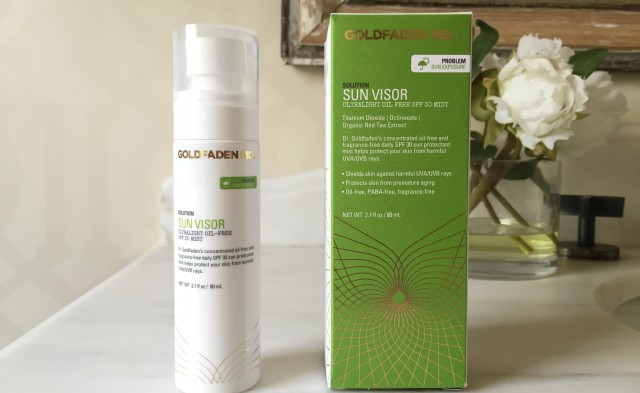 I have a very important product find for you today– maybe one of the most necessary products I have ever covered on my blog. I discovered Goldfaden MD Sun Visor Ultralight Oil-Free SPF 30 Mist after scouring the interwebs for a makeup setting spray that contains SPF. Yes, there are already spray sunscreens out there, but none that are specifically designed and marketed to be reapplied throughout the day without disturbing your makeup. Until now! I hope you enjoy my Goldfaden MD Sun Visor review:
Last year my world was rocked when I learned that the tinted moisturizer and BB creams that I had been relying on for years to protect my skin (like Laura Mercier Tinted Moisturizer or my beloved Chanel Vitalumiere Aqua) COMPLETELY lose their SPF protection after two hours. You can read more details in my post here, but the bottom line is that most SPF formulas you find on the market contain chemical blockers (e.g. oxybenzone, homosalate) which break down after two hours in sunlight. Physical blockers like zinc oxide and titanium dioxide (which are usually contained in products marketed as "mineral" or "natural") are actually more effective skin protectors. The physical blockers theoretically have a longer life on your skin, but dermatologists still recommend that you reapply sun protection every two hours. But how are you supposed to do that after you have applied all your makeup? Everyone knows that if you were to put cream sunscreen over powder makeup you'd be a cakey mess. Oh, and I've tried the powder mineral sunscreens from Colorscience and Peter Thomas Roth, but those were too drying for my skin and gave me eczema under my eyes.
So I started on my quest to find a setting spray, much like the Urban Decay All Nighter Setting Spray (which is very effective to make your makeup last, by the way!), but that contains sunscreen, and ideally a physical sunscreen like zinc oxide and titanium dioxide. Even with the plethora of spray sunscreens on the market (I spray them on my kids' bodies all Summer), I could not find one that was marketed to go OVER makeup and didn't need to be rubbed in. I even went so far as to ask my dermatologist if he knew of any such product (and suggest that if not, we should collaborate to make one and make MILLIONSSSSS!!) He did not know of any setting spray with SPF, but suggested the powder kind of sunscreen. He also didn't sound too jazzed about said collaboration.
Then, a couple weeks later, I stumbled upon a blog that emphasizes natural beauty products, and one of the editors recommended dermatologist-developed Goldfaden MD Sun Visor Ultralight Oil-Free SPF 30 Mist. Dr. Goldfaden's fast absorbing, organic, and paraben-free spray protects skin while not disturbing makeup. As far as active ingredients, on the back of the box it says "Titanium Dioxide and Zinc Oxide offer dual-action protection by delivering high-level UV filters….," but in the ingredients list, I didn't see any zinc oxide listed, only Titanium Dioxide 2%, Octinoxate 3%, and Benzophenone 3.1% (both chemical blockers). I emailed Goldfaden MD to get to the bottom of this discrepancy, and their representatives confirmed that it does contain zinc oxide: "Goldfaden MD uses a blend of Titanium Dioxide and Zinc Oxide and for labeling purposes, they are required to note the top percentage of the main active which is Titanium Dioxide. This is the reason that Zinc Oxide it is not listed on the actives." The spray also touts Organic Red Tea to "rejuvenate skin and provide antioxidant benefits."
Anyway, I put my plans to manufacture an SPF setting spray on hold while I tested out the Dr. Goldfaden for a month. Even at $45 for a relatively small bottle (or I found it for $40 on Amazon), I plan to purchase a second bottle to carry around in my purse. Right now it lives right by the bowl that holds all our car keys. About to pick up the kids from school and head to the park? A few sprays on my face and I'm out the door, feeling virtuous about having re-upped my SPF skin protection. I've suffered no breakouts or clogged pores, and it does not disturb the makeup that I have so artfully applied.
I highly recommend that each of you purchase this product because I haven't found anything else like it on the market. That said, Goldfaden MD Sun Visor spray is not perfect. At first when you spray it, it leaves little white dots all over your face. There are several bad reviews on Amazon complaining about it, but DON'T WORRY– the spots completely disappear within 2 minutes!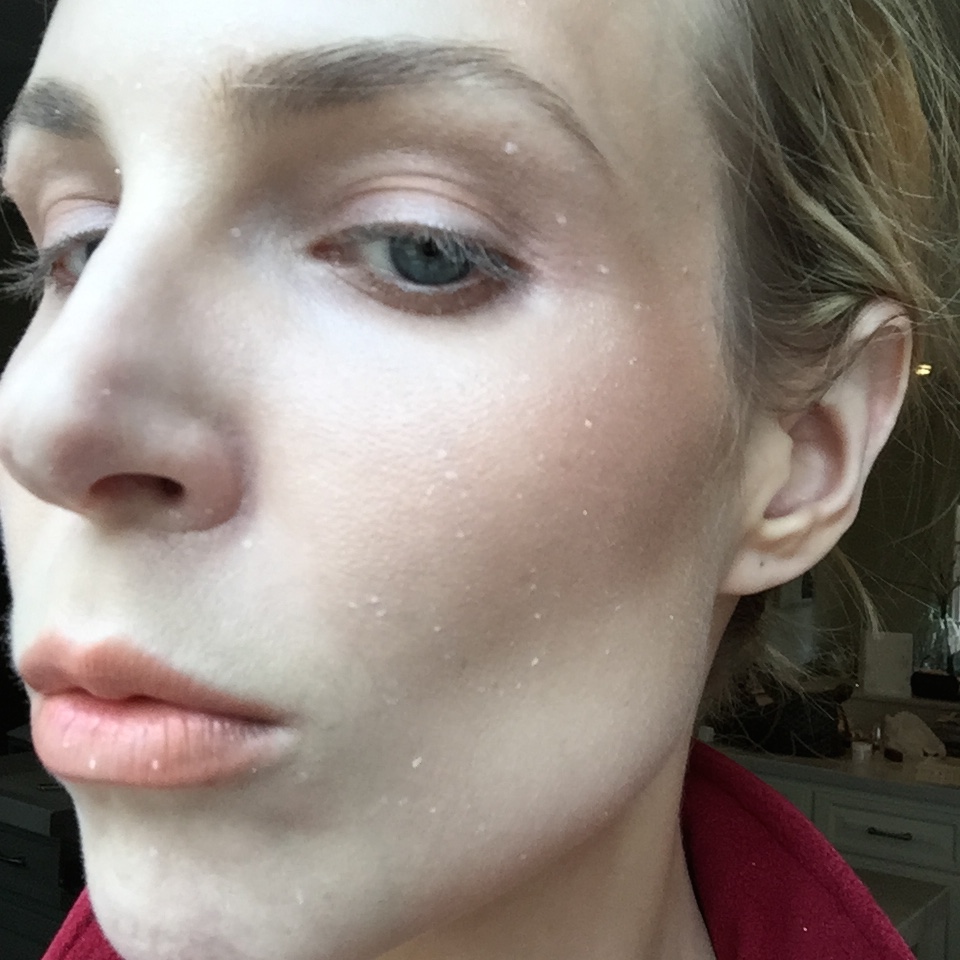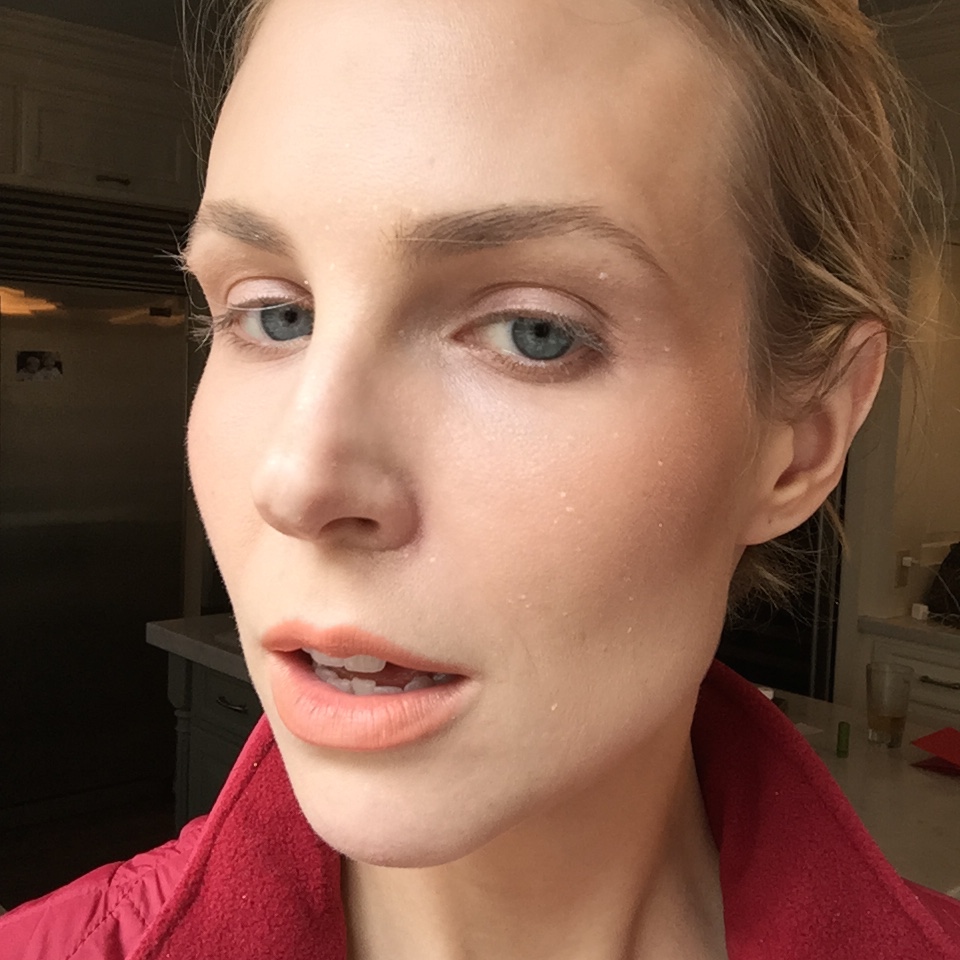 Do not rub the white dots in and disturb your makeup– just leave them alone and they will be gone before you have time to walk out the door, I promise. See?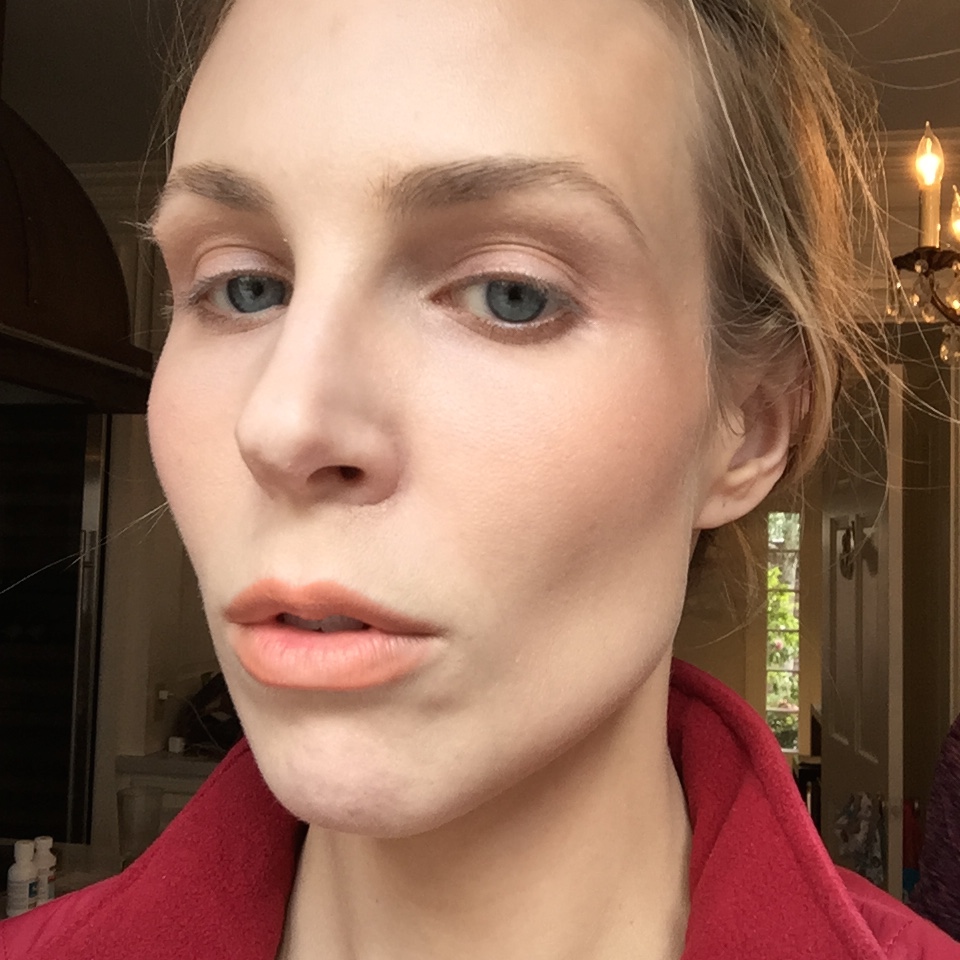 Also I wish that the spray mist were a little more fine and evenly dispersed, like the Urban Decay Setting Spray, or even a fine aerosol mist like those Evian face sprays. But until my work on the BeautyNow app gets a little less hectic and I have time to develop my own BeautyNow-branded makeup setting spray with SPF, Goldfaden MD Sun Visor is the best option out there.
Buy your bottle on Amazon Prime so it arrives before you head off for fun and sun over Spring Break!
xoxo,
@beautynowapp
3 Responses to "The Product I *Almost* Invented"
You May Also Like