Reese Witherspoon's Forehead: A Retrospective
02 • 23 • 2015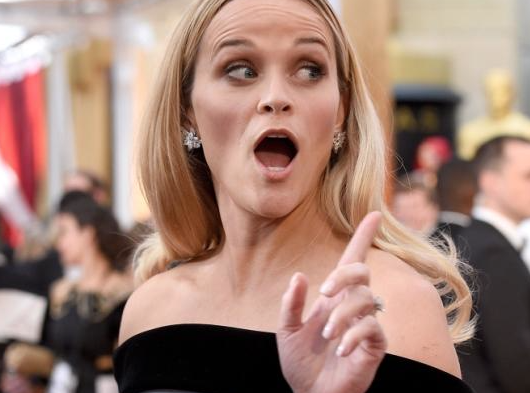 Poor Reese Witherspoon, victim of HD television and vicious internet trolls who are berating her for her forehead wrinkles on the Oscars red carpet last night. How dare Reese Witherspoon age– where is that '90s ingenue in the Wet Seal sweater set? Interestingly, her crime is not whether she had Botox or didn't have Botox, but rather the speculation is that Reese got Botoxed BADLY. Indeed, when she made her eyebrows raised up expression on the red carpet last night, Reese's forehead looked not-so-perfect:
At my friend's Oscars Party and on the interwebs everywhere, viewers speculated that Reese got Botox in the "elevenses" or vertical lines in between her brows, but neglected to get Botox across the top of her forehead. As a result, there is a smooth space in between/above her brows, but wrinkles galore on the top part of her forehead.
Therefore, instead of working on my insane to-do list for the BeautyNow app, I decided my time would be better spent on a "Reese Witherspoon Forehead" Google deep dive to get to the bottom of this mystery. Did she get Botox? Did she get Botox in the wrong formation? Or perhaps there is just a weird smooth part in the middle of her forehead? Behold the video evidence.
First, here's Reese in 1998 for her first interview with David Letterman at age 22. She is adorably, uncomfortably unscripted, unstyled, and non Hollywood-handlered, reminding me why we fell in love with her back in the Nineties. Before the DUI and all the "Don't you know who I am?!?" nonsense. PS, I love the fact that celebrities used to show up for Letterman wearing V-neck sweaters from the Gap.
Anyway, even though the clip is a little grainy and non-HD, you can still see that she kind of had that smooth part of her forehead above her eyebrows when she would raise her eyebrows (which she does frequently). Here's the clip if you want to examine it for yourself: https://www.youtube.com/watch?v=-gADATHkFkk, or here's a screenshot:
Now consider Reese Witherspoon in 2006, accepting her Oscar for 'Walk The Line.' Frequently making the raised-eyebrows face, and always with the weird smooth spot in between/above the eyebrows. Here are some screenshots and the full clip below:
Now check out Reese in an interview for 'Wild' from October 2014. The weird smooth forehead part is still there. This photo looks photoshopped, but I swear I didn't touch it. Now, obviously since this is from just a few months ago, it may have been the same session of Botox, but the smooth patch is so consistent over the years that it leads me to believe it is natural.
So, there you have it: my opinion is that Reese has not done Botox. I think her natural expression pattern leaves a smooth part where she has no wrinkles, and certain areas where she has wrinkles now because she is damn near 40 and has three kids. Sista, I feel you.
xoxo,
@beautynowapp
You May Also Like