The Best Under Eye Concealer
08 • 19 • 2013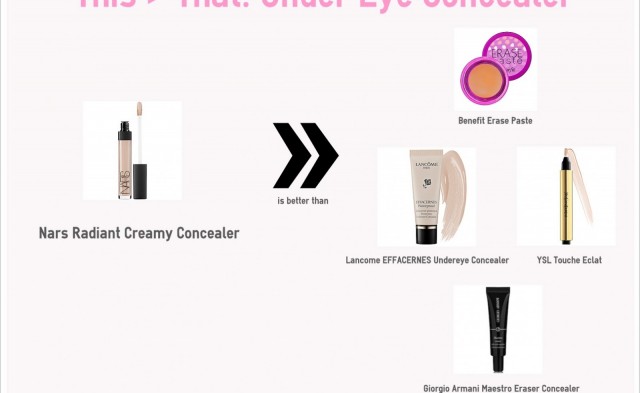 I think concealer is my #1 most needed makeup product, especially for my under eye circles.  Some days they are worse than others– it could be allergies, one of the boys waking me up, staying up too late on a Netflix binge, salty Mexican food and margaritas… 
Here's the Before pic of me with zero makeup
Since college I have been loyal to Laura Mercier Secret Camouflage concealer in SC-2 for my under eye circles.  Recently, though, I had noticed that the product was too dry for my eye area and it was looking crepey and not going on as well.  On a mission to find a new under eye concealer, I tried Lancome EFFACERNES Waterproof Protective Undereye Concealer, Giorgio Armani Maestro Eraser, YSL Touche Eclat, Benefit Erase Paste, and finally, Nars Creamy Radiant Concealer in Vanilla, which was the clear winner.  It has full, yet imperceptible coverage, and it layers well, even when you set the concealer with powder in between layers.
The Arsenal
Here's the key: don't use the wand to dot on the concealer around your eye.  Take a tiny bit of concealer off of the wand with your ringfinger, and then dot with your finger on the shadows.  Use a light "tapping" motion to blend it in without rubbing it in too much.  Using your finger instead of the wand makes a BIG difference in how well it covers the circles.
After you blend in the first layer of concealer, dust loose powder over it to set.  I use Clinique Gentle Light Powder in 04 Glow 3 Neutral [bad news, just found out this is discontinued].  The great thing about the Nars concealer is that if your under eye circles are still peeking through, you can tap on just a TINY bit more concealer until you get your desired level of coverage.  The Nars does not cake even though you are layering cream over powder.
I still use Laura Mercier Secret Camouflage to correct redness around the nose area and to cover any random blemishes.
First Layer of Concealer
Second Layer of Concealer
Here is the After picture, with brows, blush, bronzer, mascara and lipstick:
Looks a little makeup-y in this light…
Looks more natural here…
5 Responses to "The Best Under Eye Concealer"
You May Also Like