The Costume That Will Win Halloween
10 • 13 • 2017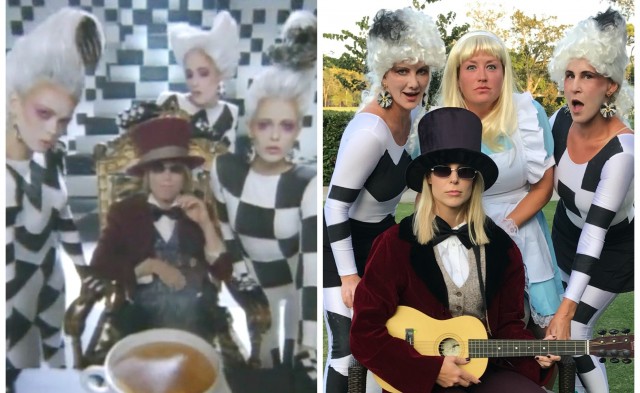 I'm not good at tennis, but I have a core competency in costume assembly. So I was thrilled when our club announced "Creepy Courts," a Halloween tradition where you dress up in costume with your partner and then attempt to play tennis matches while consuming blood orange margaritas. After racking my brain for weeks on how to dress up as the solar eclipse, I was inspired by the sudden passing of Southern rock's everyman, Tom Petty. While watching Petty videos on YouTube I got the idea to be Tom Petty from his iconic Alice in Wonderland-themed "Don't Come Around Here No More" video. So here is my DIY Tom Petty costume for Halloween 2017 (and you can get all the items on Amazon Prime within two days!):
Tom Petty: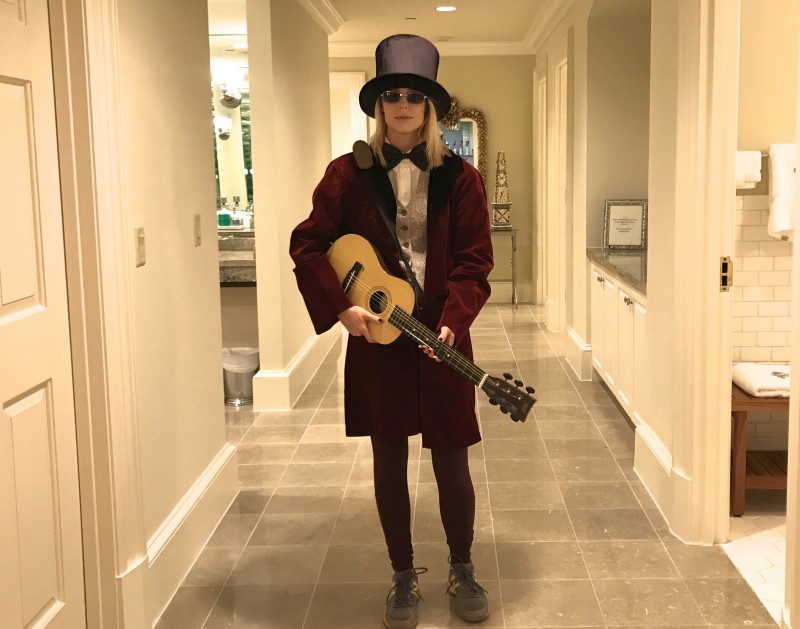 It's not as simple as just buying a Mad Hatter costume. All women's Mad Hatter costumes are actually "Sexy Goth Mad Hatter" costumes, and all the men's Mad Hatter costumes are meant to resemble Johnny Depp's character in the recent Tim Burton Alice in Wonderland adaptation. I tried on one of the ready-made Mad Hatter costumes in person at Party City and it was not the right look at all. So I asked my mom, a former history teacher, what is the proper name for the old-fashioned coat the Mad Hatter wears? Apparently it is a "redingote," which turns up exactly zero results on Amazon. It did however inspire me to search for "Edwardian costume," where I hit pay dirt. I ordered this burgundy velvet coat, which was by far the closest to Petty's coat in the video. I paired it with my own tweed vest (although Petty wears a brocade vest), a black bow tie, a sleeveless white button down (because it is hot), and burgundy leggings from Athleta that are actually really cute and flattering.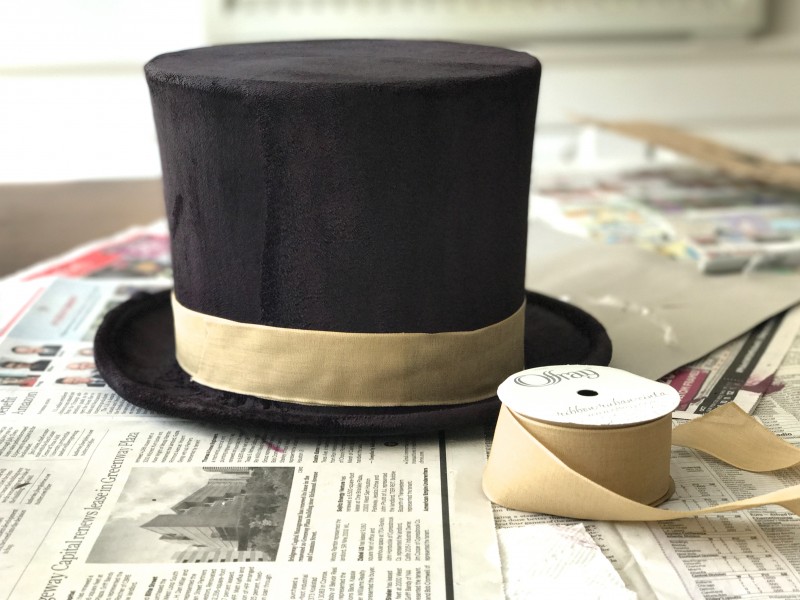 Petty wears a maroon top hat in the video to match his suit. I found this Victorian style velvet-ish hat at Party City, but this hat from Amazon would work too. Importantly the hat needs to bow out at the top, not go straight up, otherwise you will look like Slash. Go too tall with the hat, and it will read magician. Once I found the right shape, I ripped off the black ribbon bow, and painted the hat with two coats of wine-colored fabric paint. Velvet is not ideal for painting because it soaks up the paint, but two coats gave a purplish cast that looked a little less circus ringmaster. Then I attached taupe ribbon around the brim with double-sided tape.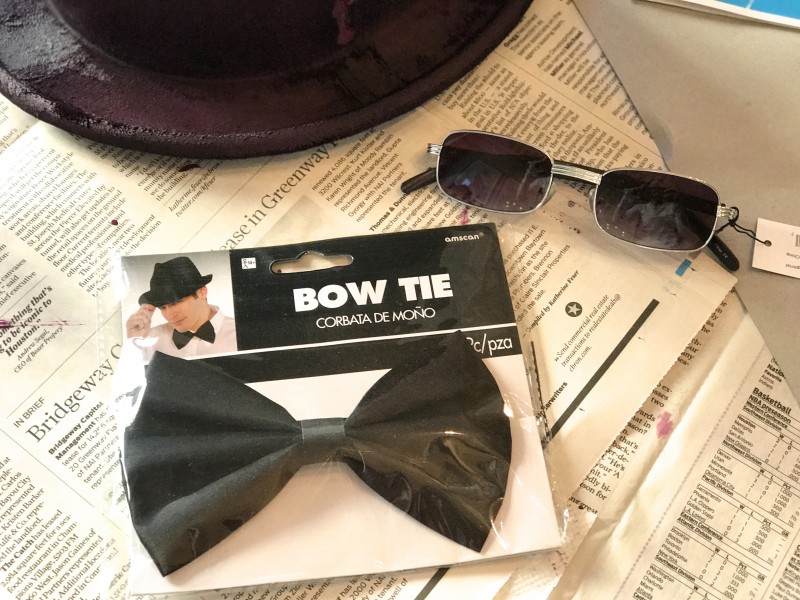 You won't look like Petty without the proper rectangular sunglasses! I used these sunglasses– they were not plain black like the ones in the video, but the gradient lenses and silver metal looked very Petty nonetheless.
Petty fans will note that he did not play a guitar in the video, but I carried my kid's acoustic guitar to look a little more "rock star." No one is exactly spot-checking against the video.
Alice in Wonderland: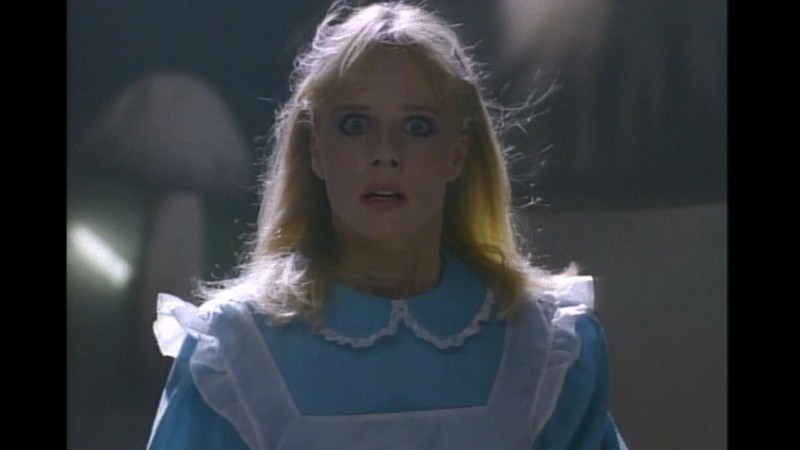 The Alice costume is the easy part. We bought this Alice costume and this straight blonde wig with bangs. Alice in the video (played by an actress who now lives with her four children in Tomball, Texas) features some '80s touches, like white lace fingerless gloves. She also sports a white headband, as opposed to the traditional black one.
Checkerboard Girls: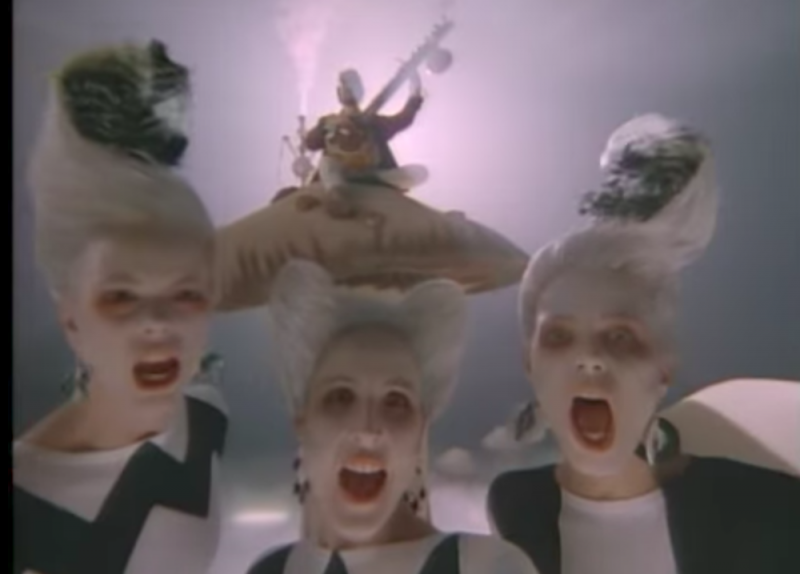 My original idea was to be the duo of Tom Petty and Alice from the "Don't Come Around Here No More" video. Then it occurred to me that people might mistake our costume for a simple Alice and Mad Hatter, as opposed to a clever and timely pop culture reference. Enter the Checkerboard Girls, those black and white Robert Plant-esque backup singers from the video.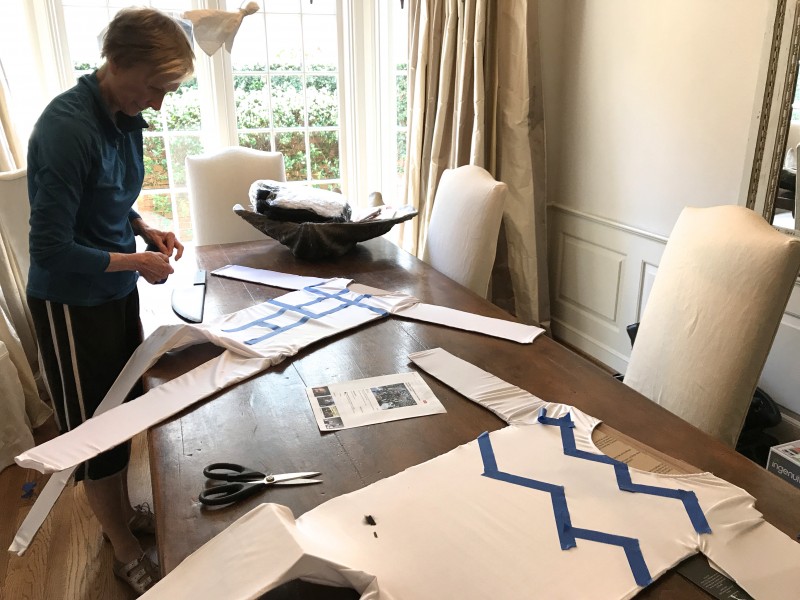 These costumes proved to be more of a challenge (not to mention the fact that I had to recruit two participants willing to wear unitards). I bought two white unitards on Amazon, then cut up cardboard boxes to stretch out the fabric slightly and keep the paint from running through to the other side. Then with painters tape I laid out a chevron pattern on one unitard, and a checkerboard pattern on the other unitard.
Notate which sections are going to be painted, and then fill in the pattern with black fabric paint. Allow to dry at least four hours, although I dried mine overnight. One coat of paint was fine. Also don't worry that the lycra unitard will stick to the cardboard– you can detach it with your fingers once dry without cracking the paint or ruining the design.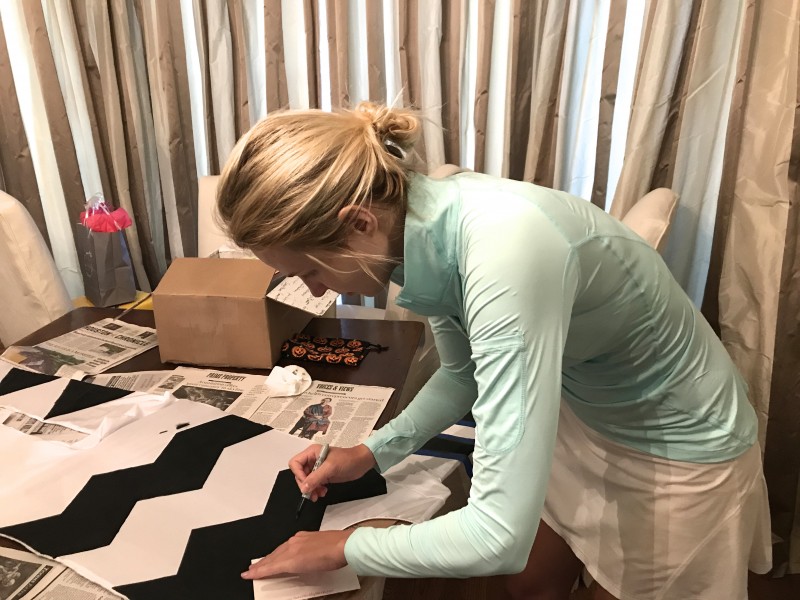 Painters tape does not stick very well on lycra, so the lines were not exactly straight once I removed the tape. So I used an index card as a straight edge and evened out the edges of the geometric patterns with a Sharpie. This really sharpened up the look of the costume.
We used a platinum Marie Antoinette wig for the hair, although it was not totally perfect because it is curly and the video girls have straight upswept hair. Perhaps teasing your own hair and spraying it white would work better. Then we added touches of black to the wigs with black hair spray paint. I imagine you could repurpose this wig for next year's Cruella De Ville or Bride of Frankenstein costume.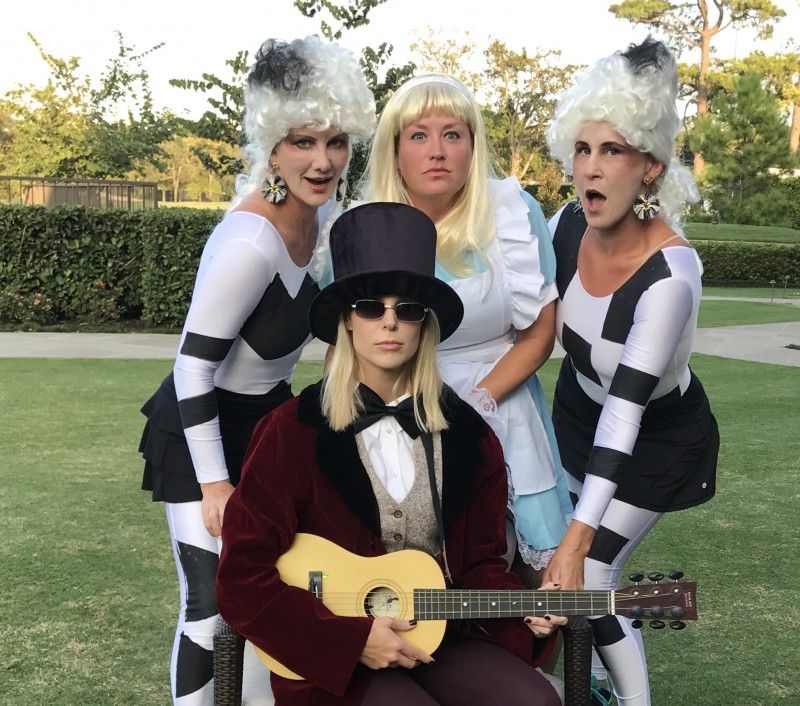 We finished off the look with white face paint, dramatic purplish eye shadow out to the temples (I used this It Cosmetics palette and awesome glittery Butter Glazen Eye Gloss on lids), and mauve-y lipstick. Just add black and white circular earrings! We used these Bauble Bar fringe earrings, but I prefer these '80s geometric earrings from Amazon. Good sports as they are, we allowed the Checkboard Girls to wear black tennis skirts over the unitards for modesty, though purists will want to skip this step.
A neat variation on the Tom Petty costume could pull from the "Last Dance With Mary Jane" video (one of my personal Petty faves). Remember Kim Basinger as the corpse bride? Your husband could be Tom Petty and you could dress up in a wedding dress with bluish lips.
Need more Halloween costume inspo? Check out my post from a couple years ago for a DIY Margot Tenenbaum costume. Your husband could be Ben Stiller's character in the red tracksuit (easy!) or Owen Wilson in an Indian Headress/face paint or disgraced tennis champ Luke Wilson. Lots of fun options from that flick.
RIP Tom Petty, one of rock's greats.
xoxo
8 Responses to "The Costume That Will Win Halloween"
You May Also Like