The Hierarchy of Eye Patches
05 • 17 • 2020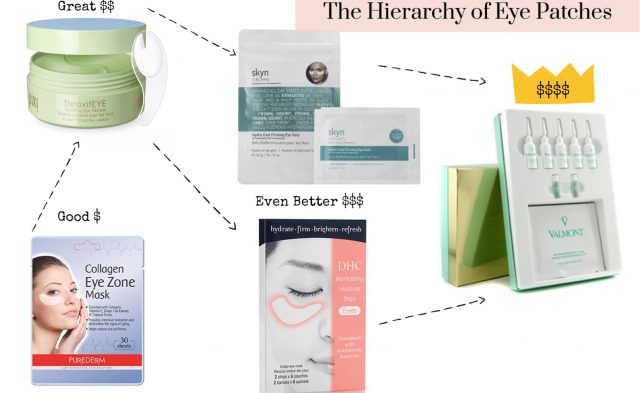 Did you recently have a break-up and/or eat lots of salty Mexican food last night? If so, you are probably suffering from some epic puffy eyes this A.M. I tend to retain water easily, so my eyes are pretty puffy most mornings. Which products work to de-puff those under-eye bags and upper lids that are making your eyes look swollen shut? Here is my guide to the best depuffing eye patches:
One of the most frequent questions I get from readers and friends is: what eye cream is good at de-puffing eye bags? Answer: I have found no cream that reduces darkness or puffiness longterm (although the Yonka Phyto Contour Eye Cream does helps depuff temporarily, though not as much as an eye patch). Those cool gel rolling-ball tip things? Or the illuminating eye cream with a patented "cooling tip" shaped a mini-spoon? All gimmicks.
The only product that works on my morning eye puffiness is an eye patch. After experimenting with many, many brands of eye patches (SK-II, Tatcha, Boscia, Honest Hazel, Wander, MDNA, no-name Korean brands, to name a few) I have only found a handful that truly work on puffiness.
The products in the collage below are clickable links:
Good and Cheap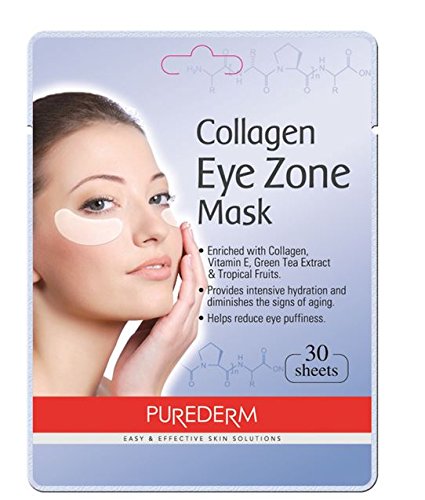 Collagen Eye Zone Mask a/k/a the "cheapo eye patches"
Price Per Wear: around 10 cents
These are the cheapo eye patches I keep in my fridge and wear almost every morning. These cheapo collagen ones do make a visible difference in under eye darkness, and cost less than 10 cents a pair, so you don't have to be too precious with them. Yes, the eye patches I discuss below do work slightly better than these cheapo ones. But for an everyday eye patch when you don't have any event to look good for, the cheapo patches do improve puffiness and circles and cost mere pennies per wear.
I recommend putting the eye patch container in a ziploc bag in your fridge to keep them from drying out as quickly. Other people have taken the cheapo eye patches out of the packaging and stored them in a small, airtight Tupperware container.
Best for Plumping Under Eye Hollows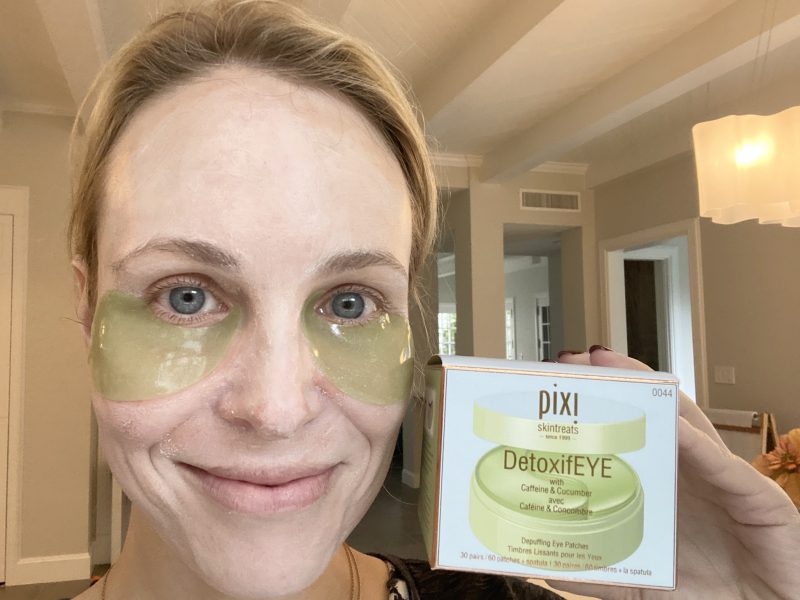 Pixi DetoxifEYE Depuffing Eye Patches, Price Per Wear: 80 cents
I recently found a great option that I have been reaching for more than the cheapo eye patches: the Pixi DetoxifEYE Eye Patches. I usually do not like the hydrogel type patches, but Pixi seems to have solved all the problems I have with them: (1) there is a spatula included that makes it easy to pry the patches apart, (2) they do not slide down your face like other gel ones (are you listening, Tatcha?!) and (3) they actually make a visible difference in my under eye darkness.
I was really impressed with how well the Pixi eye patches plump up the hollows under my eyes (making bags and darkness less apparent.) Highly recommend and would repurchase. Like all eye patches, I recommend you store them in the fridge for extra depuffing! And if you are having issues with the Pixi slipping, make sure you scooch the small end way up your nose past your tear duct (as pictured above).
Better Depuffing, Not Too $$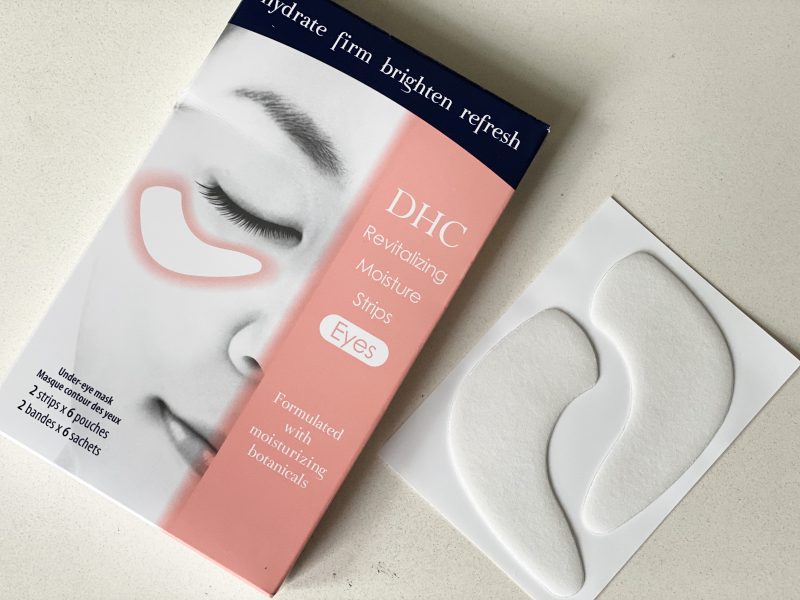 DHC Revitalizing Moisture Strips, Price Per Wear: $1.28
Skyn Iceland Hydro Cool Firming Eye Gels, Price Per Wear: $4.00
But there are some eye patches out there that are more effective at depuffing for when you have a more important event. On days I need to look good in the morning, I use the DHC Eye Patches or Skyn Iceland eye patches. I usually use the DHC because they are less than half the price of the Skyn Iceland patches and just as effective. But the Skyn Iceland are easier to procure in case you are in a pinch and need to grab some at your local Ulta. A few people have told me they think the Skyn Iceland depuff better than the DHC, but for me, it's a tie.
Both the DHC and the Skyn Iceland Patches can be cut in half to depuff upper lids. The Skyn Iceland patches come in a pair, with one big hydro-gel eye patch that is meant to go under each eye, so I'm forced to channel my inner-MacGyver in order to tackle my upper lid puffiness. At first I used to cut one patch vertically in half, like this: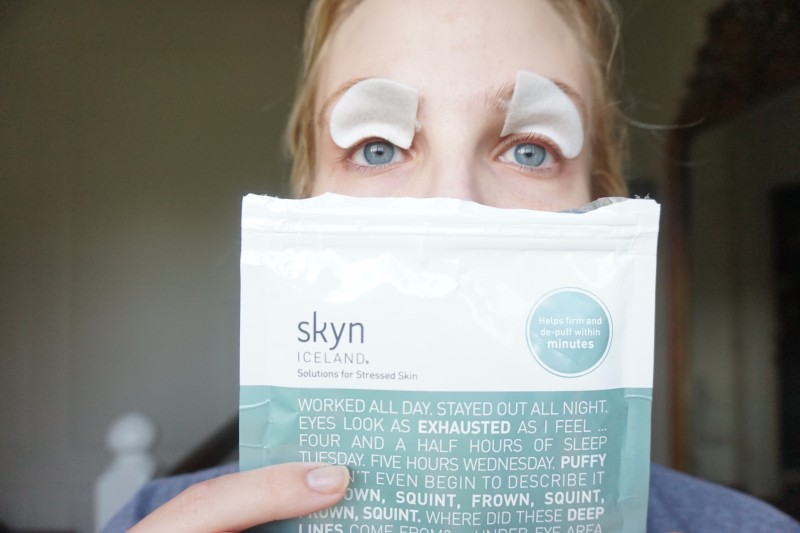 Then I realized that I could cut one Skyn Iceland patch lengthwise to create a skinny strip that covers just my puffy upper eye area to really help re-define my crease. See here: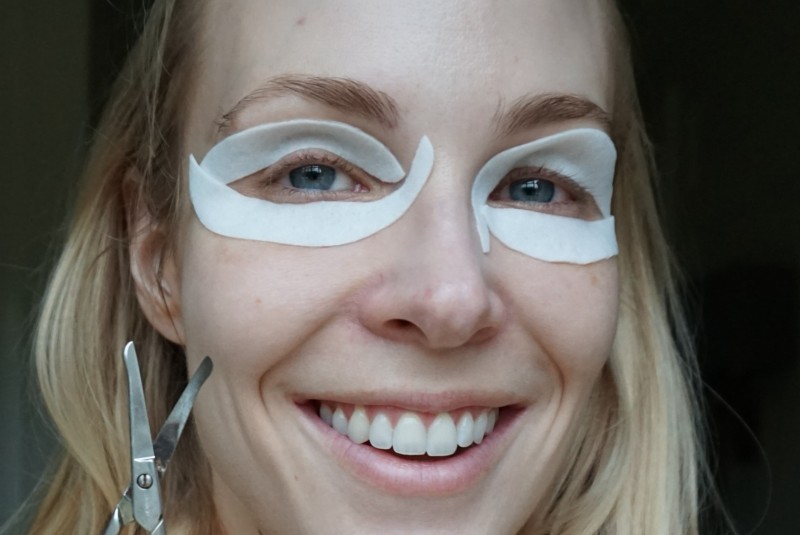 The Best Depuffing Eye Mask Ever
Valmont Eye Regenerating Mask, Price Per Wear: $110 (!) but on sale here
The supreme Grand Dame of depuffing eye patches is the Valmont Eye Regenerating Mask. They are unbelievably depuffing but are also crazy expensive (but found on sale here for $37/price per wear and on sale here for $47/price per wear). I would recommend the Valmont for your wedding day, if you are appearing on the Today Show, or if you are Oprah.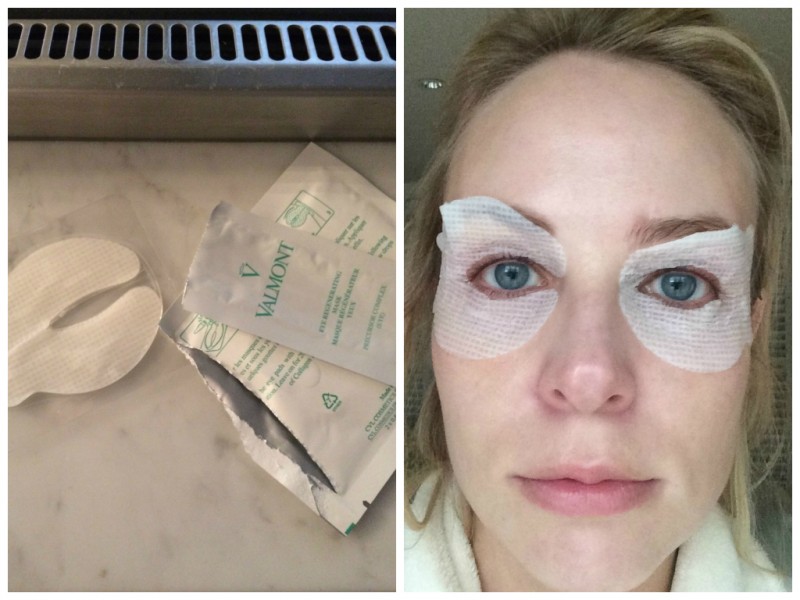 The Valmont eye masks are ingenious because they go all around the eye, attacking that upper-lid puffiness. No other product I've experienced will take you from half-open puffy slits of eyes to wide-awake, bright eyes in minutes.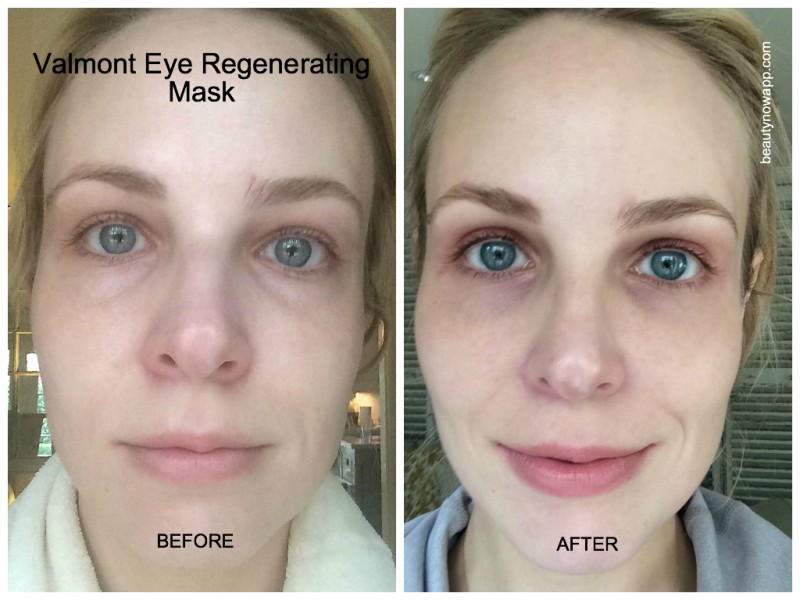 Wear the eye patches during your commute or driving carpool! If you have been following along with my #carpoolmasking hashtag on Instagram, then you know my trick about hiding the eye patches underneath oversized sunglasses (I love these oversized white ones from Target!). No one will know you are multi-tasking and masking!
xoxo,
You May Also Like