Charlotte Tilbury Cryo-Recovery Mask Review
10 • 26 • 2021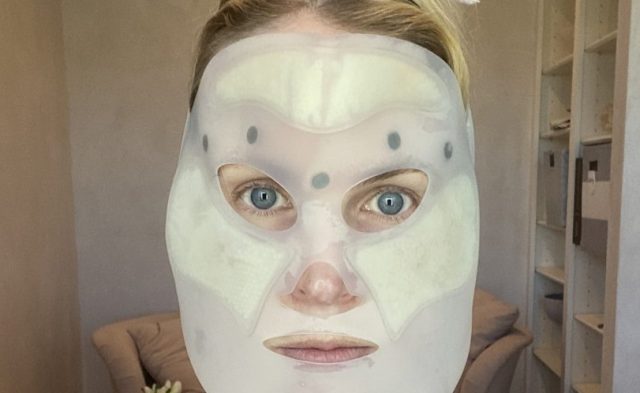 I bought the new Charlotte Tilbury Cryo-Recovery Mask the day it launched! Now I have been playing around with it for a couple months so I'm ready to share my impressions. Read on for my Charlotte Tilbury Cryo-Recovery Mask review!
Disclaimer
Nordstrom compensated me to write this post. I chose the product(s) to feature and bought the items with my own money.
What Is It
The Charlotte Tilbury Cryo-Recovery Face Mask is a reusable, silicone mask that you store in the freezer. Embedded with cooling metal beads and gel pockets, it uses the extreme cooling effect of ice to depuff and create a more sculpted and lifted appearance. The depuffing benefits of cold and cryo-therapy in general are pretty established, and yes, this is the same idea as an ice roller. However, for me, the Charlotte Tilbury Cryo Mask trumps the ice roller in several ways, most notably because it is hands-free (I.e. you can depuff while making school lunches). Plus I see a visible depuffing and sculpting effect in just 10 minutes. I think it makes my skin and my eyes just look more awake. Here is a photo of me Before and Immediately After removing the Cryo Mask: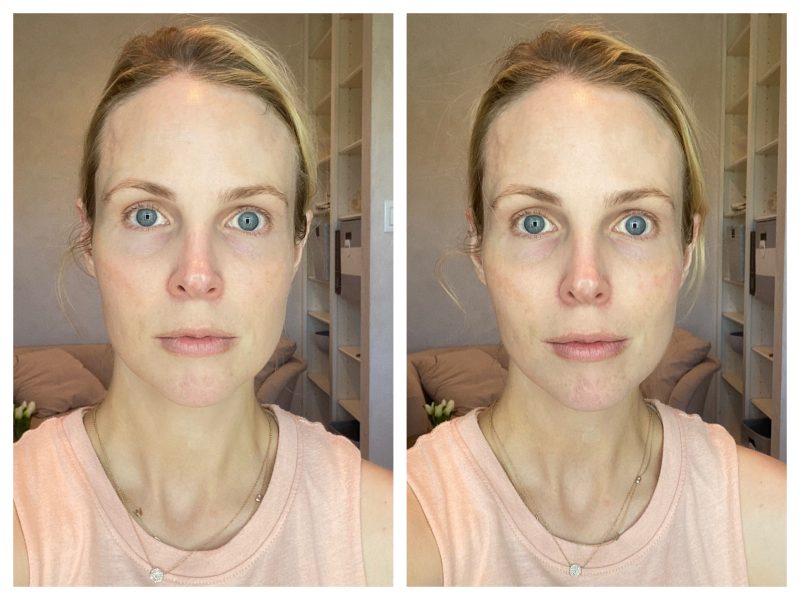 Why I Love It
—$55 for a completely reusable mask is a great price point. I usually use on clean, bare skin so I don't get any goo on the inside of the mask itself. I just strap it on for 10 minutes, and then store in my freezer in the included pouch for the next use.
—A quick depuffing solution: So many of you have asked me, how do I depuff if I don't have over an hour in the morning to wear the Clarins depuffing mask? The Charlotte Tilbury Cryo Mask is the only quick fix I have found that makes any difference in sculpting and depuffing. 10 minutes and you are finished! I see a visible difference even after 5 minutes.
—Hands-free: this may seem obvious, but if you are using an ice roller to depuff, you aren't able to do a whole heck of a lot at the same time. You can't even type on your phone easily with one hand! The Cryo Mask is the perfect solution for busy moms- you can make lunches, prepare food, make beds, answer emails, WHATEVER. I was able to work it into my routine more easily because it is hands-free.
—More effective and efficient: For me, the Cryo Mask is more effective than 10 minutes spent ice rolling. I have no doubts about the depuffing benefits of an ice roller or cryo sticks, but I see more of a visible difference with the Charlotte Tilbury Cryo Mask.
—Built-In Chin Strap- I love that there is a depuffing chin strap built into the Charlotte Tilbury mask! The compression under the chin, coupled with the cold definitely sculpts and depuffs under the jawline. So many masks do not address the morning puffiness that accumulates under my jawline after salty food and alcohol! This is also a benefit that the Charlotte Tilbury Cryo Mask has over, say, putting a regular sheet mask in the freezer.
–It doubles as a silicone mask cover! Apply a sheet mask and then apply the Charlotte Tilbury Cryo mask on top. You get the depuffing from the cold and then the silicone cover keeps your sheet mask from drying out as quickly. Great way to get a double-use out of a sheet mask! It works well over eye patches too. I love the 111Skin depuffing eye patches!
What I Don't Love
—Cryo Therapy isn't known for being comfortable. The Charlotte Tilbury mask is uncomfortably cold at first. The first time I put it on, I was like, oh I don't think I can do this! But the cold gets manageable very quickly. And now I feel like I'm used to it more, so the cold does not bother me as much. If you find the mask to be too cold, try not to fasten the strap around the back of your head as tightly. I still fasten the other strap under my chin pretty tightly- that area does not seem to be as sensitive to the cold.
—When I fastened the strap too tightly behind my head, the acupressure beads left indentations in my forehead for a few minutes after removing the mask. Now that I don't fasten that part as tightly, the mask does not leave any indentations. (See the photo above immediately after removing the mask).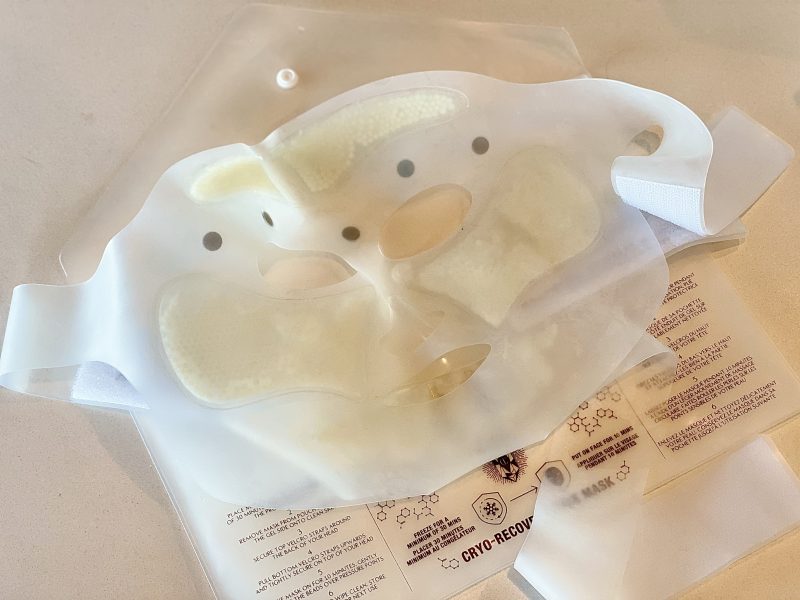 How It Fits In My Routine
I have gotten in a routine of using the Charlotte Tilbury Cryo Mask most mornings because it is so easy to multi-task while wearing it. It also helps me get my boys to the school bus faster! So in the morning I wash my face normally, and then head to the kitchen to make breakfast. As I'm grabbing Eggos and breakfast sandwiches (no judgment, plz), I strap on my Cryo Mask. My hands are completely free to make breakfast, lunches, coffee, fix hair, etc. And it takes about 5-10 minutes and you are done! After that I put on depuffing eye cream, or put on my regular morning cream mask after I get them off to the bus.
Overall I highly recommend the Charlotte Tilbury Cryo-Recovery Mask as the easiest 10 minute treatment that makes a visible difference in depuffing. The $55 price point makes it a great gift for a busy mom or anyone getting ready for work in the morning! Would work for men too!
xoxo,
You May Also Like