The Definitive Guide to Sunday Riley
06 • 17 • 2019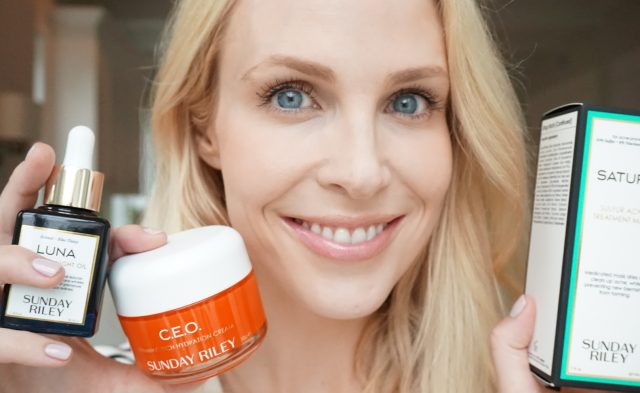 I am a huge fan of the Sunday Riley skincare line (fun fact: it's based in Houston!) and several of their products have reached Holy Grail status for me. I've been slowly working my way through the entire Sunday Riley line over the past couple of years to finally publish The Definitive Guide to Sunday Riley. Here is my review of each product, in descending order from the best Sunday Riley products to meh to total fail.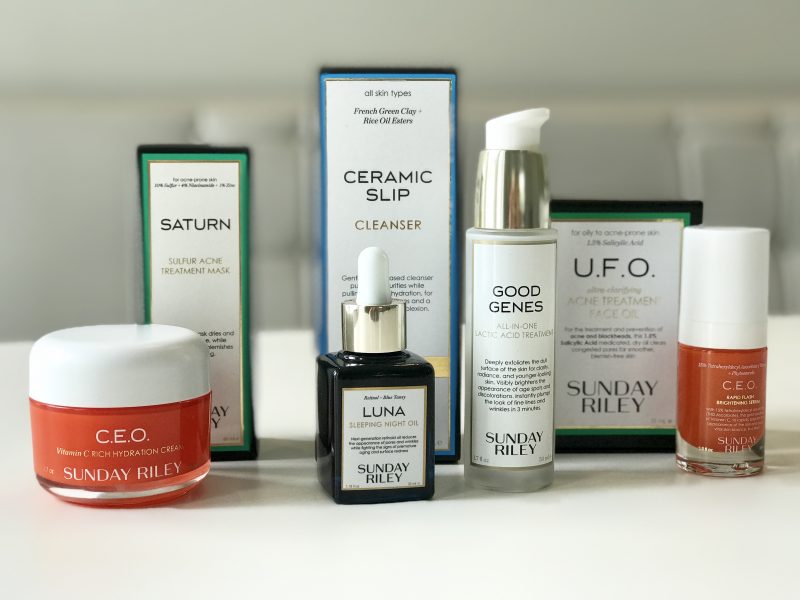 **Note: this post was originally intended to be sponsored by a retailer that carries Sunday Riley. When I submitted my post to the retailer's legal team, they removed entire sections pertaining to products I reviewed unfavorably. I find that to be unfair and dishonest, and it is scary to think how much influencer content is probably compromised in that way. The retailer kindly let me out of my contract, and I of course forfeited the significant payout. But it is well worth it to bring you my original post in all its unabridged, uncensored glory. :)

I guess it's a tad presumptuous to declare this the "Definitive Guide to Sunday Riley" since I have but one face and obviously different products work for different people. So this review is not so much an analysis of ingredients but my personal impressions as to how the products performed for me. For reference I am 38 years old, have combination skin, and tend to get zits from facial oils. My skin concerns are melasma, under eye circles, and wanting to look 25.
Good Genes: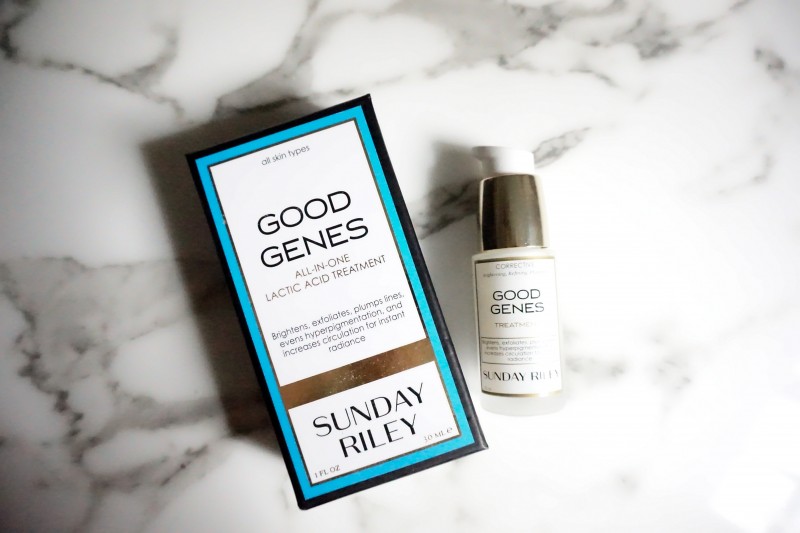 So far my all-time favorite Sunday Riley product is their Good Genes serum. If your skin doesn't like retinoids (or you are pregnant or breastfeeding), this product is for you! As I look back at reader emails I have answered, I see that I recommend Good Genes almost more than anything. It is a lactic acid serum you use before moisturizer at night to plump lines and even skin tone. Several friends I've turned on to this during pregnancy now say they like Good Genes more than their usual retinoids!
[Note: Sunday Riley recently released a glycolic acid version of Good Genes that I have not tried because the lactic acid version works so well for me.]
CEO Serum: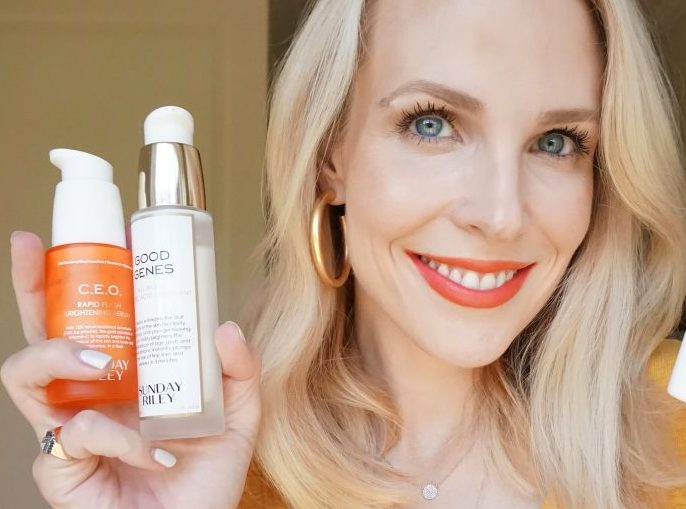 I also really like Sunday Riley's Vitamin C Brightening Serum, the CEO. I have personally gone through several bottles of the CEO. In comparison to other antioxidant serums, I think the CEO is the best for brightening existing dark spots and your overall complexion. It also has a pleasant citrus-y scent as opposed to hot dog water. I think Drunk Elephant C Firma Serum or Skinceuticals CE Ferulic are better for firming though.
It is worth noting that Skinceuticals CE Ferulic and Drunk Elephant C Firma both use 15% L-ascorbic acid, but Sunday Riley CEO serum uses THD Ascorbate as its active ingredient. THD Ascorbate is arguably less clinically-studied. If you want to go on a deep dive on the differences between these two active ingredients, Forbes has a good article on it here.
CEO Cream: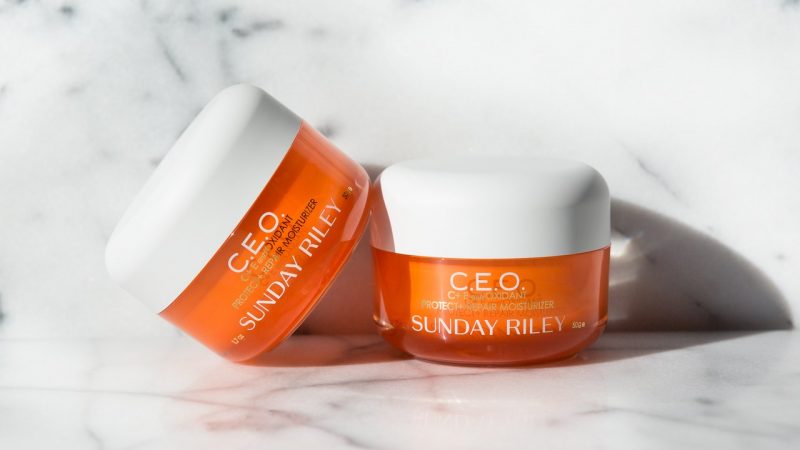 The CEO Vitamin C Rich Hydration Cream is a new find for me and I am absolutely loving it as a night cream. As I mentioned above, I find that the CEO serum is more brightening than the Skinceuticals CE Ferulic. Since I am currently using a bottle of the CE Ferulic as my daytime antioxidant serum, I had been missing the brightening power of the CEO serum.
Adding the CEO Cream into my nighttime routine was just what I needed to brighten up my skin again! In just two nights of using it, I noticed my skin looked brighter and more even-toned. The CEO cream is also extremely moisturizing and rich without feeling heavy or breaking me out. I anticipate the CEO Cream will be a repurchase item for me!
Ceramic Slip Cleanser: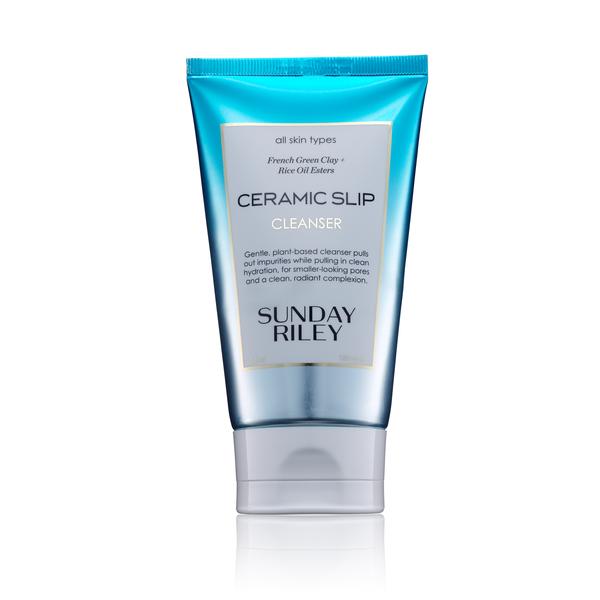 Both Sunday Riley's cleansers, the Ceramic Slip and the Blue Moon Tranquility Cleansing Balm, are cult favorites in the skincare community. I purchased the Blue Moon a couple years ago since one of my favorite skincare Instagrammers (@lizalaskabeauty) uses it all the time. It broke me out after one use, just like every cleansing balm before and after has done. I think I have finally learned my lesson that my skin does not like cleansing balms (or cleansing oils for that matter). But if you have dry skin like @lizalaskabeauty, Blue Moon is apparently the best cleansing balm on the market.
The Ceramic Slip Cleanser suited my skin much better! I love the consistency, the subtle smell, and the fact that it gently gets my skin squeaky clean. I thought that it removed makeup very well, with the exception of mascara.
Ceramic Slip has French green clay (way chicer than regular green clay!) to help dry out impurities like dirt, oil and pollution. I have not found it drying, but when I posted about the cleanser on Instagram, a couple people said they like the cleanser, but it dried them out when they used it every night. So they advised to reserve it for days when your skin feels especially grimy.
Saturn Sulfur Acne Treatment Mask:
Another winner for me was the Saturn Sulfur Acne Treatment Mask. It is a faintly green mask that I used as an overnight spot treatment on an angry under-the-skin cystic zit. I dabbed Renee Rouleau Anti Bump Solution on the zit, and then layered Saturn on top. By morning, the bump was much less painful and red. I continued the same routine at night and the zit was completely gone in a couple days. For me (at least for that particular zit!), the Saturn cut down on redness and shortened the life cycle of the breakout.
Sunday Riley also claims that Saturn prevents new blemishes from forming, so I have been applying a thin layer of the mask between my eyebrows and on my chin where I tend to break out. It's hard to say whether the Saturn has prevented new zits from forming, but I have not experienced any excess dryness in those areas.
Luna Sleeping Oil: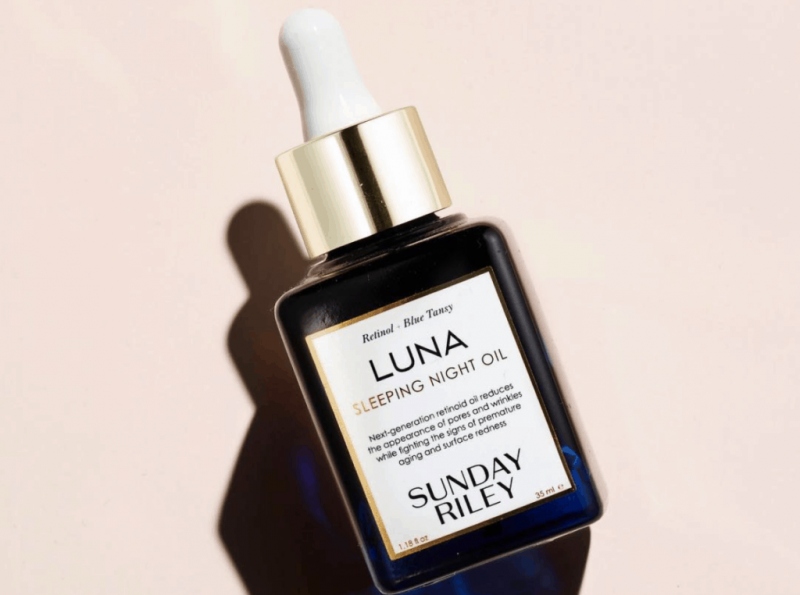 The Luna Sleeping Night Oil is one of the few (like, three) facial oils that does not break me out! I love this curiously blue retinol oil for brightening my skin and adding radiance. If other retinoids have been too harsh for your skin, you might give the Luna a shot! I think it is effective but not irritating because it is mixed with soothing blue tansy and blue azulene.
Please note do NOT use Luna during pregnancy/breastfeeding because it does contain retinol.
Sephora has a great set that I haven't seen before, the Sunday Riley Multivitamins. For $28 it has small sizes of both the Luna and the CEO Serum so you can try both of these fantastic products.
Autocorrect Eye Cream:
I was super excited for the launch of Sunday Riley's eye cream, Autocorrect Brightening and Depuffing Eye Cream, way back in 2017. I bought it immediately, and applied it morning and night for a good month or two. While Autocorrect didn't do anything bad to me, I noticed zero improvement in brightening, depuffing, or fine lines. I returned this product.
What Else Didn't Work:
Unfortunately several of Sunday Riley's products broke me out. I tried the A+ Retinoid Serum a couple months ago. At first (after the first use!) my skin looked freaking incredible- so even, plump, radiant. Just awesome. But in a couple days I had multiple cystic zits. I tried to power through, but there was no explaining the zits other than the A+ Retinoid. When I stopped using it, my zits went away. Sad! If you do not tend to break out, I would definitely recommend the A+.
I also broke out with the UFO Ultra-Clarifying Acne Treatment Face Oil. The first time I tried this salicylic face oil, my skin looked incredible- glowy, calm and even. But I got an underground zit the next day. I was so sad because of how good the oil made my skin look! On a positive note, the zit did give me the perfect opportunity to try the Saturn treatment mask.
Since the UFO was a fail for me, I gave it to my friend Nicole of Lipstick and Brunch to try. She has oily combination skin and had this to report: "So the oil smells funky and I feel it doesn't dry up completely once I apply it. I applied moisturizer on top of it before going to bed and I didn't break out. It didn't do a lot to diminish the size of small zits on my chin, but it did minimize a very noticeable blemish that wouldn't go away! I will continue using it."
Ok, Ok. So I didn't try *every* single SKU in the Sunday Riley line. I also have a bottle of CEO Glow Vitamin C Tumeric Face Oil to try, but I have to admit I am too scared to try it because I don't want to break out! But it was a valiant effort I must say, and I did discover some new Sunday Riley gems!
xoxo,
You May Also Like