The Best Valmont Products
12 • 22 • 2014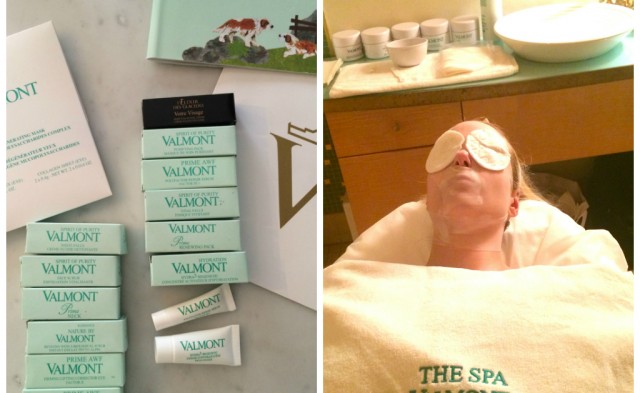 It's not too good to be true– I FINALLY found an overnight eye treatment that makes you wake up with no under eye circles! Astonishingly, this product is not even marketed as a cure for under eye circles. I recently discovered fabulous Valmont products at Saks Houston Galleria and was given a Swiss mountain-size stash of samples that I have been trying over a period of months. Here's my review of the best Valmont products you needed, like, yesterday:
First of all, let me start off by saying that this post is in no way sponsored by Valmont or Saks. Yes, they gave me free samples, but I want you guys to know that my opinions cannot be bought! I always say to beauty companies, "Feel free to send me samples, but I will not promise a review and if your product sucks I might write about it too! So…send at your own risk." I want you, lovely readers, to know that you can rely on the Kathleen Jennings Beauty for honest, unpaid-for, objective opinions about the products I try.
Now that you know I am not BS'ing you, let's discuss three Valmont products that are (unfortunately) very worth the high price point. They are truly miracle products, unparalleled in the skincare market. Valmont is a new brand to me, but they have been using traditional Swiss medicine principles and research to combat the aging process since 1985. To be honest, I don't think I would have ever stopped to peruse the Valmont counter at Saks– the packaging/branding doesn't look high-tech and scientific like SK-II, and it isn't luxe-looking like a La Prairie. But the following three Valmont products are truly standouts, and worth every cent.
1) Valmont Prime Renewing Pack:
The Prime Renewing Pack is Valmont's cult-favorite, #1 best-seller, and for good reason. It is a jar of non-greasy white cream that can be used as a moisturizer, or it can be applied thickly as a mask and left on overnight. It imparts a fresh, cooling sensation that is very luxurious and spa-like. The magic is this– Valmont's Prime Renewing Pack brightens, whitens, and evens out your skin like no other mask/cream out there. And even though I left it on overnight, it did not break out my combination skin. (As a side note, I just tried Loreal's new Intensive Overnight Mask, and I have been battling cystic acne breakouts ever since. All overnight masks are not created equal!)
If you read this blog regularly then you know I constantly rave about the SK-II Facial Treatment Mask (full post here). The SK-II sheet mask excels more at de-puffing, adding radiance and minimizing pores, while the Valmont Prime Renewing Pack is better for brightening and evening skin tone. Honestly both masks have become part of my "special occasion" beauty routine because they are both fantastic at doing different things. As for the Valmont, I literally could not believe my eyes when I woke up in the morning– NO under eye bags, and my under eye circles were noticeably reduced. Probably 10% of what they usually are. I thought, maybe this is just a coincidence, so I tried it again a week later, and same experience– NO under eye circles! By this time I was getting down to the end of my sample, so I decided to conserve it and just use it on my under eye circles when I have something important in the morning. It works every time, and I'm just as amazed every time I wake up! It's almost as if the Prime Renewing Pack "bleaches out" my under eye circles– that is truly the best way to describe it.
The funny part is that Valmont doesn't even market the Prime Renewing Pack as a magic under eye circle cure, although I did troll some review forums and I am certainly not the first person to figure out this off-label magic trick. Also I have no idea if the Valmont Prime Renewing Pack would have a cumulative effect on reducing under eye circles– but it definitely makes a visible difference the morning after you leave it on all night. All I can say is that I am going to spend my own hard-earned $200 on this miracle cream, and if I just use it on my under eye area, then it will probably last awhile. You can purchase it for $210 at Saks and Nordstrom. [UPDATE 6/9/20: Prime Renewing is on sale here.]
2) Valmont Eye Regenerating Mask:
This sheet mask for your eyes is unbelievable and de-puffs the eye area better than anything else on the market. Period. To distinguish the Valmont Eye Regenerating Mask from the Prime Renewing Pack I just described above: the Prime Renewing Pack is a cream that I leave on all night to literally "bleach out" my under eye circle darkness. The Eye Regenerating Masks, on the other hand, are little pads you drench in collagen liquid and then stick on in the morning that contain "drainage-enhancing agents" to depuff. The Valmont eye mask is particularly good at de-puffing the UPPER eyelid area. For some reason when I wake up (and for hours afterward!), I have very puffy, swollen UPPER eyelids that droop down and make me look tired. The Valmont eye pads are specially cut to cover your upper eyelids very well (almost down to your lash line), so the result is a better upper-eyelid depuffing and eye-widening effect than any other cream or eye mask out there. In addition to de-puffing, the Valmont Eye Regenerating Mask had a temporary plumping effect on fine lines around my eyes.
Here is my before and after with ZERO makeup (except lipstick in the 'After'). Witness the remarkable decrease in my upper and lower lid puffiness after 20 minutes of of wearing the Valmont Eye Regenerating Mask:
My only complaint is that Valmont gives you WAY too much "juice" to drench the eye pads in, so they were sopping wet and kind of dripped into my eyes. And I felt like I was wasting all that extra juice, but I couldn't figure out how to save some to reuse later. I just wiped all the excess liquid all over my face like a serum, and I think it made my whole face look smooth and pore less.
Bottom line: the Valmont Eye Regenerating Mask is the best product on the market to de-puff and awaken eyes in the morning. Also, if you are comparison shopping, it's worth pointing out that the Valmont eye mask is far superior to the SK-II Treatment Eye Signs mask, which does not work nearly as well as SK-II's full-face Facial Treatment Mask.
3) Valmont Reviving With A Biological Scrub:
[UPDATE 6/9/20: This was discontinued several years ago and that is very sad!] Valmont's Reviving with a Biological Scrub has to be the most effective, innovative, and gentle scrub/exfoliator on the market. I've never tried anything like it! Quick tutorial on exfoliating scrubs: you know how most scrubs with natural exfoliants (think the St. Ives Apricot Facial Scrub) use particles like crushed salt or walnuts to slough off your skin? Anything natural like that has jagged edges under a microscope, and actually damages your skin by causing tiny tears. The better option for exfoliating uses plastic, man-made "microbubbles" that have smooth, round surfaces that won't abraid skin. Of course the downside is that all those millions of "microbubbles" are washing down our drains and into our water supply– not so good for the planet.
But Valmont has the solution! Somehow this scrub has absolutely ZERO grit– it manages to gently exfoliate even though it is a perfectly smooth gel-like substance. You apply it to DRY skin, and at first it is a little sticky and thick like honey, but you keep massaging it in, and it turns melts and turns liquidy before your eyes! Keep massaging it in for about 30-45 seconds, and it removes dry skin, increases circulation, and reveals super-radiant skin. When you wash it off with water, it turns milky and flushes away impurities that are clogging your pores. Your skin is SO soft afterward that you won't want to stop touching it (but DON'T touch! Ew, germs.)
We all know we need to exfoliate regularly to remove dead skin and allow our skincare products to penetrate better, but at the same time too much exfoliation can cause you to break out. Not so with the Valmont biological scrub! It is gentle enough to use every day (if you have the coin to incorporate a $95 scrub into your daily skincare routine!) But this formula is so genius and different that I will definitely purchase and use this on a weekly basis.
[UPDATE 6/9/20: I don't know if Valmont offers facials anymore.] Dominique will be doing Valmont facials in Saks Houston Galleria on January 15-17, 2015. If you are in Houston, call Patricia Howell at 713-843-5683 to book your FREE facial appointment, or click here to locate a Valmont counter near you where I'm sure they offer similar facials. I know Dominique travels all over the U.S. training other Valmont professionals on her facial techniques.
xoxo,
@kathleenjenningsbeauty
You May Also Like