BeautyNow Holiday Gift Ideas 2014
11 • 25 • 2014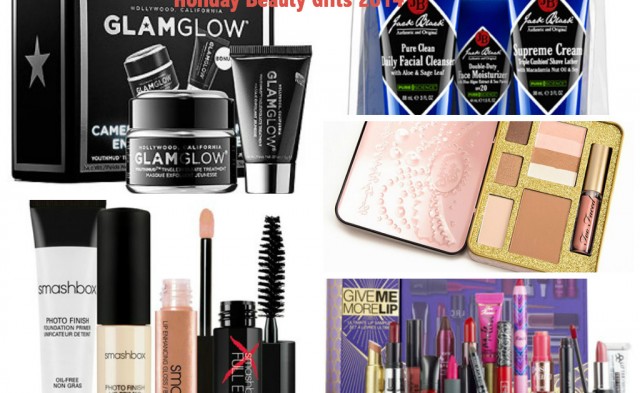 Holiday beauty gift ideas 2014! I scoured the internets to find you the best deals on beauty gifts for everyone on your list, even the guys. Beauty gifts are great because they are generally safe, universally acceptable picks; no worries about that lipgloss or face cream not fitting! I also love holiday gift set time because often you can find a good deal on staple products you are using anyway. Here are my favorite holiday beauty gift ideas 2014:
FOR THE HUBBY:
Jack Black Jet Set Traveler Set ($25):
If your husband travels all the time for work, this TSA-approved gift set would be perfect! He probably makes due with the generic, hotel-provided samples, but I just die every time I see my husband wash his face with the scented hand soap bar! DON'T DO IT!!! And then he's like, "Wow, why's my skin is so dry?" and I catch him breaking into my La Prairie. Anyway, you can spoil your man while he's away from home with this great gift set. I have never personally tried Jack Black, but the skincare products consistently get rave reviews online, and the lip balm [unfortunately not included in this set] is a cult favorite, with devotees who claim it is the best lip balm on the market.
GIRLS' GIFT EXCHANGE UNDER $20:
Smashbox Try It Kit ($19):
This is a great price point and a selection of products I can personally vouch for. The oil-free Photo Finish Primer is pretty much the gold standard of primers (and Smashbox's best seller), and I also approve of their lipgloss and the Full Exposure mascara. In fact the last time I was in Ulta, I asked the sales girl what her favorite brand of mascara was, and she said the Smashbox is the best. Also when you buy this you get a free mini of the new Smashbox Be Legendary Long Wear Lip Lacquer, so you can keep it for yourself or throw it in also if you really like your gift recipient.
BEST OVERALL PALETTE: 
Too Faced Beauty Wishes & Sweet Kisses ($34):
A $75 value for $34! I looked at a million palettes online and at all the makeup counters, and I think this is the best one out there. I actually want this little gem for myself– it is rare to find a palette that includes all wearable, nude shades and best-sellers! Too Faced has great quality products across the board, but the Chocolate Soleil bronzer and Snow Bunny luminizer are consistently among bloggers' Holy Grail products.
THE HOUSEWARMING OR HOSTESS GIFT:
Nest Fragrances Ken Downing Candle ($40):
Two options here at different price points. The first is a beautiful, limited-edition candle from Nest. I think this one is a great option because the beautiful tortoiseshell container works with any decor, and is gender-neutral. I smelled it in the store, and the woodsy, exotic fragrance would be universally acceptable (and not limited to the holidays, like a fir or cinnamon scent would be). If you are staying at someone's home, or you are invited to a super-fancy holiday cocktail party and usually spend $40 on a nice bottle of wine, consider this candle.
If $40 is too much to spend (you are super popular and have LOTS of holiday parties to attend!), try these all-natural Bouquet Bath Truffles from Anthropologie for $18:
They are infused with organic essential oils and moisturizing shea butter to take your bath to the next level. Or, if you don't take baths, they look fancy enough to have on display in your guest bathroom. These bath truffles are so beautifully presented that I hope there is a note inside that tells the recipient not to eat them.
FOR YOUR TWEEN NIECE OR GODDAUGHTER:
Beauty Gems Color Pro Kit from Ulta ($20):
Remember how much fun you had playing with your Caboodle and putting makeup on all your friends? This enormous makeup palette set from Ulta for 20 bucks would be a great gift for that special tween in your life. With 138 eyeshadows, 18 lip shades, face powders, blush, and applicators, you have the @beautynowapp guarantee that this will be her favorite gift under the tree. Of course said tween's mother probably will not approve, but that's why you are the fun aunt.
FOR YOUR BROTHER'S NEW GIRLFRIEND:
Really? She's joining us for Christmas? Didn't y'all just start dating last month? Don't worry, I have the perfect gift for your bro's girlfriend-of-the-week:
It's a Ho Ho Ho Bag! Ha! Just kidding; you would never spend $140 on her. Since you don't know her very well, try a lip gloss set. Everyone likes lip gloss:
Smashbox On The Rocks Lip Gloss Set ($20, marked down from $28):
This set of four lip glosses is on sale for $20, and it is an $80 value! I love the Smashbox Be Legendary Lip Glosses– lots of color payoff, and they stay on pretty well. Another option is you could break up the gift set and put one lipgloss as a stocking stuffer for sisters, sis-in-law, mom, etc. I own the Pout shade, a very pale pink.
FOR DAD OR FATHER-IN-LAW:
Kiehl's Soothing Essentials ($18):
This is a great example of how during the holidays you can get deals on full-size staples you might already be using on a regular basis. If you were to buy these same sizes of Hand Salve and Lip Balm separately, it would be $22, but this gift set is only $18. I have used both of these products on and off for years and they are both long-time Kiehl's best-sellers. I think this would be a good gift for a "manly man" who would never buy a beauty product, but you know he secretly loves being pampered with good products!
For Your Sis or Your Mom (plus the In-Laws):
Glam Glow Instant Camera Ready Skin Kit ($69):
This Glam Glow YouthMud Mask is a new discovery of mine that would be great to purchase right now because for the regular price of $69, you get both the full size jar PLUS a half-size tube for free. I have a full post coming soon, but I tried a sample of the Glam Glow YouthMud and it left my skin very exfoliated and super glowy! Long story short: don't waste your money on the Glam Glow BrightMud eye treatment, but the YouthMud and the Hydrating Mask are both very good. The YouthMud mask will greatly benefit anyone who is dealing with aging, less radiant skin [late 20s on up], but it isn't a rude gift that says, "Hey, I think you are wrinkly."
Sarah Chloe Monogram Signet Ring ($169):
It's not technically a beauty pick, but I just adore the Sarah Chloe signet ring on a pinky, and wrote a whole post about the pinky ring trend here. Sarah Chloe makes the best signet rings, plus this one is monogrammed so it shows thoughtfulness and planning-ahead, the hallmarks of any good gift. I really want this ring!
Give Me More Lip– Sephora Favorites ($59):
I kind of saved the best for last…I bought the Gimme Lip Sephora gift set for myself last year and I can't tell you how giddy and excited it made me for weeks afterward! Warning- this set will sell out! This is an incredible value– you get 17 FULL-SIZE, high-end lipsticks worth $192 for just 59 bucks. There are lots of great colors to choose from, and even if one color isn't perfect for you, you can discover a new favorite brand or formula and then go find the right shade for you. Seriously hours of entertainment in this one, and it's something someone probably wouldn't buy for themselves (unless you are a beauty blogger and lipstick addict).
Happy Thanksgiving and I hope you have a great holiday shopping season!
xoxo,
@beautynowapp
You May Also Like