A Mask to De-Puff the Dreaded Carb Face!
12 • 14 • 2015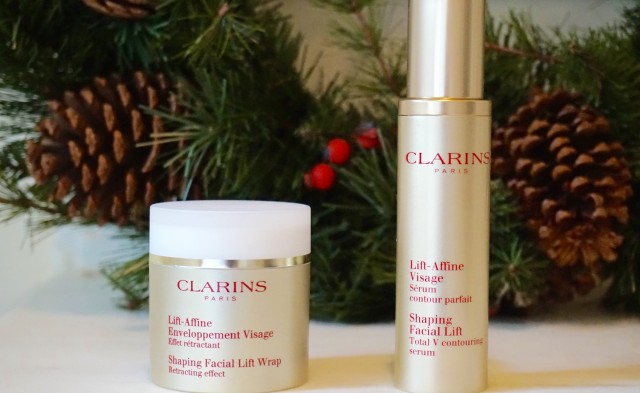 You know what I need more than another post-Thanksgiving sale? A post-Thanksgiving MASK that will de-puff my face after overindulging in food and drink. Now, just in time for all those holiday parties, such a thing exists! Clarins new Shaping Facial Lift Wrap (a mousse-like mask) and Shaping Facial Lift Total V Contouring Serum are both formulated "to reduce the look of puffiness and double-chin" (known as the "beer band" amongst my college friends; see also the notorious "carb face"). I took one for the team and drank and ate a lot of boozy, salty stuff to provide you with this semi-scientific Clarins Shaping Facial Lift Wrap review: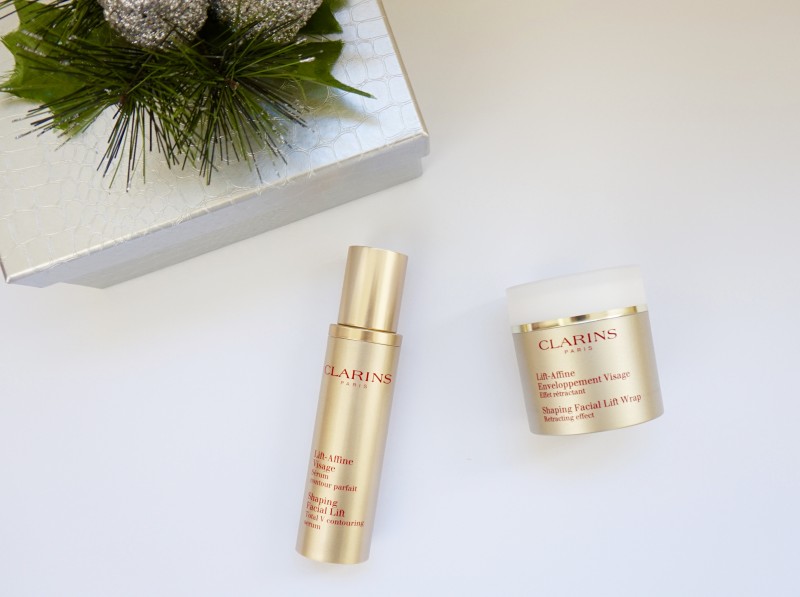 I must be particularly susceptible to retaining water, because when I have salty restaurant food and a couple drinks, my face and eyes are straight-up swollen the next morning. So I was excited to try these Clarins products, especially after I found out that the Shaping Facial Lift Serum has been the #1 selling serum in Asia for years.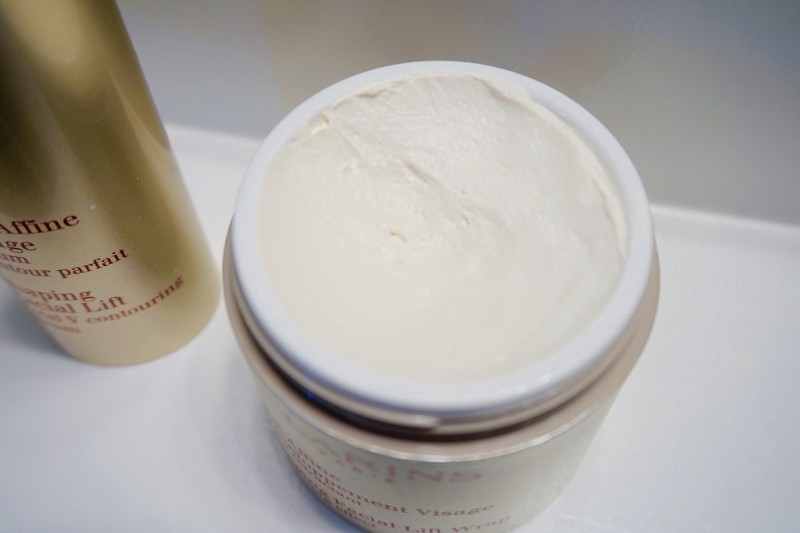 First I applied the smooth, whipped-mousse Shaping Facial Lift Wrap. It smells SOOOOO good, like refreshing delicate flowers. The mask contains gingko biloba and Chinese barley to depuff, and also purifying kaolin clay (but not so much that it feels drying at all). Interestingly, there is no de-puffing caffeine in the mask, but caffeine is an ingredient in the Shaping Facial Lift Serum. The directions say to apply the mask for 10 minutes, but several reviews I read said they left it on much longer (an hour or more), and they believe it enhanced the de-puffing effects.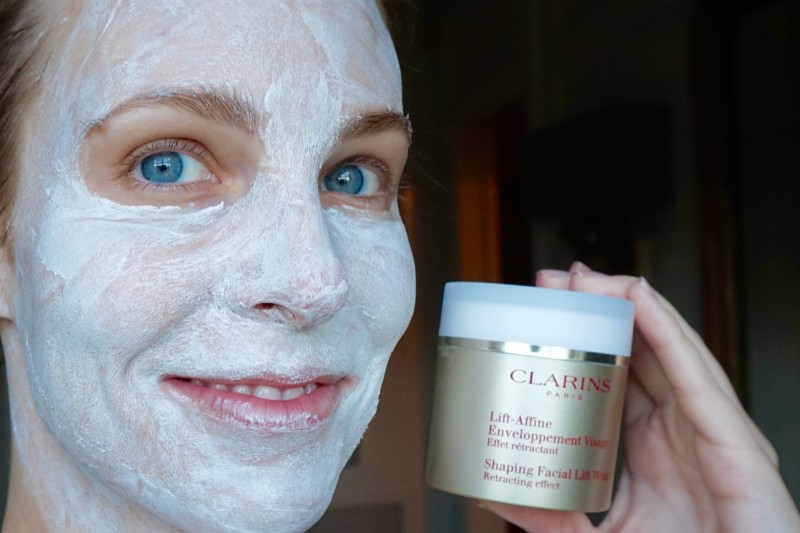 A "Before" shot vs. after I wore the Clarins Shaping Facial Lift Wrap for 10-15 minutes: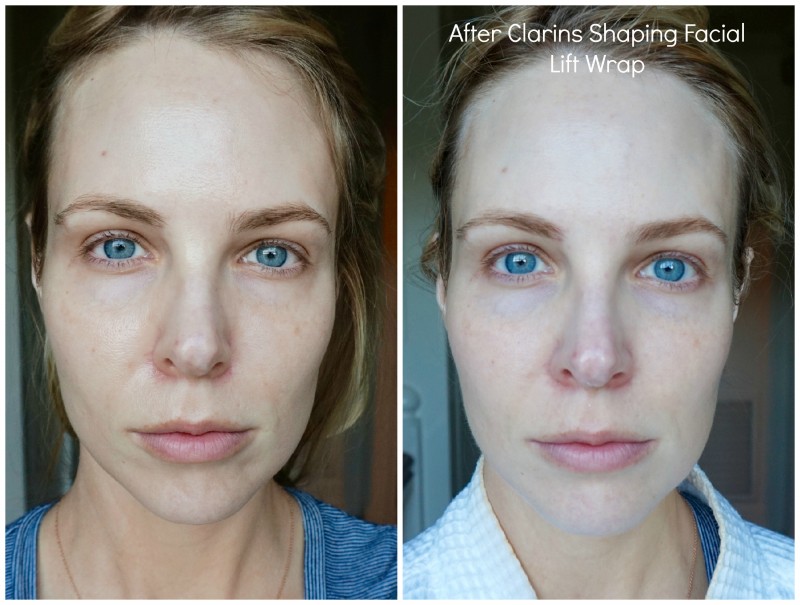 Not as big a difference from the side view, but the under chin area looks a little tighter, and the hollows under cheekbones are slightly more defined:
After I removed the mask by splashing cold water on my face, I immediately applied the Shaping Facial Lift contouring serum according to the "Clarins Manual Auto-Lifting Method." This interesting method of pressing and massaging the serum into your face is designed to stimulate natural circulation and help remove excess waste that has accumulated in your face (a/k/a fluid retention that is causing puffiness). There is science to support facial massage as a way to stimulate drainage– apparently Asian women have long been using some variation of facial massage (sometimes even using large spoons!) to reduce puffiness and take centimeters off the width of their faces.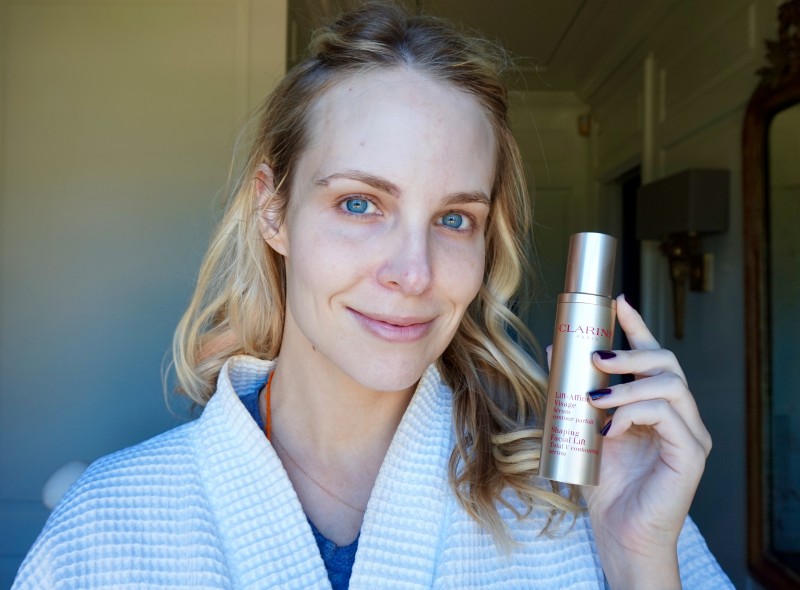 Basically the Clarins method involves sitting down, putting the weight of your face/head in the palms of your hands, and pressing in different positions. Here is a diagram with the details: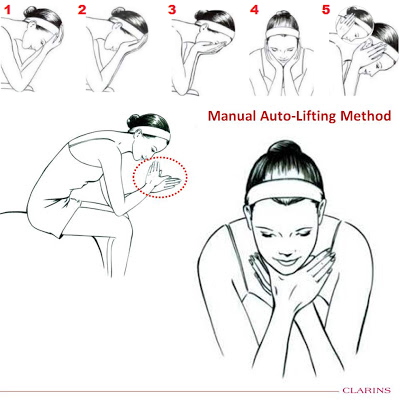 Here is my "Before" shot compared to after I applied both the mask and the serum. I can definitely see a BIG difference here– my jawline is more defined and my cheeks and eye area look less puffy. Perhaps it is my facial expression in the 'After,' but my face does indeed look more lifted and V-shaped below: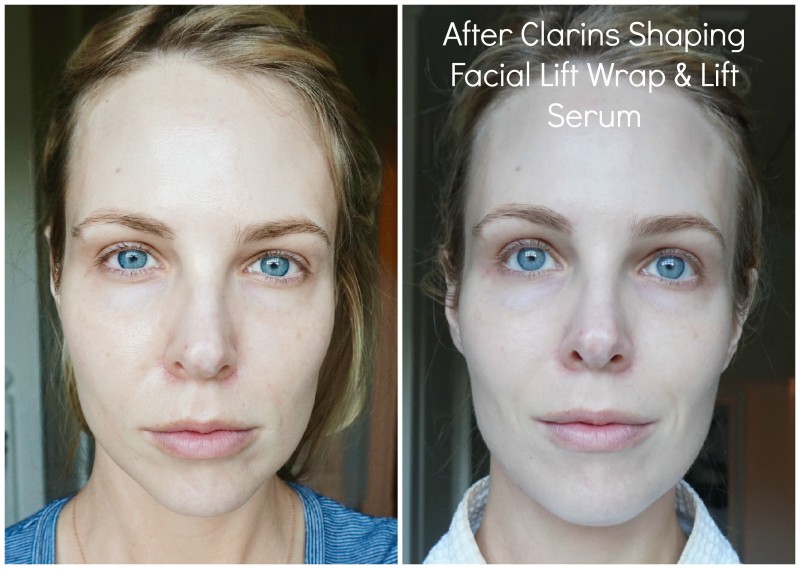 Side view after massaging in the serum. I apologize for the general grossness of my hair in these photos (yes, that is a visible tape-in extension):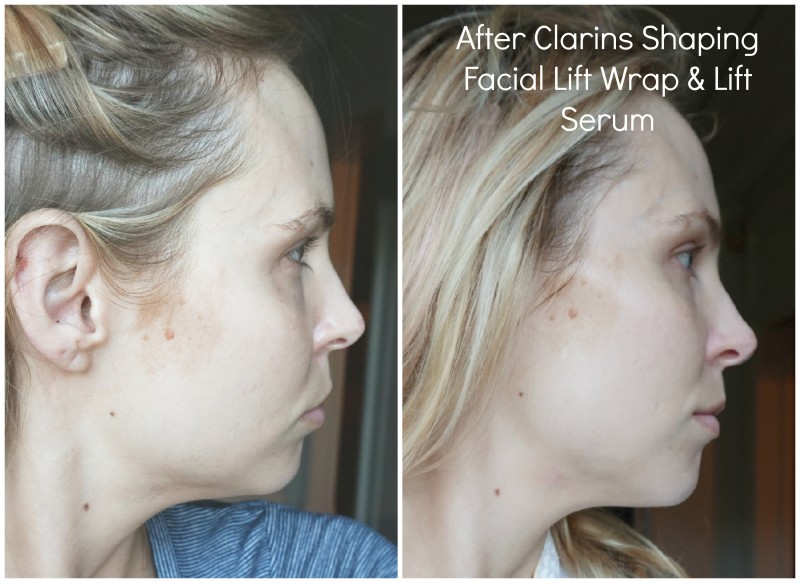 I can see a definite change in the puffiness of my jaw area, and also the cheek and under eye area looks more puffy in the "Before."
But who can do an experiment once and call it science? So I tried the mask and serum system again. This time I had a cold, so my eyes and nose were puffy from that. Here is my "Before," first thing in the morning, and then "After" having applied only the Clarins Shaping Facial Lift Wrap (I left it on about 45 minutes this time):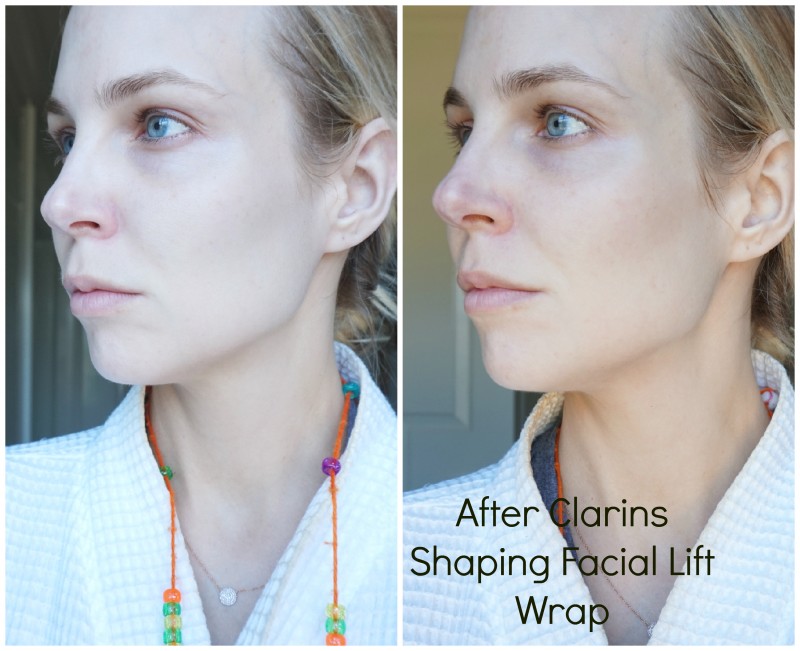 After removing the mask I applied the Shaping Facial Lift Serum according to the Clarins method.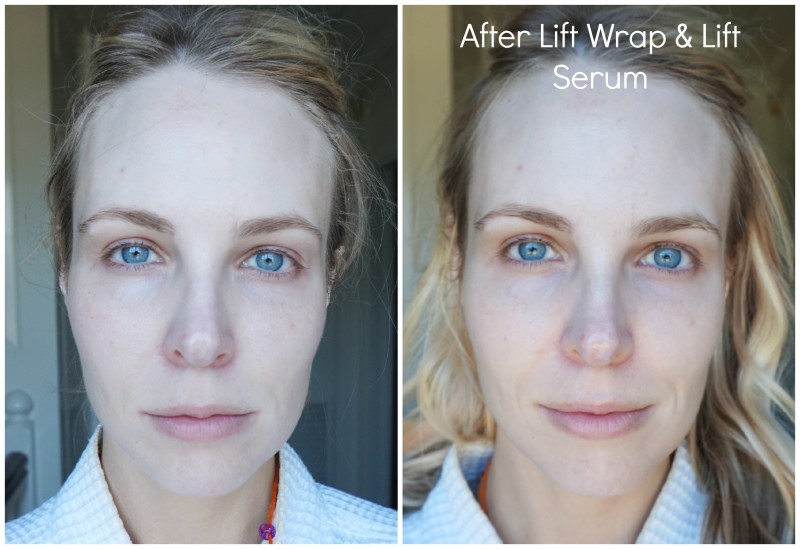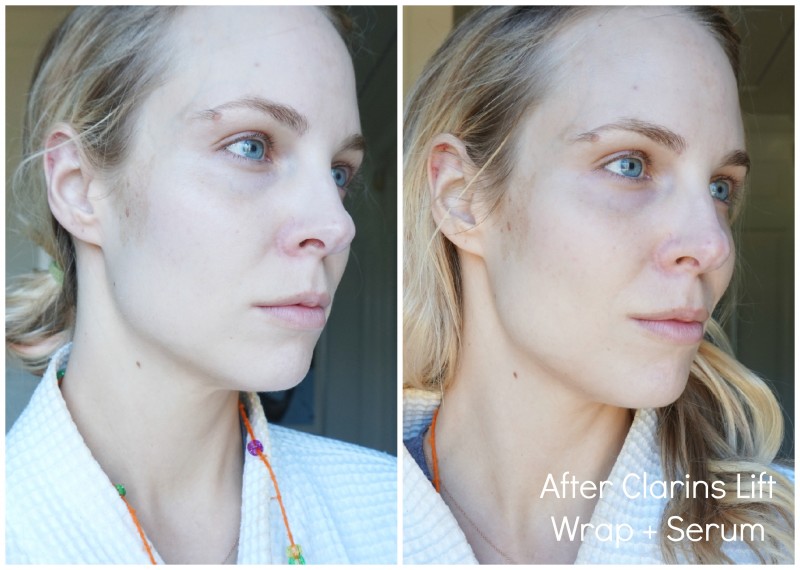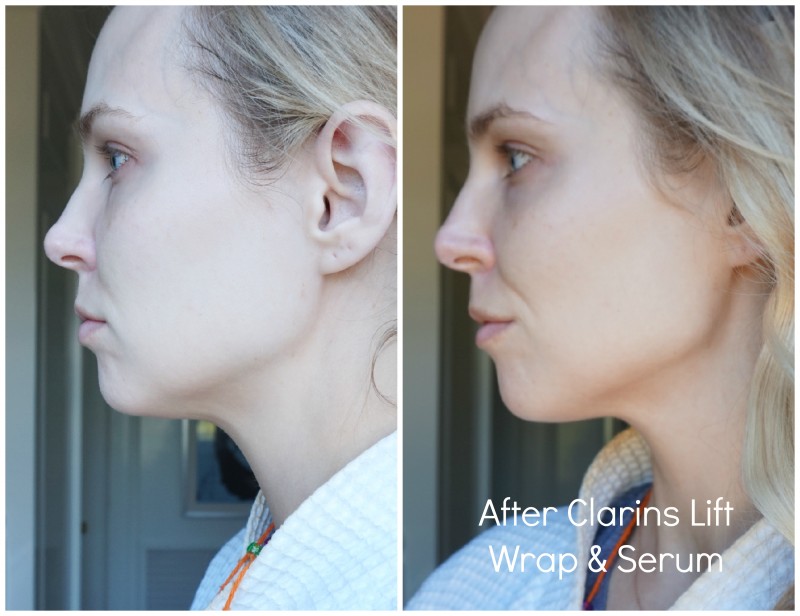 In the photos there is definitely a visible difference in terms of puffiness, but these experiments left me with two questions: (1) if you could only buy one Clarins product, which is better, the Shaping Facial Lift Wrap (mask) or the Shaping Facial Lift Serum; and (2) how much of the de-puffing and drainage of fluid would have happened naturally, without any assistance from these Clarins products, just by being up and about, drinking coffee, etc.? We must consider that between these "Before" and "After Wrap + Serum" photos, about 45 minutes elapsed.
So this morning I did one last experiment– I did not use the mask at all (which I missed because it is so pampering and wonderful), but applied the Serum according to the Clarins method. This time only 8 minutes elapsed between the "Before" and "After" photos. I still have a little bit of my cold, and I also ate and drank at a restaurant last night.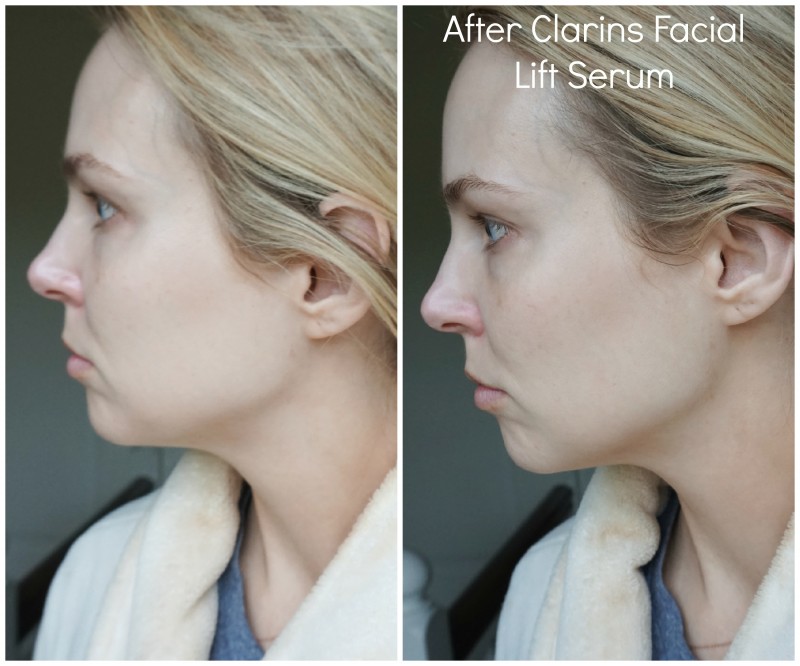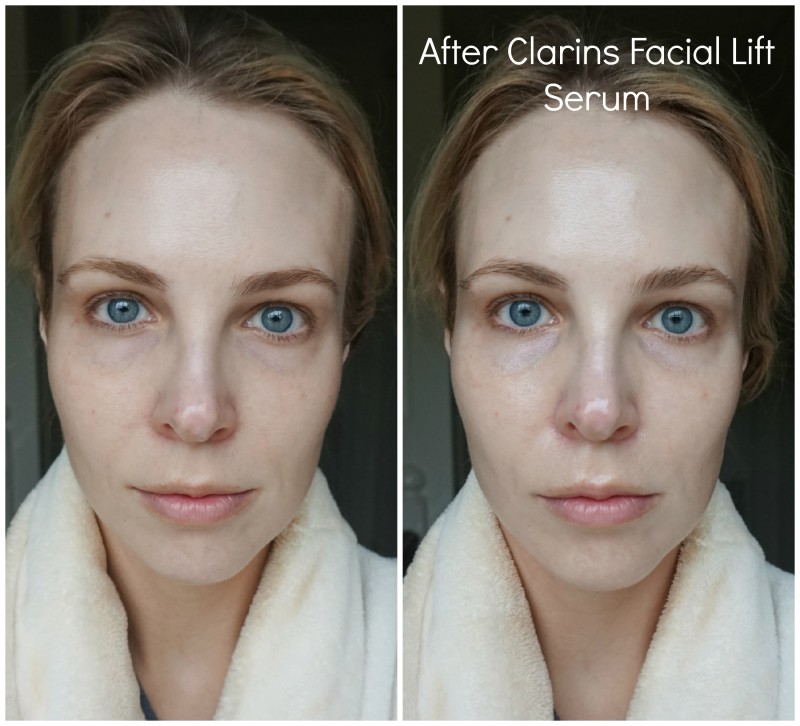 I think in the side view I can see more definition in my jawline, but it is more subtle than when I used the mask in conjunction with the serum.
Interestingly, a beauty blogger I found online calls the Clarins Lift Serum her "holy grail" item and says she used it for two weeks every night and saw a big difference in the definition of her jawline. The serum also has impressively high ratings when I read reviews online. So perhaps this serum is more for a gradual improvement over time, as opposed to a quick fix for food/alcohol induced puffiness. You can read her full review here.
I will continue using the serum consistently for two weeks and update the post as to my findings. Overall, I have to say I LOVE doing the mask and I think it *may* speed up the time it takes your face/eyes to de-puff in the morning. I also think you need to use the Clarins Shaping Facial Lift Wrap together with the contouring serum to get the maximum de-puffing effect. That said, another mask I use frequently for hydration, GlamGlow ThirstyMud, also has de-puffing properties, even though it is not marketed as such. I have been known to apply ThirstyMud dangerously close to my eye area and on my eyelids because I really think it de-puffs (better than the GlamGlow BrightMud, which is specifically designed to de-puff eyes). My Holy Grail SK-II sheet mask definitely has de-puffing properties also.
Now you can confidently EAT, DRINK, and be MERRY knowing that there are effective products out there to at least somewhat de-puff your bloated mug.
xoxo,
@beautynowapp
You May Also Like