Consider Poking Your Skin With Needles
08 • 03 • 2017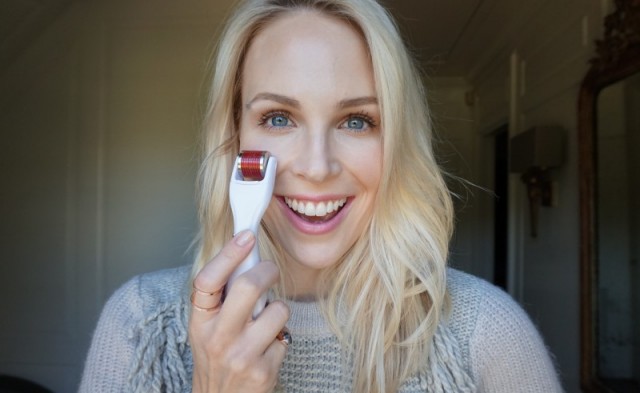 I swore to myself I would only do a blog post when truly inspired. The last thing I want is to be another blogger harrassing you about the Nordstrom Anniversary Sale, a/k/a The Great Bootie Panic of 2017. Calm down, bloggers. There are enough drapey sweaters to go around, I promise. However there is an anti-aging device that I have been meaning to post about for a year now, and during #nsale (ends this Sunday, August 6th!) the gloPRO is $163 versus the usual $244 (UPDATE- ugh it sold out at Nordstrom, but still available on Amazon or at Neiman Marcus). This game-changing device has been deserving of a full post for awhile now, so here's my full gloPRO review:
What Is a gloPRO:
The gloPRO is an at-home microneedling device that has the same anti-aging benefits as a pricey in-office SkinPen treatment. The gloPRO roller head is covered with tiny needles that create microscopic injuries to your skin (stay with me here), causing your skin to produce more collagen to repair itself, thereby restoring volume and youthful plumpness. Sounds gimmicky, but the gloPRO's claims are scientifically proven and I can personally vouch for the effectiveness of this tool. About 16-24 hours after I use it, I can see an obvious, visible difference in the way I look: my skin is poreless (like I put on a sheet mask), plumped, and slightly lifted (probably from the added plumpness).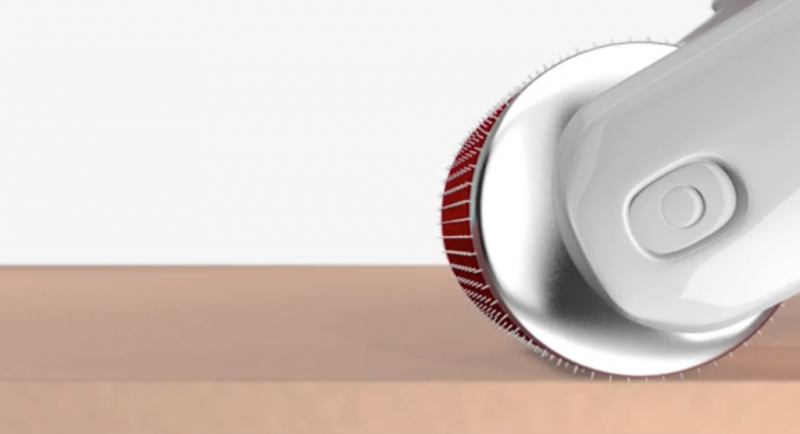 In addition to promoting collagen production, the gloPRO provides passageways for your skincare products to dive directly down to deeper layers of the skin, being absorbed by your skin 200 times more effectively. That means you get way more benefit out of pricey serums and creams you already own! Also the gloPRO is different from other derma rollers in that it simultaneously emits red LED light that promotes healing and further stimulates collagen production. Red LED light function and "Vibrotactile Stimulation" (translation: the thing vibrates) "work synergistically to enhance regenerative skin benefits." Scientists have found that cells exposed to LED light grow 150 to 200 percent faster than unstimulated cells.
Results I Have Seen: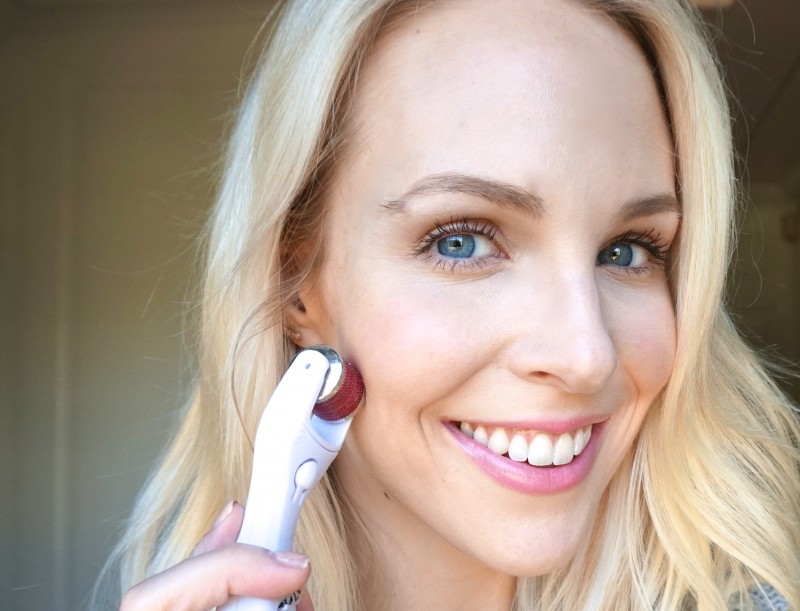 The GloPro really is an instant(ish) gratification product in that you see visible results the very first time you use it. Here are the results I have seen in my skin, in descending order of magnitude:
Overall Porelessness:
About 16-24 hours after I use the gloPRO, my skin looks like I just took off a sheet mask. The pores are more invisible, and the overall skin quality is smoothed, radiant, and younger looking. The results last longer than a sheet mask (I'd say about two days), and if you actually use a sheet mask the morning after you GloPro (I recommend the SK-II sheet mask, or my second fave cheapo Korean sheet mask), your results are extra amazing. I feel that skincare products are still able to penetrate my skin more than usual the morning after I GloPro (even though the package insert says products absorb better for the 30 seconds after GloPro'ing.) The takeaway is that post-GloPro is the time to break out your expensive creams and serums, ladies. (For instance ideally I would use the SK-II Facial Treatment Essence twice a day every day, but my bottle is starting to run out so I'm a little more precious with it. But I always make sure to apply it immediately after I GloPro, and the next morning as well).
Plumping Effect/ Improvement of Under Eye Circles:
A close second to the overall porelessness look is the obvious, visible plumping that the GloPro achieves. It is the only treatment I have found that improves under eye circles at all (no creams that I have found have a measurable improvement on darkness. Fine lines, yes; darkness, no). I notice the plumping effect most in those sunken hollows under my eyes. You know how you can put on concealer, but you still have those indentations that exacerbate the darkness and just make you look haggard? The GloPro does an AMAZING job at filling those in and making the thin skin under your eyes thicken up so the darkness shows through less. I should mention here that I use the tool very close to my under eye. This is where it will be most uncomfortable to use, but (carefully) make sure you roll right in that hollow area where you put under eye concealer. I did not purchase the smaller eye roller attachment, I just use the regular head that comes with the GloPro.
I also notice a slight plumping and improvement in my nasolabial folds, and an overall plumpness over my face (but not in a fake, filler-type way). You know how your toddler's skin looks thicker and more padded, while your skin looks thin and stretched? It just adds back a little more overall cushion, like the results of an in-office skin pen procedure (but the results do not last as long).
Lifting:
Some people have recommended the GloPro (and in-office SkinPen procedures) to address skin laxity and sagging. But personally I think the NuFace microcurrent device (or in-offfice skin tightening procedures like Ultherapy) better target sagging, whereas the GloPro excels at filling in hollows and overall plumping. Of course the NuFace and GloPro are best used in tandem because they both counteract the effect of aging in different ways. That said, I do think GloPro does give me a bit of a lifted look about 24 hours after using it, to the extent that sagging is caused by volume loss and the GloPro builds collagen to plump up skin. And this sounds so generic, but I find that I just look BETTER– decidedly younger and less haggard than my pre-poked self.
How To Use:
Generally speaking, I use my GloPro at night once or twice a week, and my NuFace in the mornings (5-6 times a week). I love to use GloPro at night when I'm giving myself a mini-spa treatment to relax after putting the kids to bed. I clean my face with Neutrogena Foaming Face Wash, then followed by Bioderma micellar water, and then I roll over my face with the GloPro in sections. First I do one side of my lower face, really making sure I roll over the under eye hollows, close to my eyes (be careful!), and also right under your jawline (we want that area plumped and lifted too!). With medium pressure I roll the GloPro over each section of my skin horizontally, vertically, and diagonally, going over the same areas multiple times. It doesn't hurt, but it is a little uncomfortable. However I don't mind the sensation now because I know that it is actually doing something, and that tomorrow my skin is going to look visibly better than it does right now. I'd say the discomfort level is equivalent to tweezing your brows.
After I finish one section of my face, I quickly put on SK-II Facial Treatment Essence, and then Estee Lauder Advanced Night Repair Serum. The serum that is included with the GloPro set is ok, but I think the Estee Lauder serum post-GloPro produces better plumping and firming results. GloPro advises against using any brightening or acid-type serums though. I also do not use a retinoid on nights I do my GloPro (PS the Differin retinoid gel I was prescribed for years is now available over the counter!)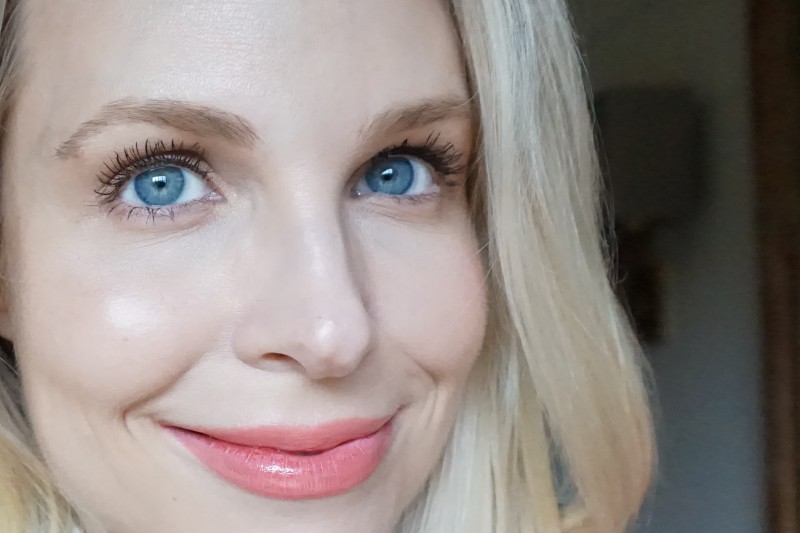 The morning after I gloPRO, I love to use my Peter Thomas Roth Rose Stem Cell mask. I keep it in the fridge and put it on in the morning while I'm making lunches, etc. This mask is great for plumping and building collagen, and I feel like it works even better the morning after gloPRO'ing. It is also good because it goes on clear so you can wear it while you're driving carpool without embarrassing your kids (guilty!).
Bottom line is that I highly recommend the gloPRO because of its near-instant results (who wants to use a device for a month before you can see any change?!) I also think it is a worthwhile purchase because of the low time investment (as opposed to the NuFace, which I use for five minutes most days). Even if you just use your gloPRO one night a week (it takes like 3 minutes to do your whole face!), you will see major changes in your skin. Also at $163, the gloPRO is way more cost effective than an in-office SkinPen treatment that costs anywhere from $350-750. Having tried both, I believe that if used regularly, the gloPRO can approximate the plumping results of the SkinPen.
[UPDATE 11:00 PM 8/3/17: y'all apparently bought up all the gloPROs on #nsale. But don't despair, you can also find the gloPRO here or here. Thanks, Jill, for the heads up.]
xoxo,
@kathleenjenningsbeauty
5 Responses to "Consider Poking Your Skin With Needles"
You May Also Like