Awesome Drugstore Shampoo Alert!
12 • 09 • 2016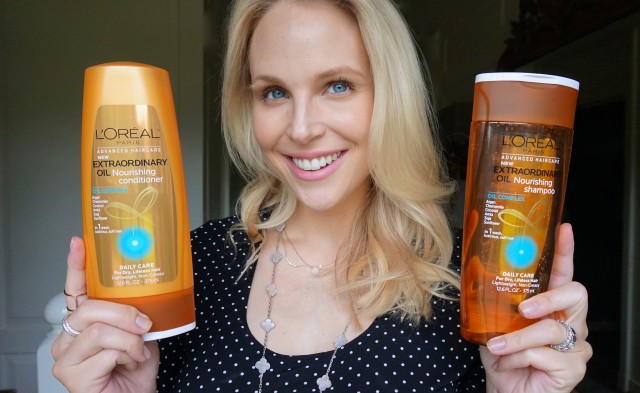 Your hair guy is going to hate me, but it's time to rethink plunking down $80 on fancy shampoo and conditioner at your next salon visit. I have discovered a budget-friendly, cheapo shampoo and conditioner set that is nothing short of transformative for fine, damaged hair. I think it would work well on most hair types, and it is $6 for heaven's sake! Worth a shot. Read on for my Loreal Extraordinary Oil review:
An example of marketing that works: I found a sample of the Loreal Extraordinary Oil shampoo and conditioner (available as a set here) attached to a magazine and used it that night. The results were so amazing that I made a special trip to the grocery store the very next day specifically to buy the full size shampoo and conditioner. I don't think any hair product has ever been so good that it prompted me to do that! That was months ago, and I have been using it consistently ever since. No buildup, no reduction in effectiveness. #winning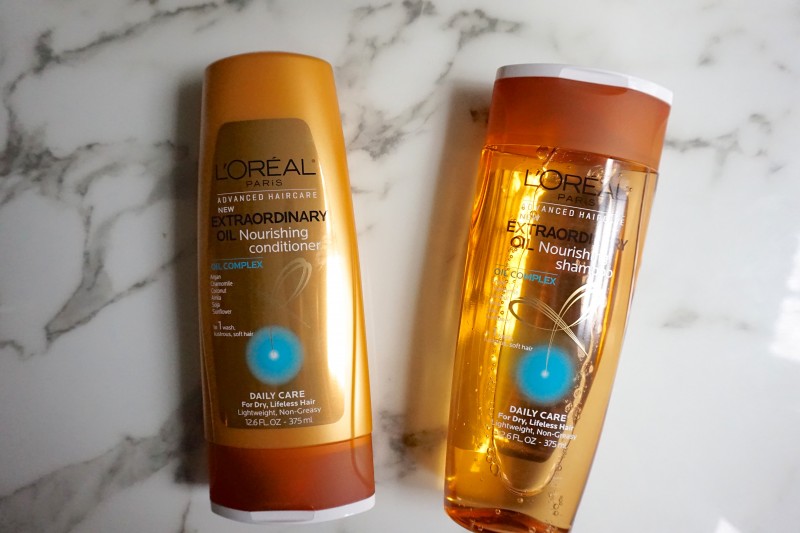 How to Use:
Confession: I only wash my hair every 3 or 4 days now (thanks, favorite dry shampoo!) Since at that point my hair is full-on nasty, I suds up twice with my Loreal Extraordinary Oil shampoo. Make sure to really focus on the roots and around the hairline where you get the oiliest.
Then it is time for the fantastic Extraordinary Oil conditioner. Squeeze out your hair to get rid of excess water. Use a generous amount (about a quarter size for my longer than shoulder-length hair) of conditioner, and apply from ear-level down to the tips, and also the front part where the strands are very fragile and tend to break off. Here's my application trick: really spend some time massaging the conditioner into your hair. Work it into your strands, using twisting motions and combing it through with your fingers. Then let it sit for a few minutes while you shave or whatever. This is when the conditioner works its transformative magic.
After you rinse out the conditioner, your hair is completely detangled and soft. My beloved Wet Brush went through my tangles way more easily than with other conditioners. And I know this sounds dramatic, but when I blow dried my hair, I could not believe my eyes. My hair was super shiny, bouncy and soft. But not weighed down! Seriously! I know lots of hair products claim that, and I always believe them. So I have a whole arsenal of barely used hair products sitting in my cabinet because of course they weighed down my hair. But not this! I have never met a product that truly moisturized my dry, damaged hair, yet did not make my hair oily or weighed down within a few hours.
For Super-Duper Shiny Hair: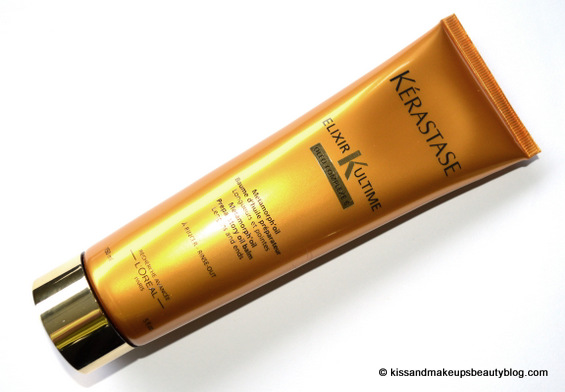 I discovered a high-low combo that will give you your shiniest hair ever: apply Kerastase Elixir Ultime Metamorph'oil BEFORE the Loreal Extraordinary Oil shampoo/conditioner. Trust me, this is a treatment product worth springing for (although it is available here for only $18 on Amazon Prime!) Truly fantastic for adding shine to fine hair, you completely wash it out so it doesn't weigh down hair. It is worth noting that there is no drugstore Loreal equivalent to this particular Kerastase product (don't be confused: the Loreal Extraordinary Oil Lustrous Oil Serum is a leave-in product that is not the same as the Metamorph'oil).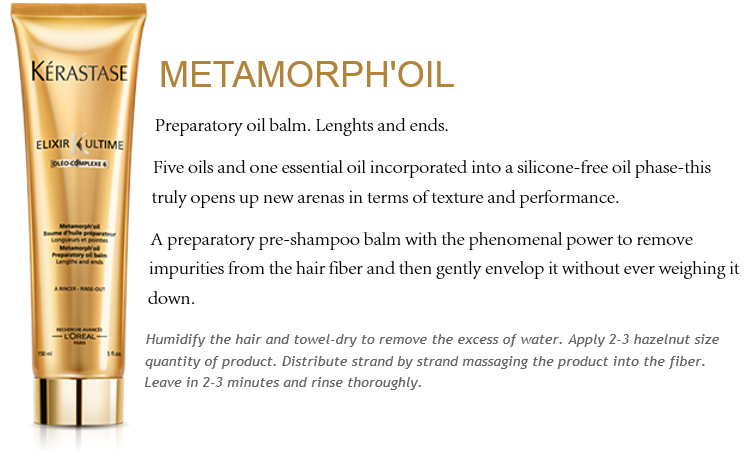 Metamorph'oil is an oily gel that you apply to dry hair before you shampoo. Be warned: it just feels WRONG to be slathering oil on your dry hair before you get in the shower. Leave on for about 2 minutes before your usual shampoo and conditioner routine, and get ready to experience hair that is objectively, noticeably more shiny. I swear it doesn't even look like my own head of hair.
So use all the money you saved on drugstore shampoo to buy this Kerastase treatment product.
Is Extraordinary Oil a dupe for the Kerastase Elixir Ultime line?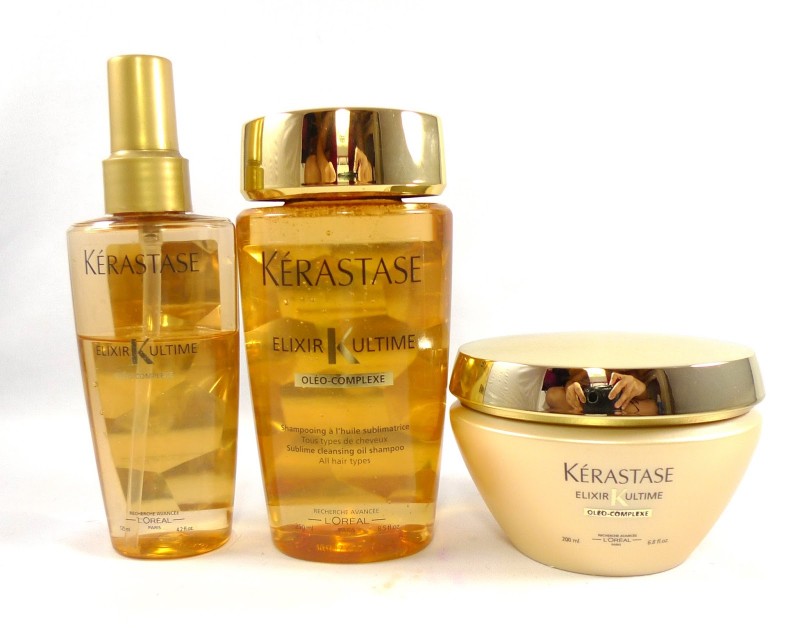 I have a theory that the drugstore Loreal products are the exact same as the way pricier Kerastase salon brand (Loreal is the parent company of both brands). My hair guy, David at Studio A Salon in Houston, swears that while each Kerastase shampoo appears to have a drugstore Loreal counterpart, the Kerastase has a higher concentration of active ingredients. Conveniently I cannot confirm nor deny this fact online, as Loreal does not publish the concentrations of each ingredient. But it sure is nice to think that you get something for the extra $35 per bottle (on top of the prestige factor of fancy shampoo sitting in your shower).
Compare, for example, the nearly identical ingredients for the Loreal Extraordinary Oil shampoo and Kerastase Elixir Ultime shampoo:
Kerastase Elixir Ultime Shampoo Ingredients:
Water, Sodium Laureth Sulfate, MIPA Laureth Sulfate, Sodium Chloride, Hexylene Glycol, Sodium Benzoate, Cocamidopropyl Betaine, Glycerin, PEG 18 Castor Oil Dioleate, Propylene Glycol, PEG 55 Prolylene Glycol Oleate, Laureth 5 Carboxylic Acid, Persea Gratissima (Avocado) Oil, PPG 5 Ceteth 20, Laureth 2, Polyquaternium 53, Salicylic Acid, Linalool, Alpha Isomethyl Ionone, Limonene, Zea Mays Oil, Argania Spinosa Kernel Oil, Camellia Oleifera Seed Oil, Pentaclethra Macroloba Seed Oil, Sodium Hydroxide, Citric Acid, Fragrance
Loreal Extraordinary Oil Shampoo Ingredients:
WATER, SODIUM LAURETH SULFATE, COCO-BETAINE, LAURETH-5 CARBOXYLIC ACID, COCAMIDE MIPA, SODIUM CHLORIDE, ISOSTEARYL, NEOPENTANOATE, PARFUM / FRAGRANCE, POLYQUATERNIUM-10, AMODIMETHICONE, SODIUM BENZOATE, HEXYLENE GLYCOL, PEG-55 PROPYLENE GLYCOL OLEATE, PROPYLENE GLYCOL, PEG-60 HYDROGENATED CASTOR OIL, SALICYLIC ACID, CAPRYLIC/CAPRIC TRIGLYCERIDE, SODIUM HYDROXIDE, ARGININE
It is also interesting to note that neither the drugstore Loreal nor the pricey Kerastase are sulfate-free. I dutifully used a sulfate-free shampoo for several years because I thought my color-treated hair and tape-in extensions mandated so. But now my hair guy David says most of the sulfate-free hubbub is just a marketing ploy. For what it's worth, I stopped worrying about sulfate-free shampoos months ago and I have seen no change in my hair color fading or the wear time of my extensions.
Let me know if you try the Loreal Extraordinary Oil shampoo and conditioner and what your own impressions are!
xoxo,
@kathleenjenningsbeauty
One response to "Awesome Drugstore Shampoo Alert!"
You May Also Like