Makeup How-to for AFTER the Party
12 • 10 • 2013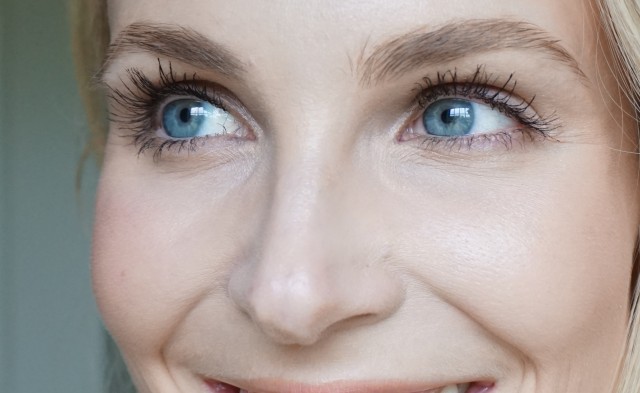 I mean, it's not like it's your fault. You were OVERSERVED. It happens– it's the holidays. Or maybe you were just up all night with the kids. Been there! Regardless, you're a grown-up so you dutifully get up early the next morning to go to work, drive carpool, and generally try to look like a presentable, contributing member of society. So instead of blogging about holiday party looks, I'm going to share makeup tips to help improve the MORNING AFTER situation.
BEFORE the party:
Morning AFTER the party and toddler waking me up at 3:30 a.m. because he was thirsty:
The biggest morning-after beauty problem is probably puffy, bleary eyes due to alcohol, salty hors d'oeuvres, and lack of sleep. Your step-by-step fix:

1) Splash really cold water on your face.
2) Apply the Skyn Iceland Hydro Cool Firming Eye Gels. They really do work to depuff and open your eyes!
3) Apply an illuminating, depuffing eye cream or serum. I have used Laura Mercier Repair Eye Serum for years, and it is the only department store skin care product that I spring for. I swear you can feel the serum immediately deflate the puffiness from your eyes!
4) Tackle your under eye circles with a three-pronged approach– first apply It Cosmetics CC Cream Illumination all over your face (including eyelids/eye area), then a quick swipe of a high-powered corrector/concealer pencil like Susan Posnick Colorcorrect (which I detail in another blog post about my everyday makeup routine), then set with powder. You can layer additional Nars Radiant Creamy Concealer over the powder if you still see under eye circles peeking through. Tap a few dots on with your finger, but ONLY where you need it (see doodle below). Then wait about 30 seconds for the concealer to get slightly tackier, then tap to blend in with your ring finger. Set again with light dusting of powder.
4) Now here's the trick– apply a sheer wash of neutral, taupe brown shadow all over your lid, and into the crease. The idea is to not to look like you are wearing eye shadow, but to fake a "hollowness" to offset the puffiness that is making your eyes look smaller.
I LOVE Maybelline Eye Studio 24HR Color Tattoo Cream Gel Shadow in Bad to the Bronze- this shade actually reads more like a stone, taupe color on me than a true bronze. Color Tattoo (the cream one, not the loose powder pot) is my favorite drugstore eyeshadow– it is the perfect creamy consistency, lasts forever, and does not crease. I have Color Tattoo in several colors and I swear I will never buy another prestige brand eye shadow again!
5) I add a little more golden bronze shadow (MAC Eye Shadow in Woodwinked) in the crease and on my lower lid, right underneath the lower lash line. Again, you don't necessarily notice the eye shadow, but the neutral brown makes your eyes look bigger, adds dimension in your crease, and makes you look more awake.
6) Apply a lifting, eye-opening mascara on the top and bottom lashes– my current fave is CoverGirl The Super Sizer mascara in Black Brown (check out my Ultimate Comparison of Top Mascaras!) Usually I recommend mascara on only the top lashes for daytime, but doing your lower lashes too does open up your eye a bit more. Really make an effort to get all the way down to the base of the lashes, and concentrate on lengthening the lashes at the inner corners (by your nose).
7) If you have time, brush your eyebrows upward, and apply Benefit High Brow underneath the arch.
8) When I am bleary eyed, I prefer a clear, vanilla nude glossy lip (very specific, I know). Right now I am liking Marc Jacobs lip gloss in Sugar Sugar (this shade is a blogger fave that used to be sold out everywhere!). Feels great to reapply, but does not stay on that long. I've found that the weartime is greatly improved when I first fill in my lips with Urban Decay lipliner in Native.
The finished product? A little tired, but vastly improved:
Now take two Advil and try to soldier on with your day…
xoxo,
@kathleenjenningsbeauty
You May Also Like