My November Everyday Makeup Routine
11 • 19 • 2013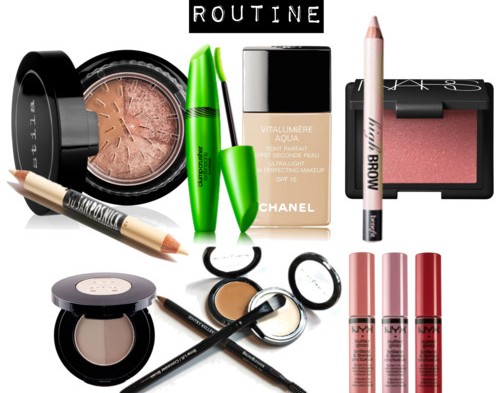 I started My Everyday Makeup Routine series last month to show the products I am currently using to create an easy, everyday makeup look. From month to month I am loyal to some of the products, but a few are new finds that I have incorporated into my routine.  Here's what my everyday makeup routine looks like for November:
Lately I've been trying to force myself to limit my routine to just a couple products. This is hard for me!  I start saying, oh, I'll just cover up my under eye circles, and then I need mascara, and then maybe just fill in the brows a bit…and next thing I know I've been in front of the mirror for 12 minutes and we are going to be late for school!
So I've been experimenting with a more minimal look to get out the door in the morning: just Chanel Vitalumiere Aqua (all over the face, including eyelids/eye area), Susan Posnick Color Correct concealer stick for redness around the nose, and then a quick dusting of Stila Illuminating setting powder.  If I look really pale, then Nars blush in Orgasm (or the Kat von D blush I blogged about here).  The result?  Not quite as polished as the full-on routine (I have no eyelashes!), but this gets me 80% of the way there and out the door in less than three minutes:
The Susan Posnick Color Correct concealer stick is a new find I picked up at Kuhl Linscomb in Houston, but can be purchased online here.  I love the creamy, very opaque consistency that blends easily, and the pencil format is a LOT faster to put on than a pot or tube of concealer.  You just draw around your nose and on zits, then tap a little with your ringfinger to blend.
The stick is also creamy enough to cover up under eye circles quickly and effectively.  Here I am wearing the Susan Posnick concealer on just the left under eye (my right!):
After foundation, color over your under eye area with the brightening side of the dual-ended stick, and tap with your ring finger to blend.  Next, use the darker, yellowy side of the stick to counteract the blueness of the circles. Then set with powder.  ***NOTE: Make sure you put on this creamy concealer stick BEFORE any powder product, otherwise it will look a little cakey close up.
Have a few extra minutes?  Focus on brows and lashes.  I've been applying Anastasia Brow Duo Powder in Blonde (pictured below) with my Jentry Kelley angled eyebrow brush.  Using a brow pencil is faster, but I'm able to pinpoint sparse areas a lot more precisely with a powder.  I use the lightest color all over to fill in, and then the darker color on just the peak of the arch for more definition.
If you're looking for a good brow tutorial, check out makeup artist Jentry Kelley's YouTube video here.  She uses a brow pencil in the video, but her technique would work with a brow powder too.
On lids, I've been using Jentry Kelley Brow Lift Eye Base in Natural all over my lids to cover up any redness or veins without looking like I have any eyeshadow on.  My Sonia Kashuk concealer brush from Target is the perfect size for getting into the inner corners of eyelids and close to the lash line.  Then I swipe Benefit High Brow under the outer 2/3 of the arch to highlight the brow bone.
Lately I've been loving the Cover Girl Clump Crusher Extensions Lashblast mascara.  I think mascara is such a personal decision, but, for me, I don't like oversized brushes or the narrow plastic, non-bristle kind either.  The Clump Crusher Extensions speeds up my routine because it truly doesn't clump, and the curved brush makes it easy to grab those little lashes in the inner corners.  This mascara also layers really well over other mascaras.  So if I really want drama and length for evening, I use one coat of Maybelline Illegal Length, and then layer the Clump Crusher Extensions mascara over that.  Also carefully swipe the mascara wand vertically and you will discover little eyelashes and length that you didn't know you had!
As far as lipsticks to finish up the look, I've been alternating between several drugstore lip glosses that I blogged about here.
Here's the final product of my November Everyday Makeup Routine:
xoxo,
Kathleen
You May Also Like