My Favorite Bronzing Products from Sephora
06 • 30 • 2020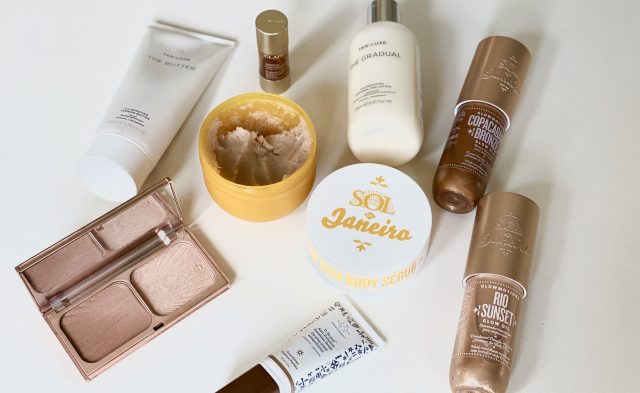 Now that summer is here, it's time to talk about bronzing products I love! Here in Houston COVID is unfortunately still going strong, but socially-distanced pooltime is one of our only escapes! So let's finally shave our legs and consider some bronzing products to beat that quarantine pallor. Today I'm discussing my favorite self-tanners for body and face, as well as some temporary bronzers that give a realistic tan and amazing glow!
Disclosure
Sephora compensated me to write this post. I chose the products to feature, the subject matter of the post, and bought the products with my own money.
Self-Tanners for Body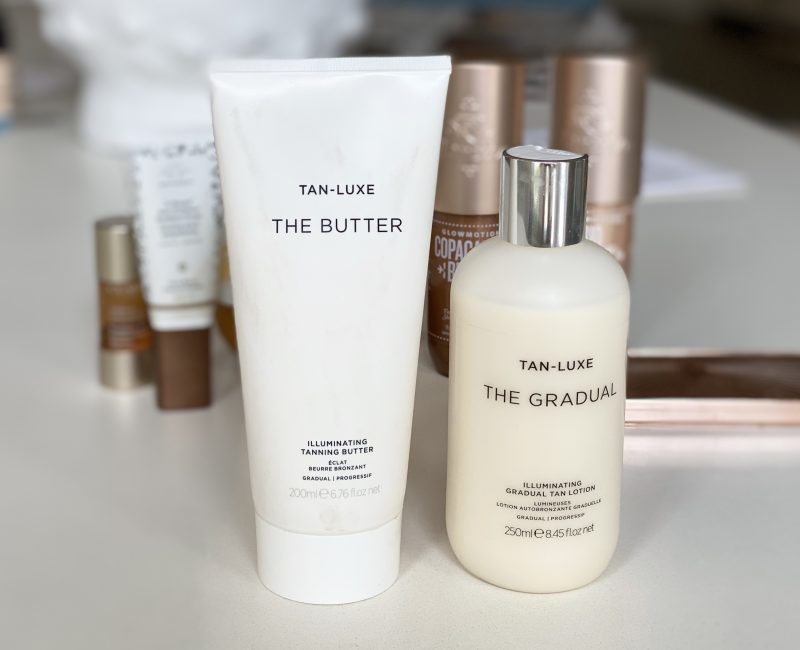 As far as self-tanner products that develop color over a few hours, I have been rotating between two products lately, Tan-Luxe The Butter and Tan-Luxe The Gradual. The other day at Sephora I put out a poll on Instagram- which should I try, the Tan-Luxe The Butter or Tan-Luxe The Gradual? It was split about 50/50, and responders felt so passionately about their pick that I had no choice but to try them both. And I'm glad I did because both are excellent self-tanners and for me, have different use cases.
Both The Gradual and The Butter create a realistic bronzed color and are less prone to streaking than other brands of self-tanners (I apply both with my hands). They also smell less than other brands on the market, with The Gradual smelling a tad less than The Butter. The Butter is a very rich moisturizer as well, while The Gradual is thinner, and almost serum-like, and completely absorbs after a few minutes. So if you have very dry skin, you will probably feel the need to apply an additional body lotion after The Gradual absorbs. Both products are described as "illuminating," but to me The Butter has a little more of a glow/shimmer to it than The Gradual.
Before going to the beach or on vacation, I would opt for The Butter because it is more color and it is very long-lasting. But if you are at home and want to apply a bit of color to your legs everyday or try to even out a sock tan (and smell a little less than The Butter), then I would go for The Gradual.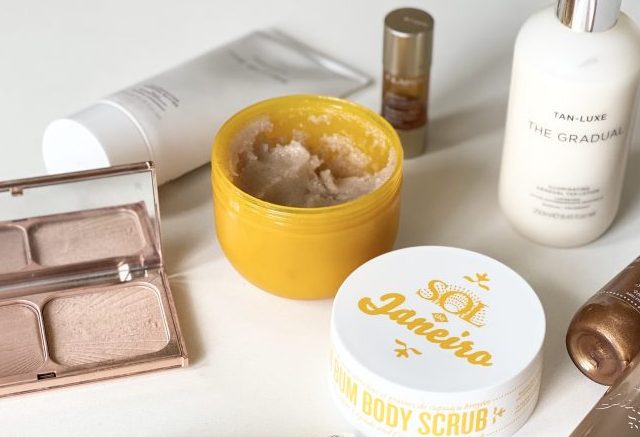 With any self-tanner, you will get a more even application if you exfoliate in the shower beforehand. This will help get off some dry skin that might absorb more self-tanner and look orange or streaky (particularly on dry knees, heels or elbows.) One body scrub that I've been playing with lately is the Sol de Janeiro Bum Bum Body Scrub. I think it works best if you turn off the shower for a second, and then scrub all over. This one has oils that leave a film of moisture on my skin (in a good way) so that if I use The Gradual, I don't need an additional body lotion after. Scent-averse readers, be warned: the Bum Bum Scrub has a very strong beachy (coconut?) scent (like all the Sol de Janeiro products). It does not bother me because it is as close to a tropical vacation as I will get for the foreseeable future.
Self-Tanner for Face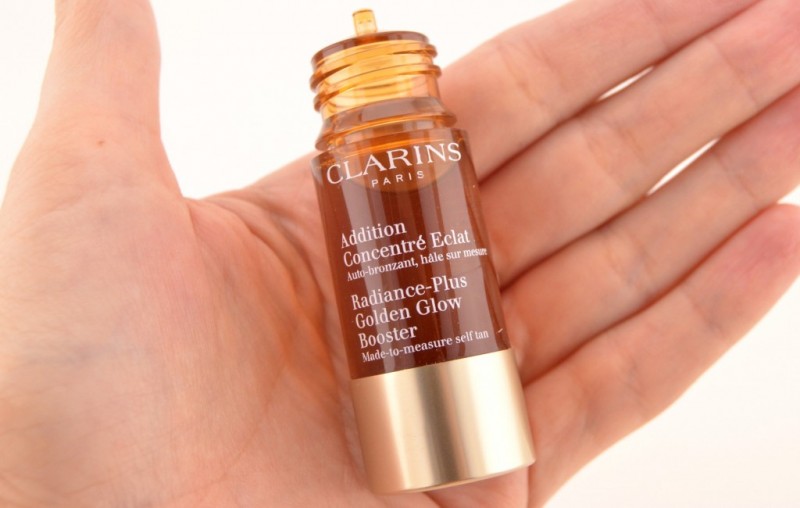 While I will try any self-tanner on my legs, I'm nervous to branch out on my face because I am prone to breaking out. I found the perfect solution in the Clarins Radiance-Plus Golden Glow Booster. You just mix 3-5 drops in with your regular SPF or moisturizer and a very natural, non-orangey glow develops after a couple hours. The Clarins Golden Glow Booster is a great product to help "match" your face to your body if your face tends to be lighter due to frequent washing and exfoliation.
Clarins Radiance-Plus Golden Glow Booster is also a travel staple for me. For instance, if you do a spray tan before leaving for a beach vacation, your tan will probably fade more quickly on your face than your body. Don't forget to apply the Clarins drops/moisturizer mix to your neck as well! Several friends also rave about the Isle of Paradise Self Tanning drops but I have not tried it yet. The price point is definitely better though- less than half the price of the Clarins!
Temporary Color and Glow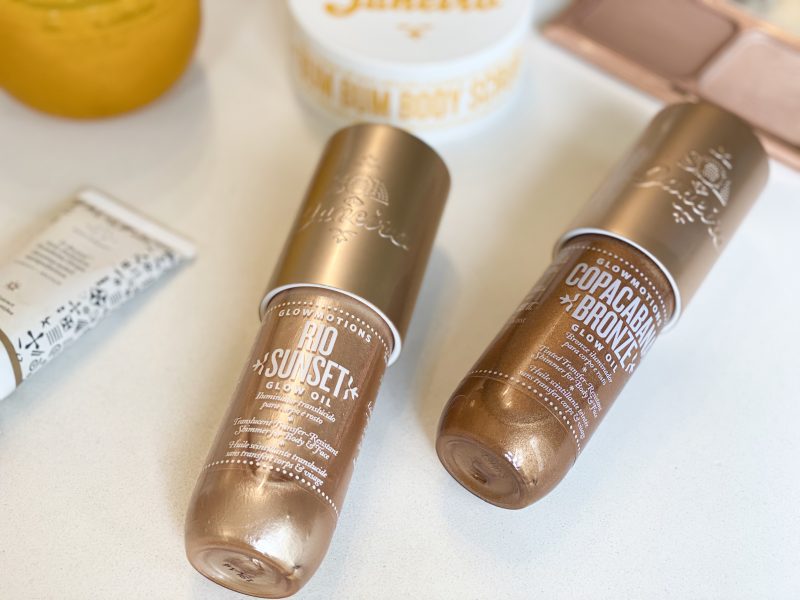 My friend Allison turned me onto another fabulous product from Sol de Janeiro Glowmotions Rio Sunset Glow Oil. "Glow Oil" sounds like it would be greasy, but it absorbs completely and is more transfer-resistant than any other bronzing product I have tried. After like 3 minutes I put on white shorts and not a speck came off! And it was not on my sheets or carseat at all.
The Rio Sunset gives you the beautiful, metallic sheen that disguises veins and other imperfections. The Rio Sunset is more just a glow as opposed to adding a lot of bronze color. But I liked it so much that I also bought the Copacabana Bronze shade that adds a bit more bronze color as opposed to just a sheen. I put one on each leg below to compare the color (they are very similar):
If you want to try both, Sephora actually has a value set that includes with Copacabana Bronze, Rio Sunset, and the Bum Bum Cream.
As far as a temporary bronze glow for your face, I think I am late to the game on the Drunk Elephant D-Bronzi Anti-Pollution Sunshine Drops. My friend Jill has been singing its praises for years, saying she mixes a few drops in with her daily moisturizer/SPF and it obviates the need for makeup on most days.
I have to agree! The D-Bronzi drops give a bronze color and glow that disguise some imperfections without adding actual coverage. I would say it gives a similar effect to the Charlotte Tilbury Wonder Glow (FYI I got a deluxe sample of the Wonder Glow as a 100-Point Reward recently so make sure you are signed up for Sephora's Beauty Insider program (here) for discounts and points rewards!) And I love that depending on your skintone, you can adjust how much bronze you need to add into your normal moisturizer! For my pale skin, I love that it doesn't read "orange" on me like most tinted moisturizers do.
As far as my usual powder bronzer, I have been using Charlotte Tilbury Filmstar Bronze and Glow for years. It has shimmer so gives a little highlight to your cheekbones while adding long-lasting bronze color.
xoxo,
One response to "My Favorite Bronzing Products from Sephora"
You May Also Like