Recent Skincare Empties!
05 • 28 • 2018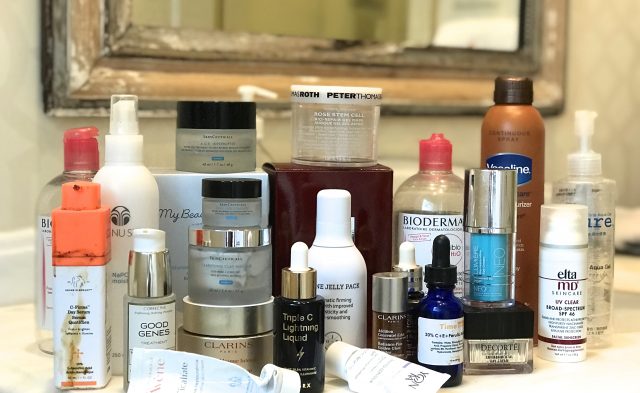 I need to do empties posts more often! The mountain of empty bottles and jars cluttering my bathroom cabinets is stressing me out. Today we discuss the skincare products I used up to the very last drop (quite a feat!) Find out which skincare empties are duds and which I plan to repurchase:
Vitamin C Serums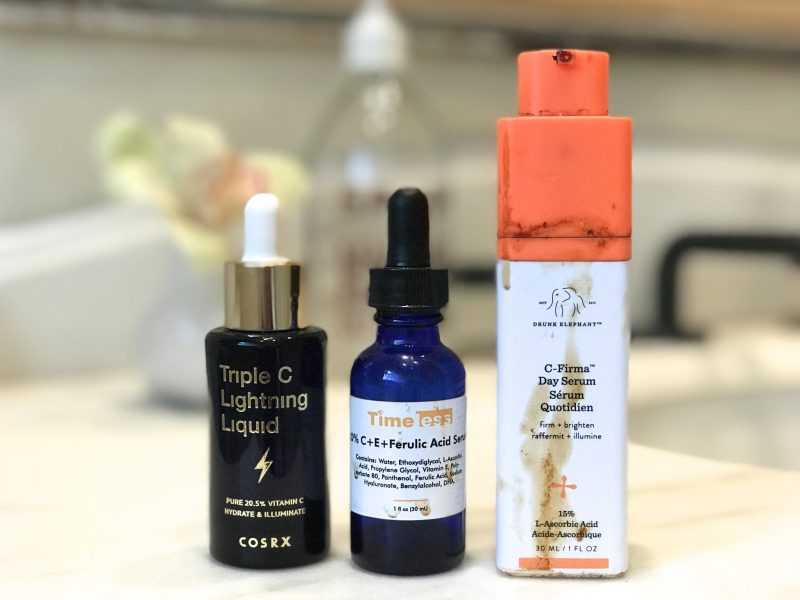 No lie, I've been working on a Vitamin C comparison blog post for about three years now, using up an entire bottle of each brand before I move onto the next. (I use a Vitamin C Serum every morning before sunscreen to prevent environmental damage.)
Most recently I tried the CosRx Triple C Lightning Serum that keeps selling out and K-Beauty bloggers have been going crazy over. It is fine, but I did not think it lightened up my melasma pigmentation any better than the Timeless C+E Ferulic serum that is an budget-friendly Amazon best seller. Both the Timeless and the CosRX would be good for oily, break-out prone skin because they are watery liquids, not greasy or hydrating like the gold standard Skinceuticals C E Ferulic or the Drunk Elephant (which are almost twin products). I do not think the Timeless or the CosRX Triple C work to lighten spots as well as the Drunk Elephant or the Skinceuticals.
Repurchase? I will definitely repurchase the Drunk Elephant because it is very similar to the Skinceuticals, but at a slightly better price point.
Night Serums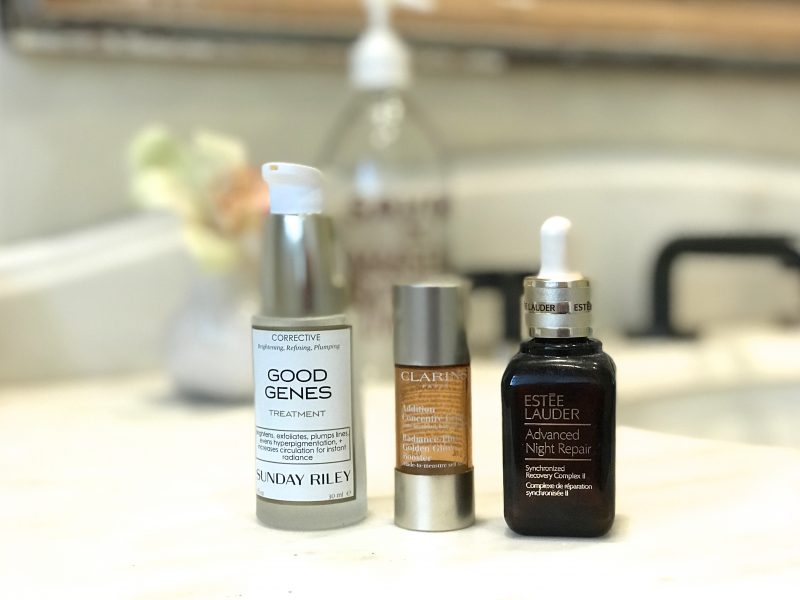 I have empties of my two current favorite night serums: Sunday Riley Good Genes and Estee Lauder Advanced Night Repair. People ask me all the time, if they can only buy one, which do I prefer? Well they are really to target different skin concerns. If you want a basic hydrating, anti-aging serum, I recommend the Estee Lauder. It plumps lines and balances skin, and works well layered over actives, like a retinoid.
But on nights I do not use my retinoid, or if you cannot use a retinoid (read: you are pregnant or breastfeeding), I highly recommend the Good Genes to brighten skin tone, add glow, and even out melasma or dark spots.
I guess the Clarins Radiance Golden Glow Booster isn't a serum at all. You put three drops into your normal face moisturizer, mix it up in your hand, and apply all over your face and neck for a beautiful glow that develops in a couple hours. I always bring this on beach vacations because if you get a spray tan, your face fades faster than the rest of your body. Repurchase? Yes, already have.
Masks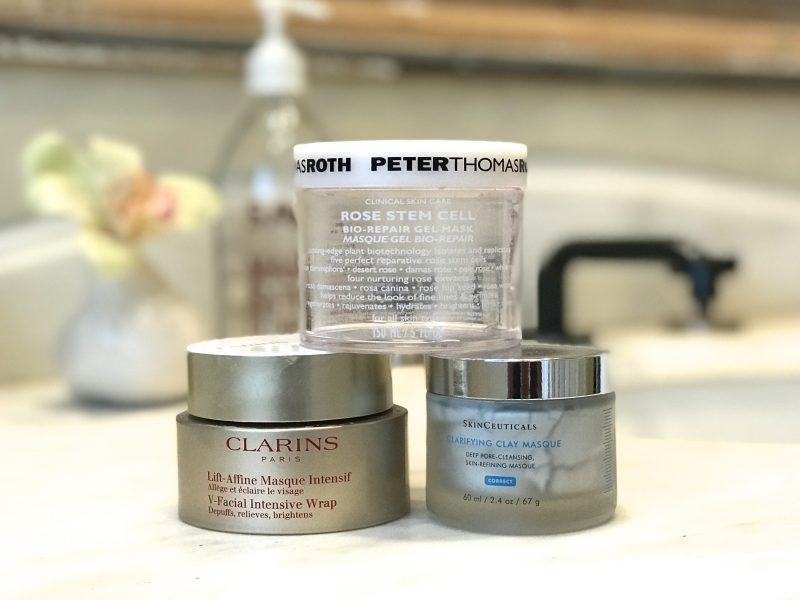 Y'all know I am a mask-a-holic! I can't have just one. My favorite mask for plumping lines is the Peter Thomas Roth Rose Stem Cell mask (on sale at Walmart.com for $29 vs. $52!). I went through a phase where I used it every morning as the gel for my NuFace, but a few months ago I switched to just using water as the conductor for my NuFace. I still love the Rose Stem Cell mask though, especially the morning after using my gloPRO microneedling device.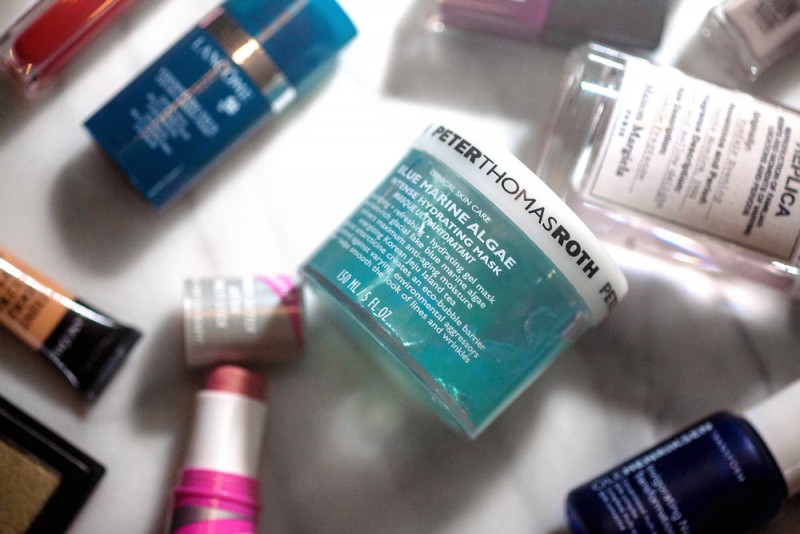 It is also worth noting that I accidentally discarded an empty of the similar Peter Thomas Roth Blue Marine Algae Hydrating Mask. Both the Rose Stem Cell and the Blue Marine Algae are very hydrating, but I've decided I like the Rose Stem Cell slightly better because it gives me a little more glow and smells better than the Blue Marine.
Clarins V-Facial Intensive Wrap: everyone should own this miracle depuffing mask that gives you your jawline back the morning after indulging in carbs and alcohol. Unless you live some kind of ascetic lifestyle, completely devoid of salt, bread, wine and fun. In which case you have bigger problems on your hands than not owning the Clarins mask. Please seek professional help for your boringness immediately.
Repurchase? Yes, I will never be without it for one second. Not even while traveling.
SkinCeuticals Clarifying Clay Mask: This is my favorite clay mask to get rid of blackheads on my nose. I have not repurchased yet because I still have the Colleen Rothschild Clarifying Detox Mask left, but I do think the Skinceuticals mask works slightly better. So I plan to repurchase the Skinceuticals as soon as my Colleen Rothschild runs out.
Eye Creams and Night Creams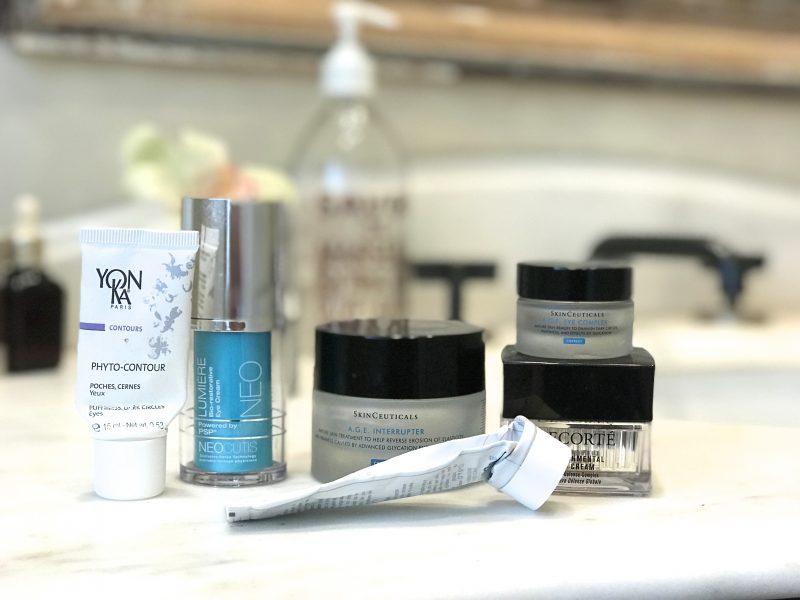 Yonka Phyto-Contour: This depuffing eye cream is a Holy Grail item for me. I keep it in the fridge and apply it to upper and lower lids every morning while I'm making coffee and lunches. The rosemary in it creates this eye-opening, almost burning sensation (like Mentholatum or Rohto eye drops), but you get addicted to it and now I don't feel awake without it!
Neocutis Lumiere Eye Cream: I bought this eye cream after multiple friends and readers said this was the only eye cream that improves dark circles. It was a very good eye cream- a lighter consistency but seemed to keep crows feet at bay, but I did not see a major improvement in my under eye darkness. The only product that has improved my under eye circles is regularly using the me Bright Eye Illuminating Device (full review here). Repurchase? No. Maybe I would if it were cheaper, but not at $80. My favorite eye cream so far is still the Tatcha Eye Cream.
Skinceuticals A.G.E. Interrupter Eye Cream and Night Cream: Both of these were good enough for me to finish the jar, but not so fantastic that I will repurchase given they are pricey. I did like the face cream better than the eye cream- it hydrated very well but did not break me out. Repurchase? No.
Decorte Environmental Day Cream: I used this decadent day cream because I had already run out of the fabulous Decorte Overnight Performance Cream. I won't repurchase the day cream because there is really no place for a rich cream in my daytime routine. However like the night cream, this cream plumped lines and hydrated extremely well, and I would recommend both the day cream and the Decorte Night Cream for more mature readers or those in dry climates who are seeking extra hydration.
I will however repurchase the Decorte Overnight Performance Cream someday when I grow up and make a lot of money.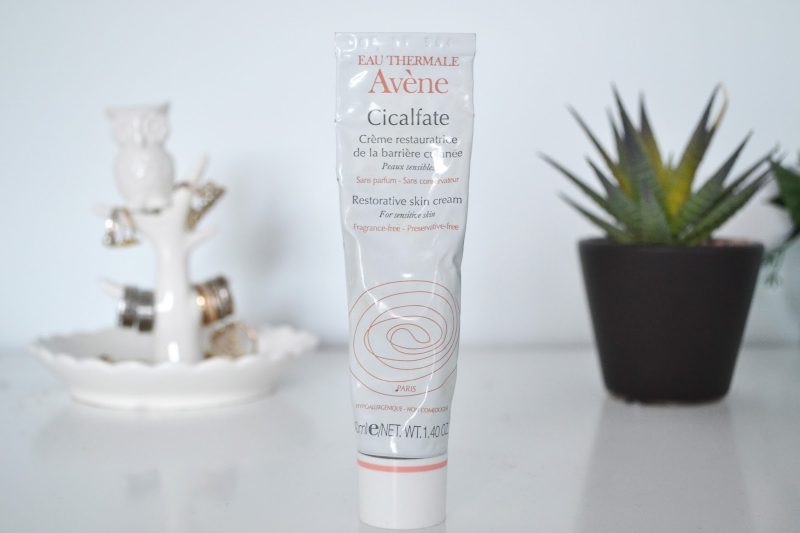 Avene Cicalfate: This is one of the best hydrating creams on the market, and at $25 it out-performs 99% of other night creams I have tried. It is very thick and rich, but did not break me out. It is calming and restores your skin's natural barrier. I would highly recommend Avene Cicalfate to anyone who is looking for a basic night cream that doesn't break the bank.
Repurchase? Yes, definitely. I've been using another night cream since I ran out of the Avene Cicalfate, and I have been missing it!
Sprays and Primer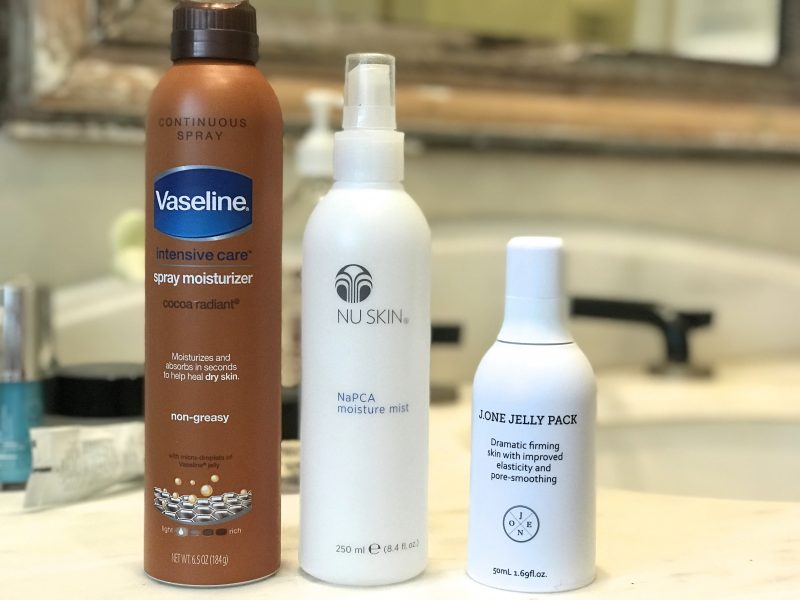 I ran out of this Vaseline Spray Moisturizer a long time ago and have not repurchased, even though I intended to. This is way more convenient than applying a regular moisturizer after your shower- I just towel off and stand on my bath mat and spray the Vaseline and it absorbs very quickly and moisturizes fairly well. I would not rely on it for extra dry areas like heels and elbows, but it works well for limbs. My one complaint is that the canister runs out very quickly.
NuSkin NaPCA Moisture Mist: This little Amazon gem is my favorite hydrating mist. I use it to keep my face wet while I'm using my NuFace and my me Bright Eye Illuminating Device. Repurchase? Yes, I already have.
J.One Jelly Pack: I loved this unusual Korean primer (full review here). But the texture is syrupy and kind of high-maintenance to work with. More recently I discovered the Farsali Unicorn Essence and it is easier to apply and creates the same poreless, radiant canvas for your foundation. The J. One Jelly Pack does plump lines better than the Farsali though.
Repurchase? Maybe not because I think I like the Farsali just as well.
My Amazon Staples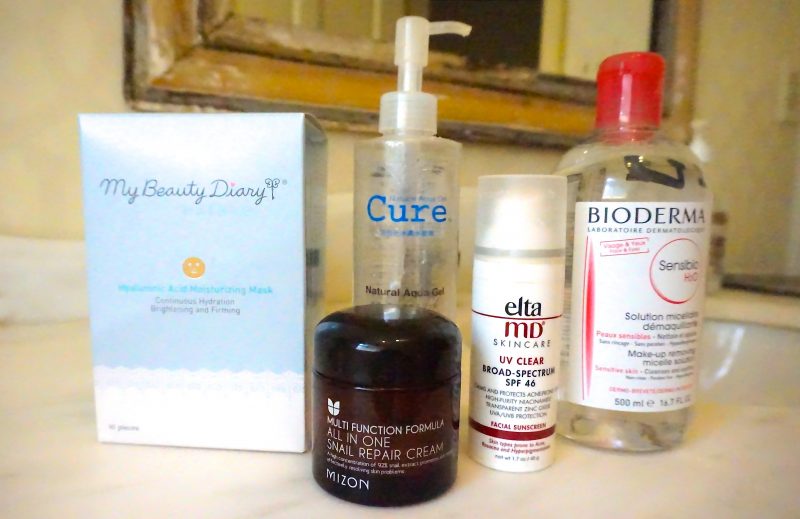 The rest of the empties pictured in the cover photo are my staples I order again and again from Amazon: Bioderma cleanser, Mizon Snail Cream, Elta MD UV Clear sunscreen, My Beauty Diary sheet masks, and the best exfoliator, Cure Natural Aqua Gel. I wrote about each of these products in depth last week and you can read that post here.
So excited to get rid of the empty can clutter! Hope everyone has a great Memorial Day weekend.
xoxo,
You May Also Like