75% Off at Sephora and Too Faced Cosmetics!
08 • 28 • 2014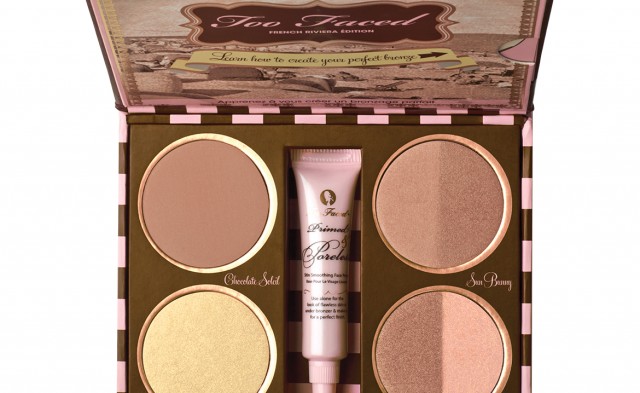 The only thing better than makeup is makeup on sale! I just discovered Labor Day 75% off sales at Sephora.com and TooFaced.com that are definitely worth checking out! Here are some of my picks from the Sephora and Too Faced sales…
As if I needed another nude lipstick! But these La Creme lipsticks from Too Faced are moisturizing and have great color payoff– I can't believe that select colors are marked down from $22 to $8! I have the Marshmallow Bunny shade, but this In the Buff looks like a great warm beige, and the Fuchsia Shock is a fantastic Schiaparelli hot pink!
Too Faced is also really known for their powder bronzer collection. Beauty bloggers always rave about Too Faced's "Chocolate" bronzer, and now they have an amazing bronzer sampler palette on sale for $18! It also comes with their best-selling Primed and Poreless Face Primer. Amazing deal, and definitely going in my cart!
This Multi-Tasking Stars package from Bare Minerals is a steal at $30! I can totally vouch for the new 5-in-1 BB Eye Primer that is included– I used up my sample size and just bought the full size during my last Sephora run. It is the perfect whipped, creamy consistency that totally covers up eyelid veins and redness, but doesn't crease, and doesn't look dry. And I'm excited to try the bronzer and cheek tint duo!
This Buxom Jetsetter Palette for $24 looks good too. The Buxom lipgloss really plumps your lips and is a must-try!
But act quickly (especially on the Too Faced!), because the best stuff is selling out! I already tried to buy a couple things that were sold out.
Happy shopping!
xoxo,
@beautynowapp
You May Also Like