Holy Grail Product: SK-II Facial Treatment Essence
04 • 24 • 2020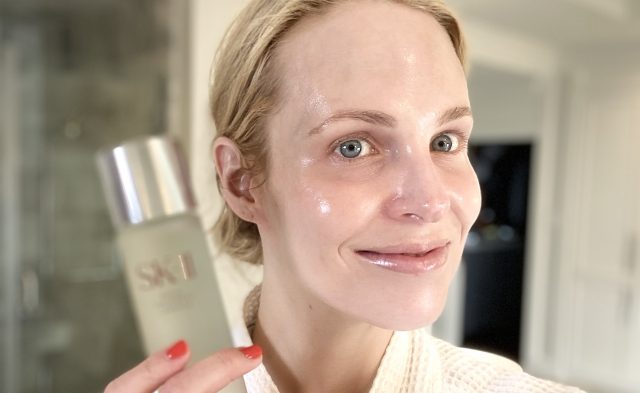 Disclaimer:
SK-II compensated me to write this post. I usually do not accept sponsored posts to promote a particular product, but I made an exception this time because SK-II Pitera Essence is a Holy Grail essential in my skincare routine that I have been using for more than five years. Here is my SK-II Facial Treatment Essence review:
What Is It:
Made up of 90% PITERA™, SK-II Pitera Essence has been a skincare staple in Japan for nearly 40 years. Pitera is a natural ingredient that is derived from fermented yeast, and was discovered after scientists in Japan noticed the youthful-looking hands of brewers making sake.
Is an essence the same thing as a serum, you ask? Nope, an essence is a watery liquid that you pat into your skin BEFORE your serum. This step is taken from the Asian skincare playbook, and in my experience, helps with skin clarity, refining pores and skin texture.
Why I Love It:
To prove that I've loved SK-II essence a long time, I thought it would be helpful to share an excerpt from a blog post I wrote way back in October 2014:
"SK-II essence is my newest Holy Grail product that has completely changed my skin! I've been using SK-II Facial Treatment Essence for the past month, and after five days I could tell it is worth every dollar. Somehow it shrinks pores, evens skin tone, and creates a "lit from within" quality that I have never seen with another product. And since it has a watery consistency with a high concentration of Pitera, it is appropriate for all skin types and is not drying. I love you, SK-II Facial Treatment Essence:
See that applicator stick floating around in the bottle? That's not supposed to be there. My son dropped it down the hole and I can't figure out how to get it out. Oh well."
Fast toward 5+ years to 2020, and I have been through countless bottles of Pitera Essence. Sometimes though, I have run out of my bottle before I repurchased another one. This actually happened a couple months ago when I was waiting on SK-II to send me a fresh bottle as part of this campaign. I probably was without the SK-II essence for about a week. When I restarted the SK-II again, I noticed a visible improvement in my skin after a couple days of applying the essence morning and night. Suddenly my dull skin was brighter and had a more "glass skin" appearance. Sometimes the best way to determine that a product is really working is to discontinue it for a bit, and then note the changes when you restart it!
How to Apply: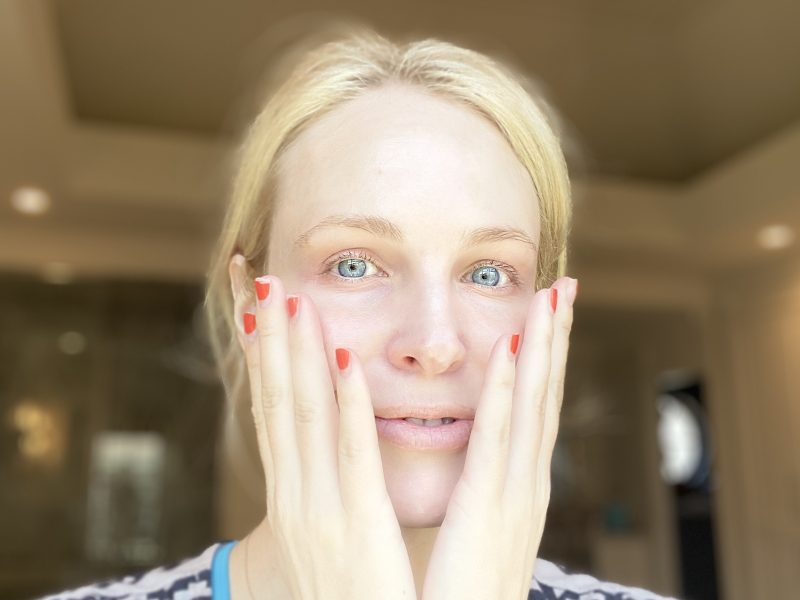 I apply my SK-II essence morning and night on clean bare skin. So after cleansing, SK-II is your first step in your skincare routine. Do not apply the SK-II essence with a cotton pad–that will just soak up and waste precious product. SK-II recommends that you put a few drops in the palm of your hands and then press it into your face. It is so thin and watery that it absorbs in seconds and doesn't leave a film on your skin. You can proceed with the rest of your skincare steps immediately.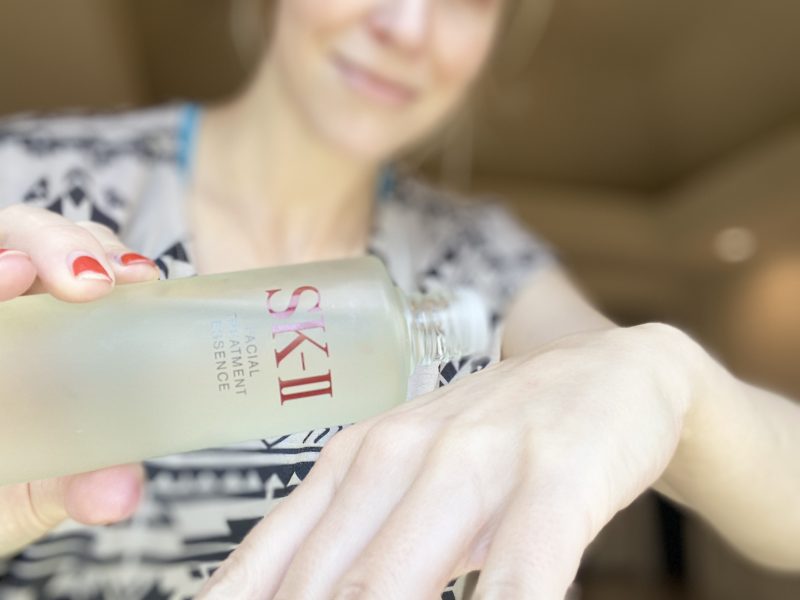 I do have a little hack for how I personally apply my SK-II essence. I carefully sprinkle a little essence out on the back of my left hand, and then pat it on my face with my other hand. This is how I avoid wasting the product on the palm of my hand, and I swear the skin on my left hand looks better than my right now! I heard actress Cate Blanchett decants her essence into a spray bottle, and then [has her people] mist her face with it. Many ways to skin a cat! Just get the essence in your routine somehow.
SK-II essence is pricey, but it is discounted during the Sephora Spring Savings Event (code is SPRINGSAVE). Sephora carries several SK-II value sets. For example, this SK-II bundle has the essence, toner and also my favorite sheet mask ever, and is a $131 value for $99 (plus the discount Beauty Insider members get with SPRINGSAVE). If you already know and love SK-II essence, Sephora has a jumbo value size (with a pump!) that is a $435 value for $299 (plus the SPRINGSAVE discount!).
xoxo,
You May Also Like