My Soko to Tokyo Review
10 • 28 • 2019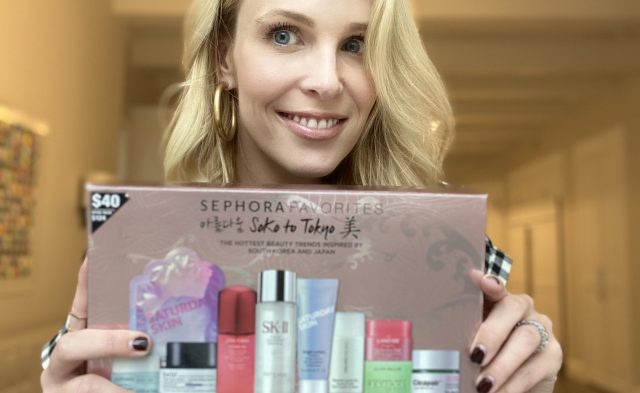 The other day on Instagram I shared what may be the best skincare set ever- the Soko to Tokyo set from Sephora. It contains several of my favorite products, as well as some #skincarecommunity faves that have been on my "to try" list. And it boasts a $124 value for just $40. But after people bought it, I got a lot of "now what?" questions. In today's post I am breaking down each of the nine included skincare products for my Soko to Tokyo review. For products I have not personally tried, I consulted friends and summarized the instructions/reviews for each product since they were not easily accessible from the landing page for the Soko to Tokyo set.
Disclaimer:
Sephora compensated me to write this post. I only accept sponsored posts from multi-brand retailers that allow me to pick the products I feature and the subject matter of my post. Sephora did not provide the Soko to Tokyo set or ask me to write about it.
SK-II Facial Treatment Essence [1 oz./ 30 mL]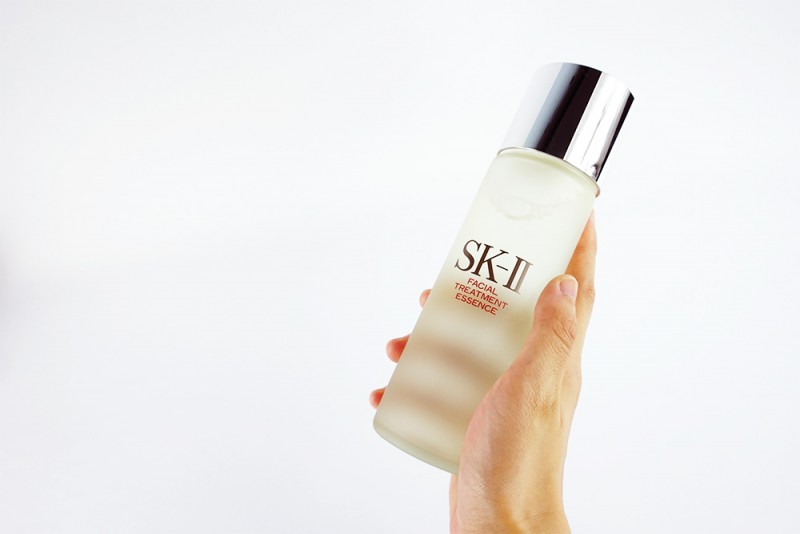 The main reason I recommended the Soko to Tokyo set is because the 1 oz. bottle of SK-II Facial Treatment Essence alone is worth $40. (Math isn't my strong suit, but a 2.5 oz bottle of SK-II retails for $99, so it is worth $39.60/ounce). So basically you can try my Holy Grail SK-II essence for $40, and get all the other products to try for free.
What It Is: SK-II is a stinky water with the patented Pitera essence that is made from fermented sake. I use SK-II morning and night on clean, bare skin. In other words, it is the first step in my skincare routine after cleansing. After few days of using it I see a noticeable change in my skin clarity, pore size, and overall radiance.
As far as my application method, I do not waste my precious SK-II on a cotton pad. I I carefully shake out a few drops on the back of my left hand, and then use my right hand to pat/slap it into my face. It would be easier to pour some I the palm of my hand, but again I don't want to waste the pricey liquid on my palm.
Dr. Jart+ Cicapair™ Tiger Grass Color Correcting Treatment SPF 30 [.17 oz/ 5 mL]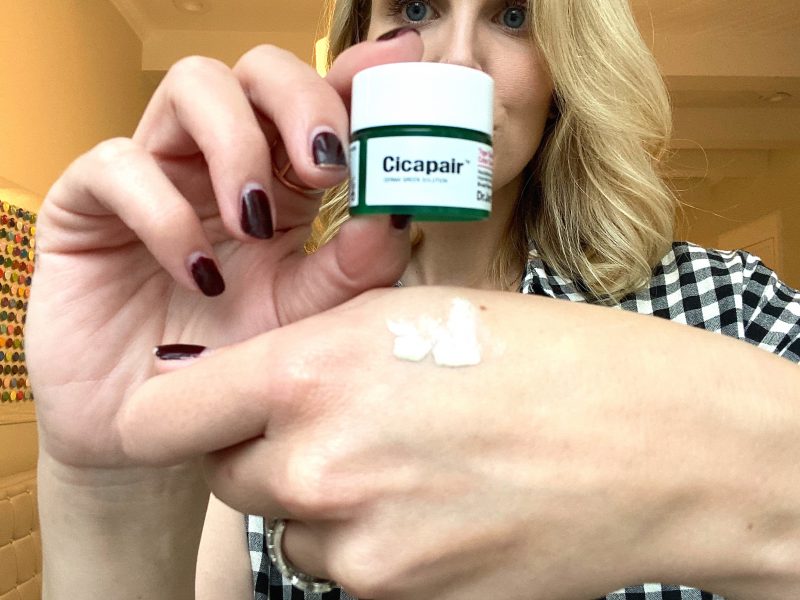 What It Is: Creamy coverage and treatment in one that repairs your skin barrier while covering redness.
I am a huge fan of the whole Dr. Jart Cicapair line, but especially the Color Correcting Treatment. If you suffer from rosacea, or you feel like your skin barrier has been irritated, this is a great reparative  skincare line.
One time I over-exfoliated near my delicate eye area, and suddenly I could not use my regular eye cream, moisturizer, or SPF. Everything stung my skin! After reading glowing reviews from several skincare bloggers about how Dr. Jart Cicapair is great for repairing the moisture barrier of sensitized skin, I purchased the full size. I used the Color Correcting Treatment during the day in place of my usual SPF and foundation until my skin no longer stung when I put on my products. It really worked for me!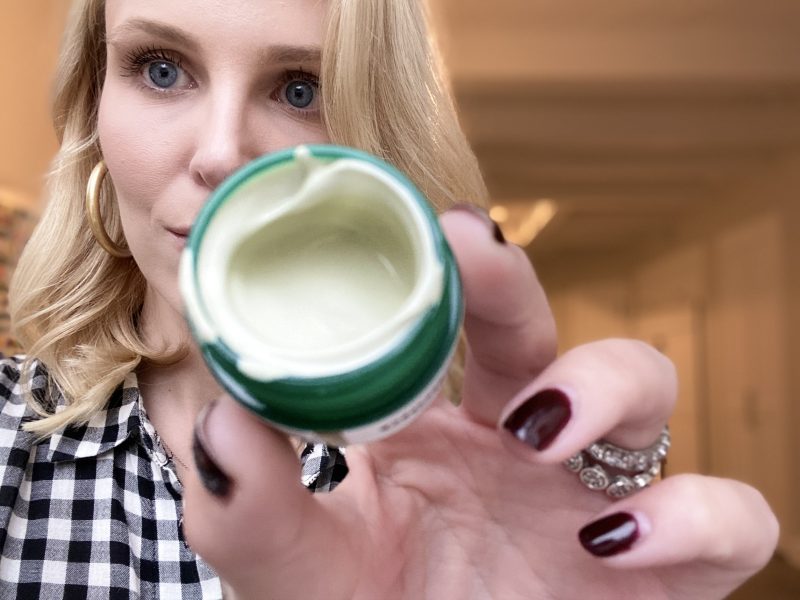 The Color Correcting Treatment has a good bit of coverage in terms of balancing out redness. Since it does have color and SPF, I would use this during the daytime. I would recommend the Cicapair cream for nighttime. Also it starts out green– don't worry, keep rubbing it in! It will gradually blend in with your skintone and cancel out redness.
belif The True Cream Moisturizing Bomb [.33 oz/ 10 mL]
What It Is: A reasonably-priced night cream that is great for normal to dry skin.
Last year I picked a deluxe sample size of the best-selling belif True Cream Moisturizing Bomb as my "100-Point Reward" from Sephora's Beauty Insider Program (more details and free sign up here: https://www.sephora.com/about-beauty-insider). I used up the whole sample, but did not ultimately purchase the full size because it was not quite enough overnight moisture for my dry, almost-40 skin. But I did like it, and I know my blogging friend @goalstogetglowing considers the belif to be one of the best bang-for-your-buck moisturizers on the market. When I did a Sephora shopping date with a reader during the last VIB event she made a beeline to repurchase this. So it definitely has a cult following and is worth a try!
LANEIGE Lip Sleeping Mask [.08 oz/ 2.5 g]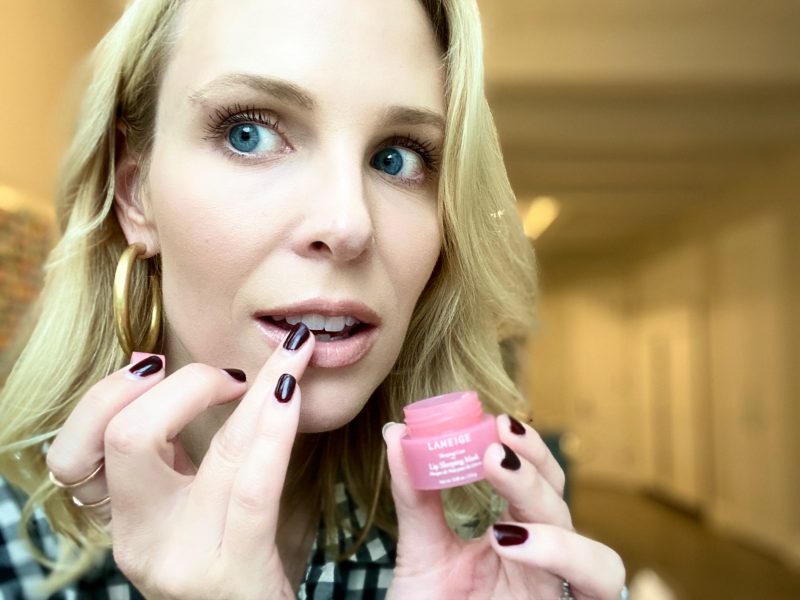 What It Is: A clear, shiny lip balm that you can wear day or night for lasting moisture.
I own a full size of the Laniege Lip Sleeping Mask. I'd say Laniege is my 2nd favorite lip balm to wear overnight. But since my fave, Nuxe Reve de Miel, has become impossible to find outside of France, Laniege is what I would recommend. When I wake up I can still feel it on my lips! And I have one friend who carries a pot in her purse to reapply during the day because it gives her super-shiny, plump lips!
AMOREPACIFIC Treatment Enzyme Peel Cleansing Powder [.1 oz/5 g]
What It Is: A dry enzyme powder that you mix with water to exfoliate a couple times a week, morning or night.
I have not personally tried the Amore Pacific Treatment Enzyme Peel Cleansing Powder, but it has been on my "to try" list so I did some recon. It is an exfoliator with natural papaya enzymes that eliminate dry, dull surface cells to reveal a brighter and smoother complexion. It also improves penetration of other skincare products due to removal of dead surface cells. 
The star rating on Sephora is a hair under 5 stars with 1K reviews. Lots of glowing reviews about how the Enzyme Cleansing Powder created the appearance of smaller pores, reduced blackheads, and lightened dark spots. Obviously any exfoliating product, physical or chemical [enzyme] is going to accomplish those things, but some products do it more quickly and with less irritation than others.
My friend, a skincare newbie we'll call Sarah* [*not her real name] reported that one use made her skin "very shiny" and "felt soft." She said "shiny" like it was a very good thing, so I'm going to translate that as being "glowy."
The Sephora site says the Amore Pacific Enzyme Cleansing Powder is gentle enough to use morning and night. However I would use this as a 1-2 time a week exfoliator for when you have dull, flaky skin. It would be great to use before a moisturizing mask to enhance the benefits. You could work up to more frequent use if you do not have any skin irritation.
Glow Recipe Avocado Melt Retinol Sleeping Mask [.3 oz/ 10 mL]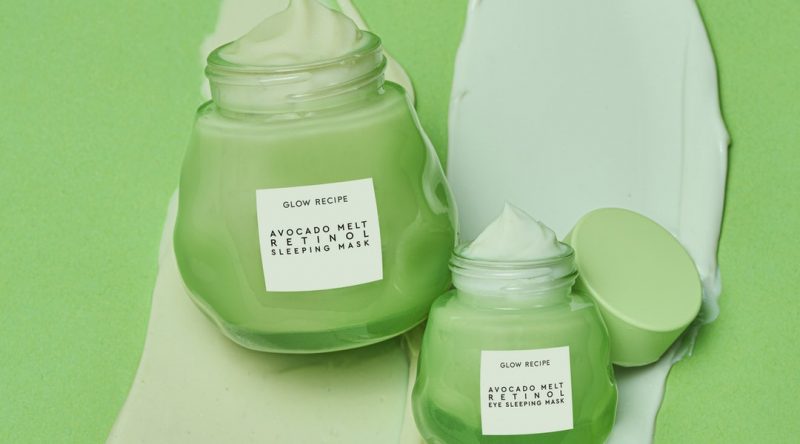 What It Is: A mask you wear overnight instead of your usual nighttime skincare routine. Supposed to address uneven skintone and prevent damage from free radicals (pollutants).
Reviews online are up and down about the Glow Recipe Avocado Melt Retinol Sleeping Mask. Some reviewers are obsessed with it and said it really brightened and moisturized without breaking them out or causing irritation. A couple of reviews said it irritated their skin. But at least in theory the encapsulation of the retinol in this mask allows it to sit on the surface of the skin longer and release smaller amounts at a time, making it more gentle than traditional retinol treatments. It did appear across the board that reviewers preferred the Glow Recipe Avocado Sleeping Mask to the Watermelon Sleeping Mask.
Primera Alpine Berry Water Cream
What It Is: A lightweight gel-cream moisturizer from a clean beauty brand. [.33 oz/ 10mL]
I have not tried this and I am not familiar with the Primera Alpine brand! Other gel-creams (like the Tatcha The Water Cream) were not enough moisture for me. But they are great for those with normal to oily skin! The Primera Alpine Berry Water Cream has a 4-star rating with over 500 reviews saying that it softens the skin and gives a dewy look without being heavy.
Saturday Skin Bright Potion Probiotic Power Serum [0.33 oz/ 10 mL]
What It Is: A serum with probiotics and niacinamide for luminous and healthy-looking skin.
I am not familiar with the Saturday Skin brand and have not personally used this Bright Potion Probiotic Serum. It has 4.5 stars and very good reviews about how users think it repaired their skin barrier and improved skin texture. Sounds like a more gentle serum for nighttime (since I recommend an antioxidant serum for daytime).
Saturday Skin Cotton Cloud Probiotic Power Mask [0.84 oz/ 25 mL]
What It Is: A $6 sheet mask for boosting radiance.
I have not tried the Saturday Skin sheet mask, but I've never met a sheet mask I didn't like! I always say, any sheet mask is better than no sheet mask. I swear by them the day-of an event to plump lines and boost radiance.
Shiseido Ultimune™ Power Infusing Concentrate [.33 oz/ 10 mL]
What It Is: An antioxidant serum. There are 2 essential steps in my daytime routine: 1) antioxidant serum and 2) SPF, so this would be step 1.
I have not personally tried this serum. But there is great value here- 1 oz of Shiseido Power Infusing Concentrate is sold for $70,  so the .33 oz bottle included in the Soko to Tokyo set would be worth about $23.
In contrast to my usual antioxidant serum that has Vitamin C, the Shiseido Power Infusing Concentrate uses Japanese botanical extracts to defend skin against environmental aggressors. It is Shiseido's number one serum. Reviewers with oily, acne-prone skin and/or enlarged pores give this serum glowing reviews.
xoxo,
You May Also Like