The Opposite of #WokeUpLikeThis
11 • 05 • 2016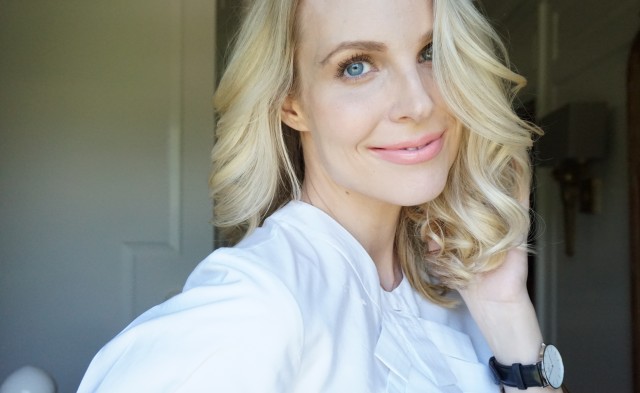 I've decided that the best time to go out is two weeks after giving birth. You get automatic points just for walking on your own two feet and wearing real clothes, and people are basically obligated to tell you how great you look. But the downside is that your face isn't exactly as "wash and wear" as it was pre-pregnancy- I for one am still battling puffiness, melasma, and epic under-eye circles.
So I did an honest assessment of all the prep work it took to create some semblance of my former self for a low-key cocktail party last night. Frankly, the amount of effort it took is embarrassing, involving a multitude of masks, electronic devices, and spandex girdles. It also begs the inevitable follow-up question: how on earth do I have time for this elaborate routine with a newborn and two other kids?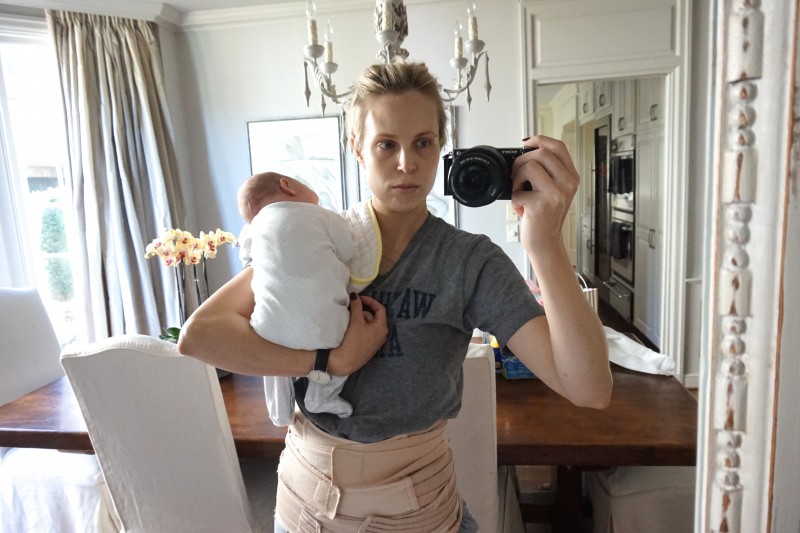 Just to establish a baseline, here is what I look like 99% of the time, including the forlorn look. And I'll explain that cool waist trainer thing in a second. Here's a timeline of my decidedly unglamorous day of beauty:
The Night Before:
I put the big kids to bed around 7:15 p.m. and washed my hair the night BEFORE my party for that optimal balance of not-too-clean, not-too-dirty hair. I'm obsessed with this new cheapie Loreal shampoo and conditioner. I got a sample attached to a magazine, and immediately went out and purchased it the day after I tried it. Still loving it over a month later. Amazing.
Next I washed my face (I use Neutrogena Fresh Foaming Cleanser followed by Bioderma Crealine on a cotton pad). Then I followed up with my GloPro Microstimulation Tool, an at-home micro needling device that I've been using once a week for several months now and I'm SUPER impressed. The device creates micro-channels in your skin, then over 24-48 hours your skin builds collagen to heal itself. About 24 hours after I use the GloPro, the hollows under my eyes are filled in a bit, and my skin looks poreless and plumped, like the results of the Vampire Facial I did at a med spa (blogged about here). The results just don't last as long as the in-office procedure.
Immediately after you do a section of your face with the GloPro, you put on serum while the skin can better absorb it. I'm partial to the Estee Lauder Advanced Night Repair Serum over the serum that comes with the GloPro set.
Followed up with my Mizon All-in-One Snail Repair Cream (only $12!), and then Dr. Jart Water Drop moisturizer (I've been experimenting with this for the past week. It has amazing reviews online. So far it feels extremely light (similar to the Neutrogena Hydro Boost Water Gel, but moisturizes better), and I'd recommend this to people with oilier skins who still need some hydration.
Then I put on my Frownies stickers to prevent expression lines on my forehead while I sleep: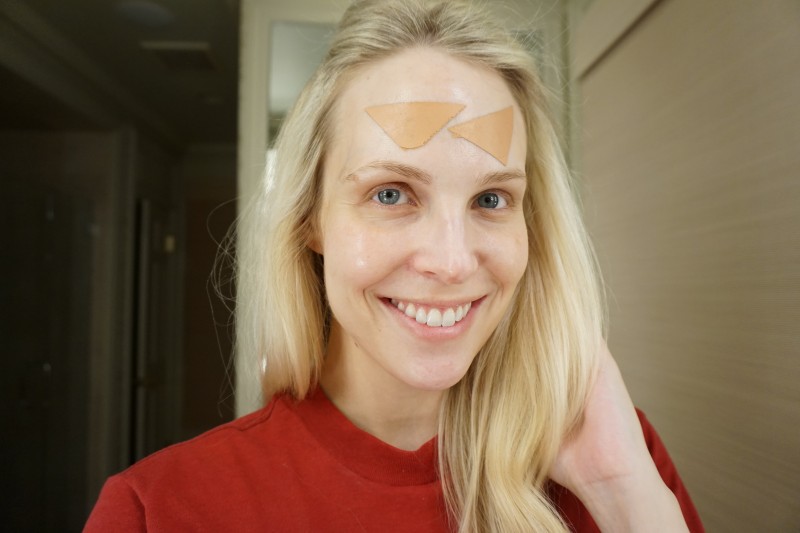 I got Botox in my forehead a couple days ago for the first time in over a year, but it hasn't had time to kick in yet. So I'm still wearing my Frownies that I wore throughout my pregnancy to prevent fine lines while abstaining from Botox. It really works if you stick with it every night.
Morning-of the Event:
6:40 a.m.: Woke up before the kids and immediately splashed water on my face, then applied my trusty Clarins V-Facial Intensive Wrap (recently renamed from the "Shaping Facial Lift Wrap"–it's the same product). This Clarins may be my current favorite mask- it is magically effective at de-puffing and contouring my jawline. I'm halfway through my second jar because I use it constantly as I'm still dealing with postpartum puffiness.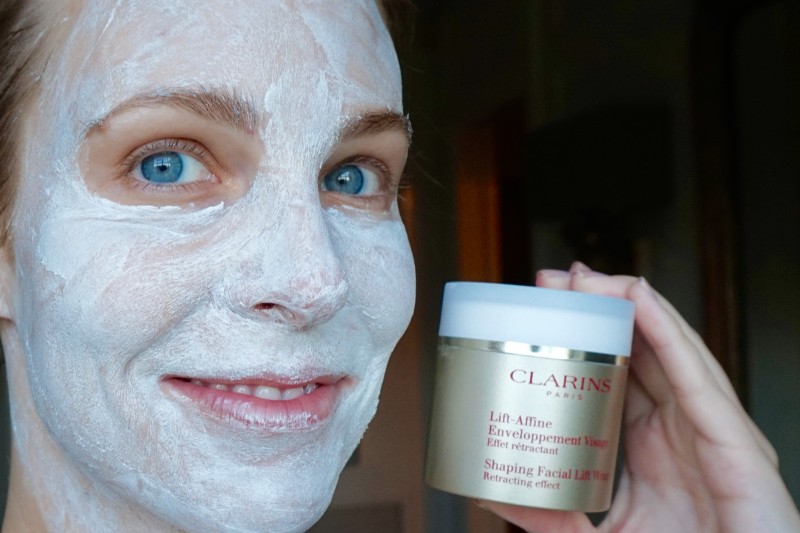 I left on the Clarins for a good hour or so while I was making lunches and getting the boys ready for school. The longer the mask sits on your face, the better the contouring results. I've been known to leave it on hours, driving carpool, doing my Tracy Anderson workout, sitting in front of the computer blogging. The consistency is a moussey-clay, but it will not dry out your skin, no matter how long you leave it on.
8:30 a.m.: After I drive carpool, I re-harness myself into my postpartum shaping garments. For the first 8 weeks or so after delivery, I try to wear these most waking hours. These contraptions are annoying and uncomfortable, however they really work to help shrink your mid-section back.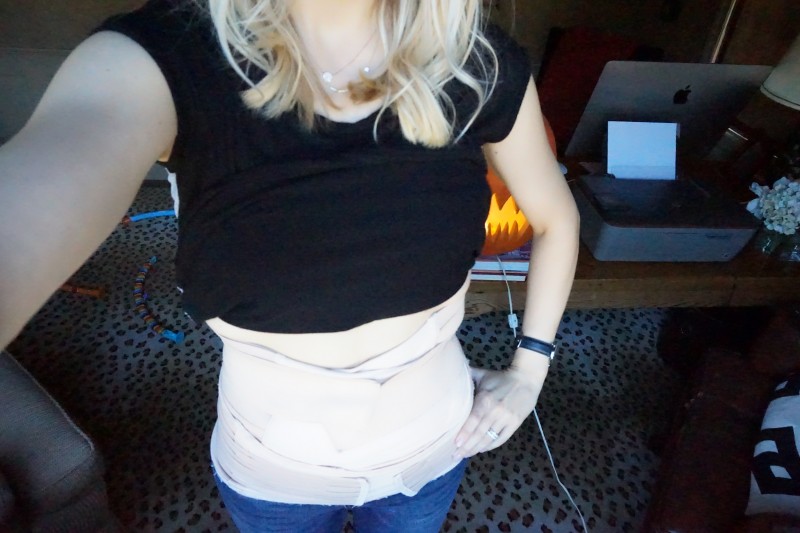 Of course I am taking this opportunity to compare different brands of shaping garments. I used the better-known Belly Bandit and ShrinxHips after my first two pregnancies, but this time I am liking the $20 Tirain shaper better. It is very adjustable and the material is less prone to creasing than the others. I only wear it at home because it is too bulky under clothing, so when I go out I wear this Leonisa shaper panty. There's nothing less sexy than the phrase "shaper panty," but I do believe they are effective at shrinking back your waistline more quickly.
11:30 a.m.: Play with baby Evie, who is already getting used to seeing Mommy in a mask. I also try to knock out some thank you notes now that Evie's adorable new stationery has arrived.
1:00 p.m.: Washed off my usual sunscreen and CC Cream, and applied my favorite cheapo sheet mask, the My Beauty Diary Arbutin Brightening Mask. This sheet mask is a must have before an event– plumps lines, makes pores invisible, adds glow, and just makes you look about 50% better than you did before. You get 10 of these masks for $14– you need these for holiday parties! Remember, not all sheet masks are created equal. This brand really makes a difference!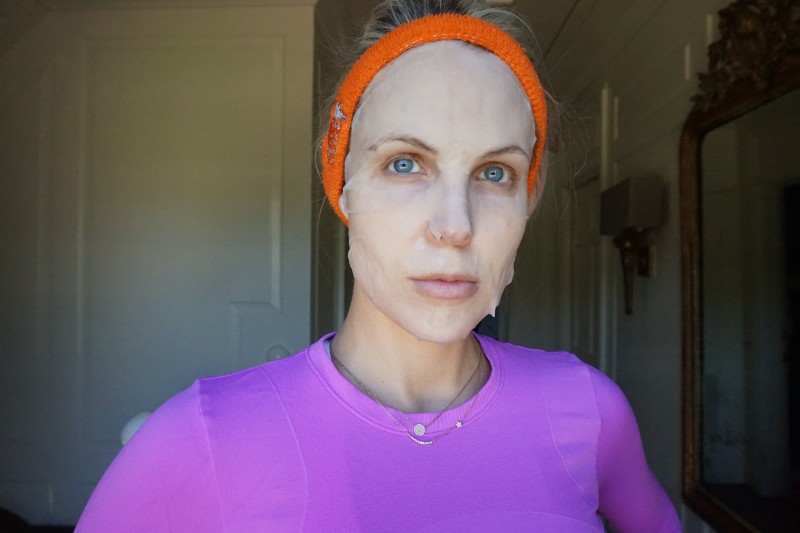 –Left my sheet mask on while I did my own nails. My favorite vampy color is cheapo– Sally Hansen Complete Salon Manicure in Pat on the Black. It's really a dark red-purple, and not too black like the name would suggest. It reads less black than OPI Lincoln Park After Dark, and lasts longer than Essie Wicked.
The shiniest, longest lasting top coat is hands down Essie Gel Setter (I did a full review on it here). Super shiny and thick looking– no other regular polish so closely approximates the look of a gel manicure (not even the Essie "Gel Couture" two-step long wear polish). My nail trick is to do another coat of topcoat the day after you paint your nails– makes your mani last so much longer without chipping!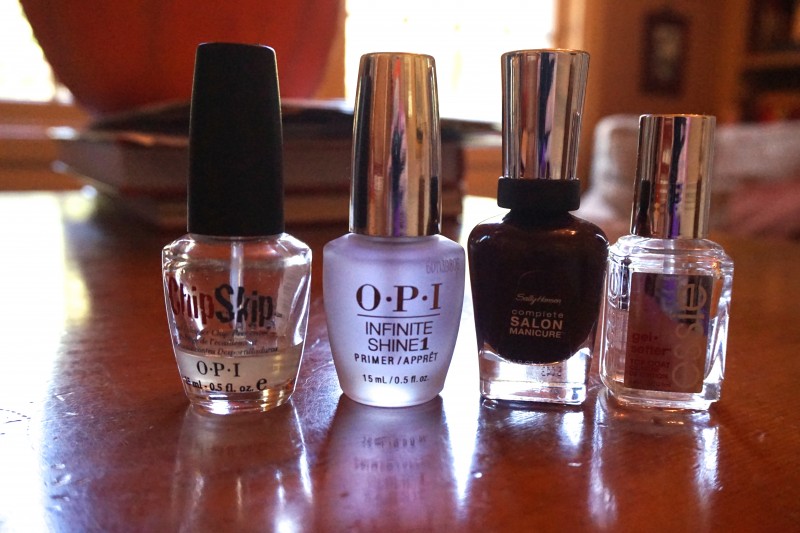 –2:00 p.m.: Took off the sheet mask and used NuFace Mini, an at-home microcurrent device that helps lift sagging skin (full blog post here). I really hope my nails are dry enough to parent when my son gets dropped off from school in a few minutes!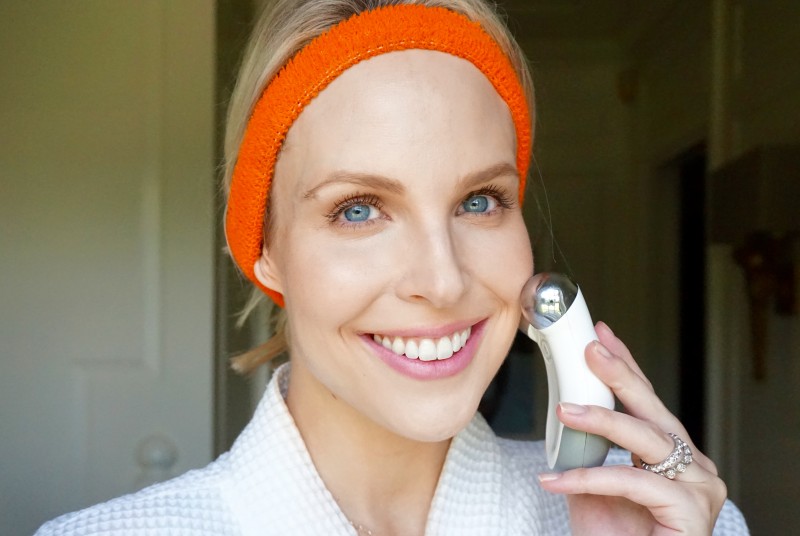 2:30 p.m.: Gingerly assemble a Lego ship, prep after-school snacks, and feed Evie without messing up nails. #momwin
3:30 p.m.: I mix in a couple drops of Clarins Golden Glow Booster in with my moisturizer to add a slight glow that develops after an hour. Every time I use this self-tanner product, I tell myself, wow I should really use this everyday. It doesn't make you look tan, just makes you look BETTER. Don't forget to do your neck too!
4:30 p.m.: No time for a blowout, so I curled my own hair. I ordered the same professional Hot Tools 1″ curling iron my hair guy uses (for only $25 on Amazon!), and it really does make curls last longer. It is tricky to figure out how to use, but just watch some YouTube videos on how to use a marcel iron. If I can figure out how to do it, you can too!
5:30 p.m.: One problem with doing all the beauty things is that by the time you are finished, the lighting is terrible for photos. Here's the best photo I could get of the final product: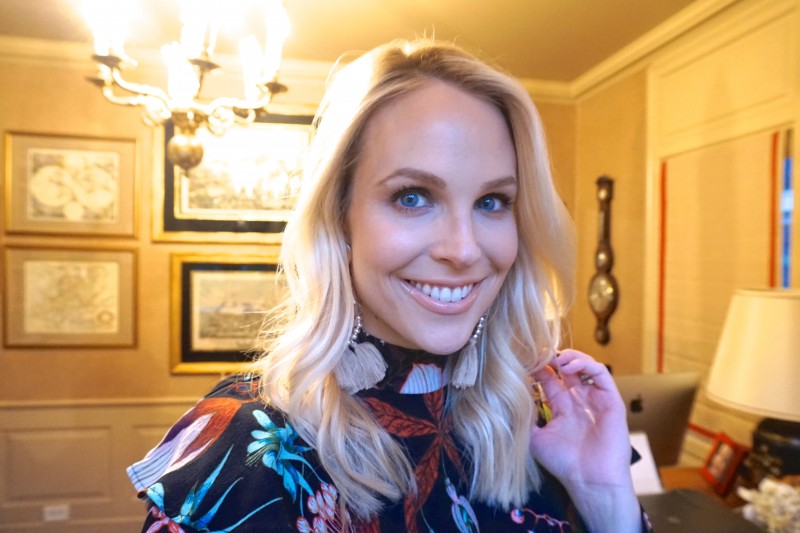 [On lips: Butter London Lippy in Tea With The Queen over Urban Decay lip liner in Walk of Shame. Dress and fringe earrings from H&M].
xoxo,
@kathleenjenningsbeauty
5 Responses to "The Opposite of #WokeUpLikeThis"
You May Also Like