What I Just Bought at Ulta...
11 • 13 • 2014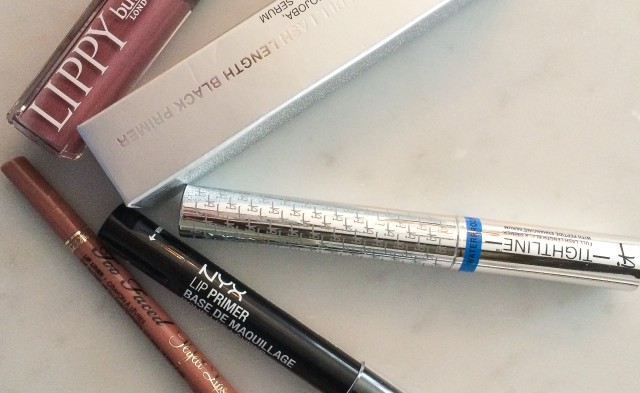 The other day I was in a foul mood for no particular reason, so naturally I decided a trip to the makeup store would cheer me up. Works every time! Since Ulta was more convenient than the mall, I decided to do my damage there. And I found some gems! And one product to avoid like the plague. Here's what I picked up in my latest Ulta haul:
Too Faced Perfect Lips Lip Liner:
I've been searching for the perfect nude lip liner this Fall. Every lip liner I have is too dry, or the color is wrong: too terra-cotta, too muddy or too pink for my complexion and natural lip color. I swatched MANY nude liners on my hand from just about every makeup line at Ulta, and I decided the brands with the best texture/liner consistency are Urban Decay, It Cosmetics, and Too Faced. Those three brands went on very smoothly (as if the pencil had some "slip" or primer mixed in), so they work well to both line and fill in your lips. Filling in your lips with pencil is a great trick if you have an event and need your lipstick to last– it provides a grippy base for the lip color to adhere to. But many lip liners (especially the cheapo drugstore ones) are too dry to fill in your lips well.
Anyway, I would recommend that you sample the nude shades from all three of those makeup lines to figure out the nude shade that works best with your coloring. For me, the Too Faced lip liner in "Perfect Nude" was, well, the perfect nude shade. I have been wearing it under several different lipsticks– a pale pink YSL Rouge Volupte in "Lingerie Pink" and also the darker nude liquid lipstick I detail below, and the liner works great under both shades. I have been lining slightly above the cupid's bow of my top lip to make it look plumper, a la Kylie Jenner. Please note that the Kylie Jenner method did not work as well when I was using the wrong shade of nude pencil, but it is a very believable look with my new It Cosmetics "Perfect Nude" shade. Highly recommend!
butter LONDON Lippy Liquid Lipstick in 'Toff':
I LOVE this product! I have several butter LONDON nail products, but this is the first time I have tried their cosmetics. I was looking for a nude, mauve-y sort of '90s inspired lip look, and Toff is perfect! First, make sure you get the Lippy Liquid Lipstick, not the gloss- they are both called "Lippy" and the gloss is not as much of a standout product. The Liquid Lipstick on the other hand, is fantastic! It has real color payoff, staying power, and a super high-shine glossy finish that lasts! Several makeup brands have recently launched similar hybrid lip products, marketed as color that lasts like a stain, but with a glossy finish. Some ones I've tried are the new Smashbox Legendary Long-Wear Lip Lacquer and Revlon ColorStay Moisture Stain. The Butter version is by far my favorite– not too sticky, feels more moisturizing, goes on smoothly (no streaking- a big problem with the Smashbox one), and the shine lasts!
Here are my lips using the Too Faced Perfect Lips Lip Liner to line and fill in my lips, and then the Butter Lippy in Toff on top:
Toff is a perfect nude, caramel color, and I will definitely be going back for more shades. Probably Trout Pout, a peachy pink.
Ulta was out of the Nude, so I bought the Deep Nude shade. I was nervous it would be too dark, but this primer pencil has basically no color at all. I thought it would be a moisturizing product (like the Bite Lip Primer that I returned because it is basically $22 Chap-Stick), but the NYX lip primer is not moisturizing at all. I did find that it was effective at smoothing out the creases and cracks in my lips to create a better canvas for my lipstick. It particularly made a difference in my pale pink YSL lipstick, which can look a little streaky because the color is actually lighter than my natural lip color. The primer is also supposed to anchor dark lipstick colors to prevent color bleeding outside your lip line, but I don't really have that problem so am not a good judge of that claim. Overall, another very impressive product from cheapo NYX Cosmetics (I rave about their Butter Lips here).
It Cosmetics Tightline Full Lash Length Black Mascara Primer:
This is the WORST! This It Cosmetics mascara with an ultra-skinny brush claims to give you extra length by getting product down to the absolute root of your lashes. They also claim this gives a "tightline" eyeliner effect because the black is so close to your lashline. Well, the problem is that while the brush is good at getting down to the lash line, the formula of the mascara is terrible because it adds no length or volume to your lashes! My lashes looked so short, and I kept putting additional coats with no improvement. An ultra-skinny brush that actually achieves the lengthening goal is the drugstore Loreal Telescopic Carbon Black mascara. The skinny, non-bristle plastic micro-comb is a little difficult to use, but if you have the patience it works to amazing effect! Great lengthening, super-black, and holds curl better than almost anything I've tried. Oh, I forgot I was supposed to be talking about the It Cosmetics mascara. It sucks. That is all.
xoxo,
@beautynowapp
You May Also Like