My Current Everyday Makeup Routine
10 • 15 • 2013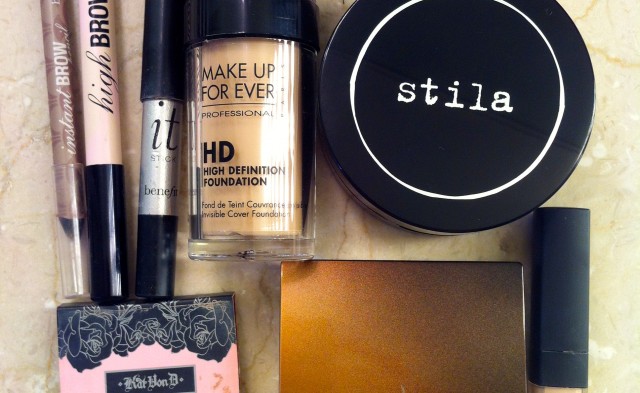 I thought it would be fun to do a blog series on my must-have, use-everyday makeup staples (they change by the minute!) Here is a rundown of the products I'm currently using to create an easy, everyday look:
Although I still love my Chanel Vitalumiere Aqua foundation, I've recently been trying out a bunch of those new HD, gel-like foundations (post coming soon!).  Make Up For Ever HD High Definition Foundation (in shade 120) is my current go-to; it provides a little more coverage than the Chanel Vitalumiere Aqua for my under eye circles and blurs the red marks left over from zits.
I'm still loving Nars Radiant Creamy Concealer in Vanilla for undereye circles (check out my post where I rank it the BEST under eye concealer), and then I rub Benefit It Stick [great, just realized it's discontinued] on zits and those pesky red marks that last forever where zits used to be.
Next, my old standby, Laura Mercier Bronzing Pressed Powder in Golden Bronze, and the best glowy setting powder, Stila Illuminating Baked Powder Trio.
Pictured above is a great, new(ish) find, Kat von D Everlasting Face Shaper Blush in Bellissima.  I got this powder blush as a sample from Sephora, and I have been using it for over two months straight (you can tell that this blush has been well-loved!).  The Bellissima shade is a peachy-pink that is similar to Nars Orgasm, but with no sparkle or shimmer.  And the Kat von D is WAAY more pigmented than the Nars, so if Orgasm doesn't show up enough on your skin, try this one.
The best thing about the Kat von D blush is its staying power– in fact, it claims to last 24 hours! I can't vouch for that (who wears blush for 24 hours?), but I will say that it lasts longer than the Tarte Amazonian Clay 12-Hour blush that I was using prior to the Kat von D.  Also my daily routine is shorter because I no longer need to layer a cream blush or Benefit Benetint under my powder blush to get it to stay all day.  All in all, a very successful sample.
As for eyes, maybe it's my fascination with Cara Delevingne, but these days I'm all about EYEBROWS!  Skip the eyeshadow and liner, just mascara on the top lashes.  I have been loyal to Maybelline Illegal Length in Blackest Black for two-plus years now. On brows I use Benefit Instant Brow Pencil in Light, and then Benefit HighBrow underneath the arch of the brow to highlight.  Don't skip that last step– it really makes a difference in detracting from under eye circles and making you look more awake!
Here I am on the way to a Houston Texans game wearing my October everyday look:
In this picture I'm also wearing NYX Butter Gloss in Merengue on my lips.
xoxo,
Kathleen
One response to "My Current Everyday Makeup Routine"
You May Also Like