How I Get My Greens In
02 • 24 • 2014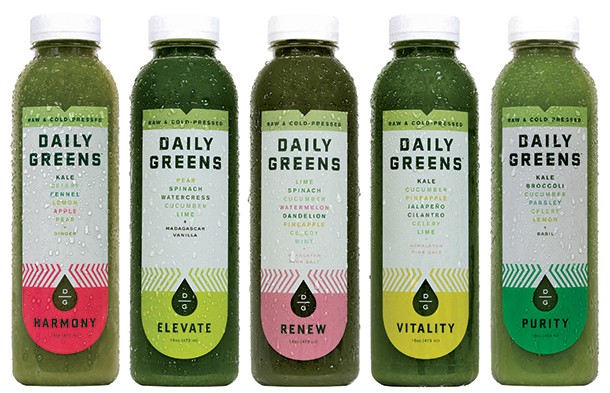 Hey friend! I just saw your Instagram feed and noticed you made raw kale energy bars with chia seeds from scratch, and then served up crispy broccoli bites for dessert. #howniceforyou But I'm going to go out on a limb here and say that most of us don't eat enough leafy green veggies. I usually eat a serving at dinner, but I don't make a spinach egg-white omelet for breakfast, and unless I meet a friend for lunch and eat a salad, I probably don't eat veggies at lunch either. I might snack on fruit here and there, but not veggies. No more– lately I've been drinking my veggies!
I discovered cold-pressed Daily Greens juice in the produce section of my Whole Foods. They have about six flavors there, but I have been drinking the "Vitality" flavor: Kale, Jalapeño, Pineapple, Cucumber, Cilantro, Celery, and Lime.
The Vitality seemed to have the most fiber and protein for the fewest calories. There are 100 calories in the whole bottle, and it has 8g of Dietary Fiber and 5g of Protein. Oh, and the kicker: there are a whopping SIX pounds of fresh raw produce in there, and it counts as NINE servings of fruit and veggies!
Here's my trick: the Vitality is a little thick and isn't super-sweet, so I have been cutting mine with Crystal Light in Raspberry Lemonade or Vitaminwater Zero XXX (acai-blueberry-pomegranate). I know, these low-cal fruit drinks have artificial chemicals that might offset the raw, organic benefits of Daily Greens. But, whatever– I'm more inclined to sip on the green juice, and it adds to my overall water consumption. On days when I'm working on the blog, I sip on my Crystal Light-Vitality combo all morning. Or I pre-mix it in a bigger water bottle and tote my green concoction to the park or on errands.
I also tried the Enlighten flavor, with hemp milk, coconut, vanilla, and Himalayan Pink Salt. I was hoping it would taste like the "Crescent Moon" juice (raw cashews, vanilla bean, agave) that I discovered on my tasty two-day juice cleanse from Skinny Limits. Alas, Daily Greens' Enlighten was not nearly as tasty.
I will keep you posted on whether I experience any health or skin benefits with my new daily juice routine!
xoxo,
Kathleen
You May Also Like