Product Find: Maybelline Brow Drama Brow Mascara
11 • 05 • 2014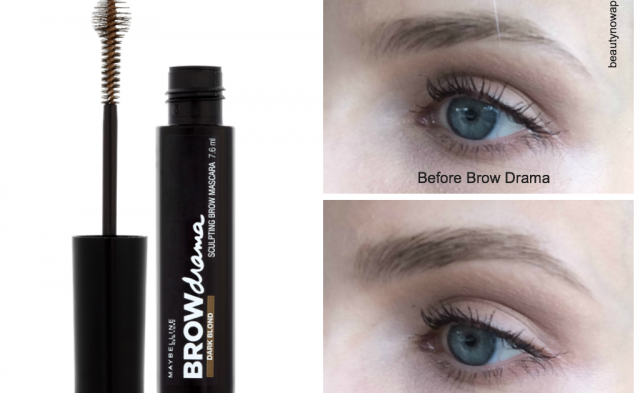 I just discovered the "quick and dirty" way to do your brows! Maybelline Brow Drama Sculpting Brow Mascara is a new, cheapo drugstore product that is similar to Benefit's Gimme Brow. This is actually my first experience using a brow mascara because I worried it would not fill in sparse areas as well as a brow powder would. But I was pleasantly surprised with the Maybelline, and it was definitely quicker to apply! Here is my Maybelline brow mascara review:
Here is the packaging– I bought the lightest "Blonde" shade. I was able to find mine at Walgreen's (Westheimer @ Sage in Houston), but it is also available at Ulta stores. For some reason I have not seen it at Target or grocery stores yet.
The brush is interesting because it has a big fat ball on the end. Maybelline is very proud of its unique "Sculpting Ball Brush."
As you can see from the photos in my car, I was so excited about the Maybelline Brow Drama that I applied it in the Walgreen's parking lot. Ha. Anyway, I have fairly small brows and facial features, so I was worried the ball would be too fat and difficult to wield. In fact some reviewers online said they snipped off the ball part with scissors and used the thinner part of the brush. But I did not have any trouble using the ball, and I was impressed with how well it distributed the product on my brows.
The "Blonde" color was perfect for me (even though I would consider my brows to be brown). The product seemed to sit on the skin to fill in sparse areas, but also groomed the brow hairs in place. And then they did not go ANYWHERE. All day. Until I washed it off (and it washed off easily with my usual Clean & Clear Foaming Face Cleanser). No flaking ever!
Some online reviewers advised to wipe off the brush on the tube several times to avoid getting too much product and creating a "wet" look on your brows. I did not wipe the brush (except for a little excess hanging off the tip), and I did not have a problem with too much product on the brush. The biggest difference was how quickly you can do your brows with a brow mascara! My usual process involves applying a brow powder with an angled brush, or using a brow pencil to carefully fill in, and then blend with a spooled brush. The Maybelline brow mascara was so much QUICKER! I couldn't be quite as precise with the color as with an angled brush, but brushing the brow mascara probably took about half the time, and was a definite improvement over naked brows. Overall I'd say the Maybelline brow mascara created a more natural, bushy, "Cara Delevigne" type look, as opposed to a sculpted, perfect severe brow. Here is my before and after (look closely because it is a natural, subtle change!):
Not my finest photo, but below you can get an idea of the overall "After" look:
Overall I highly recommend the Maybelline Brow Drama Brow Mascara! It will be my go-to on busy mornings when I want to get out the door quickly, but I don't want to forego doing my brows completely. I cannot overstate the importance of a good brow! They frame the face, and have a lifting effect because they draw your eye upward, detracting from under eye circles or crows feet.
On a different note, I wanted to invite my Houston readers to A Couture Cause Launch party, where 100% of the proceeds go to the Youth Hope Association and Barrio Dogs. My friend (and fellow blogger) Lyndsey Zorich (from L Avenue) has worked so hard to put together a great event benefitting a great cause. Your $75 ticket include food, cocktails, dancing and fun! Please consider supporting this great cause by buying tix here OR we are giving away two FREE tix! Enter here: a Rafflecopter giveaway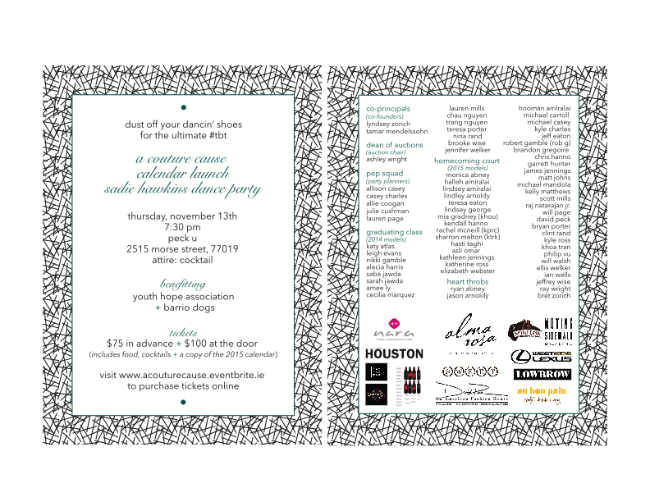 xoxo,
@beautynowapp
You May Also Like