Dark Lipstick That Doesn't Look Goth
11 • 14 • 2013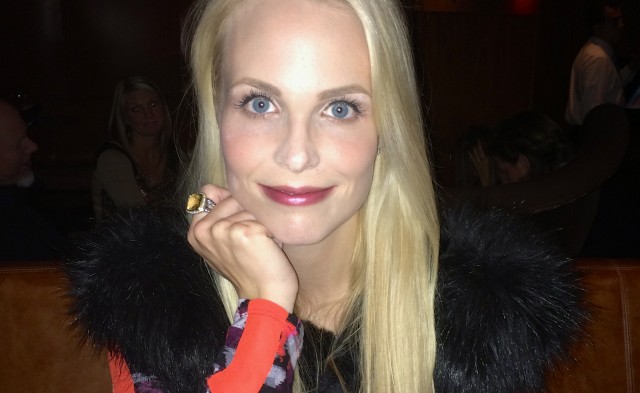 Vampy, dark lips are definitely a trend for Fall, but it is hard to make these colors work in real life, especially with my fair coloring.  I applaud Cupcakes and Cashmere for her vampy lip here, but I think blackish lips look pretty weird in the carpool line. A good compromise?  A plummy metallic lipstick!  You get the statement and moodiness of a darkish lip, but it is infinitely more wearable.
I actually already had the perfect one in my HUGE stash of lipsticks: Lancome Rouge Magnetic in Swoon.  Wonderful, moisturizing texture, and it is slightly sheer.  Of course I find out it is discontinued!  Grrrr…Here I am on date night wearing Swoon:
Wearing dark plum metallic lipstick at a Houston Symphony event:
***PLEASE support my business and download BeautyNow: a FREE iPhone app that is the best way to book beauty appointments!!
Here are the close duplicates I found at Sephora.  From the top down, the best plum lipstick swatches on my hand are:
Lancome Rouge Magnetic in Swoon (discontinued)
Here I am in my favorite, the Dior Addict in Fashion Week (love the name too!)  The consistency of this sheer lipstick is amazing!  This is a little lighter than the Swoon, and not quite as metallic, but I still love it:
Here's the Laura Mercier Stickgloss in Peony.  Great color, but a little too rust/copper for my skin tone:
If you are feeling really daring, more of a true vamp lipstick is the Laura Mercier Stickgloss in Black Orchid.  It has a great, sheer consistency that makes it more wearable than an intense, matte vamp color would be:
Here's the BareMinerals Marvelous Moxie in Raise the Bar.  I did not like the consistency of this one quite as much- not as sheer, and it was a little more drying.  Still a great option, and I enjoyed the vaguely minty scent.
Here I am in the sheerest color, the Sephora Rouge Shine in No. 37.  I loved this color, but it wasn't dark enough to make a statement.  Looks like the 1000 sheer lipsticks I already own!
Whatever you do, don't buy Maybelline Superstay 14 Hour Lipstick-– it is the WORST!!  Not only was the shade I chose, Enduring Ruby, the worst shade of dark purple, but the texture was like sticky, dry tar.  So awful I didn't even keep it on long enough to take a picture.  Perhaps the lesson is drugstore lipGLOSSES are awesome (I blogged about some drugstore gems here), but for lipSTICK you need to spring for the prestige brands?
xoxo,
Kathleen
You May Also Like