Pinky Rings Are The New Arm Party
01 • 09 • 2014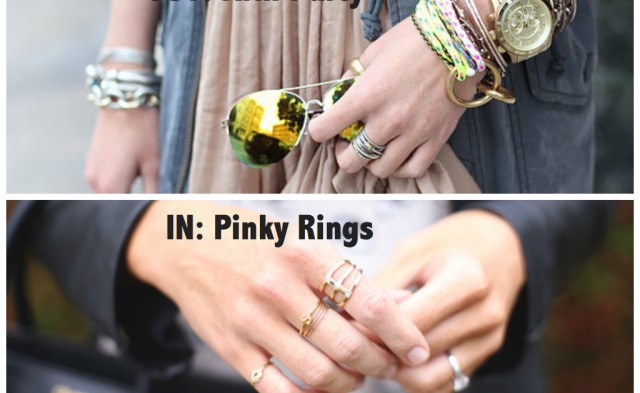 David Yurman cable bracelet(s). Hermes bangle(s). Jeweled "Evil Eye" bracelet. Huge Michael Kors men's style watch. Chunky gold link bracelet. Red Kabbalah string. Now put them ALL on one arm and stack them up to your elbow. Maybe even mirror it on the other arm like you are She-Ra. Ladies, this #armparty is getting out of control and we need a change! Maybe pinky rings are the arm party of 2014?
I realized pinky rings were having a moment when Jennifer Lawrence graced the cover of August 2014 American Vogue:
Love that monogrammed signet ring on her pinky! And I love that it defies categorization. Is it an East Coast preppy boarding school look? Or is she a mobster? I don't know, but I love it. And on the eve of my fifth wedding anniversary, I thought, what better way to commemorate this momentous occasion than with a ring I wear on my FIFTH finger?? [James], I found the perfect one at David Yurman:
Don't worry, I'm totally reasonable– I would only wear ONE pave diamond signet ring at a time. And I actually prefer the smaller size.
I also liked this gold cabled pinky ring almost as much as the blinged-out diamond version:
It is so much cuter on, but I cannot find a picture on someone's hand. On second thought, is the pinky ring too trendy to make a major $$$ investment? Another cute, cheaper option is the Sarah Chloe Initial Signet Ring:
Apparently the Brits were all up in arms when Pippa was spotted wearing a signet ring with a crest– a HUGE faux pas if you are not a royal. Who knew? Well, Kate, probably.
Here's some more pinky ring trend inspiration:
So if you find yourself digging around for your yellow Livestrong bracelet because you think you need to add more width to your arm party, please stop immediately.
xoxo,
@beautynowapp
2 Responses to "Pinky Rings Are The New Arm Party"
You May Also Like