The Most Useful Thing I Own
10 • 21 • 2015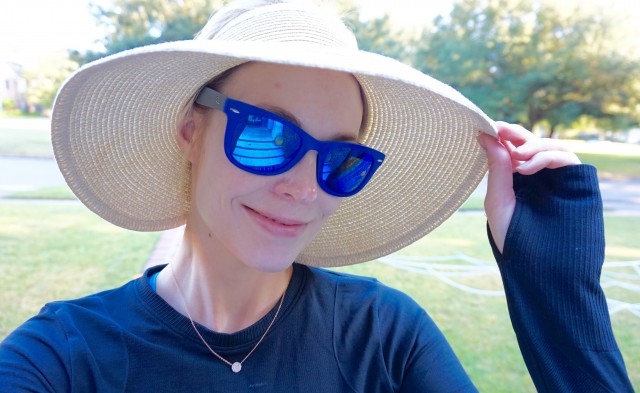 Whoops– I put the wrong link in my email. If you're looking for my "Throw Out Your Moisturizer!" post, go here.
As I wrapped my San Diego Hat Company Visor around my head for the 300th time, it occurred to me that I should blog about what is surely the most useful clothing item or accessory I own. There is no doubt that my San Diego Hat Company Visor is the most frequently used item I own, period, and I don't know how I'd live without it. Please allow me to make the case for why you need this visor in your life immediately: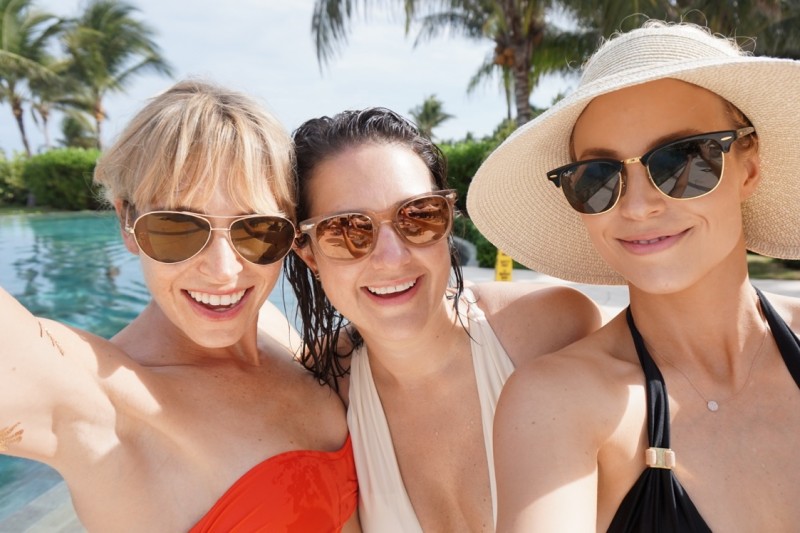 I spotted it on a friend poolside and immediately ordered the "multi natural w/ natural brim" color from Amazon and proceeded to wear it every single day at the pool and beach this past Summer. And I continue to wear it every day this Fall as I go on walks or on sunny days at the park with my kids. I am a fanatic about sun protection on my face!!!
Oh, how I love my visor, let me count the ways:
–it is pretty cheap ($24) and comes in 20 colors,
–has a huge brim that perfectly shades your face with UPF 50+ protection
–rolls up so you can easily travel with it without it taking up space or getting crushed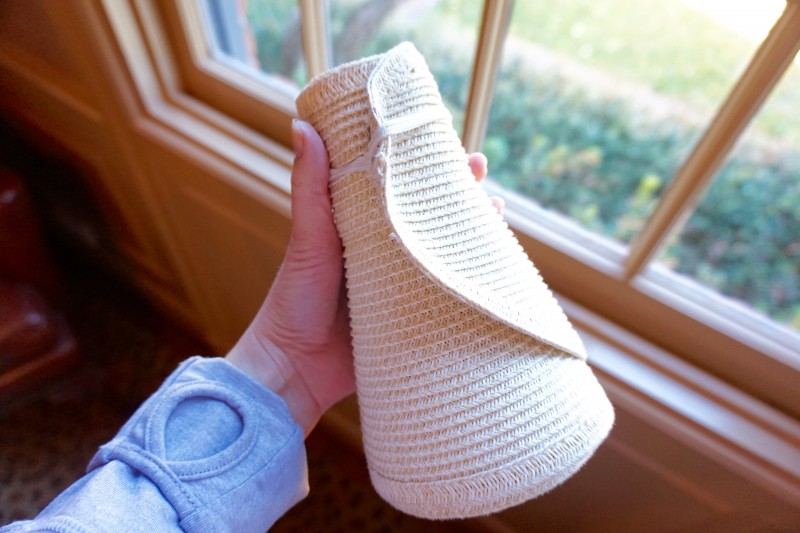 –the visor's lack of back brim means you can lean back in your lounge chair comfortably and read your mag
–adjustable velcro closure ensures a snug fit around your noggin, preventing it from blowing off on a windy beach day
–does not cause hat head or mess up your hair– you can pile your hair on top of your head where it pokes out the hole of the visor. The wide brim also protects your hair from getting up-splashed in the pool by those pesky kids (kidding)
The one downside? You won't look quite as cool in your visor as you do in your fashion-y Panama hat. But the visor is so effective and protective that I don't care. If I really care how I look, I arrive at the pool in my Panama Hat, and then change into my visor (conveniently rolled up in my bag) when it's time to hop in the pool with the kiddos.
Here's what the visor looks like rolled up in my actual pool bag. As you can see, it easily rolls up and secures with an elastic, and takes up little more space than a large sunglass case.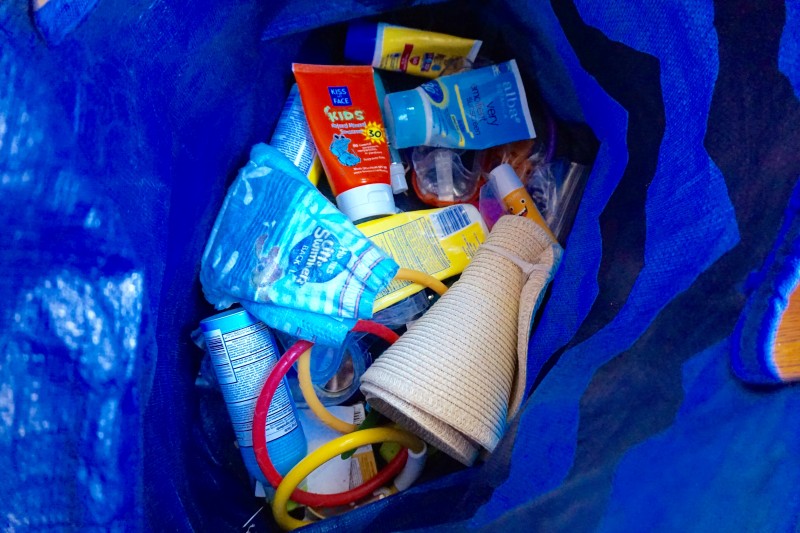 Also while I'm at it, this huge beach/pool bag shown above that I've had for 4 years is the BOMB! Waterproof, stands up by itself (and then folds up flat), and carries up to 40 pounds for all those towels, sunscreens, and pool toys. I can't believe how it still looks like new after all I've put it through LOL! This would make a great Christmas or hostess gift, especially since you can get it monogrammed.
I have the natural straw color, but I have been considering getting a black one too. I think I would steer clear of the white since it would get dirty easily and if you're in the pool might run the risk of reflecting the sunrays off the pool and back into your face.
Let me prove to you how often I wear my rad visor. On my girls' trip to Mexico:
On the windy beach in Galveston– I promise it won't blow off your head: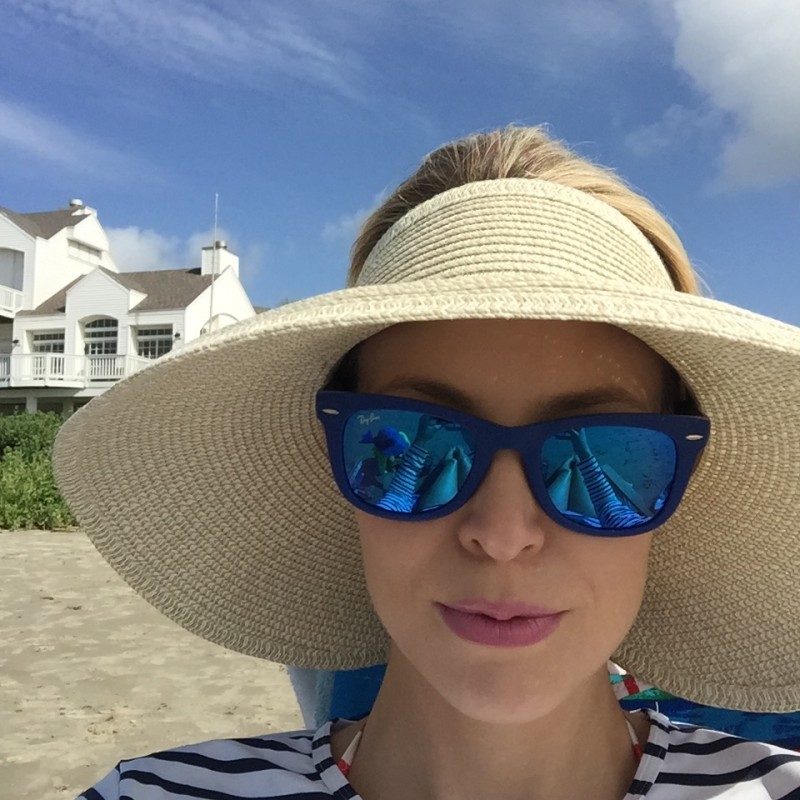 On daily walks in my workout gear: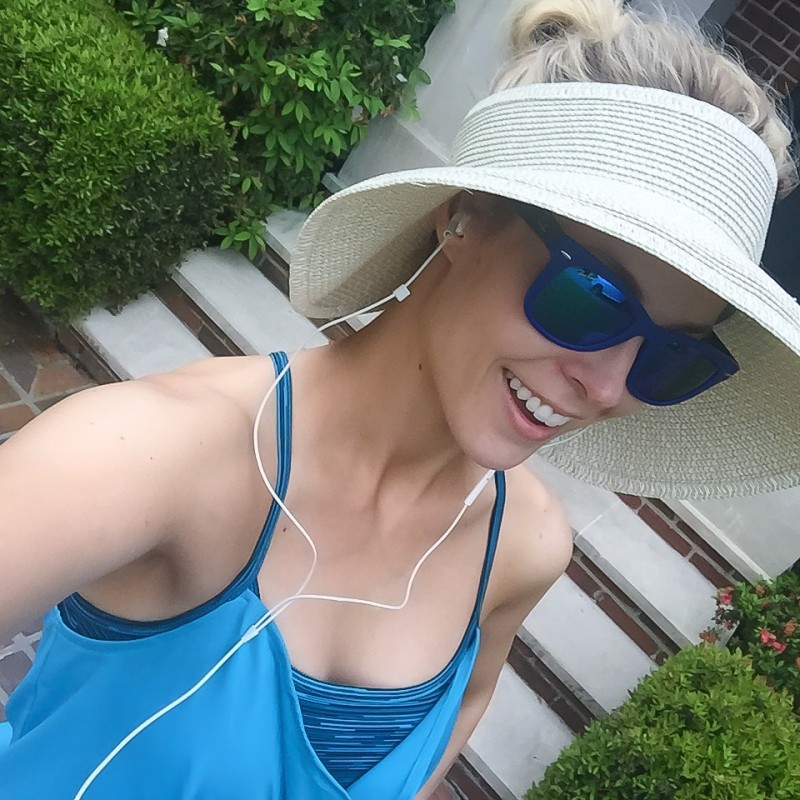 All day, everyday on vacation in Colorado– beware of the stronger sun in high altitudes!!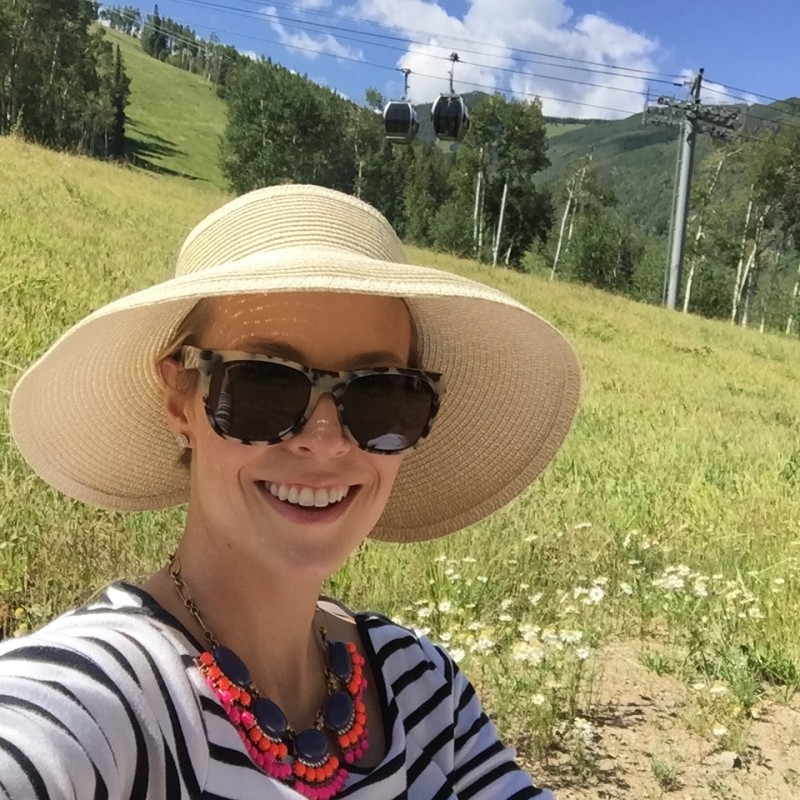 FYI the sunglasses I'm sporting in the post are linked here (on sale!) and here.
Please comment below and let me know what the most useful item in your closet is!
xoxo,
@beautynowapp
You May Also Like