When They Discontinue Your Fave Foundation...
10 • 12 • 2015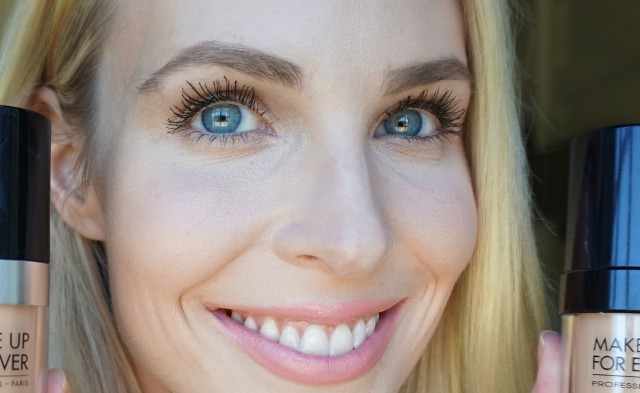 Just when I find a Holy Grail product, it gets discontinued! Ugh, so frustrating. I was surprised to hear that Make Up For Ever ("MUFE") was replacing its blogger-fave HD High Definition Foundation with a new formulation, called MUFE Ultra HD Foundation. It makes perfect sense: why be satisfied with measly "HD" when you can have "Ultra HD"? I'm sure it's only a matter of time before MUFE discontinues the "Ultra HD" in favor of "Extreme Super Max Ultra HD" foundation. Just you wait. Anyway, despite my annoyance at my favorite nighttime foundation being discontinued, I sucked it up and purchased the new MUFE Ultra HD Foundation. Since I had a few remaining precious drops of the original HD, I thought I would compare the new Make Up Forever Ultra HD Foundation vs. the original MUFE HD Foundation:
Also I'm excited that for the first time ever, I made a YouTube video to go along with this blog post! (I worked REALLY hard on it!) Please take a moment to subscribe to my YouTube channel and let me know in the comments which format you prefer. Not sure if most people want to read a blog post or watch a video, so let me know what you think!
First of all, let me introduce you [belatedly] to the original MUFE HD High Definition Foundation. Even though I have been using the It Cosmetics CC Cream Illumination (full review here) during the day because of its superior SPF protection, at night I like a foundation that does not have SPF protection. I've found that some physical SPF ingredients in foundations like zinc oxide can cause a "flashback" or whitish face when you are photographed at night. So for events at night I have been using MUFE HD Foundation because of its full, yet undetectable coverage, and perfectly glowy finish. I would wear Laura Mercier Oil-Free Foundation Primer (my longtime fave primer) underneath and set with Hourglass Ambient Light Powder in Ethereal Light. I received so many compliments on my skin, especially if I had prepped my skin beforehand with an SK-II sheet mask. That was my magic, go-to combination. R.I.P original HD Foundation.
Come late 2014/2015, all the cosmetic companies started making those liquid-y, serum-type foundations (like Giorgio Armani Maestro, Bare Minerals Pure Brightening Serum Foundation, and Loreal Magic Nude Liquid Powder Foundation, to name a few). They utilized new technology to make a runny, watery liquid that then turned to powder. I tried many and never liked these foundations because they lacked enough coverage for me.
Like the proverbial lemming jumping off a cliff, the new MUFE Ultra HD Foundation follows the crowd– it is definitely more liquidy and thin than the original version. And the Ultra HD has more of a matte finish. At least for my combination, mid-thirties skin, I really don't like the new finish! It is definitely more matte and dry-looking after a few hours. I also feel like it exaggerates my pores more than the original HD, and does not have the same level of coverage. I do not find the Ultra HD to have buildable coverage at all to cover my melasma, dark circles, and other skin issues. That said, the difference is not as apparent in my photos– you have to look super closely to tell any difference between them at all. You might be able to see that the original is slightly more glowy, and the new Ultra HD has a more matte, powdery finish: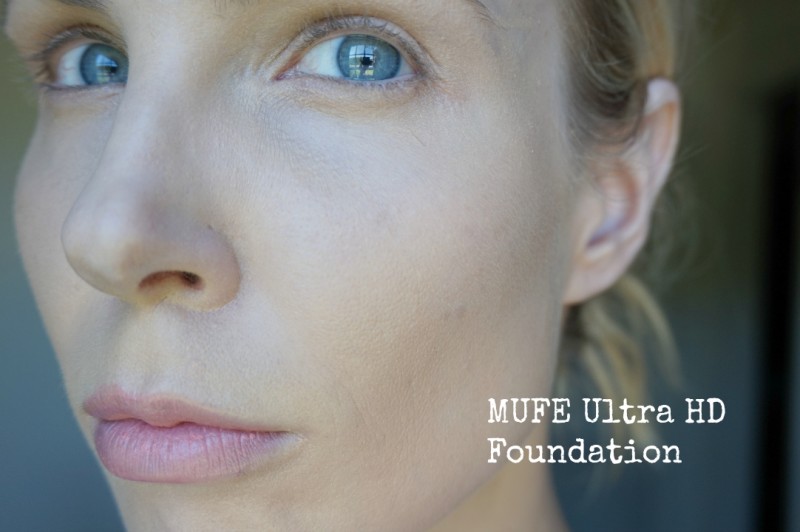 Another problem: MUFE did not recreate all the original shades in the new Ultra HD formulation. I wore N120 in the original HD Foundation, and the company says the match in the new formulation is Y245. They admit that this is not an exact color match- the Ultra HD is slightly lighter in the bottle, but then after a few minutes when it dries, it gets darker. I thought the color match would be a disaster, but I think I was overly alarmist on that front. The new Y245 is fine on me. Here are swatches to compare: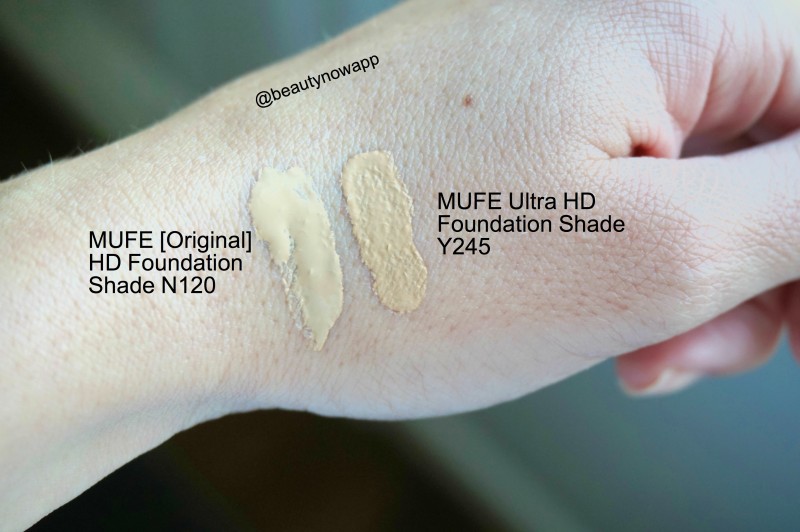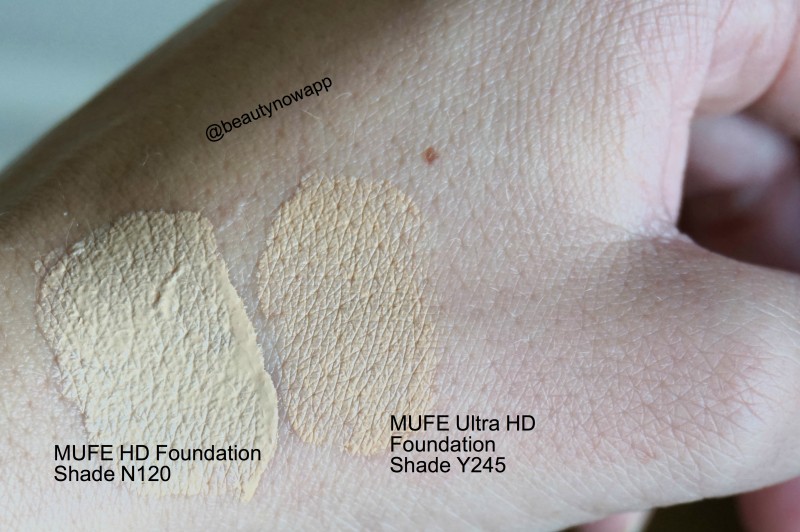 Original MUFE HD Foundation Ingredients:
Water, Cyclopentasiloxane, PEG-10 Dimenthicone, Neopentyl Glycol Diethylhexanoate, Talc, Mica, Phenyl Trimethicone, Sodium Chloride, Dimethicone Crosspolymer, Lauroyl Lysine, Glyceryl Caprylate, Methylpropanediol, Phenoxyethanol, Sodium Myristoyl Glutamate, Chlorphenesin, Disteardimonium Hectorite, Fagus Sylvatica Bud Extract, Sorbitan Sesquileate, Hydrolyzed Yeast Protein, Propylene Carbonate, Aluminum Hydroxide, Biosaccharide Gum-1, Fragrance, Butylene Glycol, Benzyl Alcohol, Pentylene Glycol, Benzoic Acid. May Contain: Titanium Dioxide, Iron Oxides.
MUFE Ultra HD Foundation Ingredients:
Cyclopentasiloxane • Water • PEG-10 Dimethicone • Neopentyl Glycol Diethylhexanoate • Talc • Mica • Phenyl Trimethicone • Sodium Chloride • Lauroyl Lysine • Dimethicone Crosspolymer • Methylpropanediol • Glyceryl Caprylate • Propanediol • Disteardimonium Hectorite • Sucrose Palmitate • Phenoxyethanol • Sodium Myristoyl Glutamate • Alumina • Cyclohexasiloxane • Propylene Carbonate • Pentylene Glycol • Sorbitan Sesquioleate • Evodia Rutaecarpa Fruit Extract • Tocopheryl Acetate • Glyceryl Linoleate • Aluminum Hydroxide • Glycerin • Fragrance • Benzyl Alcohol • Benzyl Benzoate • Citric Acid • Potassium Sorbate • Sodium Hyaluronate • Tin Oxide • BHT • Tocopherol /- (CI 19140/Yellow 5 • CI 19140/Yellow 5 Lake • CI 77007/Ultramarines • CI 77163/Bismuth Oxychloride • CI 77491/CI 77492/CI 77499/Iron Oxides • CI 77891/Titanium Dioxide)
The biggest difference is switching the concentrations of Cyclopentasiloxane (a type of silicone you can learn more about here) and Water. I'm not a chemist, but I'm guessing this allows the new Ultra HD to be a thinner, more runny liquid than the original.
Overall the MUFE Ultra HD Foundation is a nice foundation, but at least for my skin, is not as good as the original because it is drier and more matte looking, and does not have quite as much coverage.
FYI I also reached out to Make Up For Ever directly to see if I could buy any back stock of the discontinued HD Foundation. I will update the post if I hear anything back. So far the closest dupe I have found for the original MUFE HD Foundation is Nars Sheer Glow Foundation (I wear shade Deauville).
xoxo,
@beautynowapp
4 Responses to "When They Discontinue Your Fave Foundation…"
You May Also Like