Stocking Stuffers Under $10
11 • 19 • 2019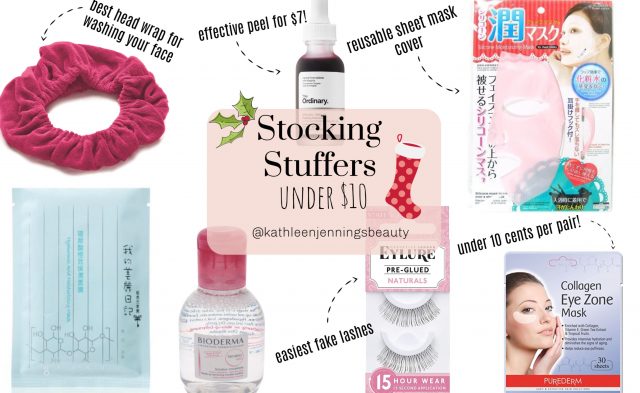 It's my first official gift guide of the season! I bring you Beauty Stocking Stuffers Under $10, a/k/a things that are small and cheap! These are some of my absolute favorite items, so it goes to show you that something doesn't need to be expensive to work! Each product in the collage below is clickable/shoppable (look how techie I have gotten!) Or read on for my description of each item:
Tassi Head Wrap
This is a recent find from @things.I.bought.and.liked and her recommendations have yet to disappoint. Anything would be an improvement over the old Soccer Shots headband I've been using, but the Tassi Head Wrap does the seemingly impossible feat of keeping your hairline dry while you wash your face. Yet, importantly, the Tassi does not flatten and smoosh your hairline like a sweatband does. The Tassi would also be great to use while sheet masking if your hair is already done.
The Ordinary Peeling Solution
I love The Ordinary AHA 30% + BHA 2% Peeling Solution! It is a quick 10-minute mask that tingles and exfoliates dull skin cells and leaves you glowing and radiant. I think The Ordinary Peeling Solution is more effective than other pricey exfoliating masks, like Drunk Elephant Babyfacial.
Bioderma Micellar Water
I swear by Bioderma Micellar Water on a cotton pad as my second cleanse. You will be surprised how much makeup and dirt is still left on your face after your first cleanser! And the trial size Bioderma is perfect for travel. Every time I skip my Bioderma I break out! And, yes, it is more effective than other micellar waters on the market.
Reusable Sheet Mask Cover
If you like to sheet mask before events, then you need this cheapo mask cover! It is made of reusable silicone and it fits tightly over your mask and keeps it from evaporating and drying out. I also feel like it makes your sheet mask adhere more snugly to your face, enhancing the benefits. The one down side is that the mask cover is not quite as comfortable and relaxing to wear as a plain sheet mask because it goes tightly behind your ears. But if you have spent your hard-earned money on an SK-II mask then it is totally worth it!
Budget-Friendly Sheet Masks That Work
The My Beauty Diary masks are my favorite budget-friendly sheet masks. The box of 8 is under $15, so you don't have to be too stingy with them. In fact you should buy a box before the holidays so you have them wear to your parties!
Fake Lashes That Are Do-able
These Eylure Pre-Glued eyelashes are a game-changer! No, they aren't as easy as just putting on mascara or that Instagram filter that superimposes eyelashes on your selfie. But they are definitely way easier than any other fake lash strips I have tried! My favorite style I've tried so far is the Natural No. 31– it makes my eyes POP for an event without being over-the-top fake looking.
Eye Patches Cheap Enough to Use Everyday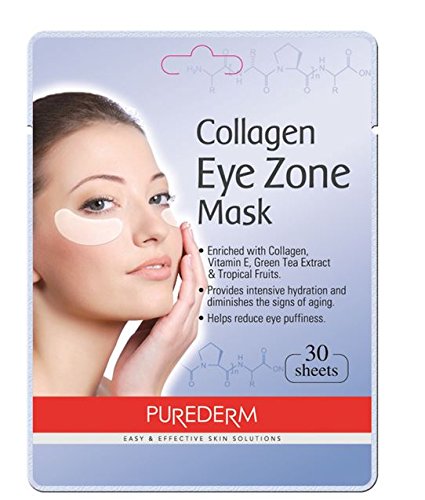 I have repurchased the Collagen Eye Mask about 732 times. I keep them in my fridge and wear them almost every single morning while I am making lunches and driving carpool. #carpoolmasking They are so cheap (under 10 cents for one pair! I had my husband check my math because that didn't even seem right) so you can wear them every day. There are better depuffing eye masks out there (like DHC or Skyn Iceland), but I save those for special events. For an everyday morning when you don't want to look totally beat, the cheapo Collagen Eye Mask makes a noticeable improvement in dark circles and puffiness!
xoxo
You May Also Like